At City Age: Build the Future in San Diego this April, San Diego Mayor Kevin Faulconer highlighted the city's commitment to environmental sustainability even as it undergoes a massive urban renewal and economic transformation. Mayor Faulconer has a long history of taking action on policy ideas to spur the revitalization of "America's Finest City." In this excerpt, he ties the city's growth to its need for a reliable water supply, and showcases San Diego as a model for cities and regions throughout the country. This excerpt is prefaced with a description of the Pure Water San Diego initiative, launched days after the CityAge event.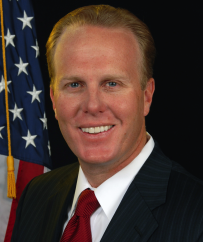 "One of our most ambitious projects is related to our water supply. Coming out of this historic drought, we are trying to set the tone that we are controlling our own destiny when it comes to water supply." - San Diego Mayor Kevin Faulconer
Preface: San Diego has launched an ambitious initiative to meet one-third of its water demand from recycled water by 2035. The multi-year, $3 billion Pure Water San Diego program will reduce the city's reliance on imported water and create a more sustainable local water supply.
Over the course of California's historic drought, the San Diego region has faced a particularly acute shortage of reliable water supply. In 2015, San Diego City Council approved the city's landmark Climate Action Plan, which set ambitious targets on water conservation in addition to clean energy production.
Continuing its forward-looking approach to sustainable water management, San Diego's new program calls for three new water-purifying facilities, with the first expected to break ground next year. The new plants will send treated water to the San Vicente reservoir to be blended with imported water before heading to a final treatment facility.
Environmental groups and city officials have considered such a program for more than two decades. This month, the California Coastal Commission unanimously approved the city's plan to build out the new recycling system; the US EPA is expected to grant its own approval soon.
Mayor Kevin Faulconer: The city of San Diego has experienced an urban renewal beyond my expectations. As a city councilmember, we battled to get the Central  library [the site of CityAge: Build the Future] built. The library is here, and it exceeded all of our expectations as a city. Right across the street we have Petco Park, and so there is no better civic location to get together to discuss our civic goals. Libraries are much more than just books. This library has become a new center for Downtown San Diego that 15 years ago did not exist. 
Our San Diegan story is one of innovation.The story has changed dramatically over the past decades. San Diego used to be known solely as a Navy town. We are still a very proud Navy town, and have one of the largest military footprints in the nation. But to see the rise of our software, biotechnology, energy technologies, and other industries, it is inspiring. 
In turn, we, as a government, have to utilize these advancements to deliver better services to these folks. We are working on an open data initiative so that our citizens can have more confidence in what we are doing. We cannot rely on how things have been done for the past two decades. I have tried to set that tone for the entire city. 
Asking questions of our bureaucracies about ways to change and improve is crucial. How do we use our brainpower that exists in City Hall, in local government agencies, and in our communities? When it comes to three topics—environment, housing, and infrastructure programs—we need to retool our entire way of approaching the situation. 
Our environment defines who we are as San Diegans. Our beaches, bays, and mountains drive our economy. It is not an either/or between the environment and business, it is about working together. We have a very ambitious Climate Action Plan in the City of San Diego that was unanimously approved by the City Council. We had both the Chamber of Commerce and environmental groups working together and supporting the plan. We are going to cut our greenhouse gas emissions in half and go to 100 percent clean energy by 2035. We are going to hold ourselves accountable along the way, so we can show people our progress. This can help serve as a model, and show people how to establish benchmarks. The environment is not a partisan issue. It is not Republican or Democrat, it is the right thing that we should be doing now and for future generations. 
One of our most ambitious projects is our water supply. Coming out of historic drought, we are trying to set the tone that we are controlling our own destiny when it comes to water supply. From the Metropolitan Water District of Southern California to the Colorado River, we are in a high-demand area. Therefore, we are working on a water-recycling program that will create one-third of our water supply from recycled water. This program is not inexpensive, but it is the right thing to do to control our own destiny for water independence.  
We are working on a comprehensive housing package. The median priced home is $515,000 in the region. Having options for people to live is hugely important, and we are going to be looking at incentives around transit corridors here in San Diego. Transit corridors can spur the types of development that we desperately need. The real battles happen with community members, who like the idea of growth in the abstract but don't want the project next to them. We need to better zone for this needed growth, so we can plan where we do and do not want our communities to add. 
Homelessness is one of the most complex issues in our region. We are investing in permanent supportive housing that can provide wrap-around services. We need a continuum of support services that can have a long-term funding source. 
I have proposed a measure for a November special election to address homelessness. We will have a dedicated funding stream for homelessness—our first ever. Our special election will also have a proposal to expand our convention center, the third largest economic engine in our city. 
A year ago, we launched the Get It Done app, where residents can report non-emergency problems. The GPS location abilities of the app have assisted our municipal governments in better repairing potholes and increasing the quality of life for our residents. This is how we can use technology to reimagine government. Now, we come together to reimagine our urban core and tackle the biggest challenges. 
Mary Walshok (UC San Diego): As mayor, you have taken ownership of Downtown San Diego, where the bulk of the imaginative start-ups and new economy is blossoming. The issue of entry-level affordable housing is something that other cities, such as Santa Monica and Los Angeles, are grappling with as well. How is the city of San Diego is addressing this issue? 
Kevin Faulconer: In updating all of our community plans, we are creating some massive incentives to actually get these units built.
In my State of the City speech, I bluntly said, "We need to build more housing." Mayors of San Diego have not said that before. We need to build at all income-levels, and we have to do it the right way. We have to define where we want the growth, and the areas we want to preserve. 
All of these issues are linked. We exist in a competitive economic environment, so we cannot just have one great economic sector. We must work to maintain the quality of life in our city. 
Audience Question: San Diego is part of a larger region that includes Tijuana. Is San Diego's vision of itself as a bi-national city in conflict with that of the new federal administration? 
Kevin Faulconer: Our relationship with Mexico gives us strength. It is a competitive advantage for San Diego. We do not talk about two cities, but one region. We share the same water system, breathe the same area, and swim in the same ocean. Creating good jobs on both sides of the border is good for our region. I continue to work closely with Mayor Juan Manuel Gastélum on infrastructure, goods, trade, and commerce. Between Tijuana and San Diego, we are the largest manufacturer of medical devices in the world. When we work together, we grow the economy together. We are the largest border crossing the country, and we need to tell the national administration our story.