In an exclusive interview with The Planning Report, Santa Monica City Manager Rick Cole and Director of Planning and Community Development David Martin sat down to discuss the recently released draft of the city's Downtown Community Plan. The plan seeks to find compromises that allow the city to increase housing supply, while respecting the livability and traffic considerations that led citizens to place Measure LV on the November ballot. As Santa Monica continues to provide the region with a blueprint for civic leadership, their municipal leaders are seeking to ensure the city's special quality of life continues.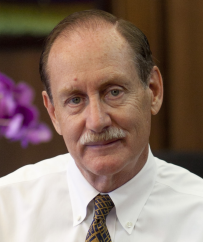 "If we have learned anything in the debates on housing affordability nationally and in the Los Angeles region, it is that the law of supply and demand has not been repealed." —Rick Cole, Santa Monica City Manager
Santa Monica is known both for its commitment to progressive community planning and for its contentious growth and development politics. In the wake of the defeat last November of Measure LV, a citizen initiative aimed at sharp restrictions on growth, and the opening of Planning Commission hearings on the final draft of the long-debated Downtown Community Plan, how do both of you see the future for housing and development in Santa Monica?
Rick Cole: In our intensive outreach efforts in the community over the past year, we found some broad areas of agreement: Santa Monicans support a focus on more housing, particularly affordable housing. They are frustrated by traffic and want to see better options for mobility. They want to continue to see continued growth in our Downtown—but not too fast—and they want new growth to complement, not undermine, Downtown's historic character and unique identity.
There is also a focus on public space, which is not surprising in a city that has iconic public places like the Third Street Promenade, the Pier and Palisades Park. We heard a growing call for parks, plazas, and public amenities to serve the growing Downtown population of residents, which we expect will double under the proposed plan). In fact, the entire Santa Monica community remains attached to the historic role of our Downtown as our shared civic "living room"—and want more and better public spaces.
David Martin: The completion of the Downtown Community Plan (DCP) will be the culmination of seven years of intensive planning activity following the adoption of the Land Use and Circulation Element (LUCE) in July 2010.
As the 2015 Zoning Ordinance did for the balance of the city, the DCP will provide clear and predictable standards and processes for development in Downtown Santa Monica. The proposed building height of 60' across most of the area is consistent with the mixed-use housing that has been built in Downtown over the past 20 years. This height limit will enable the completion of five- to six-story residential neighborhood blocks that are tall enough to allow the city to meet its housing goals as outlined in the 2010 LUCE and 2013 Housing Element, but at a scale that respects and maintains Downtown Santa Monica's historic form and character.
Not surprisingly, some longtime foes of development continue to criticize the final draft DCP as promoting too much growth and too much height. But perhaps surprisingly, some housing advocates have been critical that it doesn't go far enough to address the affordability crisis. Is consensus impossible, or is this plan the Goldilocks solution: not too hot, not too cold, but just right?
Rick Cole: No plan is perfect, and the Planning Commission hearings will give commissioners, the community, and staff the chance to do some fine-tuning before the draft plan goes to the council in July. But I don't think the plan represents so much a political compromise as recognition that a successful downtown like Santa Monica's (and there are few downtowns in America as successful as ours) needs to change thoughtfully over time.
The proposed plan builds on our strengths and makes targeted changes to add a significant amount of housing, with a much higher portion of affordable housing. The plan will add and improve public spaces, make the streets friendlier to pedestrians, bikes, and transit, and reduce the need for parking. It will also preserve the historic buildings that define Downtown's character, while encouraging the redevelopment of surface parking lots and obsolete or unattractive buildings that sprung up during the years when Santa Monica's Downtown struggled during the 1950s and '60s.
David Martin: The plan strikes a balance by maintaining a relatively low, five-story building height in the majority of the Downtown area; additional height of p to seven stories near the Expo station; and reduced heights down to four stories on the north side of Wilshire and the east side of Lincoln, where Downtown transitions to multi-family neighborhoods.
In areas near the Expo Line terminus station at 4th and Colorado Streets, the plan allows heights of 84', and suggests a process for consideration of additional height of up to 130' on three established large sites. Redevelopment of approximately 20 percent of downtown parcels, as assumed in the plan, would result in around 2,500 new residential units.
A complete build-out of Downtown under the proposed development standards would result in many more residential units than the 2,500 assumed in the project EIR. But additional environmental review and enhanced mitigation measures would be required before the city could exceed the number of units anticipated during the plan's 15- to 20-year lifespan.
Rick, housing advocates have seized on a comment you made in introducing the plan at the initial Planning Commission hearing. Asked to react to the criticism that the plan would not produce "enough" housing, you responded that even if Santa Monica built twice as many as the nearly 3,000 units projected during the plan period, "it probably would not affect the rent on a one-bedroom apartment by more than about 100 bucks." Do you think that's true, and do you think $100 a month is insignificant?
Rick Cole: If we have learned anything in the debates on housing affordability nationally and in the LA region, it is that the law of supply and demand has not been repealed (although, of course, in an era of alternative facts, even this basic reality is denied by some.) Realistically, however, Santa Monica can't put a dent in the huge demand for housing on the Westside all by itself in 8.3 square miles, let alone in the 230 acres of our Downtown.
The high prices in Santa Monica are driven both by our high quality of life and by the disproportionate amount of jobs on the Westside—good jobs in tech, entertainment, healthcare and other growing fields. We are committed to doing our share, but bringing down the price of housing to be more affordable to young people and working families will require a region-wide commitment. Right now, I don't see the regional political will for that. But Santa Monica can't be criticized for shirking our share, particularly in building affordable housing and in requiring it, as part of inclusionary zoning, for market-rate housing. We have been a leader in supporting housing affordability, and we will continue to be one.
If the political will is missing in other cities to confront the regional housing crisis, what lessons can Santa Monica provide for the region?
Rick Cole: Do real planning, as former LA Planning Director Gail Goldberg has long advocated.
There's no shortcut. It is messy, expensive, hard work, and it is absolutely necessary in a democracy to engage broad sections of the community in shaping the plans for the future of our cities.
And it's not just "the usual suspects"—the pro-development real estate interests and the organized older homeowners who oppose them. The majority of Southern Californians don't fall into either camp. They are interested in their jobs, safe neighborhoods, access to good schools and green parks, and places to start a life or raise their kids. They are concerned about air and water quality, they demand better transportation choices, and they have demonstrated a willingness to pay for them. They are equally tired of lousy city planning and half-baked ballot initiatives.
In Santa Monica, the passions of citizens have sometimes come to a boil. But 40 years of doing real planning has made Santa Monica one of the most prosperous, most livable, and most functional communities in Southern California. We remain dedicated to environmental sustainability, social equity, and the progressive values of inclusion and public engagement.
Real planning is a good investment. Our AAA bond rating, our stable government, and our measures of community wellbeing all point to the value of doing real planning with the community.
David Martin: Over the past decade, our community has been engaged in a thoughtful and thorough discussion about planning and the future of our built environment. This has resulted in a collection of comprehensive and up-to-date policy documents and ordinances that will guide Santa Monica's evolution over the next 20 years.
This effort started with the extensive public engagement that led to the approval of the LUCE in 2010. That level of engagement continued through the adoption of the Bergamot Area Plan, the Bike Action Plan, the Zoning Ordinance, the Pedestrian Action Plan, and now, hopefully, the Downtown Community Plan this summer. Not all communities in the region have the resources or the community interest for such an interactive process, but all cities and planning agencies would benefit if they engage with their communities to establish clear and predictable standards.
Such standards will not only provide certainty for the community and housing providers—it will also minimize the risk and collateral damage of lengthy and uncertain entitlement processes. A plan that has broad community involvement and support takes time and effort, and it more than pays for itself in the long run.