At the Westside Urban Forum's annual Mayors' Panel, moderator Fernando Guerra—a professor at Loyola Marymount University and director of the Leavey Center for the Study of Los Angeles—posed the results of the 2014 Forecast LA survey to Mayors Jim Clarke (Culver City), Lou La Monte (City of Malibu), Ted Winterer (Santa Monica), and Lauren Meister (West Hollywood). In this edited TPR excerpt, they elaborate on their priorities for shared regional issues such as housing affordability and homelessness, transit access, and congestion.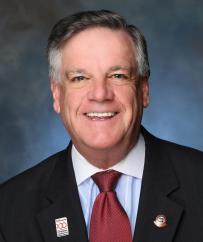 "When new developments are built, the market-rate housing is very expensive, while the inclusionary and affordable units are for very-low and low-income. What we end up with is a case of the haves and the have-nots." - Lauren Meister, Mayor, City of West Hollywood
Fernando Guerra: The first question on the survey asks whether you think things are going in the right direction in the nation, in the state, in LA County, and in your neighborhood. More than any other city or county,  Angelenos are more optimistic about the direction things are going. We are also more optimistic about our individual neighborhoods. Comment on this.
Ted Winterer: It's fascinating to me that people in our region are so optimistic. Those aren't the people showing up to our council meetings, so it's good to know they're out there! 
Lately, residents have expressed to me how depressed they are about the Trump administration. I say: Sure, but look at our election results locally and regionally. Last fall, the residents of various cities, and the county, voted to tax themselves to fund more mass transportation and create housing for the homeless. In Santa Monica, we passed a tax measure to fund our schools and create more affordable housing. The county as a whole elected a bunch of women to the Board of Supervisors.
We're doing something right in this region. Our progressive values, and our belief in government as an institute for progressive change, are intact. We have a robust economy, and people are getting better and better jobs as we emerge from the Great Recession. That makes them optimistic that we can get things done. We have these seemingly intractable problems of homelessness and housing affordability, but we also have the political capital to try to do something about them.
Fernando Guerra: In LA County, 59 percent of respondents said they believe that economic disparity will continue to increase. What can a city council do when it comes to this issue?
Lauren Meister: This is definitely an issue in West Hollywood. We see it when new developments are built: the market-rate housing is very expensive, while the inclusionary and affordable units are for very-low and low-income. What we end up with is a case of the haves and the have-nots.
We're focusing on protecting our existing housing, because that is where the middle-income people are. That's where you find the unit that's $1,500 or $1,700 a month for a one-bedroom—whereas in the new projects, you're looking at $3,500 or $4,000 for the same thing.
As far as new housing, we are looking at ways of achieving "rent-stabilized" units without actually having rent-stabilized units, because of the Ellis Act and Costa Hawkins. But there are other ways to try to get at that, such as through development agreements.
Lou La Monte: Malibu is a different and unusual city: We are a small city where a lot of rich people live, but they only live there on the weekends. The rest of us live there all the time. We have teachers and firemen and policemen who have been there for a very long time. Our disparity doesn't look like a disparity, but it is there.
Some of the odd issues that we face include the fact that our real estate values have skyrocketed. There are two sides of that coin. It helps an awful lot as far as our schools, but a lot of people who live in Malibu are house-rich and cash-poor. We have a difficult time with affordable housing because of our real-estate values.
Before the county passed Measure H to help the homeless, some of our citizens put together a task force that raised close to a quarter of a million dollars, including a contribution from the city. Now we have people who come in on a fulltime basis to take care of our homeless population.
It's a small population—164 at the last count—but what we're doing for them means an awful lot to them. These are the kinds of things that the city council can do to try to even things out a little bit.
Jim Clarke: Culver City prides ourselves on our diversity—not only our ethnic diversity, but also our income diversity—and this is a major challenge for us. We are thinking not only about how to build affordable housing, but also about how to maintain affordable housing.
People are coming in, purchasing an $800,000 fixer-upper, knocking it down, and building a $2 million spec house in its place. Some people in the neighborhood may think that's great because it raises everybody's home values, but it's different when you're right next door to this monstrosity out of sync with the style of the neighborhood. This mansionization ties into income disparity in our city, so we're trying to address that issue.
Fernando Guerra: 64 percent of LA County residents, and 61 percent on the Westside, said they are either satisfied or very satisfied with the quality of their city services. Only about one-fifth—20 percent—said they were unsatisfied. These are overwhelming numbers.
Lou La Monte: Our residents generally are happy with the services the city provides. But we have an unusual problem: Our main street is the PCH, which is a state highway. So most of our complaints are actually about a state problem. 
It's taken a very long time for Caltrans to begin to understand the difference between the 101 and the PCH. Until now, they've treated them exactly the same. But we have a mountain on one side and an ocean on the other, creating a very narrow strip. The rules on the 101 can't possibly happen where we are. Lately, we've had a tremendous response from Caltrans in terms of understanding our issue and starting to do something about it.
Jim Clarke: We're very fortunate: In 2012, in the middle of the recession, voters in Culver City—by a 76 percent approval—decided to tax themselves through a half-cent sales tax. It was the second highest voter approval of any tax increase ballot measure in the state.
At the end of the day, we're not like Congress or the state Legislature. If your house is on fire, we have to respond. If there's an accident, we have to send the police. We've got to get the trees trimmed. We've got to get the potholes fixed. We've got to pick up the trash. We've got to do the job.
That's the expectation of the people. They've come to rely on us as municipal government to get that done, and we know that that's our function. I just wish that some other levels of government could see that they need to do their jobs.
Fernando Guerra: The greatest resource of any city is its people. And an optimistic people is an even greater resource: Optimistic people are willing to invest in themselves. 
In November, we passed Measure M, providing $120 billion for public transportation. Now the governor and the Legislature are discussing a gas tax increase. Both of these have a local return component.
It seems that there is a convergence of will and funds for all kinds of infrastructure, including in your cities. What are your plans for these funds? What would you like to do with all of that money?
Ted Winterer: The issues that confound people in our city are the ones that confound people in all the other cities: the regional issues, like homelessness, housing costs, and mobility. We need to pull together the dollars that will be available for mobility solutions in a joint effort throughout the region. We need a strategic plan, so that in Santa Monica we're not saying, "We're going to work on roads," while in West Hollywood they're saying, "We're going to work on bicycles." We all need to sit at the table and think about how we can use those funds in a way that enhances mobility for everybody in our region.
Lauren Meister: Several of us on the Westside Cities COG will be working together to get a more aligned perspective on how to work with that money.
In West Hollywood, we have a lot of vehicle trips going through our city, as opposed to within it—people going from Hollywood to Santa Monica, for example. For us, it's important to look at traffic mitigation, traffic circulation, and keeping traffic out of our neighborhoods. We're also looking at active transportation.
Eric Shabsis (Marathon Communications): What is the most innovative transportation or mobility program that each of your cities is looking into?
Lauren Meister: We recently launched our CityLineX, which is a free shuttle that goes to Hollywood/Highland Metro station in the morning and the evening. We're trying to cut down on individual trips with this free service, and hopefully we'll be able to expand it when the Purple Line extension is done.
Jim Clarke: We have a great transit system; we serve more than 6 million riders on the Culver CityBus. But we still have to look at the first-mile/last-mile issue around our Expo Station. We're looking at bikesharing, and even a demonstration project of autonomous vehicles for getting people from the Expo station to, say, our downtown—which is half a mile away—and other areas.
We're also doing a major development around the Expo station, which will be the first transit-oriented development along the Expo Line. Rather than looking at just this particular project, we're doing a Transit Oriented Development Visioning Plan on the impacts for the greater area, as well as impacts from outside Culver City. Our first workshops are going to be a "bikeshop" and a "walkshop" where we bike and walk around the area. We're very excited about this process.
Rick Cole (City of Santa Monica): In the wake of Measure S being decisively defeated in Los Angeles, the Los Angeles Times said it was time for thinking about the future of our region. I'm interested in what individual cities are doing to think long-range about the future, and how your Westside cities will contribute to the larger regional issue. 
Our mayor pro tem, Gleam Davis, has said we need to be planning for 2050, not 1950. I'm interested in what individual cities are doing to take leadership in thinking about 2050, or even 2024, when potentially we'll have the Olympics here.
Lou La Monte: In coastal cities such as mine, we have to deal with sea-level rise. In addition to normal economic issues and all the other things we have to worry about, nature's coming for us.
Ted Winterer: We all have to acknowledge that, in the last decade or two, we've been going through a worldwide and nationwide transformation in our economy. We've migrated from the traditional manufacturing economy to a service-based economy, and we're now moving into a knowledge-based economy. 
Technology businesses are going to be such an important contributor to our economic growth and continued stability. We've been blessed in Santa Monica to be part of the Silicon Beach movement, so we have some tech jobs. Yet futurists predict that at a certain point in our economy, there just won't be that many jobs. What are we going to do then?
Santa Monica has for years had a fairly diverse economic base, but we can only grow our hotel industry so much. We certainly can only grow our retail sector so much, because people are buying online more and more, and we don't get nearly as high a percentage of sales tax on that as we do from brick-and-mortar operations. We have to start thinking strategically.
Of course, we can't predict the future. Autonomous vehicles are a good example. At the US Conference of Mayors in January, I heard a particularly utopian presentation about autonomous vehicles that showed all the parking garages converted to parks, new bike lanes, etc. It was presented by the chairman of the Ford Motor Company, which is heavily invested in autonomous vehicles. Then, an urban planner told us that autonomous vehicles are going to be the worst thing to happens to our region because they will totally undermine all the money we're putting into mass transit. We have to start envisioning different scenarios and how we might respond to them long term.
Another thing we have to consider is the rate of change today—particularly in technology—is exponentially faster than it was 40 years ago. We cannot assume that the old formulas for economic growth, housing production, etc. will continue into the future.
Fernando Guerra: Your four cities are strategically positioned to lead this region, given your assets and economic vitality. What is your vision for how you're going to get us there?
Lauren Meister: In terms of housing, we have to work together. West Hollywood has 18,000 people per square mile. We are the most densely populated of our cities. We have to look at how much density we really need. Where do we need to get to before it's enough? 
We have been doing our part in terms of housing for 30 years. For example, we have inclusionary housing. If the City of LA had inclusionary housing, we'd be in a lot better shape. 
However, I would like to see us balance our live/work situation more. 85 percent of our people who are working leave our city to get to work. That means a large percentage of the people coming in are not from our city. That has everything to do with housing and transportation. If all our cities looked at that, that would make a big difference, too.
Fernando Guerra: Lou, you're the outgoing president of the California Contract Cities Association, which represents 75 cities. Why are you in this regional leadership position as mayor of Malibu?
Lou La Monte: Whenever I went to Sacramento as a councilmember or mayor of Malibu, the response was always, "Oh, another rich man's problem. We're not interested." But the more I got more involved with other cities, the more I began to see that, in Southern California, our problems are exactly the same. And I found that the only way to get any traction up there was not to go alone.
I'm a proud member of the League of California Cities, but I do remember going to policy planning meetings during the drought where people from Northern California were complaining about having to send water to Southern California. That's the kind of thinking that we need to be prepared to do something about.
The Contract Cities Association has become an advocacy group for Southern California. We've got the numbers; we've got the people. Yet when you look at the state government, the governor's from Northern California, the lieutenant governor's from Northern California, and both the senators are from Northern California. We need something that comes from us.
After the event, TPR asked Mayor Jim Clarke about Culver City's recent passage of Measure CW, a plan to invest in climate resilient infrastructure.
Jim Clarke: Stormwater, or urban runoff mitigation, is one of the most significant issues facing the city of Culver City. While we comprise only 4 percent of the Ballona Watershed, the mitigation measures we will have to undertake to eliminate trash, bacteria, toxics and heavy metals could cost as much as $120 million—more than our annual General Fund budget.
We were successful in obtaining passage of a parcel tax on last April's municipal election ballot that will result in about $2 million a year in funding, which we hope to be able to leverage with grants and public-private projects to mitigate runoff issues and meet our MS4 permit requirements.
I make the analogy of the lion chasing the pack of antelopes. The cities are the antelopes, and the lion is the Regional Water Quality Control Board. We don't have to be the fastest antelope in the pack; we just have to be faster than the slowest antelope. The fact that we have gotten out in front on the issue, and attempted to begin to address urban runoff, puts us farther ahead than the rest of the cities in the pack.