Few commissions spent as much time in the spotlight last year as the California Coastal Commission. Between internal turmoil and a potential sea-change in federal offshore drilling policy, new Executive Director Jack Ainsworth has been busy. Ainsworth was named the interim Director last year, and watched the interim title disappear in February. TPR sat down with Ainsworth, who first came to the Coastal Commission in 1989, about his vision for protecting and enhancing California's coast and ocean for present and future generations. Ainsworth provides insights on the recent California Supreme Court decision on Newport Beach's Banning Ranch, his new commissioners, and the potential impact of a Trump effort to weaken the Coastal Zone Management Act.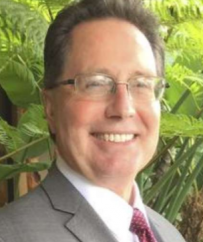 "We are concerned that there may be efforts [by the Trump administration] to weaken the Coastal Zone Management Act." -Jack Ainsworth, Executive Director, California Coastal Commission
In February, you were unanimously selected to be executive director of the California Coastal Commission, where you had served as interim leader after the 2016 dismissal of Charles Lester. How has the mission of the Coastal Commission been impacted by the politics of the last two years?
The mission of the commission is to protect and enhance California's coast and oceans for present and future generations. We accomplish this through careful planning and regulation of environmentally sustainable development, rigorous use of science, strong public participation and education and effective intergovernmental coordination.
The commission was born out of a citizen-driven initiative, and it has a legacy of strong coastal protection. The commission is known for its aggressive implementation of the California Coastal Act, and I am proud to be part of that legacy.
The commission politics over the last two years or so were difficult for staff. The staff had the utmost respect and admiration for Dr. Lester and his management of the commission staff.  But every executive director coming into this position knows that they serve at the pleasure of the commission -- that's part of the deal.
One thing that our former director Peter Douglas, who was a mentor for me, always said is: "This is about the long game. We're looking at the future." Coastal protection is a long game, and we have a strong, dedicated, mission-driven staff, many of whom have been on the commission for 30-40 years. That culture has sustained us and helped us keep on a steady path forward over many decades, even through the ups and downs.
Four of the Coastal Commission's 15 members are relatively new. How has the commission's new makeup impacted staff priorities?
When I took over as interim executive director, it was important to me the commission and staff we were acting as a team, and were effectively collaborating and communicating. The new commissioners, two of whom joined just this month, have engaged right away. The tenor of the commission changed immediately; a more collaborative, collegial spirit has developed. The last few months have been a pleasure.
I was impressed by the new commissioners' performance, and I am looking forward to continuing to work with them. They're very knowledgeable, and most importantly, their goals are the protection of the coast and public access to it. Only good things can come of that mindset.
Last year, there were questions about whether the dismissal of Dr. Lester meant that we were turning into a more pro-development commission. But I think our actions over the last year speak volumes that that's not the case, and that coastal protection is still our priority. The Coastal Act is a resource protection act at its heart, and they commissioners are applying that act appropriately to the coastal development permits and local coastal programs that come before us. Actions speak louder than any words, and I've been very encouraged by their actions.
Almost 100 days into the Trump presidency, how is the commission reacting to reports that the administration may permit drilling off the coast?
This is a significant concern for the commission, and for me personally. The rhetoric coming out of the new administration is about opening up oil and gas development off the coast. The narrative is that climate change is not happening and that sea-level rise is not an issue. Those beliefs and values are not shared by Californians.
We are concerned that there may be efforts to weaken the Coastal Zone Management Act, which the law that provides the commission the authority to review federal projects offshore in federal waters.
The Coastal Zone Management Act also provides us grants through the National Oceanic and Atmospheric Administration (NOAA) to the tune of $2.5 million—or about 10 percent of our budget. The loss of those funds would be devastating for our program and would set us back.
Coastal protection has always been a bipartisan issue. It is really disconcerting that the administration specifically singled out Coastal Zone Management programs to be eliminated from the budget. That budget still has to go through Congress, but the commission and I are very concerned about the direction this administration is taking. We're very blessed and lucky to be in California, where the majority of the population, our legislators, our governor, our commission, and local governments, believe that sea-level rise and climate change are the most significant threat to the future of our coast.
The Coastal States Organization, which is an alliance of coastal states around the country, met in Washington a couple weeks ago. Across the board, even in red states, they are very concerned about the elimination of this federal funding—particularly in the south, where sea-level rise is a significant threat right now. The Coastal States Organization is rallying to urge our legislators to push back on these cuts, and keep coastal programs funded across the United States. 
Let's turn to issues the commission is addressing: Malibu's local coastal plan and Newport Banning Ranch, where open space challenges appear to have pitted developers against environmentalists. Update our readers on how the commission is handling these matters.
Malibu has scenic viewsheds, environmentally sensitive habitats, and one of the most unique habitats and recreational resources in the state and the country right in the middle of a large urban area—the Santa Monica Mountains Recreation Area. The 2014 Santa Monica Mountains local coastal program is one of the most protective local coastal programs the commission has ever certified. It will ensure that those habitats and scenic views will be protected from development in the future.
Banning Ranch is one of the last large open spaces in Orange County and urban Southern California. There are significant sensitive habitats and species there, and the commission took a strong position that the constraints of the site just did not allow for the level of development the developer was pushing for.
The Carlsbad desalination plant from Poseidon Water is up and running, and a number of other desalination facilities are in planning. What is the role of the Coastal Commission—today and in the future—in reviewing and approving these coastal facilities?
We have the authority to review desalination facilities along the coast, in conjunction with the Regional Water Quality Control Boards and the State Lands Commission.
Poseidon's facility was caught in a tricky situation and circumstances. The State Water Board rolled out new regulations and requirements for desalination projects while the Poseidon project was under our review and now the project must be reviewed under these new requirements.
I helped to broker an agreement among the three regulatory agencies to coordinate the review of the project in order to ensure that we addressed all the potential coastal and environmental impacts as well as project alternatives in a coordinated fashion. That approach is good for the applicant because there won't be surprises at the end of the process, and it's good for the public because they can be engaged and aware of what's happening as the project is winding its way through the regulatory process.
There are still some significant issues with Poseidon's proposed plant in Huntington Beach, including the size of the facility and its seawater intake. We'll be addressing all of these issues in the next six to eight months.
TPR recently interviewed California Natural Resources Secretary John Laird about the evolving mission of that agency as it moves from a strategy of climate mitigation to climate adaptation. How does the Coastal Commission contribute to this policy transition?
We are under the umbrella of the Resources Agency, so we are part of that team. We work collaboratively with the Ocean Protection Council and with the Coastal Conservancy, our sister agency, on adaptation planning and projects throughout the state.
Our role in adaptation planning is critical. The local coastal plans (LCPs) are where adaptation planning truly occurs. Recently, the state administration and legislature provided $4.5 million in grants to local governments to update their LCPs, and also to complete LCPs that have not been certified. It was a specific requirement of those grants to address sea-level rise vulnerability and adaptation strategies.
We also collaborate with Caltrans, through a new partnering agreement that helps us to get involved early in the planning phases of their highway projects. Sea-level rise adaptation planning is a critical part of that coordination effort.
State Parks owns more costal property than any other entity, which are threatened by sea-level rise. Some of these facilities are right on the beach. They are critical recreation facilities that offer low-cost overnight accommodations. It's important for us to work with all of these agencies to plan for rising sea levels.
Sea-level rise and increased storm activity are not way out there in the future. In the last two years, we've seen more erosion along the coast than we ever have seen in the history of California. As we speak, the commission is dealing with a number of emergency permits—particularly dealing with highway infrastructure along the central coast. We're seeing these effects right now.
Sea level rise is the most significant planning challenge we have ever faced. It's critically important—and I talk to Secretary Laird about this—that all of our agencies are coordinating and collaborating on a unified, integrated plan to move forward. 
In a 2012 interview with Santa Monica Mountains Conservancy Director Joe Edmiston, as then-Mayor Antonio Villaraigosa was making his case for "elegant density," Joe noted the need to balance density against green and open space. From your position, how do you respond to increased discussion at the state and local levels about prioritizing housing and density in Southern California?
 It is critical that we have increased density in urban areas in order for people to be able to walk, bike, or take public transit to their jobs, in order to reduce the sprawl that has affected California for years, and in order to provide affordable housing in our coastal communities.
Providing housing for all people of all income levels along our coastline is critically important. We see a lot of people who have to take long bus rides to get to work in the coastal areas. It is a public access issue, and also an environmental justice issue, to ensure that people who work in those communities are able to live in those communities. The challenge is to increase density along the coastline while at the same time protecting our sensitive coastal resources.
It's also important to create transit connections to get people to the coast who may not be able to afford to drive there. I recently met with Santa Monica City Manager Rick Cole and Planning Director David Martin, as well as Los Angeles Councilmember Mike Bonin and Planning Director Vince Bertoni, about the possibility of opening up access to urban beach areas by connecting the Expo Line to shuttle systems, bike-share programs, and other mass transit programs.
In some of the more rural areas along the coast, it's been a challenge to increase density just because of water availability and other infrastructure requirements.
What state legislation are you now monitoring that could materially impact the work of the Coastal Commission going forward?
Our budget over the years has been pretty lean. Last year, the governor and Legislature provided an additional $3 million to our baseline funding to help with our local coastal program work, which was very helpful. But we still do not have adequate staffing to efficiently and effectively deal with some specific issue areas.
For example, we have one geologist, one coastal engineer, and three ecologists for the entire state of California. They simply cannot cover all of our workload. It creates a pinch point and slows down processing of planning and permitting items. .
Increased funding for staffing would be helpful and would increase our efficiency. When the state increased the budget for our planning staff, we were able to show significant decreases in the processing time for coastal development permits, and more importantly, for local coastal program amendments. 
Lastly, if you agreed to another TPR interview in 2018, what successes would you hope to share at that time regarding the commission's efforts?
The most important priority is that we see success in updating local coastal plans with our local government partners, and also completing uncertified local coastal programs.
A number of jurisdictions have never had their local coastal plans certified, including the city of Los Angeles, which has six planning segments. That's a significant workload for the commission, and it has really been an impediment in dealing with planning and permitting in the area. It's been a problem for many years.
We need to get uncertified jurisdictions certified, so that we don't have this dual permitting system. It has created a terrible bureaucracy, and an inefficient and duplicative process that's not fair to the applicants or the public.
Another high priority is to continue opening up new access points along the coast. We have secured a number of access easements over the years that have not been opened up; in many cases, we've had easements sitting there for 20 years or more. I've set a goal of opening up three to four access ways per year along the coast. In the city of Malibu, we're working on a public works plan to open up 10+ access points.
The other part of the public access equation is providing low-cost overnight accommodations along the coastline. We have about $8 million from in-lieu mitigation fees from coastal development permits on higher-end hotels that opted not to provide low-cost overnight accommodations. Some of those mitigation fees have been sitting with third parties  for a number of years.
My goal is to direct those fees to projects that serve very-low-income people and underserved communities and communities of color. The demographics of California are changing, and we need to respond to those changes.
We are developing programs to bring underserved communities to the coast and provide environmental and coastal education. These programs are really critical. We have found that there are kids within 15-20 miles of the beach who have never seen the beach, which is a tragedy. Outreach programs to underserved communities and inland communities are so important.
I come from an inland community. I want to get folks to the beach, and to stay overnight, so they can experience what I've experienced along the coast—how beautiful and inspiring the coast is.