In Santa Monica, voters recently rejected a no-growth measure that sought to drastically limit development in the city by encumbering nearly every new project with a mandatory public vote. City Manager Rick Cole, a veteran of planning and civics in the region, joins TPR to explain what Los Angeles leaders—who are faced with a similar ballot measure—will learn from Santa Monica's approach to growth and its serious commitment to placemaking and community engagement.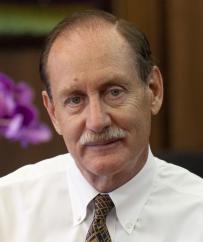 "Voters are rightly suspicious of projects that get entitled outside a predictable framework that integrates planning for transportation, public space, affordable housing, water, and community quality of life." -Rick Cole
With the showdown over the Neighborhood Integrity Initiative coming to LA in March, many who support sensible planning and building housing were heartened by the defeat of Measure LV in Santa Monica. It would have required a public vote on essentially every project over two stories. Do you think there is a message for LA voters in the Santa Monica verdict?
Rick Cole: I hope so. I think there are three takeaways from the campaign and the vote that soundly rejected LV.
First, voter frustration with traffic and project-by-project entitlements is real. There is no substitute for consistent, comprehensive planning. Councilmember Kevin McKeown, who was not up for election, was the most eloquent voice in arguing against both "ballot-box planning" and the practice of granting developers special privileges. I think his arguments against LV resonated with voters.
The second takeaway is that voters will support what former LA Planning Director Gail Goldberg calls "real planning." What they don't want to see is individual projects that go beyond the rules. They are rightly suspicious of projects that get entitled outside a predictable framework that integrates planning for transportation, public space, affordable housing, water, and community quality of life. 
Santa Monica has done an exemplary job in community planning over the years, but a series of controversial proposed projects undermined public trust. The mixed-use Hines project was killed after residents collected enough signatures to force a referendum vote. Afterwards, two very tall hotel projects ended up getting shelved, and the City Council has downsized a proposed mixed-use project on publicly-owned land in our downtown.
With LV behind us, we have an opportunity, with our draft Downtown Community Plan, to move past controversies over individual projects. Adoption of the plan will ensure a more coherent and predictable framework for the area of our city where we want to continue development of new transit-oriented housing, while respecting the historic character that makes Downtown Santa Monica such an attractive place for both residents and visitors.
The final takeaway is about the kind of campaign that can address voter frustrations and fears about the status quo. While many supporters of LV are bitter about the amount of money spent against their measure by developer-backed campaign committees, I believe that in the end, the difference was made by the breadth of the coalition of community leaders who rejected such a draconian measure. 
Voters in Santa Monica are sophisticated. They showed that two years ago, when they voted for local control of our airport despite a million-dollar campaign of deception by outside aviation interests.  Santa Monica voters can't be fooled by slick campaigns. But they put trust in the civic, environmental, education, and community groups, and their leaders, who strongly opposed LV. 
Los Angeles has not invested as much in up-to-date planning, due to lack of both funding and political will. It's also a far larger city. How similar are the two situations as LA voters make up their minds? 
My hope is that Mayor Garcetti and the City Council will take credible steps to assure voters they are serious about a better approach to planning the city's future. I think appointing Vince Bertoni is a good signal—he's obviously a thoughtful and experienced professional who understands the need for real planning.
The pace of updating community plans has been speeded up with an infusion of funds. But I'd look to both Council President Herb Wesson and new Council voices like David Ryu to demonstrate that if voters turn down the Neighborhood Integrity Initiative, it won't be back to business as usual in LA. Los Angeles deserves better.
Mayor Garcetti has the right values and the right vision. He's in a position of strength heading for re-election. His leadership could bring to pass what has been so desperately missing in LA since the days of former planning director Cal Hamilton—a reliable blueprint for growth that ensures development supports and enhances our quality of life, instead of overwhelming it.
What's ahead for planning in Santa Monica?
Our first priority is the adoption of the Downtown Community Plan next spring. We've done tremendous outreach. I think there is more consensus on the direction of Downtown development than was evident during the divisive debate over LV.
There is strong support for preserving our unique sense of place. Santa Monica residents want to preserve the scale and character of the Third Street Promenade and Ocean Avenue. There clearly is support for more housing downtown, along with improving urban design in new projects. There is also strong sentiment for enhanced public space for the full range of social, cultural, and civic activities that enrich the experience of our community's "living room."
We are putting a citywide emphasis on "placemaking." We don't want every street in Santa Monica to be as busy as the Promenade or the Pier, but there is no reason they all can't be as beautiful, functional, and attractive as our iconic streetscapes.
Our planning director, David Martin, leads a truly talented staff that is continuing to improve how we engage the community. We've created a new position focused on urban design, and are working with groups like Beautify Earth, whose murals have done so much to brighten neglected streets like Lincoln and Pico. Look at the reaction we received when we painted just two of our new "scramble" intersections downtown with colorful imagery!
Cities should be vibrant places for discovery. Our new Colorado Esplanade, which links the Downtown Expo station to the Pier, shows how we can make our streets safe and walkable for people. On a larger scale, we also are looking at ambitious possibilities for decking over the 10 Freeway in Downtown.
With the enormously successful new Expo connection to the region, a stronger linkage between our Downtown and Civic Center opens some remarkable opportunities. There are also great opportunities to protect and enhance the character of unique districts and neighborhoods like Main Street, Ocean Park, the Pico neighborhood, and Montana.
All this is in the context of the City Council's Strategic Goals to create a new model of mobility and retain Santa Monica's economic diversity and sense of inclusiveness. The purpose of planning is not to make great plans—it is to create and enhance great places. Santa Monica is committed to continuing to be a regional and national leader in sustainability, wellbeing and resilience.