Councilmember David Ryu, representing the Fourth Council District, has prioritized land use and development issues since entering office over a year ago. In an exclusive interview with TPR, Ryu provides an update on City of LA efforts to address the broken planning system and build trust. Ryu discusses his work to implement immediate planning reforms, such as banning ex part communications with Planning Commissioners; adopting a transportation plan for all city parks, and achieving a council compromise on regulations for accessory dwelling units. He also advocates for expedited updates so Los Angeles can plan for its future growth and change within the next decade. Ryu, who mobilized a Korean-American constituency to become the first Korean-American city councilmember, also updates readers on his efforts to introduce business leaders in the Korean-American community to City Department managers.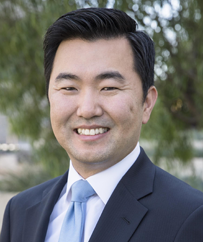 "We need to pursue the very smart and important reforms that we introduced in City Council, as well as some of the initiatives, like the Neighborhood Integrity Initiative talk about—like updating our community plans, limiting spot zoning, and revising who conducts our EIRs in our city." -Councilmember David Ryu
When TPR last interviewed you, in February of this year, you said, "When it comes to planning, it's about first gaining trust around the small things." Now that you're in your second year on the City Council, elaborate on the steps you've been able to take to increase trust and transparency in your work regarding land use & planning.
David Ryu: Trying to rebuild trust with the community is one of the most fundamental things that I've tried to do. And it's not just about development issues; it's everything that I do in my office.
Rebuilding that trust is about being transparent, whether it's about budgeting and discretionary funds or about the meetings that I'm having. It's important that I'm as transparent as possible so that people don't think that I'm trying to hide anything.
Of course, part of that is creating dialogue with all stakeholders and interested parties. That means not just the community, but also the business community, including developers, architects, and city departments. It's about creating comprehensive dialogue with all parties involved. 
Housing and planning ballot measures on the upcoming City of LA November and March ballot would seem to indicate citizens are increasing frustrated with LA City's planning process. What needs to be done by the city's elected leadership to gain the trust of the residents, community organizations, and business interests that are the city's stakeholders?
One thing that my City Council colleagues and I are doing is pushing for some planning reforms that can be implemented immediately—like updating our community plans, limiting spot zoning, and revising who does the EIRs in our city. Those are the things that communities are asking for and that need to be done. It's important that we institute those reforms early on so that we can begin to address those issues.
The mayor has now proposed banning ex-parte communications with planning commissioners, a step you have urged the Council to consider. Elaborate on that proposal.
In 2007, City Council requested that the City Attorney provide a report on this very issue; it's not a new issue. At that time, the City Attorney recommended multiple ways our city could improve transparency and due process, which included limiting ex-parte communications.
Our city clearly has a glaring structural problem when developers can contact commissioners outside of regularly scheduled commission meetings and make their cases in private. It's imperative that we rebuild trust in our planning process, and that starts with limiting ex-parte communications.
It's clear that many residents don't trust City Hall; otherwise, things like the Neighborhood Integrity Initiative wouldn't exist. I believe that restricting or even banning ex-parte communications is a step in the right direction.
The L.A. Times recently editorialized against the Build Better LA initiative on the November ballot, and in our last issue, The Planning Report carried an interview with Cecilia Estolano on why LA seems to "draw the short straw" on approving and building affordable housing. In both cases, the lament was about LA's weak and visionless land-use and planning process, and absence of an updated general plan and community plans. Do you foresee any meaningful reforms being adopted and implemented in the near future?
The lack of affordable housing is not new to the city today. For a long time now, we've had a shortage of housing, period. With even more population growth recently, the housing shortage has been exacerbated. So it's not a matter of whether I see progress happening in the years to come; it's that we need progress.
We need planning reforms so we can build more housing and more affordable housing. At the same time, we need to make sure we build appropriately. In the district that I represent, Council District 4, there is no shortage of people wanting to build—whether there's land or not. But we have to make it equitable. We have to incentivize building in areas, like in other districts, where they're asking for development and asking for growth.
We need to pursue the very smart and important reforms that we introduced in City Council, as well as some of the initiatives, like the Neighborhood Integrity Initiative talk about—like updating our community plans, limiting spot zoning, and revising who conducts our EIRs in our city. These reforms are very important.
In terms of updating our community plans, I would love to see a timeframe of three to seven years. We need to make it a priority and give voters faith that the city is tackling this issue head-on, taking it seriously, and taking steps to actually get it resolved. 
Permitting accessory dwelling units clearly is an immediate planning and land use challenge, both with the governor and in local jurisdictions throughout Southern California. Is it an issue you've addressed in District 4?
Yes. This is an issue where you can't pursue a one-size-fits-all solution. Often, what's good for one part of the state doesn't necessarily work for another part. When it comes to accessory dwelling units or granny flats, local jurisdiction and local controls matter.
My grandmother lived with me growing up. If it weren't for her, my parents would never have been able to work 24/7 like they did, and our family would not have been able to survive. I fully understand and support the need for families to expand and possibly build a secondary dwelling unit on their property. But again, it's got to be appropriate.
We can't have a situation where the secondary dwelling unit is even larger than the primary dwelling unit. It can't become another excuse or loophole for people to build at will. We need regulations and safeguards in place for neighborhoods. 
Are your council colleagues aligned on the issue of accessory dwelling units? How does this issue play out in the city of LA?
We recently came to a compromise. We passed a motion to formally adopt the standards the city has been using, which allow ADUs of up to 640 square feet.
Of course, there was a period of time where many projects were approved by the city under the state mandate allowing 1200 square feet, and we've agreed to grandfather those in.
That's our temporary compromise on that issue, but we're going to come up with a permanent fix before the end of this year. 
Increasing street gridlock is clearly complicating agreement on land use, planning, and density discussions in Los Angeles. In our last TPR interview, you noted the city was working on a transportation plan for all the parks in the city of LA, including Griffith Park. Give us a status report on that planning.
I'm very excited about that. The Department of Recreation and Parks just finished their study, and we're trying to implement a transportation mitigation plan for the Griffith Observatory area by the end of this year.
In the city of LA, development and transportation issues—in particular, traffic issues—are pretty much linked. People say that we don't have the ability to build more housing because we don't have the proper infrastructure, we don't have the land, and it's only going to create more traffic. That's why it's essential, when there's an opportunity to help relieve traffic and fix the gridlock anywhere in the city, that we do it—to prove and to show the residents that we can get it done.
In the Griffith Park area, our parks are being loved to death. At certain times, there's major gridlock. When there are several events happening at the same time, there's even more of a strain. We've come up with a traffic mitigation system.
The first phase is just for the Griffith Observatory area. Once that's implemented, we want to expand it to include the entire Griffith Park area, incorporating DASH lines, Metro bus lines, and parking lots outside of the park, below Los Feliz. We plan to maximize use of shuttle services and parking lots to reduce traffic. 
As a member of the City Council's Arts, Parks and Rivers Committee, the LA River is within your purview. Give us an update on your work in this area.
The LA River is a very exciting project. Growing up in LA—I've lived here almost my entire life—I never realized we had a river. That is a travesty.
The river is the lifeline for our city, and the fact that we're trying to reengage in it is amazing. It's not just a public space opportunity, but also a potential housing opportunity. It's an amazing project for me to participate in, and it's moving along.
In these trying times, even though the economy is improving, we do have lots of needs in this city. From the need to update infrastructure, to our homelessness crisis, to the need for more housing, there are a lot of things that we need to do. This is a $1.6 billion project, and I want to make sure that it's equitable. The river stretches across the entire city of LA, so we've got to make sure we do proper investments so all Angelenos can benefit. 
You've been most invested in the upper part of the river, and your good friend, Assembly Speaker Anthony Rendon, has focused on the lower part of the river. Give us a sense of the collaboration that it takes to successfully address the challenges of revitalizing the entire LA River.
It's going to have to be a collaboration, not just between the state and the city, but among the city, the county, the state, and the feds. It's something that can unify, not just our city, but our region. It's about linking all the different sections, linking all the different cities, and linking all the different communities and people.
As I mentioned, for just that 11-mile stretch of the river in the city of LA, we're projecting a budget of $1.6 billion. We need to seek funding from both the state and the feds. Without their help, this will never be realized.
Your constituents and all Californians will face a long and complex ballot in November, with many initiatives and funding bills requiring attention. Could you share what which measures are most important for your constituents to consider and vote on?
You said it: It's going to be a Bible. It's going to be very thick and very dense. I'm actually very concerned about the number of propositions. There's going to be major voter fatigue—voters just not being interested.
It's hard to pick which ones are the most important. Measure M, which I'm supportive of, is crucial for many of the things we've been talking about: the need to update our transportation infrastructure and to help relieve a lot of the traffic issues. Measure HHH, to help with our growing homelessness crisis and the need for affordable housing, is also one that I support.
But the one ballot proposition that I want to focus on most is Measure A, the parks bond. I think it goes to the root of a lot of the issues we're talking about.
LA has a tremendous lack of green space. Part of people's concern about development in LA that the city is becoming more and more of a concrete jungle. We need to make sure that we have appropriate green space available. Building new parks and refurbishing existing parks are some of the most fundamental services that we need.
We have Quimby funds, and we do what we can, but it's never enough. Every time we have a budget crisis, the first things to get cut are always parks, libraries, senior services, and arts programs. During good budget years, when the economy starts to improve, the last things to get funded, again, are parks, libraries, and arts programs. That's why it's crucial that Measure A passes. 
Lastly, this past month, as the first Korean-American member of LA's City Council, you hosted a session for LA's Korean-American business leadership to meet the general managers of all City departments. Speak to the significance of that city hall meeting—and the priorities of those who attended.
The great thing about that event was that although it was co-sponsored by Council President Herb Wesson and myself, it was actually originally initiated and driven by the Korean-American Chamber of Commerce and many Korean-American businesses.
This event was the beginning of the dialogue. It laid the foundation to show small business owners—in this instance in one particular community, but we would definitely want to expand—that the city of LA is here to be your partner, that we are open for business, and that we want to help you grow.
That was step one. We want to follow it up with step two, where we actually link businesses with business opportunities, as well as educate small business owners in the city of LA about the different avenues and supports available to them, so we can foster this partnership.
The Korean-American small business community is reflective of the larger business community. They want our economy to thrive and to do well. That requires better goods movement and more public transit to get traffic flowing faster. It requires clear direction when it comes to development policy, creating more affordable workforce housing so that employees can actually afford to live in LA, and actually realizing our goals of smart growth and live/work/play.
I hope that, even though there's a very weighty ballot guide this November, small business owners go through the entire thing and vote for all the things that matter to us all.