It was recently announced that Peter Marx was leaving his post as the City of Los Angeles's Chief Innovative Technology Officer. Hired in 2014 by Mayor Eric Garcetti, Marx was recruited from Qualcomm Labs and previously served as vice president of emerging technologies at Universal Studios. During his tenure with the city, Marx worked with AT&T and Google Fiber to bring their data services to LA, and helped launch the Xerox-sponsored mobility app Go LA. Marx joined TPR for an exit interview to reflect on his contributions to the effort to transform local government through open data—including through re:code LA—and the lessons he will bring to his new position at General Electric.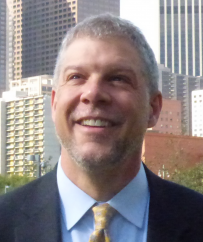 "In addition to redoing our own zoning code, Los Angeles is publishing an open-source, community-supported set of tools to enable anyone in any city in the world to improve and use our solutions for their own applications." —Peter Marx
When Los Angeles Mayor Garcetti announced that you would be leaving your position as the city's Chief Technology Officer to move to GE Digital, he thanked you for your work "laying the foundation for a more connected Los Angeles." How is LA more connected as a result of your tenure?
Peter Marx: Los Angeles is where the Internet literally started. But today, it's fair to say that LA has some challenges in terms of getting Internet connectivity to everyone in the city. It is, after all, a very large and complex city.
Mayor Garcetti has led the effort on driving more broadband, cellular, and unlicensed spectrum activity across the city. As a result, LA Metro is putting Wi-Fi and cellular service into the subway systems and on buses, and LADOT is putting Wi-Fi onto the DASH buses. We put Wi-Fi into the bus shelters. We've also done a lot of work with the Department of Water and Power to wholesale additional fiber optics that are buried under the street, making them available to more operators across the region.
We have an ongoing effort called CityLink LA, which made the assets of the city and Metro available to broadband providers. For the first time, we created an inventory of all the assets available across the city—real estate, rights-of-way, existing fiber, attachment points for streetlights, and all sorts of other things. 
In addition, we set up an expedited permitting process and a special city office just for working with communications providers. LA, which was known as being fairly hard to work with in terms of communications infrastructure, is now one of the best partners in the country. 
Finally, we put out a Request for Participation. As a result, not only did we receive proposals from various providers who were looking at the assets and the expedited permitting and the standardized leasing, but in addition, AT&T Fiber and Google Fiber both announced at the end of last year that they were going to bring Gigabit internet to Los Angeles. LA has gone from being a challenging place to put in communications infrastructure to likely having the largest deployment of fiber optics in the world, full stop.
LA was also the first city to put cellular towers into streetlights. About 80 of these "small cells" have been deployed—and hundreds or even thousands more will be—in places like Fairfax Boulevard, Downtown, and all over the city. They allow your cellular service, and consequently your Internet access, to function much better.
In addition to greater fiber optics, folks providing radio connectivity to the Internet throughout LA have all either deployed new functionality and new infrastructure or are doubling the size of their footprints. The result is that on average, according to the FCC, LA's broadband speeds have increased by about 600 percent since the mayor took office.
LA and its open data portal, DataLA, have been recognized by The Sunlight Foundation as a leader in the United States. Elaborate on the value of an open data portal for a city. 
We launched the open data portal at the end of May 2014, alongside a TechLA conference that brought a couple thousand people to City Hall. When it launched, the portal had about 200 data sets. Now it has more than 1,000. It's probably the biggest collection of urban data ever published. Within a year, it was recognized as the top open data portal in the country for cities, and it has been ever since.
One benefit of this tool, quite frankly, is the potential for more transparent government. Publishing this data allows people to have insight into what the government is doing. The most visible and topical example of this may be police data. LAPD publishes more police data than any big police force in the country.
There are also research benefits. The more data we make available to the public, the more tools are available to students, researchers, faculty, and think tanks to work on solving LA's challenges—from sustainability, to resiliency, to economic development. At the individual level, open data allows people to do things that will make their daily lives better. For example, two million people in Los Angeles use the traffic app Waze. That app works as well as it does because the city publishes our construction data, as well as a ton of other transportation-related data. As a result, people can drive across the city more efficiently, more quickly, and more safely.
During your tenure with the city, you helped introduce a transportation platform and app, GoLA. What's the value of this service?
GoLA is a mobility marketplace. Xerox built the platform and the two apps (iOS and Android), and it's also available as a web service.If you want to get between points A and B in Los Angeles, GoLA will show you routes using all the different providers of transportation—public, private, fare transit, parking, etc.—in one unified interface. It incorporates about 35 different transit operators. Your options can be ranked according to what's fastest, cheapest, and greenest. It's the country's first such mobility marketplace, but it certainly won't be the last.
You also worked on re:code LA, an ongoing initiative to convert the city's zoning code to an online tool searchable by location. Elaborate on this initiative.
The zoning code for a big city like LA is something like 600 pages. On top of that, there are thousands of regulatory cases resulting in exceptions, changes, and new rules.
It's a heck of a lot bigger than the original 30 pages that were printed in the 1910s. And whether you're a homeowner or a developer building a big campus, you have to read the entire code in order to figure out what you're able to do. That doesn't make any sense in today's age. Re:code LA is an initiative within the Planning Department to turn the zoning code into XML. This way, homeowners in any neighborhood can easily find out everything they're allowed to do when redoing their kitchen, changing a wall, or any other project.The user interface will be much simpler. But on the backend, it requires sophisticated computer programming. Turning human-readable zoning code into something that a computer can interpret and understand is no mean trick. That's why, in addition to redoing our own zoning code, Los Angeles is publishing an open-source, community-supported set of tools to enable anyone in any city in the world to improve and use our solutions for their own applications.
Digital Cities clearly appears to interest of yours. What presently informs you thinking about how cities are evolving with new technologies?   
I remain very interested in what happens in cities regarding technology. As a very topical example, I think Pokémon Go is fascinating. The game is a form of virtual reality. It comes from Niantic Labs, which was hatched out of Google by John Hanke and a number of other people who originally worked on projects like Google Earth and Google Maps. They developed Ingress, a location-based game that was conceived as a way of getting people to go outdoors and interact in public spaces. It got very popular, and that engine has now been republished as Pokémon Go.
Now, suddenly, we see all these people—especially kids—out in public spaces, chasing Pokémon. It's an example of how urban life is changing right in front of us, as we come to experience the urban world through technology. The experience of living in a city is going to continue changing—not only because of new infrastructure technologies, but also because of creative things.
You came to the Mayor's office from the private sector, having worked with Qualcomm Labs, Electronic Arts (EA), and others. What was the private-to-public transition like? Now going to GE Digital, how will your public sector experience inform your new work? 
The private sector has a much more direct way of getting things done. The way to achieve a given outcome is to come up with a plan and do it. For example, if you and I wanted to start a business selling pizza, we'd lease the space and we'd go start it. No big deal. If we had the funds and the plans and the customers, and we worked hard enough, we'd find success. In the public sector, nothing is quite that direct—even if we all agree that opening a pizza place is a good idea. There is a very diffuse set of controls across the City of Los Angeles; there are many different governments and authorities. Opening a pizza shop would have to be considered from a number of different perspectives—policy, funding, economic development, and so forth. The regulatory apparatus is complex, to put it mildly. Not only is the public sector more complicated than the private sector, but the incentives are also very different. In the private sector, the benefits of offering a service or a product are directly visible. In the public sector, they're much more diffuse and indirect. The strategy that I used in the public sector was to find people who were already doing good work, and from my position within the mayor's office, help them do more. I did not build up an organization, for example, or even try to go get funding for initiatives. That was a fairly effective strategy. To a certain degree, the two worlds require very different types of thinking, and I'm glad to have both.
Lastly, as you depart from City Hall, are you leaving behind any parting recommendations or reflections for your successor?
I served as CTO for two and a half years to the day. My parting recommendation was that the office come with a limited term—perhaps two years. I think of this position as a relay race, not a marathon. I also recommended that the CTO not necessarily come from outside of government, but sometimes from inside government. I purposefully recommended Jeanne Holm for her experience at the federal level, where she's had a big impact on open data and innovation. We were lucky enough to hire her at the local level after the great work she did at NASA, JPL, the White House, and the World Bank. Holm is very good at managing within the public sector.
Coming from the private world, my attitude was always to move straight forward to our destination. That was valuable when it came to getting new things going. Now that so many of these big initiatives are finally underway, we need somebody who is agile and intelligent about working with existing public sector institutions—someone who can not only improve on the work, but also drive change within the organizations to ensure that we will always have a forward-looking city. I'm very glad that she took the job.
<