Senator Tony Mendoza, who represents cities in southeast Los Angeles County, has been vocal about his discomfort with the way Metro's 40-year expenditure plan has addressed how to best distribute $120 billion on rail, bus and bike projects from an evergreen, half-cent sales tax proposed for the November ballot. In two letters recently sent to Metro Chairman Mark Ridley-Thomas—one signed by Senator Mendoza and Assembly Speaker Anthony Rendon, the other by Senator Mendoza, Senate Pro Tem Kevin De Leon (D-Los Angeles), and Senator Ricardo Lara (D-Bell Gardens)—Senator Mendoza asks Metro not to delay the Eco-Rapid light-rail line from downtown Los Angeles to Norwalk by 20 years for a completion date in 2047. The Mendoza-Rendon letter, notes that the light-rail line was already approved for completion in 2027 under 2008's Measure R. TPR's interview below with State Senator Mendoza follows this past week's interviews of State Senator Robert Hertzberg, Valley Civic Leader Richard Close, and State Senator (and Senate Transportation Chair) Jim Beall.
UPDATE: The Metro Board voted June 23 to send its expenditure plan to the November ballot.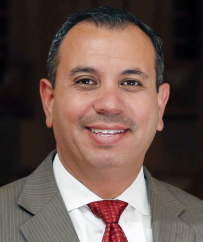 "We have a letter from Senate Pro Tem Kevin De Leon to the entire Metro Board to ask for a postponement of [Metro's June 23] hearing, so the Senate can have an opportunity to assess how Metro carried out the process in coming up with the projects in this November ballot initiative." -State Senator Tony Mendoza
Senator Mendoza, you've taken an active interest as a State Senator from Metro Los Angeles in what Metro is proposing to place on the November ballot as its transit investment priorities for the next 50 years. What are your thoughts about the transparency of the process leading up to the full Metro Board vote on the plan next week? Do you think the plan's priorities will help address the many transit needs of your constituents?
First, the way the Metro Board has developed this plan could have been done better. The plan does not take into account the diverse needs throughout the county. Their focus has been on the $17 billion 405 Freeway tunnel and other projects that are sucking up funds from numerous viable projects throughout the county.  Metro has prioritized the tunnels, which has subsequently pushed out the viable projects a minimum of 15 to 20 years. Also, Metro has put a lock on funding the tunnel and other projects that are going to use a lot of the funding generated from the new measure. It is has been difficult to get any conversation about changing this policy. 
I am also disappointed because this was perhaps the first time that the State Legislature passed a bill that would provide Metro with a blank check to fill in transit priorities, as long as it was done through a bottom-up process working with the Council of Governments and other local groups. They were going to take the number one priority projects and make it a part of this measure.
Of course, Metro did not do this to the full extent and did not do it in a fair manner. They put many of the projects that the local groups advocated for at the back end. I wanted the projects to be listed in the bill, and put it front and center. There have been a lot of upset stakeholders that believe that this process has been railroaded, or monopolized, by a few interests that do not prioritize the projects advocated by the local organizations.
There is a scheduled state transportation hearing in Los Angeles, at Metro Headquarters, scheduled next Friday. But the day before, the Metro Board will be voting on the expenditure plan that will be on the November Ballot. Is that timing acceptable to you?
No. We have a letter from Senate Pro Tem Kevin De Leon to the entire Metro Board that asks for a postponement of next week's hearing, so the Senate can have an opportunity to assess how Metro carried out the process in coming up with the projects in this November ballot initiative. Senator De Leon is the one who authored the bill last year that would have given Metro a blank check.
We are anticipating and hoping that the Metro Board will do the right thing and postpone the vote. They do not have to vote next week—instead they have just chosen to rush it through. They released the last revision just last Friday, on June 10th, and are only giving people less than two weeks to assess the changes. Legally, they could hold off on this vote until August and still qualify for the November election, but they are choosing to railroad it.
If you look at what Metro released in March, and then compare it to what they released in the revised version just on June 10th, there has been very little movement in reprioritizing the projects that the local organizations advocated for.  One thing does stay permanent, which is the $17-billion 405 Freeway tunnel expansion, and I do think this tunnel is a negative for the ballot measure overall.
Given your experience as an Artesia City Councilmember, Assemblymember, and now state senator, you know how difficult it is to reach policy consensus in a county the size of LA County, especially for an evergreen sales-tax measure needing a two-thirds vote. What advice would you give to Metro as they approach a final vote on an investment allocation measure?
Most importantly, keep the promise from Measure R1. Measure R1—passed by voters in 2008—promised that those projects funded in Measure R1 would get done. If you complete the projects and keep the order intact within the new measure, all of the problems will be eliminated.  But when you are breaking the promises of voters within the previous measure by not completing projects, voters are not going to trust what will happen next—and I don't blame them.