Trailblazing New York City Transportation Commissioner Janette Sadik-Khan joins TPR for an interview to highlight her new book StreetFight. Sadik-Khan transformed the Big Apple's view on public spaces, bike sharing, mobility, and more. During her tenure between 2007-2013, Sadik-Khan implemented 400 miles of bikelanes, moved forward on 60 plazas, and started New York City's first six rapid bus lines. She describes the trying process of implementing her vision of moving beyond taxis and endless congestion. As Los Angeles continues to deal with a fractured planning process, Sadik-Khan also offers some insights about trying innovative "complete street" pilot projects, incorporating stakeholder feedback, and carefully measuring the right data.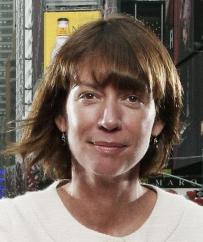 "The book shows how cities and residents can rediscover their streets and take them back today. People are hungry for updating their streets—making them safer, more productive, and easier to get around on." - Janette Sadik-Khan
"Work with the streets you've got and the budgets you've got. When you change that street, you change that city. When you change that city, you change the world." - Janette Sadik-Khan
Janette, you just released the book Streetfight: Handbook for an Urban Revolution with co-author Seth Solomonow. What prompted you to share in book form your NYC transportation commissioner experiences?
Janette Sadik-Khan: The success that we've seen—our ability to move quickly to make change without a lot of money and to see the results—transformed New York City and had lessons for other places.
This story is all about the transformative power of streets and the future of cities. It shows how anyone can re-write the road. If you invest in infrastructure for walking, biking, and buses, traffic moves better, the street becomes safer, and it's better for business. People have forgotten that there's more to streets than just cars, highways, and stoplights. They don't think about the way our streets are designed and don't have any expectation that streets can be better.
The book shows how cities and residents can rediscover their streets and take them back today. People are hungry for updating their streets—making them safer, more productive, and easier to get around on. 
During your tenure in NYC's Bloomberg administration from 2007-2013, the City added 400 miles of bikelanes, moved forward on 60 plazas, and started New York City's first six rapid bus lines, along with hundreds of other improvements. This was done from within the bureaucracy of municipal government. How?
It's really important to set a vision and get the buy-in of the organization—in this case, New York City DOT—but also to set new expectations about what streets are and who they're for.
We started with Mayor Bloomberg's PlaNYC agenda, the long-range sustainability program to accommodate a million more people expected to move to New York City by 2030, while still having a city where you want to live, work, and play. That had profound implications for how we designed city government in all aspects: housing, police, water, and the rest. It also had extremely profound implications for how we design our streets.
We translated that vision into a new strategic plan for New York City DOT, prioritizing making our streets safer and better for walking, biking, and buses. We looked at using our capital assets—all that concrete, asphalt and steel—a little differently.
The other piece is to move fast. Instead of endlessly debating change, try a project on for size in the short term. If it works, keep it, and if it doesn't, put it back. That pilot project approach reduces people's anxiety about a project. They can see, touch, feel, and understand it. There's nothing more powerful than the proof of the possible.
Finally, measure the data. Acting quickly gives you something to measure that can back up the project. Once you've got the data, it can promote the expansion of programs elsewhere. When we saw the safety improvements of our projects, it helped make the case for more bike lanes. When we saw the economic development benefits of plazas, bus lines, and bike lanes, that helped build support for them. We went beyond traditional data collection measurements, which are focused mostly on the car and traffic flow. We began counting people, and looking at impacts on the economy, mobility, and the environment.
I worked for a data driven mayor in Mayor Bloomberg. He was all about: "In God we trust—everyone else, bring data." We brought lots of data and new kinds of data.
Your book emphasizes how cost-effective bike and pedestrian improvements are, compared to the huge capital-intensive projects cities have often undertaken, like highways. What, regarding urban mobility, is the potential of simple tools like paint on city-owned land? 
New Yorkers were tired of waiting for change. We had celebrated our fourth groundbreaking of the 2nd Avenue subway. They'd almost given up that anything could happen on the streets of New York.
A lot of cities are leery of trying new things, afraid that they won't work. But there's a lot you can do with paint, planters, and a few signs. Our changes were less than 1 percent of the agency's budget. 99 percent was for state of good repair—fixing our roads, bridges, and ferry infrastructure.
With our mobility changes, you could literally paint the city that you wanted to see. One of our biggest innovations was showing that you could move that fast and without a lot of money. It helped build support and buy-in from the public. They're the ones driving the change.
We gave the power of the streets back to the people: We turned our plaza programs, bike programs, school safety zones, and neighborhood slow zone projects into application programs. Communities would be the ones to say, "We want bikeshare, we want plazas, and we want bus lanes here." We flipped the relationship between government and its people. If you give residents a real choice, they will choose better streets. 
You mentioned both the administration's power-flipping relationship with the people of NYC and Mayor Bloomberg's reliance on data-driven governance. How did you engage the private sector and other city agencies? 
The Citibike program showed us the importance of the private sector. The $51 million in sponsorship paid for the bike share program, the largest in North America and the first new transportation system in New York City in 60 years—all at no cost to taxpayers. At a time when federal and state transportation funding is going down, we simply have to look to other partners to fund our transportation infrastructure.
The private sector was also involved in some of our plaza programs. Mayor Bloomberg had a strong belief that we couldn't create public space unless we had a maintenance agreement in place. In the 1980s, the city had gone through a very difficult period where it created a lot of open spaces that turned into garbage pits and other undesirable places because no one took care of them.
We created a neighborhood plaza partnership program where we partnered with local businesses and community groups, working with them to create a program to maintain the plazas. We also worked with the horticultural society and a homeless organization called Ace so that formerly homeless people could work in the plazas to clean them up. We had ex-inmates from Rikers trained in greening. They maintained the plantings in the plazas, which provided them an important credential when coming out of the prison system and provided opportunities to work in places like the Parks Department. We also partnered with local artists to bring art to urban streetscapes. There are incredible opportunities to work with communities. If you look at those relationships a little differently, you have very different outcomes.
Speaking of partnerships, people take it for granted that agencies are supposed to work together but that's obviously not the case in many cities. We had incredible inter-agency coordination. "No silos" was Mayor Bloomberg's imperative. Parks worked with AC, Environmental Protection, and Transportation. Mike Bloomberg had no patience for the statement, "That's not my jurisdiction." It was all of our responsibilities to take care of the city.
Let's focus on the success of the Broadway plazas in Times Square. Talk us through the process you went through to get to goal.
We called the project "Green Light for Midtown." We closed Broadway to cars and opened the former roadbed to people as a pilot. We closed it off with orange traffic barrels and put up temporary tables and beach chairs.
As we write in StreetFight, we hadn't actually thought about what we were going to put there when we were closing the street, because we had spent so much time on modeling, measuring, and deciding how to evaluate the effectiveness of the project. On the big night of the event, we thought, "My god, look at that 2.5 acres of asphalt. What are we going to do?" We ended up getting cheap beach chairs for $10.99 and putting those out on the street. That became the story: Did you like the beach chairs?
When we opened the roadbed, people immediately swarmed the streets. They sat in those temporary beach chairs and gazed up at the lights. It wasn't just tourists—it was tens of thousands of people who lived and worked within a few blocks.
We really worked to measure it. Behind the scenes, there was a massive outreach process, through community boards in theaters and liveries. We were tampering with the basic function of the city's densest location.
We found that injuries to motorists and passengers in the project area dropped 63 percent. Pedestrian injuries were down 35 percent. The number of people walking increased. 80 percent fewer people were walking in the roadbed. It was a smash hit with New Yorkers: 74 percent of them agreed that it improved the area dramatically. We saw retail rents triple. New stores moved in. It became one of the top 10 retail locations on the planet.
It just started with some tables, chairs, and planters. You can make big changes that transform your city and it doesn't take billions or decades. You could do the same thing in Hollywood! 
Los Angeles' City Administration often references applying NYC's successes with streets. However, the City of Los Angeles suffers from what the LA Times recently called "a broken planning and land-use process, with near universal agreement from homeowners to developers and housing advocates that the system doesn't work." Given LA's fractured planning and landuse process, what initiatives and improvements might you suggest?
A big part of it is the vision. What kind of city do you want to be? How do you set up the mechanics of government to make that happen? Without a vision, you're never going to get where you need to go to.
One of the very first things we did in New York City was to create the strategic plan—not only a city-wide strategic plan in PlaNYC, but also an agency strategic plan. Both of those pieces fit well together. That's how you can steer the big ship of the city in a new direction.
LA is struggling on the housing and development front, like many cities.  Housing is the other side of the coin for streets. Zoning rules that make it illegal to build retail and commercial districts near homes can dilute the power of the street and condemn certain urban areas to sprawl. Revisiting these rules is key.
It's critical to keep in mind that you get what you build for. The more roads you build, the more traffic you're going to have. The decisions you make about your streets are felt far beyond your city. New developments swallow green builds and create communities where work or even the nearest store is miles away. If you have to drive five miles just to get a little bit of milk, that's not just a matter of quality of life. It's also a trillion-dollar drag on the economy.
There is a huge equity argument for creating more affordable and dense housing in cities. I know you've got this in LA: Americans who can't afford to live in cities are willing to drive as far as they can to find a home that they can afford, called "driving until you qualify." That's bad for transportation, but it's also bad for the economy and for the bottom lines for commuters themselves. The less you have to drive, the better it is for the household pocketbook. We need to level the "playing-street" so that cities are accessible to all, rich and poor, whether or not you have a car.
You now serve as a principal at Bloomberg Associates, advising cities around the world. What's a frequent question that you are asked about urban mobility and livability—and what's your answer?
Parking is a big one. People in every city struggle with the fact that residents treat a parking space like it was their first-born child.
Mayors have four year terms. Most major transportation construction projects take five years to do. If you can outline the city you want to see, show the world the possible. That will go a long way to building support for a stronger city and one that people want to be in rather than drive through.
Work with the streets you've got and the budgets you've got. When you change that street, you change that city. When you change that city, you change the world.