The Arts District, now one of the hottest real-estate markets in LA, is the subject of competing visions for what makes a city livable, desirable, and open to business—as well as for how community input should figure into the planning process. Yuval Bar-Zemer joins TPR to describe the unique circumstances that aligned to make the Arts District possible, and the failed promise of an Arts District Specific Plan. He also offers perspective on the state of the planning process in Los Angeles.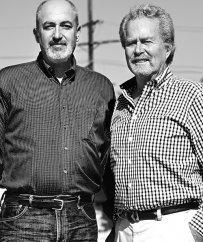 "The perhaps unfortunate part of our story is that when some people recognized the beauty and success of our neighborhood and decided they wanted to be a part of that story, their interpretation of their role in the big picture didn't necessarily coincide with how we look at things." - Yuval Bar-Zemer
You and Len Hill have been pioneers in shaping the Arts District. I want to ask you about your efforts with the Planning Department over the last few years to put a shape and identity to the planning that goes on in this district. What's the history of that effort?
Yuval Bar-Zemer: It was an interesting point in time, when we experienced a boost in developing a number of projects in the Arts District. I was also living, working, and raising my family in the Arts District. We started to recognize the district's unique characteristics, which created a clear distinction from other parts of Los Angeles. But soon we started to see projects being built that didn't fit those characteristics, and we started to see red lights. We said to ourselves: "Something is missing here. If an apartment building can suddenly just be built, how do we handle that?"
The reality was that many entitlements were done almost a decade ago, when the level of community awareness about what makes a good project for the neighborhood was less developed.
Throughout the typical history of land use in LA, projects get kept on a low fire, and depending on the economic cycle, they suddenly pop out. Then everyone is caught by surprise because they don't know the narrative of the project. We felt we needed to better articulate what made the neighborhood successful, and to create guidelines to ensure these surprises would not push neighborhoods in directions that communities didn't think was valid. 
What is the baseline you're referring to for the characteristics of this industrial-turned-live/work space? 
Our first project was the Toy Factory Lofts. We bought the building in 2002. At the time, the Arts District was already a distinct neighborhood.
The governing land-use policy at the time was Chapter 88 of the Los Angeles Municipal Code, which is the Artist in Residence Ordinance. That's a piece of land-use regulation that was very successful.
It was introduced in the early 1980s, as a response to traditional industry leaving the area and buildings losing their utility. Artists saw that as an opportunity to get large spaces in the industrial buildings, very similar to what happened in New York's Soho and Tribeca just a few years before. There was a similar movement in Los Angeles, and the city needed to legitimize this movement of people sleeping in factories.
Everything that we did was premised on this ordinance, and it was successful. We had to make findings that the buildings met basic life safety standards and other regulations. We used the ordinance successfully to create the Toy Factory and Biscuit buildings. They both have a combination of interesting live/work spaces as well as commercial spaces on the ground floor. We kept this process going with other projects, and despite the recession, this dynamic never stopped in the Arts District.
The other lesson that was learned was out of my own personal history. Because I elected to move here with my family, I started recognizing: What are my needs as a parent of two young girls? That's when we made decisions about who our tenants would be, based on our personal preferences.
If you really wanted to get a good return on investment, you had to get a good chef to run a restaurant, or a good wine or grocery store. It's not a coincidence that we got an interesting mix of tenants, because these were people with similar values. It worked well because people who wanted to start businesses enjoyed the fact that they could live in this area.
After just a few years, we almost invented a model that is not typical for Los Angeles—one where you live and work in the same place. All different types of people moved here: architects, interior designers, photographers, technology entrepreneurs, and fashion people. These industries created an interesting, sustainable model that was worthwhile.
As the economy and the real-estate markets have come back from the crash over the last four or five years, what kind of real-estate and development pressure has there been in the Arts District and east Downtown?
Success in one environment never goes unnoticed. You open a restaurant like Bestia and you start getting people traveling from Santa Barbara for dinner—it's no longer a secret. To a certain degree, we became a victim of our own success.
The area in general doesn't have high density, and everybody was eyeing the airspace. A lot of pressure was brought through the political system, and that resulted in the city trying to create a framework for ground-up development, which in general isn't permitted because of the M-3 designation of the land. As it stands today, you cannot build ground-up construction, and you're limited to 1.5 FAR.
These two parameters, over the years, actually protected the neighborhood from a lot of the typical development you would have seen in West LA in the '70s and '80s, so there's something interesting and pristine about the relatively old vintage of the buildings in the neighborhood—they were not immediately demolished as soon as somebody could add two stories to them.
Now we've realized that these are real assets, and we are debating how to make sure these things don't just get wiped out just because the land-use formula made a mistake in understanding real value versus building as many stories as possible.
Tell us about the citizen infrastructure here that's currently engaged with the city about the nature of the built environment in the Arts District. Who are they, and what is the nature of their relationship with the city?
The community is tiny. Maybe 2,700 people live in the Arts District. To the credit of this community, there's a tradition of grassroots activism here, starting more than 30 years ago with the community benefit organization Los Angeles River Artists & Business Association. Over time, there have been a number of other organizations—all of them nonprofit—like the Arts District Community Council and Arts District Los Angeles.
Each one of them has its own angle, values, and mission, but in general there's a pretty large consensus that what's happened here so far is good and valuable. The discrepancy is mainly about why it's been good, and the important contributing factors; everyone has their own opinion.
For instance: Should a tall high-rise be permitted here? Should we limit it to 5 or 7 stories? What are the preferred uses for the neighborhood? How will the future look in light of changing technologies? Should we really allow parking lots? What's an appropriate parking ratio now, considering the role of Uber? All these issues are evolving faster in the Arts District. It's not a typical neighborhood due to its industrial history and walkability, which really create a perfect platform for careful experimentation and a thoughtful way of looking at the future. 
Inconsistently with thoughtful consideration of the built environment and its future, it's considered one of the hottest real estate markets in Los Angeles. Talk about that pressure and how this community has tried to interface with what's left of planning in the City of LA to channel that energy.
The perhaps unfortunate part of our story is that when some people recognized the beauty and success of our neighborhood and decided they wanted to be a part of that story, their interpretation of their role in the big picture didn't necessarily coincide with how we look at things.
If somebody says, "I want to build 600 apartments; why not be in the Arts District? That's a nice living environment," they're looking at the environment as the magnet for why they want to be here. But they don't understand that they have an equal responsibility to maintain this level of quality moving forward.
This group of people applied enough pressure on the city—the Planning Department and the political system—to convince them to create a new land-use tool that would allow new construction with residential uses.
About three years ago, we got a call from the Planning Department saying that they didn't want to deal with case-by-case spot zoning, or people trying to change an M-3 designation to a C-2, and they wanted to create some kind of a standard. They made it very clear that they cared about the characteristics of the neighborhood, and they would do a proper process with the community to manifest a unique Arts District Ordinance. 
How did that proceed?
They did a relatively good job engaging with the community.  We had numerous community meetings of our own, deliberating about the future of the space. We're probably one of the few neighborhoods in Los Angeles to actually embrace the fact that we would be encouraging density.
The main thing that started to create some fractures in this effort was that the Planning Department needed to respond to housing shortages, while our community realized that you needed maintain a balance between housing and productive spaces. It's not so easy to articulate what these balances and compromises are, and certainly not to create land-use policy that delivers them—especially in an environment where most developers have a relatively small specialty.
Talk us through the compromises. Where and how did they happen?
When we saw the first draft of the ordinance, we discovered that a lot of the ideas that came out of the community were embedded. That made us feel happy and involved.
On the other hand, there was really no minimum threshold that new development would have to live with. Our basic fear was of turning this neighborhood into mostly Type 3, four-story, over-commercial spaces. We articulated that we do not want this neighborhood to become over-commercial, but that door was kept open.
When we responded with fear and shock, the answer was, "You're not the only group of people around the table. There are other needs. The mayor wants 100,000 housing units; where are we going to put them?"
Then we realized that the discussion hadn't been transparent. It wasn't a lot of opinions sitting around one table and deliberating. Each group gave an opinion separately, and the Planning Department picked up the various opinions, mixed them up, and came up with a product. It probably wasn't a bad product, but it created a compromise that we didn't feel comfortable with.
How did that get resolved?
The initial pushback resulted in an interesting strategic change on the city's part.
We brought a petition signed by several hundred people saying, "These are the important things. Don't sell us short," and we submitted it to the planning director at the time, Michael LoGrande, our mayor, and our councilmember, José Huizar. We said, "Let's be clear. There's a voice to this community, and it's pretty articulated, and these are the important things."
The next thing that happened was that the Planning Department informed us that they were no longer doing a Specific Plan for the Arts District, but that they were going to do a general new zone for the city, because that's what they actually needed.
What's the background and context of that political pivot?
I'm guessing that the director of planning, Michael LoGrande, may have realized that the pushback from the community was a bit more than expected. Making the plan citywide actually shrunk the voice of the community within the overall context. A citywide ordinance does not need to listen to a community of 2,500 people in the same way that an ordinance precisely for those 2,500 people would need to.
Yuval, nobody would challenge the fact that you are a true, tested, and successful developer. From your perspective, what's the relationship between this case study and the efforts of the Neighborhood Integrity Initiative, to be on the ballot in March 2017? Is what's happening in the Arts District is happening citywide?
It's an interesting confluence of events, mostly because it raises an interesting question about the balance of powers in City Hall.
There's planning staff; they have a very defined role. It's not always clear if they're actually given the right mandate to do what they're supposed to do, as evidenced in our case. As the new zone was making its way through the Planning Commission and the PLUM Committee, it became clear that the political decision-makers are actually able to affect planning decisions in a brutal way—sending the Planning Department back after two years of work because they don't like it.
When you witness this process, you have to ask: Who's assuming responsibility for this process, and is it an exercise in land-use management and planning or in politics? Unfortunately, we learned the hard way that it's mostly a political exercise.
Where do the efforts of the Arts District to shape its future stand, politically, today?
The new zone has passed and gotten the approval of City Council. The only point of pressure left to the community after that was to challenge the fact that the city didn't do an Environmental Impact Review on something that would significantly impact our lives in the Arts District. We filed a complaint; we'll see how the court system responds. We're hoping that somewhere in the process, the proper chain of events will take place, where instead of the city just throwing out new ordinances, we'll be given the chance to complete a Community Plan. These plans are long overdue.
You're not coming at this as someone who's anti-growth. You're coming at this as a successful developer invested in multiple projects here and elsewhere in the city, saying that the planning process is politically broken. You're saying: Let's fix it so we can do dense development in the proper way. Is that a fair characterization? 
I would say that my response to being involved in this debate is emotional and philosophical; it's the sense of a missed opportunity.
The conversation started exactly where it should have started: Let's think together about the real potential of what this place can deliver. We have great examples of success stories.
By success, I don't mean a great way to make money. I mean a great way to improve people's quality of life—to invent a new model for an urban place where people can live and work in the same place and use a bicycle to get around. How many places do we have like that in LA? We need to think twice when it comes to mobility, sustainability, and equality.
We have a missed opportunity. We could have come up with the most thoughtful, provocative, forward-thinking ordinance that could have been an example for the nation—if we had been given a chance to complete the process properly, and if decision-makers had listened to the community and come down here.
It's self-explanatory. It doesn't take a PhD to figure it out; I certainly don't have one.