Combatting the historic drought in California has meant benchmarking water usage for all sectors and aggressively cutting down on water waste throughout the state—but a lack of data on water use could hamper progress. Robin Gilthorpe, CEO of WaterSmart Software, seeks to improve water-use and operational efficiency for municipal and investor-owned water utilities globally by using utility meter data to better communicate with residential customers. In this MIR interview, Gilthorpe explains WaterSmart's science-based method of engaging with customers, utilities, and regulators to update how water is managed. He also opines on the water catastrophe in Flint, Michigan, and affirms the need for modern-day municipal water infrastructure to work together with rapidly advancing data science.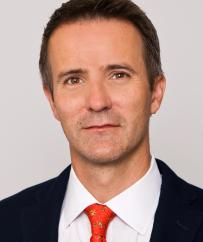 "During the drought, technology and data availability in agricultural and urban areas have been a challenge. We're here to address those problems with digital science, not physical science, and now we're working with 50+ utilities coast-to-coast in ten states throughout the country, and continue to grow." - Robin Gilthorpe
On March 22, World Water Day, there was a US Water Summit focused on clean water, energy, and water efficiency. WaterSmart was invited and attended that conference. What motivated your involvement in this White House convening?
Robin Gilthorpe: The White House regularly holds these types of events and is using its power of influence to gather together many different stakeholders. The solutions to the kinds of water problems we are facing come along three axes: data, markets, and regulation.  
The guests that were invited to participate in Washington that week were from the public sector, at both the federal and state level, as well as from the private sector.
At WaterSmart, we are looking to capitalize innovation and to get everybody around the table working on a common set of objectives. Frankly, that's pretty challenging because, other than the EPA for water quality, there is no single regulatory water authority at the federal level. While a lot of work is done at the state level, responsibility is spread across many different federal departments. This is a local, national, and a global problem that has many layers at all levels.
What is the water technology niche that WaterSmart occupies and is trying to expand upon in the marketplace?
At WaterSmart, our insight has been that transparent access to water information is an enormous barrier. Californians might think the challenge is because of the historic drought, but really the main problem is growth. Growth has impacts on issues of water quality, on water quantity, and on water accessibility and affordability. The reality of our physical infrastructure, particularly in the United States, but actually on a global basis, is that the infrastructure solutions are expensive and too slow to put in place. These solutions cannot, on their own, adequately address changing needs or arrive in time to mitigate the worst excesses of what we're seeing.
During the drought, technology and data availability in agricultural and urban areas have been a challenge. We're here to address those problems with digital science, not physical science, and now we're working with 50+ utilities coast-to-coast in ten states throughout the country, and continue to grow. 
Elaborate on WaterSmart's relationship with utilities.
When I speak to utility executives, they list three key priorities: quality of service, financial viability, and stakeholder support. They are all linked to each other. We operate primarily on the issue of stakeholder support. It turns out that utilities—which are populated and dominated at the top end of management by engineers—unsurprisingly tend to spend a lot of their time focusing directly on quality of service with physical science; through pipes, pumps, and flows. But if you can't afford to maintain those systems it's very hard to maintain quality of service. And if you can't explain to your stakeholders why the price is what it is, the value of that water, or what it takes to maintain it, then you're not going to have a supportable economic basis. Ultimately, you can't provide the quality of service that's necessary.
WaterSmart is helping utilities to analyze what is going on in order to operate more efficiently, and also to reach out to their customers through a variety of media. The goal is to get them engaged in the conversation—understanding what the utility can do and what it needs to do. Eventually these actions nudge the behavior of their customers in a direction that is better for the customers themselves, better for the utility, better for the environment, and better for the community. 
Elaborate on how Watersmart technology nudges consumer behavior.
We use techniques like the simple sharing of facts in easy, understandable methods. If you look at your water bill, typically it'll tell you that you used seven, eight, or nine units of water in a given period. Nobody knows what those units are. They're actually hundreds of cubic feet. Nobody buys orange juice or beer by the hundreds of cubic feet. It's a rather awkward measure. In fact, it's 748 gallons.
We tell people in real gallons per day how much they're using. It is surprising how many people are amazed by how much they use. Perceptions are very different from reality. Then, the opportunity is open to explain why the bill is what it is and where the water is going. Water takes energy, energy takes water, and energy production has a huge impact on greenhouse gases. We can share factual information with them in bite-sized chunks through the channel that customers most prefer—some people like text messages, others like voice messages, some prefer to look at a web app, and some want to receive it by paper. We will help them to understand the data wherever they are.
We help them to understand best practices for their particular class of customer. If you're a restaurant, we compare you to restaurants. If you're a household, then we compare you with other homes. Specifically, if you're living in a Northern California 2,700-square-foot home on an 11,000-square-foot lot, then we'll compare you with other places with the same microclimate, home size, number of people, and so on. Getting that fair comparison gives you an opportunity to do something called "social norming." But we can also communicate calculated budgets and help people make changes to reach a specific goal. These changes assist the utility in achieving their goals, as well.
For example, say, over Thanksgiving we would send out hundreds of thousands of text messages to people to get them to not pour fats, oils, or greases down the drain. It can cause problems in your home, in your street, and, in the aggregate, for the utility at the wastewater treatment plant.
Pivoting from consumer behavior, could you comment on a recent New York Times op-ed that called for the creation of a water-data agency inside the USGS? The op-ed stated: "More than any other single step, modernizing water data would unleash water innovation unlike anything in this century."
We absolutely believe getting access to high quality data is a foundational issue to understand the nature of the problem. If you attended the White House event last week, you would have been both amazed and appalled. It's no surprise: There are 24 different government agencies, just at the federal level, that deal with water issues. That patchwork quilt is incredibly damaging for even finding out the nature of the problem. To address the nature of the problem, we first need to gather this data together. We need to make it a lot easier for researchers to access the data and to come up with best practices. Then, there's the need to combine the foundational data (which should be done for research and governmental use) with developing derivative data. The combination of this data helps inform communications, content, and applications on top of that. Clearly, we focus a lot of our time in that last area. But I can tell you, we spend a lot of effort collecting water-related data, and it shouldn't be quite so hard. 
Turning more local, the City of Los Angeles recently announced that it will hire a Water Data Fellow to track, analyze, and publicly display water use for all Angelenos. What advice do you have for LA's new Water Fellow?
WaterSmart already collects data for a bunch of the communities around Los Angeles County, Ventura, and beyond. We make that available to the utilities themselves. I do think that there's an opportunity for providing that at the next level. Public or private access to water has become very contentious, and data privacy remains a significant concern to both utilities and their customers. The Water Fellow selected will have to be very careful about making sure that the only people who see the data are the consumer or utility professionals. We never show one consumer another consumer's data. The only benchmarking we do is anonymized and aggregated. That kind of data is extremely useful for policymakers and for utilities.
In a sense, the repository is already there as we have started working with Los Angeles-area utilities. WaterSmart can comb through about 1.2 billion data points each hour. That represents, if not the largest, certainly one of the largest data sets around water in the world.
Drawing from your work with LA area utilities, address how water management is evolving.
Water management truly is digitizing. The water industry has been conservative about technology adoption. But, we have demonstrated that there's a real appetite for adopting digital technologies to complement—but not to replace—the physical investments that have to take place.
There are so many issues that surround water: scarcity, facilities, and quality. Those are just the topics that have been in the headlines. Through information access and discussing behavior techniques, you can have significant impact on those issues. We've proven that when making investments in the digital world, in rough terms, digital millions equate to physical billions. Nobody's saying that we should not spend those physical billions, but the challenge that we face is that the investment gap in the US alone is more than a trillion dollars. Those aren't my numbers; those are numbers from the American Society of Civil Engineers. Nobody is going to spend a trillion dollars. So the question is: How can we spend billions on the physical world and maybe an incremental billion on the digital world, and get the effect of spending a trillion dollars?
To close, we would be remiss if we did not ask how Flint, Michigan's disaster is presently affecting clean water policy and investment in the US water infrastructure.
The story of Flint emphasizes, with a huge exclamation point, how quality of service is linked to the financial model, which itself is linked to stakeholder support and communication. That whole disaster in Flint did not start eight weeks before the headlines started appearing. This was a result of issues around the enormous reduction in Flint's population, which put huge pressure on the finances of the city and of the utility. The necessary reinvestment in the infrastructure simply didn't take place over a multiyear, multi-decade period. Even that could have been a difficult but manageable situation. But short-term financial considerations and ancient infrastructure, plus some operational mishaps, led to water that was a much lower pH than the previous source.
We have learned from Flint that we have to be able to make a case to the consumers, regulators, and legislators for infrastructure investment on the physical side. But, we also need to have much better mechanisms for communicating to consumers the nature of current water quality. The EPA has some very well intended legislation around water-quality communications—all utilities are required to issue consumer confidence reports—but those are about as enjoyable to read as your credit card agreement.
Making the data more digestible adds a lot more value. We've come up with specific modules of analysis to communicate how much water is used on a timely basis. It's important to know in the same hour if there's a problem and communicate with customers on a timely basis. WaterSmart has upgraded the quality of the communication and segmentation tools that allow utilities to communicate with their customers about problems that may be system-wide, community-wide, or down to an individual. Frankly, you need to build trust in order to get the rate structures and rate levels that are necessary.
Both quality of water and quantity of water are not equal-opportunity problems. There is a very real issue in the US and globally around affordability. While it shouldn't be this way, people in disadvantaged communities are either not aware of or cannot get access to programs that are available, with funds to help them pay bills. It should never get to the point of cutting off people's water, which we've seen occur a couple of times in the past year. The right way is to help people that are having trouble with their bills and help them get on the right plans, use a little less, and do so within reasonable bounds. We need to maintain public health and enable all to productively contribute to their society.