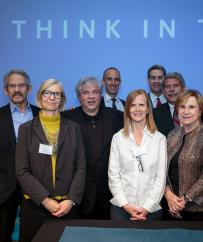 On April 27, the UCLA Ziman Center for Real Estate hosted a forum with this publication and the Urban Land Institute-Los Angeles to discuss the state of planning in Los Angeles and the competing planning initiatives. The forum brought together key stakeholders from all sides of the issue. The forum focused on the underlying issues raised by the Neighborhood Integrity Initiative, which has potentially sweeping implications for large-scale development in the City of Los Angeles, and is being targeted for the March 2017 Los Angeles City election. Discussants remarked on the state of the planning process in the City of Los Angeles, and on creating a viable path forward. The forum also discussed the Build Better LA affordable housing ballot measure, and the recent call by Mayor Eric Garcetti and several council members to have the City's "community plans" revised by 2026, which would set the allowable size and density of development projects in neighborhoods throughout the City.
First, an overview keynote by Jonathan M. Zasloff, Professor of Law at UCLA School of Law. Professor Zasloff provides the context for the panel by discussing the history of Los Angeles planning efforts, and the general inadequacies with the current process.
https://www.youtube.com/watch?v=aZpgjclPc44
The full panel discussion:
https://www.youtube.com/watch?v=Xqv7ibkRzFI
Panelists:
David Abel (moderator) Publisher & Editor-In-Chief, The Planning Report
Zev Yaroslovsky, Director, LA Initiative, UCLA Luskin School of Public Affairs
Gail Goldberg, Executive Director, ULI Los Angeles
Jill Stewart, Campaign Director, Coalition to Preserve LA
Dana Cuff, Director, CityLAB and Professor UCLA AUD
Rusty Hicks, Executive Secretary-Treasurer, LA County Federation of Labor, AFL-CIO
Mott Smith, Co-founder & Principal, Civic Enterprise
Jonathan M. Zasoff, Professor of Law, UCLA School of Law.
UCLA Ziman Center Director Stuart Gabriel introduced the panel and the topic.