In this counterpoint to TPR's conversation with Jennifer Hernandez, NRDC Deputy Director for Urban Solutions Amanda Eaken gives her take on the progress being made in the transition to Vehicle Miles Traveled under CEQA. She explains the significance of San Francisco's action, and asserts that statewide adoption of VMT will help municipalities and developers ensure that dollars spent on mitigation are used more effectively toward environmental goals. She also addresses a critique of the VMT metric from the Southern California Association of Governments. This is the second TPR Point Counterpoint between Hernandez and Eaken on the subject.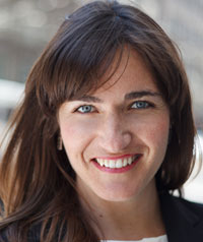 "We've identified a significant structural flaw in our world-renowned Environmental Quality Act and we have a duty to fix it." -Amanda Eaken
This month, San Francisco adopted Vehicle Miles Traveled in place of Level of Service for all CEQA determinations. Could you address the significance of the San Francisco decision, and its implications for statewide implementation of SB 743?
Amanda Eaken: San Francisco is the first city in California to officially adopt the new guidelines for transportation-related environmental impacts under CEQA. By adopting Vehicle Miles Traveled as opposed to Level of Service, which was a measure of automobile delay, San Francisco is choosing to make the centerpiece of its transportation-related environmental impact analysis a metric that is a much better approximation of actual environmental impact than was Level of Service.
Before the guidelines have even been officially adopted, San Francisco is validating Vehicle Miles Traveled by acknowledging that it achieves the goals laid out in SB 743 of creating a metric that's better at promoting the reduction of greenhouse gas emissions, multimodal transportation, and a diversity of land uses. San Francisco is saying that OPR has it right. We're very supportive and enthusiastic about San Francisco's action to adopt Vehicle Miles Traveled as the metric under CEQA.
When we last spoke with you and Jennifer Hernandez regarding SB 743, Jennifer was concerned that OPR's actions regarding Vehicle Miles Traveled would open a whole can of worms in terms of CEQA litigation. Can you distinguish between the impact of San Francisco's decision and adoption of OPR state guidelines?
Level of Service analysis involves quite a bit more speculation and assumption, and it's quite a bit more complicated and expensive than Vehicle Miles Traveled analysis.
Both OPR and San Francisco are trying to move forward with a process that will give us a better estimate of actual environmental impact, will be less complicated, will be less costly, and will therefore expedite projects that we know are going to lead to better environmental outcomes, like transit, biking, and walking projects. Part of the way OPR is going to do that is by making clear in the guidelines that certain types of projects are assumed to have a less-than-significant impact.
Just because something is new or unknown doesn't mean we should keep doing the stupid, old thing that's been causing significant environmental damage and harm. Any time that you do something new, there will be questions, sorting out, and adjustments.
But this old way of doing environmental impact was so damaging that we cannot afford to keep doing it if we're going to meet our climate goals and build the sorts of neighborhoods people are wanting to live in.
Jennifer Hernandez asserts that the city/county of San Francisco implementing VMT is preferable to adopting a statewide metric because San Francisco's adoption will generate little additional litigation and create much more predictability. Your response?
OPR is responding to their legislative mandate to create a metric that does a better job of promoting the reduction of greenhouse gas emissions in line with our climate goals. They have a responsibility to do that. They're putting out those guidelines as a guide for local jurisdictions around California to adopt if they so choose.         
SCAG submitted a comment letter regarding VMT to OPR that you have characterized as follows: "SCAG is saying not to apply VMT metrics to the projects that are most likely to cause VMT." Please elaborate.
What SCAG seems to be supporting in their letter is the application of the new Vehicle Miles Traveled metric only to a limited number of projects in a limited scope.
SCAG is saying it would be happy to see Vehicle Miles Traveled applied to projects in Transit Priority Areas—narrowly defined as half-mile districts around transit stations. But they're asking that it not be applied to sprawl projects—which load lots of traffic onto the highways—and to grandfather in all of the road capacity projects in their Regional Transportation Plan. It's not clear whether that means they want the projects analyzed under the Level of Service metric or want no analysis, but it is clear that they don't want the VMT metric applied to the capacity projects in the Regional Transportation Plan. That is a pretty significant request, and if it's granted it's not clear that we could meet our state GHG targets.
The legislature recognized that the current system is not working, and it gave OPR the authority to fix the problem everywhere, not just in TPAs. We don't know how we'll achieve our climate goals unless we fix the problem statewide. 
SCAG's critique of OPR's VMT rules appears to argue that OPR's metrics do not situate projects enough within regional plans.
We're talking about a very significant amount of money in the SCAG regional plan—upwards of $500 billion worth of projects. In every case, there's likely to be some amount of dollars set aside to mitigate for the impacts those projects create.
As a result of the Office of Planning and Research's actions, we will be looking at a metric that does a much better job of estimating these projects' actual impacts to the environment. Then, critically, the way we spend the mitigation dollars that are budgeted to accompany those projects will further help to achieve the goals of the Regional Transportation Plan and community sustainability strategy by actually reducing vehicle miles traveled and reducing greenhouse-gas emissions.
 The problem with LOS is that by measuring the wrong thing, we've been spending unconscionable amounts of money on the wrong types of mitigations that don't result in environmental improvements.
This change is going to make it more likely that SCAG can achieve the greenhouse gas targets they've set out in their Regional Transportation Plan, because we're going to align the power of all those mitigation dollars in the right direction.
TPR recently published the new CEQA study by Holland & Knight, which found: "Projects designed to advance California's environmental policy objectives are the most frequent targets of CEQA lawsuits. Transit is the most frequently challenged type of infrastructure project, edging out challenges for highways and local roadways, renewable energy, etc." Isn't CEQA's litigation and delay itself the problem?
I think we're talking about the way CEQA is applied. In this particular case, the way that CEQA has applied has tragically, for decades, been to the disadvantage of transit, walking, and biking projects that we know will lead to better environmental outcomes. That's because we had it all wrong.
By asking the question about the wrong metric, bicycle projects and pedestrian projects appeared to have a detrimental environmental impact, and conversely, road widening projects perversely appeared to have a beneficial environmental impact. What's becoming so clear when we replace Level of Service with Vehicle Miles Traveled is that, in fact, road-widening projects largely do not have any environmental benefit. That conclusion has been confused over the years by the Level of Service metric.
Let's close by asking you to characterize the pushback you have received from Southern California regarding implementation of OPR's VMT metrics.
There's been pushback that this is happening too quickly and we need time to adjust. As you'll note, the proposal that's before us does acknowledge that concern. It includes a two-year opt-in period for jurisdictions to go through the changes necessary to adjust to this new metric.
We've identified a significant structural flaw in our world-renowned Environmental Quality Act and we have a duty to fix it. We shouldn't fix it in only a tiny subset of areas that are just around transit stations. If we know that our environmental law is fundamentally flawed because it's been asking the wrong question, and we've got an excellent proposal on the table for how to fix it, then we have an obligation to go ahead and fix it everywhere, especially in the places and for the project types creating the most environmental harm.