Capturing the complexities and competing forces at play in metro Los Angeles—the US's largest county, with a population drawn from 140 cultures and speaking up to 224 languages—stumps many writers who face the challenge. TPR has accepted that challenge with its ongoing series of distilled "takes" on LA drawn from experienced city builders. This second contribution to the series features Stephen Cheung, president of World Trade Center Los Angeles, and Praful Kulkarni, president and CEO of gkkworks. Both comment on the experience of arriving in the US from other countries and going on to establish successful careers in Southern California.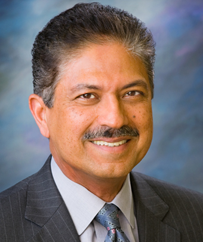 "Californians have come to realize that immigration, be it undocumented or legal, is good for all of us and the overall economy. It's good for the demography of our region. We create opportunities for everybody." -Praful Kulkarni

Stephen Cheung: Los Angeles is my first true love. Here, you have the world in one location. But it has been underrated. Even locals don't celebrate its assets enough. The whole region needs to tell our story.
Diversity is one of our region's key assets. Los Angeles is thriving because we have an economy based on an international community that wants to be here, and feels welcome and accepted.
Personally, as an immigrant to the United States, having a diverse population open to people from all walks of life is key.
I was born in Hong Kong, although my family is from all over the world. My parents are ethnically Chinese, but my mother was born in Indonesia. In 1987, my mother applied for a diversity lottery and got a Green Card to come to the United States with the entire family.
After going to college at UCLA, I thought that I didn't like Los Angeles anymore—too much sun and too much Hollywood! I grew tired of how "fake" people were in Los Angeles, and the lack of "culture." I went off to live in London to bask in the sophistication of British culture. Quickly, I learned that I had taken LA for granted. It was time to come back home.
In the 15 years since, I have shaped my career to tell the story of Los Angeles. I'm delighted to take on my new role as president of the World Trade Center Los Angeles, to help attract additional countries and individuals who want to bring their families and businesses to a place that helps them thrive.
Their cultures are already here. (You can find some of the best ethnic cuisines here, from the San Gabriel Valley's Chinese food to the Fairfax District's Ethiopian.) That makes it very easy for them to do business. Not only do they have a network of people and businesses that understand their background and their needs, but they are also able to venture into other cultures and countries, using Los Angeles' geographic proximity to Asia and Latin America as a jumping-off point. There is no other location that has better access to the rest of the world.
The consumer base is here. Los Angeles County has a population of over 10 million people, and in Southern California we're close to 20 million.
The supply chain is here. We have the largest manufacturing center in the United States. We have the number-one and number-two container ports in North America, along with the number-one origin and destination airport in the world—all within driving distance.
Many international companies looking to do business in LA are surprised by its size. I explain to them that Los Angeles County comprises 88 cities.  Our county GDP last year was $640 billion—making it the largest county economy in the nation. The power of Los Angeles is not just on the scale of a city or county—it's international.
The biggest hurdles are the processes necessary to do business here. Having a vast region is a great asset, but sometimes it becomes a barrier. Newcomers have to figure out the differences between the 88 cities. What are the tax benefits? There are so many jurisdictions that sometimes it's difficult for them to figure out which agency, department, or company to work with.
Unfortunately, there's been some negative press about Los Angeles. Other regions are going abroad and telling their version of our story—saying how difficult it is to do business here. But once international folks arrive, they understand that the process might seem complex at the beginning, but it's manageable.
In just the last two years, we witnessed the Wanda Group investing $1.2 billion in the Robinsons-May site in Beverly Hills, the Greenland Group investing $1 billion in the Metropolis project next to LA Live, Oceanwide investing $1 billion in the Fig Central project east of the Staples Center, the Hazens Group investing $700 million in the current Luxe City Center Hotel site, and Korean Air investing $1.1 billion in the Wilshire Grand Tower. LA is the number-one county for foreign direct investments in the nation.
It's worked for great companies like Shanghai Greenland. Greenland had such a positive experience in the LA region that its USA president recently staffed an LAEDC booth during an event in Washington DC to talk to Chinese investors about what it was like working with the Los Angeles City Department of Building and Safety, government officials, LAEDC, and all the partners that came together to help the Greenland development become a successful, signature project for the region.
Praful Kulkarni: I first came to Los Angeles from the Midwest, and to the Midwest from India.
I had come to the United States for my studies. When I tried to go back to India, I couldn't find appropriate employment. Until 1991, India's economy was closed. It was a socialist model. So I decided to become an American citizen and practice here.       
The ethnic makeup in the Chicago area, where I first settled, was comparatively very different from Los Angeles. The diversity of people in Los Angeles is a phenomenal. You can associate with everyone, from intellectuals to working people, of different ethnic origins.
There was also a different outlook about business here. I found LA to be very open to different ideas and innovations in delivering architectural projects. It was all about meritocracy and having services that people were looking for. They were open to people who looked different and who spoke with accents, but were able to provide the services required for their needs.
Again, that was a fresh change compared to the Midwest, where people tend to be a little more parochial and more wedded to traditional ideas of doing business.
The big break for my architectural firm was being retained by Kaiser Permanente. Kaiser's membership was growing. My associates and I, who had started our firm, had healthcare backgrounds. We were thus able to provide healthcare services to Kaiser Permanente, and we grew from that client relationship.
Now gkkworks provides services in education that include K-12 and higher education, and services for local governments. We got started in providing those services after the Northridge earthquake, because there weren't enough design professionals to go around to fix damaged structures in the LA area.
When I founded gkkworks in 1991, the Indian economy was just opening up. After that, I could take the expertise that I had developed to start an India office. The Indian office created outsourcing opportunities. We were growing so rapidly that we could do some tech-type work in India.
As the Indian economy grew, we were able to obtain work in India. We're now doing some very large projects there using US expertise—our designers. We've been in India now for over 12 years. It's a highly complementary and successful operation that allows us to basically work 24 hours, around the clock. Our US people design the Indian projects.
Prime Minister Modi was just in California as part of his outreach to US businesses and the Indian diaspora, largely known now as Indo-Americans. American society is still learning about Indo-Americans, who have gravitated in the last 15 to 20 years toward the technology field.
The old joke goes: "What kind of an Indian American are you—a casino Indian or a technology Indian?" That's starting to permeate through American society. Several technology companies, such as Google and Microsoft, have Indian American CEOs now. There's something about the Indian subcontinental culture of collaboration, working with people and technology-based knowledge that creates opportunities for Indian technology companies.
The prime minister was reaching out for business opportunities between California and India. Most of the technology companies have business in both India and the US. That includes the large, world-class IT companies founded in India, such as TCS and Infosys, who have a presence here. There is a lot of give-and-take. That's good for business and trade between California and India.
Californians have come to realize that immigration, be it undocumented or legal, is good for all of us and the overall economy. It's good for the demography of our region. We create opportunities for everybody.
Immigration from Asia, for example, brings in a lot of highly educated people. A majority of them have at least bachelor's degrees. I understand that a third of the technology firms in the US are startups by Asians.
People really do appreciate how immigrants have shaped California. California has now accepted this vibrant economic growth with open arms. It speaks for itself and creates an exciting future for all of us.