San Francisco Chief Resilience Officer Patrick Otellini was the first public servant to hold the CRO title, adding to his responsibilities as director of earthquake safety. Otellini spoke with TPR as the network of CROs grows through the Rockefeller Foundation's 100 Resilient Cities Centennial Challenge. He describes San Francisco's specific challenges and focus—from seismic safety, to sea-level rise, to housing affordability. Otellini also notes the collaboration occurring between CROs to tackle the infrastructure issues that climate change and other disasters could bring.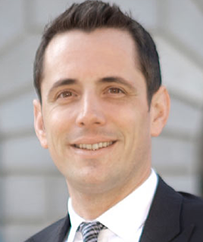 "Chief resilience officers work with communities and the city—especially the mayor—to establish the city's goals around surviving long-term shocks and stresses we'll face over the next hundred years. " -Patrick Otellini
Patrick, you serve as the chief resilience officer for San Francisco. What is included in the CRO job description for those now being appointed internationally and what are your specific responsibilities in San Francisco?
Patrick Otellini: Broadly speaking, chief resilience officers work with communities and the city—especially the mayor—to establish the city's goals around surviving long-term shocks and stresses we'll face over the next hundred years. That's a really broad mandate. You're starting to see cities think about that information in a broad context and begin to apply it in very local terms.
In San Francisco, it's no surprise that we live in earthquake country. Seismic safety has been a huge focus of our resiliency efforts. But it's not limited to that. We've been actively addressing sea-level rise and housing affordability. All these things become interconnected. Hedging up these systems today will help us when we do get these shocks—whether it's an earthquake or some other type of a disaster. That's especially important for folks disproportionately affected by disaster, which tend to be our more vulnerable populations.
Let's delve into a current crisis facing the state.  California's extreme drought is increasingly a priority concern of Californians. How does water security factor into San Francisco's resiliency planning? 
Drought is an appropriate focus given the status of California.
San Francisco gets its water from Hetch Hetchy, and we've invested almost $8 billion in retrofitting our water systems. Today, you see a system that crosses several major fault lines to get the water safely not only to San Francisco, but also to several other jurisdictions that buy our water wholesale. The reliability and resilience of something like that is hugely important.
Also, since we know that the drought is a huge chronic stress, we've done messaging around it. This has led to one of the lowest per-capita water usage rates in the state.
The drought is impacting all of us, but the conservation efforts that we've made over the last couple of decades are paying off now. Even though we're in an extreme drought, we're still in better shape than the majority of the state.
The resilience-values aspect pays off, because when you do have a long-term stress but you've done the work ahead of time, it helps you through it. 
You're both the chief resilience officer and also the director of earthquake safety and implementation program in San Francisco, which was your original job title before taking on additional CRO responsibilities. Please comment on how your initial municipal responsibilities have evolved to include resiliency. 
They're very consistent. The goal of the chief resilience officer position already mimicked my exact program structure.
The mayor saw earthquake safety policy being stifled because it was being done, say, in a building department or in Public Works, where there are so many strata of decision-makers before actually getting to a policymaker. That was a problem. By creating a position like mine that reports directly to the mayor and city administrator, I'm able to move much more nimbly and laterally through the different departments and work directly with the Board of Supervisors, department heads, etc.
In this administration, our Board of Supervisors unanimously approved 13 pieces of legislation that originated through our programs. A track record like that is pretty unheard of. It shows that the supervisors have come together on the issue, putting politics aside to focus on public safety.
That said, it's not always so simple. Obviously, politics are at play, especially when we're looking at the stresses of, say, existing housing. We launched a program in San Francisco in 2013 that mandates the retrofit of 5,009 buildings. These are dangerous, soft-story buildings that we saw fail in the 1989 quake. The building codes were changed in the '70s to avoid building these types of structures. They are largely inhabited by renters, and because of the construction date, are all subject to rent control.
In response to these huge housing stresses, we worked with tenants and landlords to say, "Everyone understands that we need to do this, but we want to make sure that it doesn't create any long-term displacement of tenants, because that would defeat the purpose of protecting their homes." You have to deal with issues like that, which are in your face now, before you hedge your bets toward a disaster.
Could you share the advantages or disadvantages of San Francisco being both a city and county in one? Does that make your job more difficult or less stressful? Our readership in Southern California is intimately aware of the challenges that result from LA County's inclusion of 88 cities.
It's very rare that we say bureaucracy is streamlined in San Francisco, but in that respect, it really is. When we work directly with our Board of Supervisors, we get that legislation passed and there's no secondary review by the county. That is the law.
That said, it means we need to do our homework, because the Board of Supervisors vote becomes the final one. As a result, they really scrutinize the policies. They want to make sure that by the time it gets introduced, you've already lined up universal and consensus-based support. When our legislation comes through, tenants and landlords both say, "This was a hard process, but we know this is the right thing to do and we're in agreement to support this."
Those are the big wins that come out of a truncated policy review like our Board of Supervisors creates.
Regarding the nuts and bolts of San Francisco's Earthquake Safety Program: You're now in the process of implementing a 30-year work plan that puts into action recommendations from a Community Action Plan for Seismic Safety decades in the making. What are the priorities of the plan, and the steps you currently use to measure success?
The Community Action Plan for Seismic Safety was groundbreaking. It came out of the Loma Prieta earthquake, where we saw significant damage from a moderate earthquake, not a major one. We started to see stresses on housing and infrastructure when the community came back. After 10 years of meeting with the community, the city adopted a bottom-up, community-driven approach to determine our main goals in seismic safety.
The Community Action Plan for Seismic Safety came up with 17 key recommendations, which were broken into the nitty-gritty tasks necessary to accomplish them. That's how we got to the 30-year plan.
The 30-year plan plots out all of those goals and more than 50 major tasks on a timeline over the next 30 years. We're just slightly ahead of schedule right now—I jokingly keep promising the mayor we're going to complete the 30-year plan in 20 years.
It's been a really big success. We've been able to leverage it for other places, too. While the hard work that we did in the community—which took a long time—cannot be directly applied elsewhere, a lot can be related to other jurisdictions. We've been working closely with Mayor Garcetti's office in Los Angeles. We were very active in the creation of LA's Resilience by Design plan, which was a project led by Dr. Lucy Jones, a senior scientist with the USGS and the Mayor's Office.
You're starting to see these major epicenters of power in the state focus on seismic safety. Now the state's paying attention. We also see it trickling to smaller jurisdictions. We're working very closely with Berkeley, Oakland, San Mateo, and Napa on seismic safety policy, where previously they haven't had the bandwidth or political drive to address some of these really tough issues. 
A recent story in the Oakland Tribune notes that measurements of the Golden Gate Bridge show that the San Francisco Bay rose eight inches over the past century, and could rise another 16 to 55 inches by 2100. What's missing now, the story asserts, is a unified regional solution, according to experts and two Civil Grand Juries. Is the Bay Area able, or not able, to coordinate strategies regionally? 
We always talk about regional work, but in reality, it's a really tough thing to do. San Francisco and all the other Bay Area cities have realized that.
Working closely with ABAG and other regional authorities to more closely coordinate our efforts is hugely important. We're starting to see that happen now. As you mentioned, the Civil Grand Jury came out in San Francisco. At the time, we were developing our sea-level rise guidance for our capital planning projects.
San Francisco is the first city in the nation, I believe, to put forward capital planning requirements that consider sea-level rise. If you are doing any kind of work that's going to the well of capital planning for funds, you have to do some analysis and planning around sea-level rise. That took a comprehensive science review by a whole panel of experts, who looked at everything happening in the region and nationally. They got down to a unified agreement on our projections of sea-level rise. That's huge for us because it establishes our baseline for moving forward. We're starting to see private companies say, "We know we're not required to do this, but we want to use consistent science." I think, ultimately, that this will start to develop into a universal policy.
The mayor has established a sea-level rise coordinating committee that's looking at several things, such as: the cost of inaction; the economic impact of sea-level rise; adaptation methods that can be used to think differently—meaning, maybe building another wall in the sea isn't the right thing to do if there are more innovative ideas out there; and policy interventions.
Thinking outside the box usually calls for modifying major regulations that govern work on the waterfront or work around sea-level rise. Looking at all of that comprehensively, with the goal of putting together recommendations for the mayor this fall, will help us move that forward.
It's exciting that we've recently gone into a small scoping contract with Rebuild By Design. The idea is to run a regional design challenge—because we can't fix sea-level rise just in San Francisco. This is a Bay Area problem that needs a regional solution. Working with a design competition format begins to separate out the politics to some extent—because we can, again, go back to the community. They can vote on ideas, and bring forward their own, to make a waterfront that's resilient for sea-level rise, seismic events, and energy assurance, as well as including community and public open space. There's a whole list of co-benefits that we can identify and grab onto if we incorporate this correctly.
Patrick, it may be that in San Francisco, science and reason always triumph. But give our readers outside of San Francisco a sense of how easy or hard it is for important public seismic initiatives to become law.
We pursue these initiatives as a multi-hazard effort. At the waterfront, we've been able to get critical mass from the community. Previously, factions concerned about seismic vulnerabilities didn't talk to folks worried about sea-level rise. Neither talked to the private sector—utility providers whose utilities go in and out of our waterfront sea wall—or to transportation providers. We're identifying everyone's specific issues and saying we want to come up with a grand solution that helps all of these interdependencies. That's where you start to get a huge level of advocacy, because you're pulling together those who are passionate in their own right to be passionate about a much larger issue.
San Francisco, along with Los Angeles, was selected to be funded by the Rockefeller Foundation's 100 Resilient Cities Challenge. Describe the selection criteria and the grant's impact on your work in San Francisco. 
The grant was helpful for us internally, because it allowed me not to be an expert on all of these things, but instead to be a conduit. I'm able to connect and identify competing or parallel efforts in other departments and help them work together. That's a big challenge, especially in major cities. This grant has allowed us to bring critical mass to our own departments—a huge advantage—and start to facilitate greater communication, eliminating some of these intricacies that were leading us in competing directions.
I've also seen it help regionally, with Timothy Burroughs in Berkeley and Victoria Salinas in Oakland. Not only are they my professional counterparts, but they've become close friends because we've been working hard on similar issues. We all come from different backgrounds: Timothy wrote the Climate Action Plan for the City of Berkeley, while Victoria comes from FEMA and the World Bank. We fill in each other's gaps, and that's fantastic. Again, no one could be an expert on all of this, so we have to rely and lean on each other.
I've become close with folks like Jeff Hebert, who runs NORA in New Orleans. I know that we're going to have a major earthquake in San Francisco, and I'm going to be stuck having to help the city rebuild just like Jeff is still doing 10 years after Katrina. We talk person-to-person about lessons learned, without the politics. Getting the real story, so that we can effectively plan and get down to brass tacks, has been a huge advantage of this program.
Cities like New York and San Francisco would have been doing this work anyway, without 100 Resilient Cities. I don't want to give the characterization that 100 Resilient Cities has been the catalyst that started this in major urban areas—although, in some smaller cities, it is the catalyst. But the big picture is that it's helping us share our work and do our work better.
Right before this interview, I was on a call with several folks from the City of New York, talking about lessons learned from their emergency repair programs after Sandy. Conversations like that would have been difficult for me to initiate had the 100 Resilient Cities network not been up and running. The challenge is: How do we take the great work 100 Resilient Cities is doing and match it up with cities already running at a really high capacity? It's not as if we're starting from scratch and we haven't done anything around resiliency in San Francisco. It's quite the opposite. Given that, how do we marry their goals with our goals and create an efficient work stream moving forward?
Let's close with a quote from Dr. Lucy Jones from a TPR interview with her last November: "It's very important for people to understand that the earthquake is inevitable, but the disaster is not." In that interview, she urged Los Angeles to focus on the economic impacts of the "Big One." Does the same reasoning apply to San Francisco?
Lucy is a close friend, and we have discussed this issue at length both publicly and privately. When Lucy talks about a "disaster," she's thinking about LA and things like the water supply, which is so vulnerable there. I think about the same types of things, but with different specifics.
I think about the fact that we're about 70 percent renters in San Francisco, and about 30 percent owners. We want to make sure these renters are able to come back to their homes as well as the property owners. The faster we're able to get people back into their homes after a disaster, the faster we will kickstart the recovery. That means we need to be tactful and very intelligent about how we do our planning for interim transitional housing. That's a pivotal point. Most cities do response really well, but start to see problems in the transition to recovery. Making sure that transition is efficient will help hedge our bets against that disaster.
Lucy's exactly right. People think about the first 72 hours—maybe we'll be able to stay in our house; we've got our earthquake kit—but don't think past that point. Look at what's happening still in Christchurch or New Orleans, areas with major disasters but little-to-no pre-planning. It's hindering recovery efforts. That can go on, in some cases, for decades.
We really love our cities. I love San Francisco. To make sure that 100 years from now, it still feels like San Francisco, we need to do this work properly now.