The Los Angeles Community College District is in the midst of a sizeable facilities update, the result of a $6 billion bond program. TPR checked in with Scott Svonkin at the end of his first term as president of the LACCD Board of Trustees. Shortly after this conversation, he was elected to a second term. Svonkin provides a status report on the build-out and renovations, which were thrown into question due to accusations of fraud before he joined the board. Here, Svonkin questions the priorities of the program.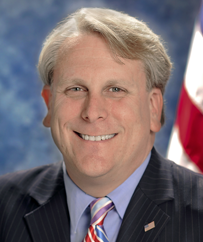 "The question was not: Where is the greatest need for the students we serve and for our academic programs? The right answer would have been to build more classrooms." —Scott Svonkin
Scott, you've just served a term as president of the LA Community College District Board of Trustees. Share your board priorities this past year and going forward—especially with respect to the facilities bond program.
Scott Svonkin: I have a unique perspective on how important community colleges are for every one of our students because I wouldn't be president of the community college board if it weren't for a community college. I was a high-school dropout. Pasadena City College allowed me the chance to get here. As a result, my number-one priority, and that of the board this last year, was restoring classes. 
That was unique because, for the first time this last year, we had additional resources. When I got elected four years ago, the number one issue was fixing our bond program. Those are two very different items. I didn't run to help the $6-billion building program. But over the last four years, I've had to spend a great deal of my time focused on those $6 billion, for renovating nine of our colleges and building new buildings on those campuses. 
When I got elected, the program was in disarray. There were allegations of waste, fraud, and abuse. As of this July, when I ended my one-year as board president, we haven't had one scandal in four years—since I, and the other board members, got here. 
It came down to three things. 
First, we made sure that every decision on a major contract was made in public, with a record of who was making the recommendation. Transparency meant making sure everybody knew who was in the room. When I got elected, I asked questions and nobody knew who had made the bad decisions. We couldn't find the names of the people who were in the room. Now we have processes in place.
Second, we did a better job of making sure more companies knew we still had over a billion dollars to spend on making our colleges better for our community. We have a far more open recruitment of firms. Now some of the best in the nation and in Los Angeles are competing for the last billion dollars.
Finally, we now have a system where we check to make sure that we're following our own rules. When I got to the board, many of the rules were not clearly communicated and weren't being followed. 
While this year has been mostly about restoring classes, we also kept the bond program moving, positioning ourselves to finish the $6 billion strong and be able to report to the public that we spent their money as we promised.
Although clearly there's much to tout with respect to restoring classes, let's focus on the LACCD's $6-billion facilities bond program. Could one ask now, in hindsight: What was the need and educational vision for the billions in bond funds? What, besides the need for more classrooms, drove the district's building program?
I learned over the last four years that, unfortunately, we had buildings that had not been touched in 20 or 30 years. To a great extent, the bond program was about renovating old buildings. On some campuses, there were a large number of bungalows. It's disastrous to have an academic institution of higher learning teaching in bungalows. 
The community college system is an outgrowth of the K-12 system. It provided grades 13 and 14 in many communities across Los Angeles and the country. Then, those two systems separated. The goal of the program initially was to help our campuses move beyond that history. 
The community college district didn't, however, look closely at our needs. Most of the decisions were made by faculty, staff, and the administration based on what they wanted and thought was lacking. 
The question was not: Where is the greatest need for the students we serve and for our academic programs? The right answer would have been to build more classrooms. 
We built some new classrooms but, unfortunately, we built lots of other kinds of facilities, as well. 
If we ever do another bond, I'm hoping it will be needs-based decision-making versus wish-lists and wants. A lot of the things that we built over the last 10 years may serve tiny numbers of students that may go on to a career or another university.
One of your board members, Nancy Pearlman, has always been a champion for sustainability. Has that agenda evolved?
Nancy talks a lot about sustainability—it's a passion of hers. 
We went from being passionate about sustainability to looking for data-driven opportunities for sustainability. Recently, we approved building a central plant at Mission College that will include some of the best technology. We did it based on data, not based on the fact that we wanted to be the greenest community college district in the nation. 
When we started our Green Building Program, it was all about a desire to be cutting-edge. With the scandal around the bond program, we overpaid horribly for our solar program. The panels are not going to pay for themselves in the short-term because we paid too much, in many cases. 
We decided that we would continue to invest in green technology, but we would do it more based on proven technology versus being the testing ground.
Consistent with sustainability, the board also has prioritized energy generation on campuses and created a board committee on environmental stewardship, with water at the forefront. Elaborate, please. 
I'm very proud that, as board president, I created that ad-hoc committee to answer the following questions: Are we doing the things that we promised, following our policies, and being responsible on our colleges? Are we doing everything we can to reduce our water usage during one of the worst droughts in my lifetime? Are we doing everything we can around recycling at our colleges? 
I asked Nancy Pearlman and Mona Field to meet with our expert. They looked at how we could better our policies and become more successful at sustainability practices, both through the bond and at the colleges. I gave her a charge to look at water recycling and reducing usage. 
We had a policy that we would have infrastructure for electric vehicles at our colleges. Some campuses implemented these programs, but some didn't. Some chose to charge, through paid electric charging stations, while others looked at doing it for free. 
My goal now is to integrate the ideas of sustainability into every committee we have, so that we look at it when budgeting, when doing facilities planning, and when creating our academic program.
Given your role as the president of the board this past year, could you take a step back and comment on governance? Is the structure of a community college district like Los Angeles', with nine semi-autonomous campuses, capable of centrally running a $6-billion facilities bond measure?
The biggest challenge for the community college district has been that we don't always leverage the power of our nine colleges. We don't always do things in a collaborative way, using our size and our strength. 
This year, I'm focused on leveraging the size of our district so we get the best prices for the public. We should invest in a way that allows us to replicate successes from one part of Los Angeles County to another. That's not something the district has done very well.
Structurally, we have been very siloed traditionally. In fact, that's what led to many of the scandals and questions about the bond programs. Every college did implementation separately. Today, under the leadership of my colleagues and I over the last four years, we have centralized control of the program. We've created more accountability than the district has had in the entire 10 years of the bond program. 
If we were responsible and cognizant of the size of a $6-billion program, we would never let every college do it alone. We would have checks and balances. That's what we've tried to do with the Bond Oversight Committee. 
When I arrived on the board, the Bond Oversight Committee had been a rubber stamp. They were given information and weren't allowed to ask questions. 
Then John Chiang, who at the time was the state controller, did an audit of the bond progra. We took the findings and addressed them. The district established a blue ribbon commission to look at the issues he raised and others, then make recommendations to fix the problems. 
If we ever do a bond program again, I will recommend that we not only have a Bond Oversight Committee, but also that an outside group of experts conducts an annual review to determine if we are following our own rules and doing everything we can to protect the public interest.
As you said, no one within the community college district was publicly elected to focus on facilities and most of the district's staff are not real-estate or construction experts. Thus, should LA County create an in-house facilities agency with appropriate expertise and then contract with the community college district to implement the building out of facilities? 
I think it's a good idea to have an agency in Los Angeles that helps monitor and ensure that the public's money is spent as promised. 
Many elected officials are part-time at school districts and community college districts, and could use external experts in building. LACCD hired a separate audit firm to make sure we're following all of our rules. It would be outstanding for a government entity to perform that function—auditing and reporting to the public.
That said, program ownership and responsibility has to remain with the elected bodies, whether it's the city, county, school board, or LACCD board. We need to be responsible to the voters. If I don't do a good job as board president, the voters have a chance to get rid of me. That's not the case with public agencies. The only assurance given the public is the ability to hold elected bodies responsible. 
The LA Community College District, recognizing the employment opportunities that flow from the size and scope of its facilities program, has initiated programs for its students.  Share specifics on what opportunities have been created. 
We're always looking to incorporate what we're doing on the bond in our academics and ensure we help our students. There have been different programs during every phase of the bond. Currently, we have an internship program. In the past, we've had job fairs. We've also had programs where the bond program paid student wages for those who worked at firms doing work on our programs.
Recently, we discussed giving points to firms that hire our students for jobs that will lead to careers. 
The vast majority of students going to LACCD work. They're not traditional, 18-year-old college students who live at home. Community college students are older and almost all have part-time or full-time jobs. 
The district encourages every firm that gets a contract to hire our students, even if it's just for temporary or clerical work.
Lastly, has the board also thought about the possible role that individual colleges could play in strengthening the neighborhoods and communities where they're located, vis-à-vis how LACCD facilities are planned and built, as well as opportunities to leverage investments by others in transportation, parks, and healthcare? 
That's a great question. I think we've done a pretty good job, but there's still always room to do better. At LA Trade Tech, for example, we have partnered with a local community health clinic. 
Our students are the community. Most don't go very far to come to one of our colleges. They all live, work, and play in the same neighborhoods where our colleges are located. 
Four of our colleges—Valley College, Pierce College, Trade Tech, and City College—have a Metro stop either on or across from the campus.
We try to make sure that, whether it's around healthcare, transportation, or supplying needed resources to neighborhoods, we keep the community part of our community colleges. We're always looking to invite the community onto our campuses. No one's ever too old or too young to go to our schools.