Capturing the complexities and competing forces at play in metro Los Angeles—the US's largest county, with a population drawn from 140 cultures and speaking up to 224 languages—stumps many writers who face the challenge. TPR now accepts that challenge and offers three distilled "takes" on LA drawn from three experienced city builders: Linda Griego, President and CEO of Griego Enterprises Inc.; Janet Marie Smith, LA Dodgers Senior Vice President of Planning and Development; and Dan Rosenfeld, former State of California and City of LA Director of Real Estate. TPR's purpose: to offer newcomers and seasoned veterans alike useful insights regarding the essential characteristics of Los Angeles, in order to shorten the distance for our readers between reality and what we all want reality to be.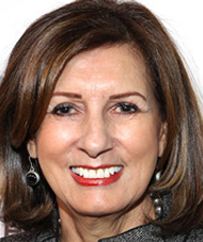 "Entrepreneurship is rampant [in LA]. It runs the gamut from the person selling oranges on the corner to Al Mann, who made billions when he sold his bio-med company in East LA." -Linda Griego
"Those of us who have worked in Major League Baseball in other cities are always struck at what a beautiful cross section of Los Angeles supports the hometown team. Baseball is increasingly an international sport, and nowhere is that more evident than in LA." -Janet Marie Smith
"Because LA offers so much individual opportunity, it attracts individual talent. As a result, LA does not support communitarian collaboration the way, say, Boston or Portland does. That's why this city has such poor planning, if any at all." -Dan Rosenfeld
"A city no worse than others, a city rich and vigorous and full of pride, a city lost and beaten and full of emptiness. It all depends on where you sit and what your own private score is."
—Raymond Chandler
Linda Griego: Los Angeles is the place to look for investments. Entrepreneurship is rampant. It runs the gamut from the person selling oranges on the corner to Al Mann, who made billions when he sold his bio-med company in East LA.
The key to success for LA is not to lose its manufacturing base—blue-collar, middle-class, skilled, upward-mobility jobs.
Manufacturing in LA includes handles for knives, components for aerospace, fences, frames, and metal plating. You name it, it's here. Most manufactures employ fewer than 50 people at $15-25 per hour.
After the North American Free Trade Agreement was signed in the early '90s, we knew we would lose the apparel industry. Over 15 years, the advantages of local producers versus imports would disappear because the tariffs were going away.
As a result, Rebuild LA's five-year plan created "clusters." Some still remain today. The food industry cluster has membership from producers of corn tortillas to Chinese noodles to desserts that are sold to Costco, and they collaborate. Many of those companies started in garages but have moved on, like Juanita's, a $25 million company in San Pedro. We can't allow that manufacturing base to disappear.
When I took over Rebuild LA, I remember talking to the LA Times about the furniture industry. They said: "All those jobs with lacquer and paint went to Taiwan and Korea. No furniture jobs are here." I said, "Then why have I found 500 furniture manufacturers in southeast Los Angeles County that make upholstered furniture? They're selling to high-end stores in Santa Barbara and elsewhere." Companies with 50 employees or fewer don't have time to let everyone know that they're here, but they're important employers.
Neighborhoods in LA are gems. More than 95 percent of them are safe. They're made up of ambitious parents wanting the best for their children. I've read that nationwide this generation will not be better off than the last one—but I don't think that's true in LA.
I lived in Baldwin Hills for 26 years. At that time, we didn't have many cafes or services. Today that has changed with award-winning restaurants like Post & Beam and an upgraded shopping mall. Communities demand better services and they get them.
Rebuild LA focused on the lack of retail services in underserved communities. People needed more grocery stores and pharmacies so they wouldn't have to take money out of their communities. Residents from neighborhoods that were severely damaged told us they wanted retail. It was bottom-up.
Civic engagement has been a challenge.  I don't think any other major city in the US has the low voter turnout that we do.  Communities with high voter participation get more attention, without a doubt.
Luckily, non-profit organizations play a huge role in communities that don't have high voter registration, serving as their voices at City Hall when something is coming into that neighborhood that residents don't want or when there is an opportunity to secure a public benefit component to a proposed development.
LA requires patience.
When I first moved here back in the '70s, Hollywood was seedy. Yet hundreds of thousands of visitors would come to Mann's Chinese Theater and to see the stars on the sidewalk. They'd spend $5 on a soda, get back on the bus, and leave.
It wasn't until there was development in that area—including the Kodak and ArcLight Theaters—that people started eating there, spending money, and staying all afternoon.
I invested in Downtown LA in the late '80s, thinking: "Give it another 10 years and it will turn the corner. We just need 1 percent of the LA County population to move Downtown." It took 25 years, but it's here.
I split my time between rural New Mexico, where there isn't even a traffic light, and Los Angeles, where there are thousands of street lights. I love both places.
In Northern New Mexico, there are communities with high poverty rates just like in Los Angeles—one area is rural and the other urban, but the needs are similar. My roots are grounded in the impoverished neighborhoods of New Mexico. 
At the same time, I owe everything to LA. It opened doors for me. It's my city. I need the city because it gives me energy, but I also need the tranquility of listening to birds. I'll never leave either one completely for the other.

Janet Marie Smith: All the clichés about Los Angeles are true—but not the negative image that many of those familiar quips intended. We remember Dorothy Parker famously said, "It is 72 suburbs in search of a city," but that speaks to the unique charm of the neighborhoods of Los Angeles. You can live in urban, funky, industrial conversions Downtown, or in a bungalow on the beach, or in a modern house hanging off a mountainside. The neighborhoods are famously different and allow different lifestyles to be maintained within a mere few miles of each other.
As to Mark Twain's comment that LA "is a great place to live but I wouldn't want to visit there"—well, all that means is that Los Angeles is not obvious! It is impossible to have a "broad surface" knowledge of LA. You can only know parts of it intimately.
Sociologists compare LA's mosaic to New York's tapestry, with each individual heritage able to retain its own unique culture. Urban planners refer to it as a horizontal city, as compared to New York's verticality, with Wilshire Blvd acting as a spine from Downtown to the ocean. And everyone who talks about Los Angeles brings up the weather! Every day is beautiful and if you can't stand that, you can grumble that you miss the four seasons. But then we know you are just complaining because all four seasons exist in Southern California—but you get to pick when you partake of which climate. We seek out the mountains and the beach, sometimes in a single day. A 50-degree swing in the weather from the pre-dawn hours to midafternoon is normal.
This blessing is also a curse: You can design an environment for yourself and a lifestyle in Los Angeles that allows you to live a dream. But that can also allow you to divorce yourself from many of the un-pleasantries and discomforts generally faced when living in urban areas. Most cities don't allow you to ignore poverty, homelessness, hunger, and crime the way you can avoid them in LA.
Los Angeles is an environment that cares less about where you've been than where you are going—that embraces the "can," not the "cannot." With every passing decade, LA is surer of herself, less defensive about how she stacks up compared to the rest of America. Let the 18 million that live here speak for her popularity.
And let the 3.7 million per year that will attend a game at Dodger Stadium speak to why that venue holds such sway over LA. Those of us who have worked in Major League Baseball in other cities are always struck at what a beautiful cross section of Los Angeles supports the hometown team. Baseball is increasingly an international sport, and nowhere is that more evident than in LA. It was the Dodgers in 1981 that signed Mexican-born Fernando Valenzuela, who—as director Cruz Angeles's film Fernando Nation captured—"ignited a fire that spread from LA to New York—and beyond. He vaulted himself onto the prime-time stage and proved with his signature look to the heavens and killer screwball that the American dream was not reserved for those born on US soil." From Fernandomania in 1981, which transformed the demographic of Dodger fans from a mere 8 percent Hispanic to 42 percent Hispanic in a 25-year span, to Hideo Nomo's spectacular transition as the first Japanese player to move to MLB in 1995, Dodger Stadium has played the role of a civic forum to celebrate the diversity that is LA in a very meaningful way.
Today the venue celebrates its lore in Major League history, as the third-oldest park in the major leagues and the only one constructed in the mid-century modern architectural style. As more cities follow the Baltimore model of moving baseball into a traditional urban environment, the Dodgers' home in Chavez Ravine is made even more special by its unique position close to Downtown LA and Elysian Park, with views of the San Gabriel mountains beyond centerfield. Like the city it calls home, Dodger Stadium is a celebration of a unique and diverse culture, a mosaic of international influences and architectural and landscape charms that can only be found in the hospitable environment of Southern California.

Dan Rosenfeld: A dozen thoughts on the question, "What makes LA?":
Los Angeles is a relatively new city, founded in 1781.
LA has grown rapidly. In 1885, when it was connected by railroad with the balance of the US, LA still had less than 10,000 residents. Today, the UN recognizes a population of 18 million. All that in barely 100 years. LA is easily the third largest community in North America, after Mexico City and New York, and considered one of the 10 largest and most important cities in the world.
Los Angeles is very diverse—ethnically, culturally, and economically. Mostly, we are proud of that, and consider it a strength. It does, however, occasionally cause confrontations, such as the Watts Riots (1965) and Rodney King Unrest (1992).
LA is more than an "international city"—perhaps the most "international" in the world. It is the economic and cultural meeting point of North America, Latin America, and Asia. That is very important.
LA is a port city, handling 45 percent of imports into the US.
Economically, Los Angeles has completely "reinvented" itself at least four times in its short history: from cattle grazing, to bean and citrus farming, to oil, to aerospace, to world trade. Each new economy has almost entirely replaced its predecessor, although we are still proud of the moon rockets and the gadgets that roll around on Mars, which were designed, built, and operated from here.
If one had to describe LA's distinctive competence in the world today (the way London's is banking, Stuttgart's is manufacturing, and Seattle's is technology), I would say it is "lifestyle arts." We are too new for Old Masters and opera, but we lead the world in film, fashion, food, and things people do for fun. The alliteration is convenient, but I would add video games, popular music, and some notable architecture to that list.
LA has made unique contributions to world art. In the early days, our climate inspired plein air impressionist painting. Later, LA achieved world recognition for the "light and space" and fluxus movements, and for pivotal artists such as Robert Irwin, Ed Moses, Ed Kienholz, Billy Al Bengston, and, of course, Edward Ruscha.
Some of that creativity can be attributed to our weather. Note that I rank climate at #9, whereas many would place it first on their lists. No question, we are up there with the French Riviera, Capetown, and the Gold Coast of Australia as accommodating places to live. There is an interesting give-and-take to that abundance, but we'll save that discussion for later.
Let me try to wrap with an observation about what matters most: people. Is it possible to generalize about community populations? Do they really differ? I believe they do. I believe that Los Angeles uniquely attracts the most ambitious, hardest-working people from around the world. They come by the hundreds of thousands each year from every corner of the planet to pursue their dreams, sometimes called the "California Dream." Be it for business, art, science, or whatever, we are a magnet—a city of opportunity.
This creates a civic challenge. Because LA offers so much individual opportunity, it attracts individual talent. As a result, LA does not support communitarian collaboration the way, say, Boston or Portland does. That's why this city has such poor planning, if any at all. That's why it has wonderful private houses (think Schindler, Neutra, and Wright) and mediocre public buildings; why it has excellent private gardens and poor public parks; great private art collections and struggling museums. This is a city of private space. This propensity to individualism is also the foundation of our political culture, the "rugged individualism" of Nixon and Reagan, symbolized by John Wayne. We are a city of individuals, not a community. We like to think we are very talented individuals, and we want to keep attracting more. Thus, the challenge of municipal governance is to get anything collectively accomplished without tainting the magnet of individual opportunity that draws us all here. We do not like taxes.
So, if Los Angeles must be distilled into just one word or theme, I would say it is mobility. It is the dream of "upward" economic mobility; the personal mobility to reinvent one's self; and the physical mobility of a convertible Camaro—manufactured in LA—surfboard dangling over the rear, zooming down the freeway, radio blaring, under the palm trees. Los Angles is the apotheosis of mobility. It is the arrival point of long European, and then American, migrations westward. In fact, LA is sometimes described not as a city, but as a "bundle of energy." Even the earth moves.