The VerdeXchange 2015 Conference held in Downtown LA featured a panel focusing on sustainability efforts to clean goods movement at the San Pedro Bay ports. Moderated by the Port of Los Angeles' Director of International Trade Stephen Cheung, the discussion offered perspectives from California Air Resources Board Commissioner Hector De La Torre, Port of Long Beach Chief Commercial Officer Noel Hacegaba, and Southern California Gas Company Environmental Policy Manager Jerilyn Lopez Mendoza. MIR includes their edited contributions here, covering CARB's Sustainable Freight Strategy, the ports' Clean Truck Program, and the potential role of natural gas in reducing greenhouse-gas emissions.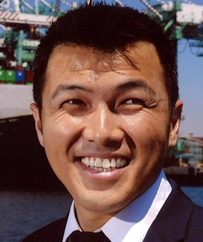 "In the past, we've had coordination among agencies: Caltrans, CARB, and others. The Sustainable Freight Initiative will create integration—one package where everyone is working toward the same goal." -Hector De La Torre
Stephen Cheung: The San Pedro Bay Ports of Los Angeles and Long Beach are two of the busiest container ports in the United States. Combined together, the two were ranked as the fifth busiest port in the entire world. They move approximately $290 billion dollars in trade, and close to 15 million twenty-foot-equivalent units (TEUs) per year. 
The ships, trucks, trains and other equipment at the ports are major sources of air pollution. To combat this issue, the San Pedro Bay Ports have introduced some very innovative tools and strategies to green and grow the ports together. What we hope to achieve today through the panel is to explore current trends and future challenges that the ports will face as the demand for international imports and exports continue to grow. We'll invite our panelists to provide key insights into some programs and strategies that the ports have already engaged, and what future trends we can expect to see.
Hector De La Torre: The goods movement issue is very important to me because the district that I represented—the community that I grew up in—is right along the 710 corridor. When I come out of my front door, I can see the tops of the containers of the trucks going by on the 710 freeway. Obviously, that impacts all of our lives in those communities, whether it's the air quality issues, the traffic, etc. 
On the Air Resources Board, goods movement is one of my pet issues that I continue to monitor. CARB's push to zero or near-zero emission in goods movement is very important to me. 
Since the beginning of last year, we've been working on something very promising at CARB: the Sustainable Freight Strategy. We are getting close to the end of that process. The purpose of the strategy is to identify and prioritize actions to improve our efficiency, our mobility, and our safety; to implement zero or near-zero emission with renewable vehicles and fuels; and to increase competitiveness of the logistics system. 
All of the things we're talking about increase efficiency. Business should want that, the ports should want that, and certainly the State of California wants that. 
Regarding the process, there have been over 200 stakeholder meetings up to this point. Right now, nearly 1,000 slides of technology assessment workshops are available online at www.arb.ca.gov.
We will be releasing in the not-too-distant future detailed draft technology assessments for each sector. In March, there will be an initial document that describes staff's recommendations and options for advancing air quality through a clean-freight system. In April, the board will consider those options.
The document will identify near-term actions to further reduce the health risk for communities in freight corridors. It will identify regulatory and voluntary means of accomplishing a zero or near-zero freight system. Lastly, it will develop outstanding questions on technology, infrastructure, and economics that need to be addressed going forward. 
What is different about this? It is a difference between coordination and integration. In the past, we've had coordination among agencies: Caltrans, CARB, and others. The sustainable freight initiative will create integration—one package where everyone is working toward the same goal. 
Normally we do things based on a program, with a pot of money for something in particular. The Sustainable Freight Initiative will package all of those funding streams to try to address this holistically. The goal is to make a bigger impact on the goods-movement system with all of our dollars—not just a nickel and dime here, a nickel and dime there. 
The idea is to take all of these recommendations and go to the Department of Transportation in Washington—to try to get money flowing as a package.
Integration is also critical between the ports. We've had big success with the drayage truck fleet improvement over the last 15 years. 
I want to give you a sample of what's promising in goods-movement technology. We're looking at new ocean-going vessels that can incorporate LNG engines, selected catalytic reductions to cut NOx, exhaust heat recovery, and advanced hull and propeller design. We are looking to help incentivize them with our partners. 
In-use strategies include bringing cleaner vessels to California that meet our Tier 3 NOx standard, expanding use of shore power and at-berth technologies, and propeller and hull maintenance. 
For the ocean-going vessels, two bonnet technologies are promising in terms of capturing and controlling exhaust emissions. Those are being tested currently at the ports. 
We are also looking at commercial harbor craft—near-term reductions from replacements of Marine Tier 1 and older engines with lower-emissions Marine Tier 3 engines. We're trying to move cargo handling equipment—yard trucks, stackers, forklifts, gantry cranes—to electric or near-zero emission technologies. 
Zero-emission technologies for trucks and locomotives are vital—certainly for those of us that live along the 710 corridors. This includes battery-powered electric motors, way-side-powered electric motors such as the catenary system, or hydrogen fuel cell powered equipment. They are all in development and a lot are being tested by the manufacturers. We're looking to see some data about what works. 
A short- to medium-term transition is taking place, and we will continue to work with all the stakeholders to move whatever is promising ahead as quickly as possible. 
Noel Hacegaba: At the Port of Long Beach, environmental sustainability and stewardship are part of our DNA. 
We've long recognized that, in order to grow commercially over the long-term, we must work hard to protect the environment. In 2005, the Port of Long Beach committed to a green port policy—a broad range of environmental initiatives that are now integrated into every aspect of port operations. 
In 2006, in partnership with our sister port, the Port of Los Angeles, we adopted the groundbreaking Clean Air Action Plan. Together, we have worked to clean all of the big machines in the port—from ships, to trucks, to trains, and even tugs. Program after program has been successful at improving air quality. Overall, we have reduced all of the key air pollutants since 2005. For example, diesel particulate matter has been reduced by 82 percent.
Residents, stakeholders, customers, and virtually everyone in the region have taken notice that the air is cleaner.
Ports around the world often ask how we got it done. One way was through the Clean Trucks Program. We launched the program at POLB in 2008, and by 2012 we had banned all pre-2007 trucks without emissions control. Right now, there are 30,000 trucks, and none are older than 2007. They are all new trucks, and they are 90 percent cleaner than the previous generation. 
Both ports have the same standards, as many of the trucks work in both. Collectively, the two ports and the trucking community invested over $1 billion over that timeframe to improve air quality through the Clean Trucks Program.
We've all heard that big ships are getting bigger. They're also becoming more fuel-efficient and greener. But years ago, we encouraged the shipping lines to slow down in order to reduce emissions. Initially, some of the shipping lines were unwilling to because slowing down prolonged their voyage, which cost them money. Fortunately, both ports developed a program to incentivize slowing steaming. This has paid great dividends for our ports and for our air quality. Today, 98 percent of our vessel operators participate in eliminating more than 1,000 tons of emissions per year.
The two ports also work together on a Technology Advancement Program—our own little R&D. We're always looking for innovative technologies that are cutting edge—that not only clean the air, but also improve efficiency. We know that when air quality is improved and efficiency increased, it's not just the ports that benefit, nor just our customers down the supply chain, but also our communities. Last year, both ports contributed a total of $6 million into R&D.
Starting in 2014, half of all container ships calling at ports must plug-in for shore power while at berth. Then they must shut down their diesel engines. It's been known for some time that ships are the single largest source of pollutants and emissions in the ports and in the region. Long Beach alone has invested nearly $175 million over six years to build the electric plugs into our berths, to support shore power. 
We're moving ahead with industry-leading green initiatives and we're committed to being sustainable. We're not done with reducing emissions. We will also work on improving water quality and soil and sediment quality. Our vision over the next several years is to reach the daunting zero-emissions reality in a way that is sustainable, efficient, and also improves our industry.
Jerilyn Lopez Mendoza: I was on the Harbor Commission when we moved forward with aggressive tactics to reduce air pollution at the ports with the Clean Air Action Plan. One of the main reasons we were able to achieve such dramatic reductions at POLA is because we utilized CNG and LNG in our Clean Truck Program. That dramatically reduced particulate emissions and other pollutants. 
Since I wanted to look big-picture at how we get to our greenhouse-gas goals for the State of California, it made sense to come to SoCalGas, where a lot of activity and creative thinking are going on.
There are two big things that we have to grapple with in the State of California as they relate to air pollution. One comes from the federal government: the Federal Clean Air Act, which requires us to reduce ozone, particularly in the South Coast Basin, because we are in non-compliance with our Clean Air Act requirements as they relate to ozone particulate matter and pollutants. 
The second is state related: AB 32, the Global Warming Solutions Act. We're required to reduce our greenhouse gases very aggressively. 
If you look at the major causes of NOx and ozone in this basin, you'll see heavy duty trucks, class 6, 7, and 8—drayage trucks that carry cargo to and from the ports to other parts of Southern California; and off-road equipment, like construction equipment and equipment utilized in the port to move the boxes around. 
Unlike the trucks and off-road equipment run by diesel fuel, ocean-going vessels run on bunker fuel, which is a by-product of oil and gas production. It's actually dirtier than diesel fuel. We only have a small amount of jurisdiction over the fact that it goes all around the world, because it's under the jurisdiction of the International Maritime Organization, based in London. We do what we can, in terms of the slow vessels and requirements to plug-in while in dock. 
In 2023 and 2032, we have high ozone standards we need to meet, and we're not even close. We need to be creative, we need to be aggressive, and we need to move now. 
Almost 40 percent of our greenhouse-gas emissions come from the transportation sector. Even under the SCAQMD's projections of where we're going to be in the future based on our actions right now, we're not going to make it under the federal ozone standards for reductions.
In response, there is a very strong and passionate dedication to making everything electric. "If it's electric, it's clean." That doesn't take into consideration where electricity is coming from. A lot of the power we get is from coal-powered plants out of state (although now we're moving away from that). But how clean is that engine that you're plugging into your wall to run an electric car, if the electricity going into your car is coal-fired? 
Natural gas has a number of off-the-shelf technologies we can use today to reduce emissions and get us where we need to go with ozone and particulate matter. We can do it today by getting as close as we can to near-zero emissions. That's been left out of the equation. Natural gas is cheap, it's domestic, it's affordable. Everywhere else in the world, it's seen as part of an aggressive solution—except in California. 
There is a standard being implemented right now in California for all of the heavy-duty trucks on the road: 0.2 grams of NOx per brake-power-hour. They want us to be at 90 percent fewer NOx emissions, which would be 0.02. The idea for us in the natural gas industry is to figure out how to get from 0.2, where we are now, to 0.02. We're trying to figure out how we can get there using aftermarkets technology, renewable natural gas, and hydrogen blends
The main five areas of transportation vehicles we focused on with the Clean Air Action plan are: fleet vehicles, heavy-duty trucks and short haul-trucks, cargo-handling equipment, locomotives for short and long-haul, and marine vessels/ocean-going vessels. All these different sectors are moving toward natural gas. For example, trains under the Tier 4 locomotive requirements from EPA have to start using natural gas for both short-haul and long-haul.
Marine vessels and ocean-going vessels would be a huge win because they run on bunker fuel, and bunker fuel is nasty stuff. To the extent that we can get them moving to a clean fuel, like natural gas, we not only win locally—we win internationally. 
As we move forward into the 21st century, how are we going to get a fueling hub available for the port complex to be able to utilize technologies that are either already available or are going to be available? Where is that fueling hub going to be, how are we going to get it operational, and who do we want to partner with? 
Stephen Cheung: When it comes to environmental sustainability and environmental impact, this is a global issue. A study recently showed that the pollution here in the LA region has linked and contributed back to China, and vice versa. Given that concept, can the panelists expand a bit on the global implication that the ports and their greening efforts will have on the entire world?
Noel Hacegaba: There is no question that the negative environmental impacts of ports around the world are being felt. I was in Asia late last year. I had been to those cities two years earlier, and you could tell that the air quality in those cities had not improved.
Ports in Asia—some of which happen to be the largest in the world—are looking to reduce those impacts. The technologies in Latin America, where ports are much smaller, are two to three generations older than what we at the San Pedro Bay Ports have now. But by the time they implement their own programs, they're actually going to be at parity with us, which is good for the global environment.
Hector De La Torre: With regard to international accords, California has pushed on two fronts.
First, the Pacific Coast Collaborative with Oregon, Washington, and British Columbia tries to reduce greenhouse-gas emissions, not just in the ports, but across the board. We're looking at low-carbon fuel standards, other greenhouse-gas reductions, pricing carbon, alternative fuels, etc. 
Second, and most promising, Governor Brown has signed MOUs with Australia, China, and Mexico, among others. In each of those cases, countries see that the economy in California has grown by over 80 percent since the early 1990s, while we've had these incredible reductions in emissions. That's what brought the Chinese to the table to work with the governor and subsequently with the president. They are seeing that you can reduce your emissions and grow your economy. It's not a zero-sum game.