The City of LA is undergoing a five-year process to re-write the language of its antiquated zoning code. TPR spoke with Tom Rothmann, a Senior City Planner for the City of LA, about the effort. He provides an overview of re:code LA's objectives, funding, timeframe, and challenges. Rothmann also details issues with zoning as-is and notes other places' codes that can serve as models. This is Part I in a TPR series on LA's zoning code. See our March issue for the next installment.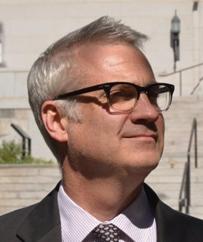 "A big part of the re:code LA effort is to get away from overlays, supplemental use districts, Q Conditions and D limitations." —Tom Rothmann
Tom, what should the readers of TPR understand about the City of LA's zoning code revision efforts—re:code LA—and its current status of implementation within the Department of City Planning?
Tom Rothmann: They need to know that this is one of the biggest planning projects in the country right now. We are taking a very big leap in revising our post-World War II zoning code—the second oldest zoning code in the United States for a major city. 
We began the process about a year and a half ago. It's a five-year program. There are three main deliverables: One is a city-wide zoning code, which is pretty much what we have today. One is a Downtown code. In other words, to start, we'll have two zoning codes for the City of LA—one that will pertain exclusively to the Central City and Central City North community plan areas, and another for the remainder of the community plan areas. 
Ultimately, these will be one, new zoning code. The Downtown code should be out for review sometime this year, in 2015.
The third deliverable is a dynamic web-based code delivery system—unlike what we have today, which is a standard document that you can scroll through. Here, we are working on an interactive code that we're going to be showcasing at the National American Planning Association conference this April in Seattle. It's very exciting. 
Why the two-step City Planning process for re:code LA? What is different about Downtown that compels carving it out of the citywide re:code LA planning? 
One reason is that our current code has a lot of exceptions for Downtown.
The zoning code is citywide and is not supposed to be geographically based, yet we have lots of exceptions in our current code. Downtown is always going to be an exception from the rest of the city. It's one big transit-oriented district, for the most part. It's one big mixed-use zone. It's also a complex set of neighborhoods. It's a high-density part of the city that is a lot more open to new ideas and to transforming—whether we like it or not, more so than the remainder of the city. That combination leads it to having its own set of rules and regulations. 
We have the Transferable Floor Area Rights program Downtown, we've got our Downtown housing incentives program, and we have adaptive reuse. We have some very big ideas and big policies set forth in our zoning code that really relate to Downtown. 
Would it be fair to say the City of LA Planning Department sees Downtown zoning as unique as compared to the rest of the city's 470 square miles—thus, rezoning efforts are best done separately and in sequence?
That is a good way of putting it.
How are you allocating your scarce funding—a condition of all city agencies—between the two plans?
The Downtown code is going on right now and we're working on the web-based code, too.
We've had to reconfigure our timeline a little bit for our deliverables because we've had to move up our new zoning for single-family neighborhoods, due to issues regarding mansionization in the city. 
We want to have new single-family zones that can be implemented throughout the city (obviously outside of Downtown). We want to have those new zones ready for the citywide code, but the department also wants to get a jump-start on rezoning some of these neighborhoods that are being impacted by mansionization, under a separate effort. We're being mandated to come up with new zoning. A big part of the re:code LA effort is to get away from overlays, supplemental use districts, Q Conditions and D limitations. 
We have residential floor area (RFA) districts in some of our single-family neighborhoods that have taken off in response to the mansionization issue. We don't want to keep creating more RFAs, so we've promised that we're going to come up with new, better single-family zoning mechanisms. Our community planners will be able to use these new zoning tools in community planning.
Should the public assume you're using one-fifth of the Planning Department's $5 million on the Downtown plan?
We're on target. We're probably being a little more intensive with our consultants right now. Because so many things are in the works in this early phase, we're using almost all of our consultants right now. We're trying to average it out to about $1 million a year.
How will re:code LA impact the city and the department's community-plan updating efforts and priorities?
The Downtown community plans—Central City and Central City North—have begun the update process. My team and their team are working together to come up with new zones just for them. We're working hand-in-hand. As they work through their process, we're creating new zones so that they can update their community plans with the right nomenclature. We're also doing that with the Boyle Heights community planners. 
We would like to use the Code Studies section's coordination with our Downtown Community Plans as a model for creating new re-zoning efforts. We're going to work with our community planners to have single-family neighborhoods be re-zoned to our new zones. We're also working on the "Clean Up Green Up" program effort for certain parts of the city. It depends on our funding, though. 
There will be 32 other community plans that will have the old zoning code, while we have a new zoning code. re:code LA is either going to have to create "bridge zones" that convert the existing zoning on the ground to the language of the new zoning code, or the department is going to have to comprehensively re-map the whole city. The verdict is still out on that. It will depend on funding and the budgets. 
Tom, you previously served as a senior city planner and director of land-use planning for New York City until 1991. How did that NYC job in the last century prepare you for this 21st-century LA challenge?
It really didn't. It was a whole different ballgame. It's really a very different set of rules and regulations here. 
Are the land-use entitlement politics of New York much different from the City of LA's?
The politics of planning are much different. The politics of planning in LA are very grassroots. I didn't experience it that much in New York, but only because what the Planning Department does there is a little different from what we do here. In New York, the Planning Department does not process the applications we process in LA. 
You mean New York City relies more on "build by right"?
Yes, and the things that aren't built by right don't go to the Planning Department. They go to the Board of Standards and Appeals. It's not apples to apples. 
Pivoting from a LA/NYC comparison, how is it that the City of LA went 57 years patching its zoning code—with overlay zones and site-specific designations —without having it all fall apart? What explains LA's business, neighborhood, and City Council tolerance of a zoning code that was a product of exceptions?
We didn't have much choice. Nobody wrote it to be the way it is today. It's just that there have been so many crises in the city over the last few decades that we've had to keep updating our zoning code. 
For instance, for some economic reason, gas stations on LA's commercial corners started rapidly closing in the 1980s and many of them were replaced by commercial developments that many viewed as ugly. This triggered the addition of the "commercial corners" ordinance to the Zoning Code. This ordinance added design guidelines and a relief mechanism for developments on commercial corners but did not apply those same regulations to our mid-blocks. We've responded to a lot of land-use issues in a similar manner but we haven't comprehensively reviewed the code and thrown it out. As I'm finding, it's a very complicated issue.
What was the catalyst for re:code LA? City leaders long knew that the zoning code went from 84 pages in 1946 to 600-plus pages today, and that over 60 percent of city land is covered by special overlays and site-specific designations. What was the trigger that led to expending $5 million for re:code LA?
We owe a lot of that to the Director of City Planning, Mike LoGrande. 
We are constantly being bogged down—our project planners are overwhelmed with cases. Our cases are very complicated and getting more complex. I think Mike had realized through conferences and meetings with other planning directors throughout the country that there's a better way to go about this. We've got such a great staff here and there are great policies in the planning department, but we're hamstrung by a very outdated book that sets forth the regulations. He sat down with his key staff—Erick Lopez, Deborah Kahen, Alan Bell, and me. We came up with the idea and got the political support to move forward with this.
Tom, is 2013 really the first time in your 15 years with the Planning Department that updating the City of LA's zoning code has been advocated?
You're correct. We started about six years ago. I was still the city planner for this section. We held a series of workshops with developers and neighborhood groups, asking: "What can we do? This thing is a mess. We only have limited staff." 
We came up with 10 big items to start cleaning it up. We've gotten through three of them in the last couple years, but our staff is limited. We're down to a skeleton crew of five staff. 
We realized that, with these quick-fix bandaids, it's still going to be the same thing. We were fixing up the multiple approvals section and all of our findings, but still, at the end of the day, it was going to be the same format. 
This is a very old-fashioned type of code. It's a Euclidean Zoning Code where we separate all the uses. But we've changed it so much that it's really not any one type of zoning code. We wanted to move to a code that also acknowledges form, as well as uses.
You can't really put progressive policies into our zoning code. Mike met with planning directors from cities who have functioning zoning codes and realized that's what we need.
What are the driving political forces behind prioritizing re:code LA Downtown? Does re:code LA city-wide have like advocates and needs?
We have a very supportive PLUM Committee. They're briefed quarterly on re:code LA. The chairman of the PLUM Committee is the councilman for Downtown. I think he couldn't be happier with our progress and goals. 
We presented the re:code LA evaluation report to the City Planning Commission, the PLUM Committee and the full Council. We only heard praise from the City Council members who stood up—about half of them. There's plenty of support there. 
I think everybody knows that our zoning code has created a very hard process for small business owners and small developers to open up shop. We want to make sure that the city is easy to do business in without hiring expensive land-use attorneys and consultants, which seems to be the way it's going.
Have the city's zoning administrators over the years publicly shared how complex and difficult this process had become?
No. There are not too many zoning administrators left at the moment. Our zoning administrators are supposed to be pretty impartial so I don't think they speak publicly on too many things like this. 
Are there other cities in LA County that already have adopted new zoning codes and are models for LA, such as Pasadena, Santa Monica, Glendale, Long Beach, or Culver City?
Long Beach recently re-did its code, but we're not looking at any of those and saying "We want to be kind of like that." They're all fine—they're newer than ours and better than what we have today—but none of them are a good model to meet LA's needs. 
The model we like is Raleigh, North Carolina. People say, "That's a completely different city!" But the ideas are the same, although obviously LA is going to be a little more complex. 
It's a really great code. We all seem to like the way that it looks. It makes things simple, relying on charts, graphics, and simple language that helps get the point across of what we're requiring—rather than pages long columns of prose text that numbs the brain.
What's the contributing role of the city attorney in re:code LA?
We have a city attorney assigned exclusively to the project. Her job is to make sure that everything we do is legal. She's been with us since day one.
A final question: What's the next benchmark for re:code LA? 
The next benchmark will be a draft of our Downtown code, expected in the fall.