During the recent CityLab 2014 Conference: Urban Solutions to Global Challenges, the Sept. 30 session "Infrastructure Investments that Change Lives" featured Anthony Foxx, US Secretary of Transportation, in conversation with moderator Arun Rath, Weekend Host of NPR's All Things Considered. TPR prints an edited transcript of their remarks focusing on the critical need for transportation projects, starting at the community level.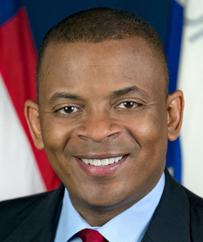 "Right now in the US, we have a major piece of business in front of us: creating a long term, predictable, sustainable surface transportation bill." —Anthony Foxx
Arun Rath: I understand you had an announcement you wanted to make to start us off?
Anthony Foxx: Over the last couple of days, you've been doing visioning for the future. NYU has done forecasting about what cities will look like in 2030: Los Angeles may be the home of automated vehicles and cars circling around looking for parking. In Boston, there's the idea of a valet service that will allow you to empty your apartment, and move things to and from. These are exciting innovations that involve our work to make sure mobility continues to expand in the 21st Century. 
As an administration, we are looking for ideas on how to improve local communities. When we improve local communities across this country, it adds up to a lot. 
Later this week, the president and the Department of Energy will announce a competition for local communities to put forward ideas on how they can impact climate change in a good way and improve resiliency. We are working toward work that empowers local communities to do more. 
Looking forward into the future of transportation, we know that technology is going to play a role. We know that investment will play a role, be it public or private. 
But right now in the US, we have a major piece of business in front of us: creating a long term, predictable, sustainable surface transportation bill that will move this country forward.
Arun Rath: Lets talk about this new competition. What are the sorts of things you expect to see at the local level? How big of an impact can that have?
Anthony Foxx: The president has taken on the challenge of trying to reduce our carbon footprint as a country in so many ways. We're very proud of the work we've done on things like CAFE standards—automobiles becoming more fuel-efficient by working with the auto industry. But I think you'll start to see local communities becoming the laboratories for innovation. You'll see public and private-sector partnerships to reduce the carbon footprint of commercial buildings in cities. You'll see efforts to expand the use of intelligent transportation systems that allow traffic to move more seamlessly and reduce the carbon footprint. 
All kinds of ideas will come as a result of this—some of them transportation-related and some not. The president understands that this has to be an all-hands-on-deck issue and that involving local communities is part of that work.
Arun Rath: How would that be integrated to deal with the larger, government-wide federal strategy to deal with climate change?
Anthony Foxx: It's a piece of it. 
Obviously the EPA is working very hard on regulations affecting power plants and other industries. There is a lot of work being done with the international community to impact that. 
The US DOT has done some work when it comes to light vehicles' fuel economy. The president has charged myself and EPA Administrator McCarthy with focusing now on medium-sized vehicles and trucks. But it's not one big silver bullet. It's a lot of pieces coming together, and the local piece is a big one.
Arun Rath: You alluded to the infrastructure crisis, which a lot of people are talking about. Your predecessor, Ray LaHood, said, "America is one big pothole." Let's triage first—what is the biggest problem we're facing that has to be dealt with urgently?
Anthony Foxx: If you were a surgeon and walked into our transportation operating room, you would find yourself under stress. First, our revenue curve is going down as vehicles become more efficient. We're building smarter and more fuel-efficient cars, which is affecting our ability to maintain and expand transportation choices in the country. 
At the same time, our country is growing. We have more manufacturing activity in the US now than we had 15 years ago. That means freight needs to move around more efficiently. The country is going to grow by 100 million people over the next 35 years, which means that if we're stuck with the same capacity we have today, travel times are going to get longer. As I've heard many times from my friends in Los Angeles, folks don't want travel times to get longer—they want them to get shorter. 
To do that, we've got to invest. We're investing in expanding our highway system where we can. We've got to expand our investments in transit—particularly passenger rail, which I think will be another hallmark of the 21st century everywhere. We've got to involve technology in helping us become more efficient in how we use our transportation system.
Arun Rath: Of any point in the system, what's likely to fail the soonest: air, rail, roads, or bridges?
Anthony Foxx: It depends on where you are. The older infrastructure in our country tends to be in the Midwest and Northeast. You'll continue to have points of failure in those systems if we don't invest in a state of good repair. 
The failures will happen differently in the Southeast and the West, which are fast-growing parts of the country. The population will continue surging and travel times will keep expanding, year after year. It won't hit you over the head with a mallet—it'll be like death by a thousand cuts. 
That's one of the reasons why we have to continue making the case to the American people that this is an issue we can change—through smart investments, streamlining projects, and involving public-private partnerships. Again, I think technology is going to play a huge role. 
Arun Rath: A lot of people agree that investment that needs to be made in infrastructure. But how do we pay for it? There is not a lot of agreement on that in Washington.  
Anthony Foxx: It's interesting that this becomes a point of discussion, because the fact is that people are paying for it already. The American Society of Civil Engineers has estimates in every state on how much people are paying because of poor road conditions—be it wear and tear, additional fuel, or broken axles. 
I was in Missouri just a few days ago. The ASCE estimate is that people in Missouri are paying $308 more per year because of our poor road conditions. It's a fallacy for folks to get caught up in how we pay for it. One way or another, the American people are paying. Frankly, if we had 21st Century infrastructure, there's a pretty good chance folks would be paying less.
Arun Rath: To get that, what do we have to do? Is it a gas tax?
Anthony Foxx: We have a lot of factors that are starting to disrupt the orthodoxy in transportation from 50 years ago. When the Interstate system was built back in the 1950s, no one could see a point in time coming where revenues would go down with more people on the road. But that's the kind of system that we're walking into now. 
We still have gas tax revenues coming in. It's just that, on an annual basis, it's about $15 billion short of what we need just to keep the system afloat—so there needs to be another input. 
Our proposal, the Grow America Act, offers one idea: business tax reform. Take the two trillion dollars of corporate earnings that are overseas, bring it back into this country, and put it to work building American infrastructure that will help us not only plus up our transportation system, but also allow us to invest more. It is vitally important to stop talking about trying to backfill the Highway Trust Fund, and get more focused on where the country should be—investing more in infrastructure. 
Arun Rath: Speaking of disrupting orthodoxies, you've put the idea out there of more private-public partnerships. How do you do that? 
Anthony Foxx: It's actually done a lot more than you think at the local level. Having been mayor, we did many tax increment financing projects in my city. Some of them involved putting in infrastructure, like roads and other transportation networks. 
The question is: Can we systematize this and help to build scale both on the public-sector side and on the private-sector side—to help sizeable, impactful deals happen in the country? I think that we can. 
As a result of the president's executive order earlier this year, we're setting up the Build American Transportation Investment Center. That's a fancy way of saying we're going to create a storefront—both to help the public sector shape deals to be public-private-sector eligible, and to reach out to the private-sector community to engage them more in building American infrastructure. This will impact roads, plus potentially transit, heavy-rail, ports, and other investments that we need.
Arun Rath: Is this a fundamental change in how America is going to deal with infrastructure in the future? 20 years ago, we heard that the era of "big government" was over when it came to social programs. Is the same thing happening?
Anthony Foxx: It's a bit like education has been in recent years, where folks realize we can't tolerate failure over the long term. Frankly, the more we allow it over a sustained period of time, the more we're setting up future generations to not do as well as we did. As a result, just like in education, you have to think long-term. If we started a transportation project here in Los Angeles today, it might take us years to get it done. But it's the kind of thing we have to do. 
What hasn't come across clearly in Washington is what I see so clearly when I'm out in America: Folks know their infrastructure is crumbling. They know what kind of infrastructure they want. They know how it's connected to jobs and quality of life. They just need the resources and wherewithal to get it done. In Washington, , infrastructure is almost always focused on whether the Highway Trust Fund can get patched up. That's not the way we're going to move forward.
Arun Rath: You work for a Democratic administration. Are you saying there needs to be more power at the local level and less interference from Washington?
Anthony Foxx: As we evolve in our transportation system, we first of all need to have more resources directed to it. Then we also need to think about how those resources are directed. 
The state model of supporting, maintaining, and building the Interstate system is still a fine model. But if we add more money into the system, there are several things we'd like to do differently. 
We have 50 different freight networks across the country. We don't have one single system. But what if we had a pool of resources that perform like Race To The Top, where we said to the states: "If you work together and create scale for your investments, we'll help you build multi-state rail systems and multi-state highway systems to move goods"?
We need to have more money flowing directly into metropolitan planning organizations, so local communities can have more control over how projects get done where they live. There are several reforms that we would urge under the Grow America Act. 
But again, we have to get unstuck from this idea that we've got to keep doing transportation, for the next 50 years, the way we've done it for the first 50 years of the Interstate system.
Arun Rath: You have dealt with these issues at the local level as a mayor. You've talked about ways in which that informs your approach today. When you came to the national stage, what surprised you the most—based on what you've seen in Charlotte and in other places?
Anthony Foxx: When you're a mayor, things are like the microwave. You stick it in and it's ready in 30 seconds. In Washington, it's like a crockpot—you have to slow cook everything. 
I know this is an incredibly consequential time in infrastructure in this country. I have an opportunity, along with the president and with Congress on a bipartisan basis, to help chart a path forward for this country that will go well past this administration. We have to figure out a way to work together and get something done. I'm working with Republicans and Democrats to try to do it.
Arun Rath: How are you approaching that, in terms of bipartisanship? It's a very contentious time. You were confirmed 100 to nothing, but that doesn't happen anymore.
Anthony Foxx: I spent a lot of time in so-called "red" and so-called "blue" states. I do that intentionally, because when I listen to what local folks or even state governments are saying, it's really the same thing. They know they need more, they know they need it to be done faster, and they know that they need Washington to help. That's what gives me encouragement that this issue is going to eventually rise above partisan politics. 
There are some Republicans who understand this issue very well and are interested in getting something done. I would cite the Chairman of the House Transportation Infrastructure Committee Bill Schuster, who is really good on this issue and is working on both sides of the aisle. We've got to get a critical mass in Congress focused on a solution and get them to move on that solution in a bipartisan way.
Arun Rath: If we do this the right way, where do you see transportation in America in 5-10 years?
Anthony Foxx: If we do it the right way, we will invest the dollars, but we'll also think long-term about how the country's growing. The trends that I talked about earlier—maintenance issues in the Northeast and Midwest; the explosive growth happening in the Southeast and West—have to be thought about as we build an ecosystem for how that money moves around. 
I think a focus on a national freight network would be useful. A robust fix-and-repair program would be great for the system, as well as working to increase some of our investments in passenger rail and in transit. 
Our bill proposes a 70 percent increase in transit investment, a 22 percent increase in highways, and actually pulls passenger rail into the Surface Transportation Program. We would do away with the Highway Trust Fund as we know it in creating a single Surface Transportation Fund to go forward. 
I think you're going to see technology jumping into transportation in a big way. Recently, we announced an intention to develop a rule on vehicle-to-vehicle technology, which is a foundation. We believe, ultimately, autonomous vehicles will improve safety by a substantial margin and will also create a lot more efficiency in the system long-term. 
I think we've got a very bright future of integrating technology. I'm sure there will be things that we haven't even thought about that will happen within the next two or three years.
Arun Rath: You're on a tour across the country right now. Can you talk about why you're doing that and what you hope to take back to Washington?
Anthony Foxx: I'm thinking of it as a revival—an effort to revive the idea that we build things in this country. We build connections between people. We build communities. We've built the finest, most robust, and safest transportation system the world has ever seen. We're guardians of that system. We have to make sure that we are good protectors of it so that we pass along a better system to our kids. 
I'm trying to get to every state before the end of the year. I don't know if I'll make it but I'm trying because I want to hear what communities want to get done.
When we make a TIGER grant announcement in Kansas City, Missouri, we're also talking to them about the need to do more grants like that in the future. When we're here in Los Angeles, and we can break ground on a Regional Connector light rail system, we know that's going to be impactful to the community. 
But we want to remind people that they have more things on their to-do list that have to get done. We need Congress' help to help make that happen.