de LaB's Making LA Conference, held on Nov. 7, featured a well received panel on the future of streets. TPR includes an edited selection of highlights that features: Nat Gale, Great Streets Program Director for the City of LA; Valerie Watson, Assistant Pedestrian Coordinator at the LADOT; Deborah Murphy, founder of Los Angeles Walks; Daveed Kapoor, founder of Utopiad; and Melani Smith, Principal and Director of Melendrez's urban design practice.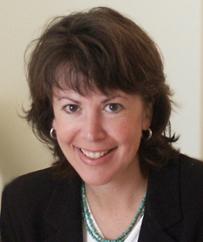 "I think what we've learned from CicLAvia is that you don't necessarily have to over-program a space. In Los Angeles, if you just capture the space, then people enthusiastically come and bring their own creativity." -Valerie Watson
Nat Gale: The Great Streets Initiative is a vision of LA Mayor Garcetti's that we all share: Streets are public spaces. We need to do a better job as a city to deliver coordinated and strategic services to these streets. 
We've done very simple things, like coordinated maintenance services—from taking down a sign that has stickers over it so you can't read it anymore, to painting crosswalks, to planting trees—to show that we care about streets, how they look, how they're designed, and how they feel. Oftentimes, we don't want too much activity on the street. We want to take away the clutter and let the street speak for itself. 
It's about local businesses and merchants—everyone from a liquor store to a coffee shop. They all matter because they are a part of that fabric. We need to get them involved because they're the ones who are going to populate these spaces we reclaim.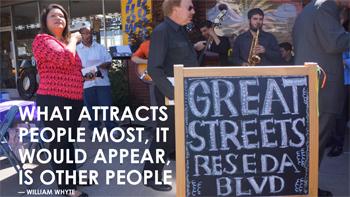 Valerie Watson: We have 7,500 miles of streets. It's a lot of place to reconfigure— thinking about how we can use that space more efficiently and differently. 
At the DOT, we have created an application-based process where communities who know their neighborhoods best all across LA can actually partner with the city to bring these transformations to their neighborhoods. We have a one-stop shop for that. You don't have to talk to 12 different people in 12 different bureaus and departments anymore. We created a process where there never was one before. It's really about looking for organizations that already have the capacity to work with the city to bring these types of transformations to neighborhoods.
Deborah Murphy: I'm the Executive Director of Los Angeles Walks, a pedestrian advocacy group. A number of Making LA speakers—including Daveed Kapoor and Alissa Walker—are part of that effort. Our campaign is to make the streets safer for everyone. That means safe, accessible, fun, and equitable. In my campaign, we're all pedestrians. Every time you get out of your car, off the bus, or off your bike, you're a pedestrian—every kid, every senior. We need to make the city more walkable for all of us. It's not about some specialized group. 
If orange is the new black and brown is the new green, then walking is the new driving. Our feet are the newest, coolest, hippest, funnest way to get around town. 
Daveed Kapoor: Thinking about how much the city is spending on infrastructure, we know that 40 percent of trips are on foot. 
The city doesn't even know how much they spend on walking infrastructure—it's less than 1 percent. Maybe we should do some re-evaluating there. 
Melani Smith: About a year ago, we took on a project in Santa Monica where we were asked to do conceptual design work on the Michigan Avenue Neighborhood Greenway. We decided, in the response to the RFP, that we should build in an opportunity to create the interventions we were proposing in the planning process on the street for a day. 
It was a workshop installation event—a great experience that 400 people ended up attending and staying at for a long period of time. Participants thought really carefully about the roundabout that we built for the day, the diverter that we installed, the minipark that we put in, and the chicanes that we built in the street. They really experienced these elements. 
This was not an experience where we closed the street. We wanted it to be open, so we had to negotiate cars. We wanted bikes and people to be out there, having the experience of looking at the street in a new way.
Nat Gale: I want to take 30 seconds for each of you to tell me: If you had any street in LA as your canvas for eight hours on a Sunday, what would you do with it?
Melani Smith: I'm working on 7th Street now. It doesn't matter that much what we do, but I want to recreate that feeling the first time I was in Europe—seeing a guy playing his guitar in Piazza Navona, singing in English in this Italian piazza with the crowd around him. 
I want to then have the experience of the family restaurant that was too full, so they moved their car (which was parked at the curb), pulled a table out, and stuck it in the parking row so that my whole family could sit there and eat dinner. 
I want to create that sense of comfort in your own skin, in the space, which we get during CicLAvia. We get that when we take back the space and experience it in a different way. 
Daveed Kapoor: I want to talk about the way I walked here today: on the 110 Freeway. There is a little pedestrian path, and it could be quite charming. 
I'd love to do something to make that a more humane experience.
Audience Member: On Broadway, the bridge goes over the LA River. There are a whole bunch of belvederes—little pop outs that overlook the river, some with benches on them. 
We had a picnic there. It would be really cool to have more than just four people in all the little belvederes. You just take out blankets, or build a bench! 
Valerie Watson: I think what we've learned from CicLAvia is that you don't necessarily have to over-program a space. 
In Los Angeles, if you just capture the space, then people enthusiastically come and bring their own creativity. 
In the early days of us doing tactical urbanism before it was called tactical urbanism, Will Wright (who works for the AIA) used to just bring his yellow lawn chair, plop it down in the middle of a parking space, and then we'd have Park(ing) Day. 
I propose sending Will Wright to all 15 Great Streets with his yellow lawn chair, capturing a block, and having a mini-CicLAvia for a day.
Deborah Murphy: One street that's close to home is Sunset Boulevard. It connects so many great communities, particularly in Echo Park and Silverlake, yet it's this massive, crazy commuter street. I'd like to chill it out and slow it down.
My Mom and Dad lived near Sunset and Beaudry. They used to walk Sunset Boulevard all the way to Hollywood. 
I want to be able to relive what my parents did—go have a whiskey sour at Musso and Frank's by walking down Sunset.
Nat Gale: My idea would be to start at Griffith Park, and have a soccer ball be kicked from one person to the next, all the way down Vermont to the harbor. All those people from Los Angeles kicking that soccer ball would show our diversity, our excitement, and the ways in which our streets can be active. 
(Image: Aaron Paley, Text: Great Streets Studio)
<