Scott Kratz, director of Washington, D.C.'s 11th Street Bridge Park Project, is spearheading efforts to turn an aged-out freeway bridge into a three-acre civic space crossing the Anacostia River. He recently discussed the endeavor's goals with TPR, detailing intensive community outreach and the promise this recreational area could offer. Kratz also shared personal connections to the Los Angeles River, and the inspiration provided by its revitalization.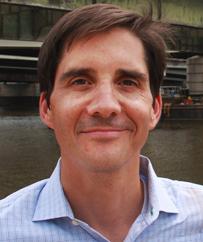 "The Anacostia River has been a dividing line for many generations. If we can create both a physical and metaphorical bridge to connect two sides of the community that rarely venture to each others' banks, that will be a great success." -Scott Kratz
Four teams recently submitted design concepts for the 11th Street Bridge Park as part of a nationwide competition. Images below represent the visions of, in order: Balmori Associates/Cooper, Robertson & Partners; OLIN/OMA; Stoss Landscape Urbanism/Höweler + Yoon Architecture; Wallace Roberts & Todd/ NEXT Architects.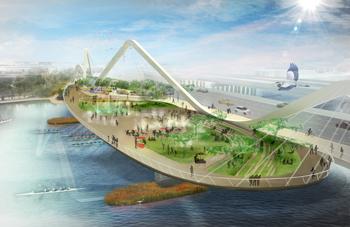 Scott, as the director of Washington, D.C.'s 11th Street Bridge Park Project, describe the project's goals.
Scott Kratz: We are working on transforming an aged-out freeway bridge into a new civic space that crosses the Anacostia River in the nation's capital. We have four key goals.
Our first is public health—having a safe place for active recreation. Like many cities, Washington, D.C. is dealing with a health crisis. The communities along the river have 41.9 percent obesity rates, the highest in the city. They also have the highest rates of hypertension, the lowest access to fresh fruits and vegetables, and so forth. Having a safe place for active recreation can be a significant intervention to improve public health.
Second, the project aims to reengage people with the Anacostia River. When most people think of Washington, D.C., they think of the Potomac. But George Washington chose Washington, D.C. in part because it was at the confluence of the Anacostia and the Potomac Rivers. The Potomac has had a lot of love over the last several decades, and the Anacostia now needs some of that attention. It is an amazing natural resource. To get people to care about the river, we first need to get people down to it.
In many cities, there are both natural and man-made dividing lines—whether they be rivers or train tracks (leading to the phrase "living on the wrong side of the tracks"). The Anacostia River has been a dividing line for many generations. If we can create both a physical and metaphorical bridge to connect two sides of the community that rarely venture to each others' banks, that will be a great success.
Finally, if we're really successful and this becomes the signature park that we all know and are confident it will become, it can be an anchor for economic development. We anticipate attendance between 800,000 and 1.2 million visitors a year. That's an awful lot of people walking by storefronts, many of which—particularly east of the river—are vacant. These can be filled with cafes or shops, and that means jobs.
Share with our readers the origins of this 11th Street Bridge Park Project, and how its execution is aligned with past initiatives for Anacostia's economic revitalization. Note that over the last decade The Planning Report has interviewed two former Washington, D.C. Planning Directors—Andy Altman and Harriet Tregoning—that each flagged Anacostia.
This idea began with Harriet Tregoning, a friend and a visionary. For many years, she headed the D.C. Office of Planning.
At the time, I was Vice President of Education at the National Building Museum. I brought over Danish planner and architect Jan Gehl to speak at the museum—I'm a big fan of his work. Since Jan had never met Harriet, I organized a breakfast. When he was running a little late, I asked what I thought was an innocent question: "Harriet, what's happening with all that construction on the 11th Street Bridges?"
Harriet looked across the breakfast table and said: "It's interesting you ask that question. I have an idea to use this unique point in time—when the freeway bridges built in the 1960s have aged out and are being replaced—to repurpose part of the old spans, making a new civic space. Do you want to help?" This was seven in the morning—I probably should have had another cup of coffee or 10! But the more I looked into it, the more I couldn't think of a single intervention in the nation's capital that could improve the economic, cultural, physical, and environmental health of the community in a single parcel.
Harriet spent the first six months getting the mayor, city administrator, federal agencies, national park service, and navy yard on board. Everyone said: "This is an opportunity that we really need to explore." We had their buy in. I began volunteering nights and weekends. This was clearly an I-had-too-much-free-time-on-my-hands project for about two and a half years.
I met with members of the community to ask whether they wanted the bridge park—because if not, I could have spent my time doing something more productive. We were doing an assessment of need and that's been critical. We've heard nothing but enthusiastic responses. I didn't realize then that we were really asking for permission. This entire project has been community-driven from the beginning. To date, we've had more than 350 community meetings.
Next, we asked: "What kind of programming does the community want?" Interestingly, we heard the same concepts on both sides of the river, whether from a million-dollar Capital Hill rowhouse or residents of Berry Farms Housing. We've baked all of those programming ideas into a larger nationwide design competition.
How has D.C.'s and Andy Altman's earlier focus on Anacostia's waterfront impacted your bridge-to-park project? Help our readers appreciate what this bridge will connect.
Working with Mayor Williams, Andy Altman launched the Anacostia Waterfront Initiative, which just celebrated its 10thanniversary this year. We would not be at this point—thinking, building, and raising funds for an 11thStreet Bridge Park—without the Anacostia Waterfront Initiative. Hats off to visionaries like Mayor Williams, Andy Altman, and staff who saw the potential of what was long considered merely a polluted waterway to again become an economic driver for the city.
Washington, D.C. is broken up into eight wards. Wards 7 and 8 are located east of the river in historic Anacostia. They have some of the most challenging issues, on pretty much any scale: unemployment, the health issues that we spoke about, housing insecurity, poverty, and so forth.
There are many different types of divides—physical, economic, and social. Wards 7 and 8 are predominantly African American, with a rich history. Frederick Douglass, the civil rights crusader, was the first African American to buy a house in a predominantly white community—which is now a National Park Service site in the neighborhood. The area has tremendous bones with extraordinarily longstanding and proud residents who perhaps haven't had the same opportunities as those in the rest of the city.
Washington, D.C. is going through a huge boom. We're gaining between 1,300 and 1,400 residents a month, totaling 87,000 residents over the last 10 years. Much of that development has happened only west of the river. The cranes going up for new developments and restaurants stop at the Anacostia. As we work with the community to help shape the vision for the park, this can be an opportunity to build economic benefits on both sides of the river.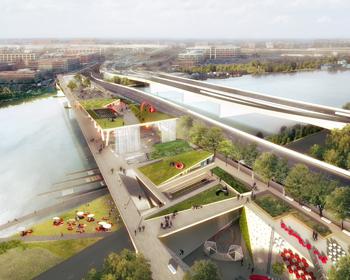 How is this 11th Street Bridge Park—a D.C. ponte vecchio—reusing and transforming existing infrastructure?
Two freeway bridges originally built between 1962 and 1967 that crossed the Anacostia reached the end of their lifespan, like much infrastructure across the United States. Those two bridges were replaced with three new bridges—two freeway bridges and a third, local bridge that will hold the next streetcar slowly being reintroduced. The construction of the new vehicular 11thStreet Bridges is the largest construction project in the District's history, at about $394 million. (I recently found out that the first bridge to cross that span dates back to the 1780s.)
The new bridges opened last September, about a year ago. They've already done a great job of connecting the two sides of the community.
One of the most expensive parts about building any bridge, especially river bridges, is not the span—it's the piers that hold all the load. The piers here are in great shape. The deck had to be removed.
We're planning on reusing part of the piers that held up the old downstream span. We've asked designers, landscape architects, architects, and structural engineers to build a new deck on top—but one that no longer holds cars or tractor trailers. That deck can hold performance spaces, an environmental education center, and green space.
A new deck that doesn't hold cars would no longer need to be flat, so it could dip down to the water in certain places. We're encouraging the design teams to explore the vertical nature of the space.
Engineering studies suggest that we can cantilever out about 120 feet wide. The 11thStreet Bridge Park will be approximately 1,000 feet long—a little shy of three acres. It's a significant piece of property on top of the river. That's one thing that makes this so unique. It provides a wonderful opportunity to engage phenomenal views looking out over the new National's baseball stadium, as well as engage with the river that is slowly being cleaned up. 
Who has the authority to manage the Bridge Park Project? What entity ties all the development threads together and creates an operating platform from which the idea matures to implementation?
The property itself was run by the federal government as a freeway and has since been transferred to the District, which now owns the land.
This is a public-private partnership—in a way perhaps different from what your readers might be thinking. It started with an idea that sprang forth from the Office of Planning. But I work for a wonderful non-profit named, appropriately, Building Bridges Across the River at THEARC, an east-of-the-river-based nonprofit. Our role has been to lead the community outreach effort and begin fundraising to realize this vision.
At the end of last summer, we launched a million-dollar pre-capital campaign. We've exceeded the goal, which is fantastic. That million dollars went in part to a nation-wide design competition, which is so much more expensive than I ever thought—but we only have one shot to do this.
The funds also went to making sure we're measuring our key goals. We've implemented an economic development analysis to show the return on investment this kind of project can have in the long-term. We've recently requested funding to implement a health impact assessment so we can get a baseline for public health, then go back and test to see the impacts of this project. Now we're starting to work on environmental performance measurements to capture a baseline for the project.
This nonprofit has been raising the money with some city funds and an awful lot of funds from foundations, individuals, and corporations. 
Who is actually managing the implementation of the physical improvements for the new bridges and the Bridge Park?
The District Department of Transportation has been managing all of the construction of the new bridges. They've contracted a joint venture of a local and a large Swedish company (Facchina and SKANSKA) that has offices here in the United States. HNTB is the partner managing all the efforts. After we have a final design selected, and we're continuing to raise funds for a capital campaign to build the final designs, we see it being jointly managed by the DDOT and this non-profit.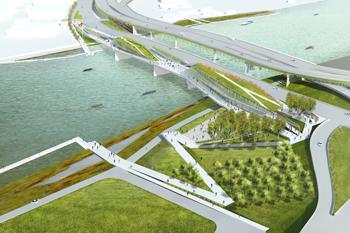 Could you share your estimation of the cost?
We anticipate launching a $40-million capital campaign after we have a final design selected in mid-October. That includes three different buckets. The first is $25 million for construction. Somehow that number never goes down and very well might go up. But I think it was important that early on we gave the design teams the parameters to think about the project. The last thing we want is to end up with a design the public falls in love with but is so expensive that we have no capacity to raise the funds.
Next, $10 million will go for an endowment to help support, in part, ongoing programming.
Finally, $5 million will cover design fees, admin fees, and so forth.
As you know better than most, cities have been looking at waterways as opportunities for revitalizing the urban areas surrounding them and as opportunities for civic spaces. In this vein, where does the inspiration come from for the 11th Street Bridge Park Project?
Across the United States, innovative city leaders are thinking about how to reengage their waterfronts. Most of these cities have put as many barriers as they can between humans and waterfronts—whether it's a legacy of industrial pollution, freeways, or train tracks. Often, that industry is no longer there. How can we reclaim those spaces as an amenity for the public and for development?
Cities like San Antonio have been doing this for quite some time. The San Antonio River Walk has been its signature tourist draw. Even places like Chicago, under Mayor Emmanuel, are working on hundred-million-dollar-plus plans to rethink and reengage people with the river.
It struck me that in New York you could be standing in the middle of Manhattan and have no idea you're on an island. Through the really beautiful spaces that were stitched together during the Bloomberg Administration—the Hudson River Park and the Brooklyn Bridge Park—the city is engaging the public with the Hudson River and East River. This both has been a catalyst for development along the river and has helped stitch together the entire city. Rivers are connectors.
What's happening in Los Angeles is another inspiration we've been watching closely because I'm a former Angeleno. The recent Army Corps of Engineers decision rethinks how the river can be an amenity—no longer merely a flood channel. Particularly in the Atwater region, where the river is earthen-bottom, how can space that was hidden most connect an otherwise divided city?
That's particularly exciting in Los Angeles because the river runs over 50 miles. You could envision a contiguous green pathway of river walks, green trails, and little pocket parks that connect Long Beach, to Vernon, to Atwater, to Burbank, in a place with a scale that's otherwise hard to fathom.
Scott, you mentioned that you worked for nine years at the Autry National Center in Los Angeles before accepting a position at the Building Museum in D.C. Is that a normal career path for one wishing to build an 11th Street Bridge Park?
If you had asked me five years ago whether I would be working to build a bridge, I would have given you a pretty funny look. My background is in museum education. I graduated from Pomona College in Southern California, then worked for a kid's museum in Pasadena—Kidspace—that's still running strong and doing great work. After that, I worked at the Autry for about nine years before moving on to the National Building Museum. I was there for about eight years, up until recently. I left in January to focus on this full time.
Looking back, I was picking up skill sets that I had no idea would come in handy on a project like this: from putting on large festivals at the Autry; to running a Native American theater company and leading community outreach on reservations; to running symposia on issues of sustainability in the West that helped channel deep interest and passion about the environment. Increasingly at the Building Museum, I was out there raising money—getting some of our large first grants from the MacArthur and Rockefeller Foundations. All of those experiences have come together around this project.
This a big jump, for sure, and I'm learning an awful lot. When we have this thing built and it (hopefully) opens in 2018, our target, I'm going to learn a lot more.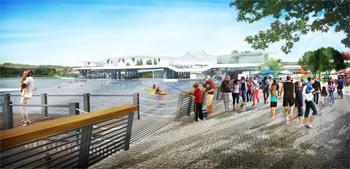 Lastly, when will you be ready, and what will it take, for Los Angeles to bring you back to work on our river revitalization projects?
I used to live with my wife in Atwater and walked my dog along the LA River every morning. I have a deep passion for it. I used to love telling people that I'd see great blue herons, egrets, and crayfish there. I am so pleased to see a movement that's been afoot for decades finally gain steam.
I've got a bridge to build right now. But after that bridge is up and running, I would be more than happy to do anything I can to help realize the vision and potential of the LA River.