Heather Joy Rosenberg is a sustainability consultant, a commissioner on the Los Angeles Innovation and Performance Committee, and a US Green Building Council Ginsberg Fellow, where she researches issues related to social equity in the built environment. In light of LA Mayor Eric Garcetti's announcement that he will appoint a Chief Resilience Officer, Rosenberg writes to the incoming CRO in this TPR-exclusive piece—sharing her views on creating a resilient Los Angeles.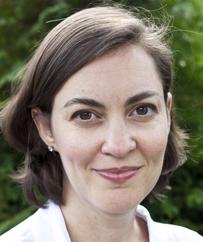 "Resilience requires flexibility, durability, redundancy, and decentralization, challenging criteria for any project." —Heather Rosenberg
To: LA's Future Chief Resilience Officer
Re: The daunting task ahead
Over the past year, I have been researching the relationships between the built environment and social equity for the US Green Building Council. The starkest relationships appear in the context of crises—when the levees break, the storms surge, or the ground shakes, the cracks in the social fabric are revealed. The people who have the fewest resources to begin with have the hardest times rebounding. The greatest hope for everyone lies in fostering resilience of both the social and physical systems in which we live. 
Since the announcement last month that LA has been selected for the 100 Resilient Cities program by the Rockefeller Foundation and will receive funding to hire a Chief Resilience Officer, I have been struck by the daunting task that lays ahead for whomever takes that position.  
The job of CRO will require a strong stomach. Here are a few examples of the realities you will face: 
• According to the Southern California Earthquake Center, there is a 99.7 percent chance that California will have an earthquake of 6.7 or greater in the next 30 years, and a 46 percent chance of a 7.5 or greater magnitude earthquake within the next 30 years.
• Temperatures in California have already risen more than 1 degree Fahrenheit over the last century, and are predicted to increase anywhere from 3-7 degrees more over the next one. 
• California is experiencing an "exceptional drought," and a number of communities across the state are already within 100 days of running out of water. 
• Over the last three decades, the wildfire season in California has increased by 78 days. It is always fire season now. 
• Higher temperatures are already leading to more days with extreme heat—less dramatic than big storms but often far more lethal. 
• The demographic context for these findings is not reassuring: All these threats will have the most profound impacts on the poor, the elderly, and other vulnerable populations. Approximately a quarter of LA residents live below the poverty line, and California's population is aging. High rates of unemployment and homelessness persist.
Yet none of this means we should brace for doom. Whatever the circumstances, the task before you is not to design a fortress to keep us safe from each of the threats we face. Instead, help us understand crises as shocks to our systems, and show us ways to make those systems stronger. Resilience requires flexibility, durability, redundancy, and decentralization— challenging criteria for any project within the context of our exceptionally complex mega-city.  
The recent rupture of the water main on Sunset Boulevard is instructive. We need major investment in the rehabilitation of our existing infrastructure. As much as that costs, it will be less than the costs of responding as each new emergency arises. Clearly we must find ways to retrofit core infrastructure. Best practices are emerging about how to make that core more flexible, durable, and redundant, even if it costs more. As we focus on infrastructure improvements, we should be looking for ways to shift toward decentralized, neighborhood-scale systems that can function even if centralized support is cut off in the event of an emergency. We need what Rick Cole—and many others—call a "one water" strategy that treats all water as a precious resource in a way that is both integrated and neighborhood-scale. Moving toward what Resilient Design Institute Founder Alex Wilson refers to as "passive survivability"—the ability of communities to survive after disasters with minimal input from outside—could become a new mantra for rethinking how LA infrastructure is designed and maintained. 
The PlaNYC report, "A Stronger, More Resilient New York," sets a high bar for resilience planning, in that it looks at potential risks at the neighborhood scale and calls for phased implementation of targeted initiatives. The planning effort is deeply informed by lessons learned from Hurricane Sandy, which makes the issues more palpable (and more politically salient) for New Yorkers. Articulating the risks, setting goals, and most importantly, implementing strategies to make LA resilient will be a herculean task, fraught with tradeoffs and hard decisions. Los Angeles needs leadership to guide us through the process, hopefully before our version of Sandy hits.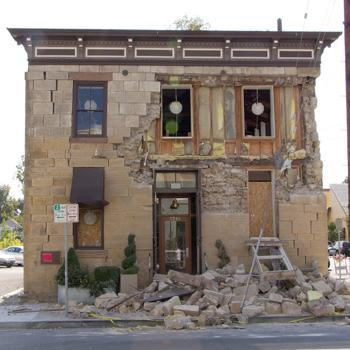 California is not without disasters of our own to learn from—the 6.0 earthquake in Napa at the end of August fired yet another warning shot across our bow. According to Dr. Lucy Jones, a US Geological Survey scientist and advisor to Mayor Eric Garcetti, the damage done in that earthquake was completely predicable. But fear is not a reliable motivator. Napa feels far away. Memories are short and budgets are tight. We need a compelling vision (and a strong business case wouldn't hurt either). 
Guide us to implement resilience strategies in ways that improve the quality of life for all Angelenos. For many in our city, resilience is already tested daily by stresses that can quickly become personal catastrophes. Hurricane Katrina revealed not only the weaknesses of the infrastructure, but also the fissures in society that mark our ability to recover from disaster along lines of race, class, and ability. Resilience planning should broaden access, build capacity, and create opportunity for all.
Key to your success as CRO will be your ability to create partnerships that transcend traditional boundaries. We typically think of disaster preparedness on two distinct scales: the individual and the city. We pack our emergency kits and hope the city takes care of the rest. Resilience requires more. There are new cases of innovative collaborations emerging from around the world to draw on. The new Carbon Disclosure Project's "Protecting Our Capital" report is filled with examples of local governments working with utilities and businesses to improve and protect critical infrastructure, which has benefits of both long-term risk avoidance and short-term performance improvements. 
Good luck with that in LA, however, where 35 separate and siloed departments make collaboration exceptionally challenging. In this way, Mayor Garcetti's "back to basics" agenda can be seen as a critical resilience strategy. City departments must be able to work together efficiently and communicate effectively in order to identify and implement systemic strategies. Resilience can serve as a galvanizing opportunity to break down institutional barriers. Obviously your job will include working closely with the Departments of Building & Safety and Public Works, as well as the Bureaus of Engineering and Sanitation, to increase seismic safety and resilience of infrastructure. You will also collaborate with the Police and Fire Departments, and other first responders. But don't forget to look for allies in less likely departments, such as Aging (where they know not only what older Angelenos need, but also how much they have to contribute), Economic & Workforce Development (where they know not only how to create jobs but also how to build leadership capacity), Cultural Affairs and Recreation & Parks (where they know the importance of art and nature in creating connected and empowered communities, a fundamental ingredient in resilience). And, of course, you will need allies within other cities and counties as well as the private sector. 
The cellular building blocks for resilience are neighborhoods and communities. Crisis situations can show neighbors at their finest. The city can support this by developing replicable neighborhood processes to help every community identify safe gathering places, neighbors possessing special skills like medical training, and those who might need additional help in an emergency. Implementing such a program could provide Los Angeles' Neighborhood Councils with a chance to shine. A bottom-up assessment of what each community is dealing with, what obstacles it faces, and what it could potentially become could yield innovative approaches to everything from stormwater management, to youth and elderly programs, to crime prevention.
For example, the Elmer Ave. Neighborhood Retrofit project in Sun Valley demonstrates a collaborative approach to neighborhood level stormwater management that not only decreases the rate of flooding, recharges the ground water, reduces stormwater pollution, and reduces carbon emissions, but also builds community connections. The Age Friendly NYC project, which is a partnership between the New York Mayor's Office and the New York Academy of Health, among others, demonstrates the results of broad public outreach to seniors followed by the implementation of 59 on-the-ground initiatives that have created measurable improvements in street and home safety—while also helping to more fully and actively integrate seniors into city life. Similar initiatives and partnerships are essential to move LA forward. Your job will be figuring out how to leverage these and other resources in ways that not only prepare LA for the worst, but help it to become the best.
Are there price tags on these efforts? Of course, but the evidence shows we'll pay much more tomorrow if we don't invest today. Americans overall resist planning for real disasters, and are far more willing to pay for disaster recovery than disaster preparedness—even though recovery can be a slow and difficult process costing many times more:  FEMA estimates that $1 in pre-disaster preparedness could save society $4 on post-disaster recovery. 
You can start by leveraging existing resources and identifying what work is already happening in the region. Approaching existing projects and initiatives in new ways can open up low-cost and no-cost strategies; allow you to connect with agencies and organizations doing related work within and beyond the city; develop public-private partnerships; and make available new sources of funding for programs that are replicable and scalable. Planning is important, but the emphasis should be on strategic implementation rather than beautiful plans that sit on the shelf. Look for early wins as well as "no-regrets" policies and strategies—actions that make sense whether we get hit by disaster or not—in order to build awareness and momentum. At the same time, invest in building coalitions and bringing people together across all types of divisions so that you can get support for the harder sells—things like orchestrating retreats from unsafe sites or raising taxes. This will help us weather the storms and quakes that are sure to come. Resilience is a process—a movement toward a stable but dynamic equilibrium—and may be the best hope we have to create a healthy Los Angeles for all. 
Respectfully,
Heather Rosenberg
(photo: James Gunn)