The LA Conservancy's 2014 Preservation Awards, presented in July, honored nine exceptional projects in Los Angeles County. Here, TPR reprints a selection of remarks delivered by LA Conservancy Executive Director Linda Dishman and award recipients at the event. Additional awardees not featured below include: Barns Area and Rancho Center, Rancho Los Alamitos; Bob Hope Patriotic Hall; CDI Early Learning Center; and Joseph L. Starr Dairy Farmhouse.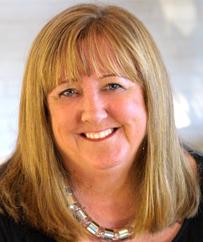 "Ace Hotel truly aced this project. They revived a beloved landmark, pumped new life into South Broadway, and gave a big boost to Downtown's ongoing revitalization." —Linda Dishman
"We did this because we believe in the heart of Los Angeles, physically and spiritually. We did this because the core of every great city regenerates." —Steven Leder
Linda Dishman: Every day, countless people work tirelessly—and often, thanklessly—to save, preserve, and revitalize historic places. I'm sure someone is toiling in obscurity at this very moment. I wish we could call out each and every one of the people who tackle the nuts and bolts of preservation, year in and year out, because they know it's worth the effort.
Fortunately, we can honor a select few projects that have gone above and beyond, showing truly outstanding achievement and exemplifying why we all work so hard to preserve historic places. 
ACE HOTEL DOWNTOWN LA & THE THEATER AT ACE HOTEL
Linda Dishman: Built in 1927, the United Artists Theatre was the West Coast flagship for the company founded by Hollywood legends Mary Pickford, D. W. Griffith, Charlie Chaplin, and Douglas Fairbanks. In breaking away from the major studio system, these artists revolutionized film production and distribution. 
The theatre was Pickford's baby. Its design was pure fantasy—Spanish Gothic meets Hollywood. The adjoining office tower soared dramatically over Broadway and served as home to Texaco for many years.
The theatre struggled commercially for decades, finally becoming the church of televangelist Gene Scott, who occupied it for over 20 years. When the church moved in 2011, the landmark faced an uncertain future. Inspired by the theatre's rich history and renegade spirit, Ace Hotel transformed the office tower into a thriving hotel and upgraded the theatre with reverence and restraint, carefully preserving its many historic features. 
The theatre is now an unqualified success. Our Last Remaining Seats series returned there this summer after an absence of nearly 25 years. Ace Hotel is introducing new audiences to this architectural gem through music, dance, film, and much more.
Ace Hotel truly aced this project. They revived a beloved landmark, pumped new life into South Broadway, and gave a big boost to Downtown's ongoing revitalization. From America's Sweetheart to sweethearts everywhere, this treasure now has a shot at living happily ever after. 
Jason Deibler: It's been humbling to be part of the resurgence of this theater and this building—built as a shrine to the arts in the rebel vision of two artists who helped change film history forever. 
I've often been asked, "Is Ace part of the new Downtown?" We see Downtown LA as a living, changing community. We see ourselves and the relationships we build around us as being firmly built on the amazing history of the building. 
…I feel the magic that lives inside of so many of these buildings. It's really exhilarating. And it's an honor for all of us today to be a small part of keeping the magic alive.
DUNBAR HOTEL
Linda Dishman: Built as the Hotel Somerville, the Dunbar Hotel played a key role in LA's African American community for decades. Doctor John Somerville built the hotel for the first West Coast convention of the National Association for the Advancement of Colored People in 1928. The hotel provided first-class accommodations for African Americans in segregated Los Angeles, who were denied comparable lodging elsewhere. 
The hotel was a great source of pride, having been financed and built by African Americans. An instant landmark, it was considered the finest black hotel in the nation—and quickly sparked the area's development. 
The Dunbar was an important gathering place for notable figures, intellectuals, and community leaders. At the heart of the Central Avenue jazz scene, the hotel hosted scores of legendary musicians. 
The Dunbar fell into a slow decline starting in the 1960s and stood vacant for over a decade. Despite several attempts at renovation, the building languished until the city put it into receivership. 
Thomas Safran Associates and the Coalition for Responsible Community Development revived the hotel as the centerpiece of Dunbar Village, an affordable housing project for seniors and families. Reversing years of deferred maintenance and alterations, the team restored hundreds of original features with great attention to detail, while fully upgrading the building for modern use. 
Of the overall project's 83 units, the Dunbar provides 41 affordable apartments for seniors, as well as a beautiful gathering space for the community. The Dunbar Hotel is back, and we are jazzed about its return! 
Tom Safran: This is a special privilege… Linda, you and your organization do an extraordinary job of preserving the architectural history of our city. We have a wonderful partner in the Coalition for Responsible Community Development (CRCD). Mark Wilson—thank you.
None of this would have happened without Jan Perry, the former councilperson for the area. It was her vision—her pushing, getting funding, and making things happen in the city—literally at the end, and several weeks before, the Community Redevelopment Agency demise. Thank you, Jan.
THE HERCULES CAMPUS
Linda Dishman: Just north of LAX stands part of the original aircraft company founded by the legendary Howard Hughes. For decades, the firm pioneered innovations in aerodynamics, engineering, and communications. The site is  best known as the birthplace of the H-4 Hercules plane, also known as the Flying Boat or, to Hughes' disdain, the Spruce Goose.
As Hughes' companies left and Playa Vista rose on the edge of the site, the aircraft buildings that weren't demolished were abandoned for decades, occasionally used for filming but in a steady state of decay. 
In 2010, The Ratkovich Company bought the remaining historic buildings and set out to transform them into an office and production campus for creative media, named in honor of the great H-4 "Hercules." 
The team stabilized the buildings that were collapsing, then rehabbed them all for new uses while preserving their industrial character. They also branded the campus as an extension of Howard Hughes' legacy, highlighting its identity as a place for innovators. 
It worked. Google was the first to lease space on the Hercules Campus, and other technology and creative firms soon followed. These once-dilapidated old buildings are leasing more quickly, and at higher rents, than their brand-new neighbors. 
Howard Hughes was an extraordinary visionary, always challenging himself and those around him to find new and better ways to solve problems. This visionary spirit fueled the Herculean effort to save a piece of aviation history, and now this campus is flying high. 
Wayne Ratkovich: I first want to thank the Conservancy for recognizing our work at the Hercules campus. 
…We have worked on a number of historic properties, and none that I can think of are better examples of the power of history than the Hercules campus. We were stunned as tenants came to our buildings, bypassing new, adjacent office buildings in favor of looking for a home in the historic buildings that Howard Hughes and the Hughes Aircraft Company had left behind. It's a great tribute to historic preservation
…You have performed a remarkable service, Linda Dishman, and our hats are off to you.
PRESIDENT'S AWARD: WILSHIRE BOULEVARD TEMPLE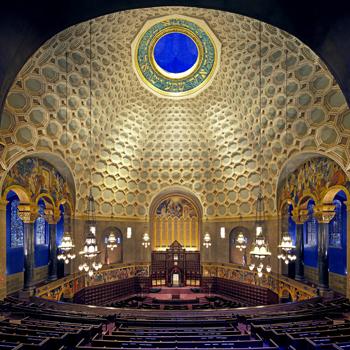 Linda Dishman: Ten years ago, the leaders of Wilshire Boulevard Temple stood at a crossroads. While the oldest Jewish congregation in Los Angeles had thrived since Abraham Lincoln was president, the western migration of its members over the years had left its 1929 Wilshire Center home underused and slowly deteriorating. They confronted a challenging question: Should the temple sell the building or invest in its future? 
Yet, this wasn't just any building. Capped by a dome spanning a hundred feet in diameter, the synagogue was a masterpiece with a Hollywood flair. Movie moguls had financed much of the construction, filling the space with exquisite materials and custom murals by Hugo Ballin. It was an instant beacon on the rapidly growing Wilshire Boulevard.
Though by 2004, time had taken its toll. The building was sorely outdated—with no heating or air conditioning—and literally everything needed repair.
Knowing that restoring the sanctuary alone would be only a short-term fix, temple leaders committed to revitalizing the landmark as the centerpiece of a campus that would serve congregants and the surrounding community. 
The two-year renovation of the synagogue was monumental, to say the least. Just a few highlights include hand-vacuuming more than 80 years of built-up dirt from the vast coffered dome; completing an invisible seismic retrofit; and restoring the Hugo Ballin murals, stained-glass windows, Spice Box chandeliers, and original pipe organ. 
By choosing the path of preservation, and with the meticulous effort of an extraordinary team, Wilshire Boulevard Temple has continued its long tradition of passing heritage from generation to generation—which is what historic preservation is all about.
Howard Kaplan: I bring greetings from our rabbi, Steven Leder, and will read his remarks:
"I often remind people that the essence of what it means to lead a meaningful life is to be a good ancestor. In other words, to make a decision not with oneself or even one's own generation in mind, but with an eye and a heart to the future, to those generations who many years from now will look upon us as their ancestors. 
"Our ancestors gave us the magnificent Wilshire Boulevard Temple. We undertook the massive effort to bring it back to its original luster and beauty under the brilliant hand of Brenda Levin, who is surely one of Los Angeles' great treasures. We did this because we want to be good ancestors. We did this because we believe in the heart of Los Angeles, physically and spiritually. We did this because the core of every great city regenerates. We did this because we are the only Jewish institution in the most ethnically diverse council district in America west of Brooklyn and we believe in loving our neighbors as we love ourselves. We believe in being part of, and not apart from, our city. We did this because we believe in the power and the inspiration of great architecture—which is, after all, its own form of spirituality and prayer. 
"We believe in a brighter tomorrow. To believe otherwise would affirm pessimism, and that is not our way. We appreciate this great honor, of being recognized for continuing our congregation's, our people's and our city's mission to be a city of angels, a city of light, a city of love, a city of good ancestors…"
Brenda Levin: We know that everyone in this room knows that historic spaces help anchor us to place. Their preservation and reinvention has often been the stimulus—the tipping point encouraging us to affirm the continuity of our history, celebrate our diversity, and invest in and repair the civic texture of our city. Wilshire Boulevard Temple has done just that. I know that I speak for half the room of the talented team of professionals who dedicated their skills to this project. It was an extraordinary team. Each one understood that this was a rare endeavor. They approached the challenge with a deep respect for the temple and a commitment to excellence that was always present. 
As with all projects, leadership is critical. Ours was extraordinary: Rabbi Leder, Howard Kaplan, and Bill Ehrlich. On behalf of the design and construction team, we thank the Conservancy for this extraordinary honor. I've been privileged to work on preservation projects for 34 years in this city, and I can think of none other that has touched my heart in this way.