Sam Hall Kaplan joins recent conversations about Robert Moses and Frederick Law Olmsted—offering a rich overview of Moses's work accompanied by personal anecdote. He then draws on the lessons of these two planning giants to explore major developments around LA River revitalization. A planner, writer, and academic, Kaplan has worked as both a design critic for the Los Angeles Times and an urban affairs reporter for the New York Times—along with teaching at Art Center College of Design, Yale and Princeton. This exclusive article for TPR reflects his own opinions and research.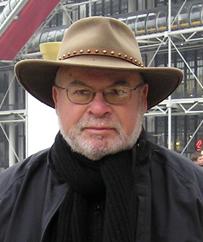 "'Less consensus and more "cojones" would have been welcome.' It was a phrase that would have pleased Robert Moses and his champions." —Sam Hall Kaplan
"All great works have been associated with autocratic power. For pure democracy has neither the imagination, nor the energy, nor the disciplined mentality to create major improvements."
—Raymond Moley, a member of FDR's Depression-era brain trust, in a forward to Robert Moses's tome Public Works: A Dangerous Trade, published in 1970
In the restive world of planning and development, especially among the local make-it-happen financial and construction mandarins, there seems to be a resurgence and respect in the public-works efforts of Robert Moses.
Liberal remonstrations aside, at several recent symposiums and exhibitions on the East Coast, a nuanced understanding has been advanced that Moses had to break a lot of eggs to make his prodigious public omelets. These include New York's vast park systems, sprawling parkways, iconic bridges, power stations and grids, a diversity of housing projects, and a sprawling Lincoln Center—all developed expeditiously under the guise of slum clearance and benevolent good works.
Whether a coincidence or not, the maneuverings and machinations of Moses—to garner funds and override parochial political and community objections—and the arbitrary achievements of landscape architect Frederick Law Olmsted are relevant to the emanating melodrama of the revitalization of the Los Angeles River. 
Among Moses's prodigious projects was the linear Riverside Park on Manhattan's Westside, built in the air rights above active railroad tracks—astride the Hudson River to the west and a parade of apartments in the east—not unlike ideas proposed for select stretches of the LA River.
To build such projects, as well as his bridges and tunnels, and to clear paths for his expressways, Moses strong-armed New York State to create sovereign authorities with him at the helm to override parochial jurisdictions.  At one point in his public reign, he wore 17 different crowns—from NYC Parks commissioner and head of the Mayor's Committee on Slum Clearance, to chairman of the Triborough Bridge and Tunnel and New York State Power authorities. He also worked for the War Department on the reconstruction of Germany.
A Yalie and a Republican speaking the streetwise language of a rough-and-tumble Democratic-dominated New York City, Moses quite frankly was a bully and bulldog that, in a dominating 50-year career, got things done.  The closest anyone has come to accomplishing a major development in the Southland was William Mulholland. That was limited to a sprawling, successful water delivery system.
Interestingly, Olmsted, another cynosure of public development, also was a Yalie and a Republican known in his day for his imperious personality in developing a host of landmark parks across the United States. These often presumptuously evicted residents from designated sites and denigrated local politicians. Yet he is depicted in the current symposiums much more sympathetically than the more contemporary Moses, who remains the ogre of public works.
But Moses could be charming and friendly. At least, he was to me—a young man born and ill-bred in New York. I met him in 1952 at a citywide scout ceremony at which we exchanged words as he pinned on me my Eagle Scout badge. As a public personality, he thrived on such events. And when I became a reporter for the august Times a decade later, he kept in touch with notes and a gift of a leather-bound copy of his book I still keep. When I raised the issue of his arbitrary relocation policies, which not incidentally were decimating the neighborhood softball team I played for in Central Park, he replied with a condescending smile," I'm just doing what the people really need and want, whether they know it or not."
Still, it did not stop me from having beers with Jane Jacobs and sympathetically reporting her public protests of some of Moses's more capricious projects, including the slicing and dicing of Washington Square Park and Lower Manhattan with an expressway, and the redevelopment of the West Village. Nor did it stop me and millions of other New Yorkers from enjoying his achievements, which included Jones Beach, Riverside Park, and some 658 playgrounds.
With a bombastic glee, Moses arbitrarily imposed priorities, bent budgets, denigrated opponents, and expedited contracts. The banks and labor unions loved him. Politicians feared him. And communities hated him. He never learned to drive, preferring to be chauffeured. But if he had a favored vehicle, it was the bulldozer, as anyone standing in his way can attest. Public accountability and transparency were not common pursuits in the Depression and quarter century following, when Moses transformed New York City and state.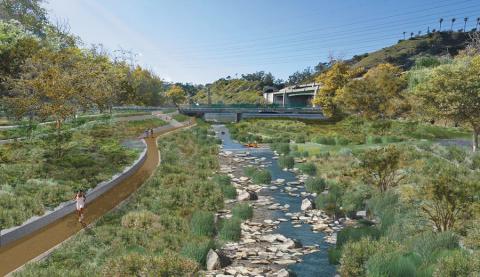 Looking at the renderings of the proposed restoration of the LA River and the promise of promenades, walkways, bike paths, and sites for much-needed housing is exciting. Touring most of the 51-mile scar of the waterway is a lesser experience that puts the promised billion-dollars-plus project in a tenuous perspective. Time for a reality check.
Unquestionably the restoration of the LA River, at long last, has become a magnanimous mien among the city's political and non-profit coterie. It has generated tenable self-congratulations and the earnest hope that the warped waterway can become the region's focal point—as it once was when it attracted the first settlers to the Southland some 250 years ago.
Following the Army Corps of Engineers announcement that it would recommend the $1.08 billion Alternative 20 several months ago, it seems everyone has climbed aboard the fragile kayak I've christened "Good Intentions" that has been stuck in the river on a sandbar of studies and recommendations for decades.
 Grabbing hold of the paddle has been Mayor Eric Garcetti, who after a series of sojourns to the White House, apparently swayed the Corps. No doubt the restoration will be the major measure of his administration, his puff political denouement. It is not as if he has the tenure and the opacity of an MTA to shield him.
To be sure, "the plan is intended to be a 25 to 50-year blueprint for implementing a variety of comprehensive improvements that would make the river one of the city's most treasured landmarks and a catalyst for a sustainable environment," declares the mayor's office. It further states that the plan "acknowledges that great and transformative change may not be accomplished in one lifetime; it must remain in the minds of the people who will carry it forward. This plan includes bold, long-term visions in addition to a series of practical and nearer-term steps that would make the river a much better place for today's Angelenos."  
Prime is the maxim: "Show me the money." No one seems to know exactly where, when, and how the funds presumably promised for the project will be forthcoming. Depends on whom you talk to. The Corps is currently determining who will pay for what: Congress, the cities, the county, the state, and hopefully some private interests. "Our best understanding now is that the share will be closer to 55 percent city and 45 percent federal," says the mayor's office. 
"Whatever, it's going to happen. Everyone is finally committed," observed Lewis MacAdams of the persevering Friends of the LA River with an optimism that has marked his nearly 40 years of championing the river. 
Then there is the related critical question of how anything approaching the attractive renderings accompanying the volumes of studies will ever be built, with so many public and private interests wading in the 51-mile course of the river—and, in particular, the 11-mile stretch targeted by Alternative 20. As the recent publication of the book Never Built Los Angeles indicates, and institutional memories have witnessed, the city is long on promises and short on delivery, particularly since term limits were initiated and politicians play musical chairs while projects languish. 
Addressing this, the plan and its principal advocates hovering over the shallow public trough note that in addition to its "bold long-term visions" is a projected 50-year timeline, spread out much like a thousand-piece puzzle. "It's complicated," observed urbanist Mia Lehrer, who over the years has worked with a rare dedication on several iterations of the plan as both a consultant and pro publico. Also praised for her persevering commitment to the complex dream of the river is architect-engineer Carol Armstrong, who heads the city's multiple efforts.
Omar Brownson of the LA River Revitalization Corporation offers a more modest view, commenting, "We need to take baby steps." He points to a number of initiatives in progress. These include a cable-stayed bridge over the river linking Griffith Park to Atwater Village, known as the La Kretz Crossing, serving pedestrians, equestrians and bicyclists.  On a smaller scale, streets that dead-end at the river will be landscaped as attractive nodes instead of a place to throw away garbage. "These can be built now," he states.
Lending a hint of the future LA River as a necklace of engaging parks linked by an extended landscaped greenway is also the soon-to-be completed three-plus-acre Marsh Park. Elements of the park were deftly designed by architect Elaine Rene-Weisman, who observes, "Critical to the success of the LA River are these modest projects serving both residents and wandering walkers." Marshalling the independent project was the Mountains Recreation Conservation Authority, headed by the indefatigable Joe Edmiston, a long time river advocate.
The architect also serves on the board of the Northeast Los Angeles Riverfront Collaborative, which with other groups has been studying so-called opportunity sites for private development along the Glendale Narrows edging the river. It is these opportunity sites the plan and its many authors hope can spur an "improved natural environment, while also attracting investments that leads to new jobs, increased property values, more livable streets, and sustained growth." Indeed, according to the plan, "Estimates of economic benefits accruing to the proposed revitalization concepts for the selected Opportunity Areas (combined, at full build-out) range from $2.7 to $5.4 billion in new development, 11,000 to 18,000 new jobs, and a long-term tax revenue increase ranging from $47 to $81 million, annually." 
But the pursuit of each of these many "opportunity areas" no doubt will be a challenge, given a factious and fractured Los Angeles. Even before there was a plan, interest had been expressed in select riverfront sites. I remember too well a community hearing nearly a decade ago for a particularly ambitious mixed-use school, parks and, housing project edging the river in Cypress Park, designed with flair by the firm of RTKL. In the interest of disclosure, I was peripherally involved as a planning consultant.
The hearing chaired by the local councilman dragged on, obvious that the proposal was being rejected by a coalition of parks and school people who each wanted to protect their turf. No one spoke out for housing, jobs, or a river promenade. This prompted an observer, when leaving, to confront the presumably pro-river councilman and loudly comment, "Less consensus and more 'cojones' would have been welcome." It was a phrase that would have pleased Robert Moses and his champions.
This raises the question, as the echo of the self-congratulatory press conferences praising the restoration of the LA River fades, of whether a Moses or Olmsted personality is needed—and what can he or she do?
(Photo courtesy of the US Army Corps of Engineers)