TPR recently spoke with Mike Bonin, the new councilmember of the City of Los Angeles' 11th District, representing much of the Westside—Venice, Brentwood, the Pacific Palisades, Westchester. Bonin, a longtime aid to his predecessor Bill Rosendahl, is familiar with his district's constituents, issues, and landscape. In the following interview, part two of two, Bonin speaks to an array of issues—including the need for connectivity at LAX, stormwater cleanup, the fracking initiative he introduced with Councilmember Koretz, and Rick Caruso's plans for the Pacific Palisades.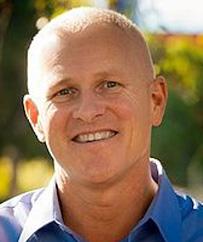 "A very important thing that we want the airport to focus on now—immediately, consistently, every single day—is creating a real vision of getting people in and out of the airport in a way that doesn't make people want to commit hari-kari." —Mike Bonin
Your Los Angeles City Council predecessor had a contentious relationship with LAX. Have you staked out a position on regionalism, airports, and, more specifically, the role of LAX in the LAWA system?
Mike Bonin: Let me step back first and talk about my relationship with the airport. I've worked for Ruth Galanter, Jane Harman, and Bill Rosendahl, all of whom had problems with aspects of LAX modernization, but all of whom also found common ground with the airport on a number of things. I have a very strong and productive working relationship with Gina Marie Lindsey and her management team, and I work hand and glove with the airport on a number of things.
Like my predecessors and those I worked for before, I am a vigorous, staunch opponent of moving the runway north. I don't think there is a safety argument that is at all convincing in favor of it, and I don't think that there's much of a favorable operational-efficiency argument either. But my relationship with LAX is not confrontational. We differ on that, but I think we agree on about 90 percent of everything else.
The mayor and I mutually and cooperatively staked out a position that we need to have a world-class airport that is a first-class neighbor. We're glad to have been there when they unveiled Tom Bradley International Terminal, and that is the standard of how we want the rest of the airport to look. We're going to work very hard at that. But a very important thing that we want the airport to focus on now—immediately, consistently, every single day—is creating a real vision of getting people in and out of the airport in a way that doesn't make people want to commit hari-kari.
There are a number of important ground transportation projects that we want to have frontloaded—way before they ever start thinking about doing anything on the airfield. That includes the rail connection to the airport, that includes a consolidated rental car center, and that includes ground transportation improvements. Passenger experience, whether you're thinking about the airport or whether I'm thinking about my role on the Metro Board, has got to be the primary point of departure. For LAX, that means we need to modernize all the terminals and make them look nice, decent, and comfortable, and make them look like Los Angeles. It also means we need to make it easy to get in and out of the airport. That's why so many of my transportation priorities are related to LAX and making it better for people to fly in and out.
The regional connection to the airport has been such a hot-button subject, one that makes people smack their hands against their foreheads and wonder, "What's wrong with these policy makers in Los Angeles that we can't connect the damn rail to the airport?" My number one priority on Metro has been making sure that we do that. Art Leahy himself said the other day that he's seen more energy, momentum, and progress on that effort in the past year than he has in the past decade.
There is a very smart way to get it done. It ain't easy because we have a complicated footprint to deal with. We have a very small airport area, and in it we have nine different terminals. It's not the easiest place to get around. Whatever connection we make to the airport, it's going to require a tram or an automated people mover to get people around. For me, the measure of how you make the connection to the airport, and where you make the connection from rail to the airport, has got to be based on what's best for the passenger.
I think that the airport has come up with the right solution. After 17 years of fighting the airport on some expansion efforts on the north runway, I think people are a little surprised to see me championing a proposal from the airport. But I think they have the best idea for how to do it.
Right near Lot C, the airport is proposing construction of an intermodal transportation facility—a place where buses can go, where shuttles can go, and where both the Green Line and the Crenshaw Line may connect. It is a place, unlike any other proposed connection, where a passenger could get her or his ticket, check her or his luggage, and actually be at the airport. We could use that as an opportunity to build a front door, a front gate, a front porch to the airport that is as beautiful and as reflective of the LA personality and spirit as the Bradley International Terminal is. It's something that the airport is willing to help fund, and it also has the added benefit of being a place where, because of the location, you could connect to a future north-south rail line. I call it LAX Connect because I think it's the only proposal that actually does connect to LAX. It works for passengers and, pardon the expression, I think that's the ticket.
Your district abuts the Santa Moncia Bay. Do you have a position on the stormwater cleanup funding initiative that would involve all the cities within the county? Is there a regional solution?
I'm an eternal optimist, so I'm confident that there is a solution to be had. I'm an optimist genetically, but I'm also an optimist by experience. I've lived in Los Angeles since 1991, and one of the first places I lived was at PCH and Chautauqua—in a tiny little hovel of an apartment that was right in front of the beach and had a storm drain. I have seen over the course of 20-something years how dramatically the condition of our bay has improved.
We've got a long way to go. But I've seen progress that is real, possible, and tangible. I think that we're probably going to get our next bite at the apple with a county stormwater measure when we have a new Board of Supervisors. I personally have endorsed Sheila Kuehl for the seat that covers most of my area, and I don't think there is a stronger champion of the environment and clean water than Sheila. That's a partnership I'm really looking to leverage.
In terms of water stuff here at the city, once Mr. Koretz and I get done with our fracking initiative, I'm looking at working more actively on a water-policy initiative. Los Angeles has multiple water systems. We have a drinking water system, we have a wastewater system, and we have a stormwater system. I don't think we do a good enough job integrating those and marshaling our water resources. That's something I want to look at, as well as any number of things that we can be doing about water conservation and drought prevention. 
In that vein, Mayor Garcetti keynoted the One Water US Water Agency Conference in LA last year—the first ever on the West Coast. He spoke of managing water holistically rather than through silos, as it is now across the city and region. Would consolidation of city water-related departments and bureaus make it easier to manage water holistically, as you suggest?
I don't have anything particular that I'm prepared to announced now, but it is something I'm interested in and working on.
You also have been working on a fracking initiative with Councilmember Koretz. As you know, there has been fracking and oil drilling in Los Angeles for almost a century. What's the necessity of moving forward in the City of LA with a fracking ordinance, as you suggest? 
One of the reasons for needing to address this in the City of Los Angeles is that we have so many old and antiquated wells, and the use of fracking or experimental technology is taking off. We could be on the verge of a tremendous proliferation of hydraulic fracking here in Los Angeles. I act now because I just took office now, and so now is my time and my ability to act on things that are of concern. We saw a very good attempt in the state legislature to deal with this problem last session, and it's one that failed in the end. The bill that was eventually approved—SB 4—was one that environmentalists championed when it started and opposed when it finished, because the oil and gas industry so watered down the initiative that it was effectively toothless.
Paul and I are not proposing to forever ban fracking and other unconventional drilling in the City of LA. We're asking for a moratorium until it can be demonstrated as safe, and until there's monitoring and proper safeguards are in place. Water quality is one reason why, which Paul talks about frequently. There are health impacts that folks from Mr. Parks and Mr. Wesson's districts have talked about in South Los Angeles. One issue that particularly resonates with me is the impact of unconventional drilling on seismic activity. As we've seen fracking proliferate in other parts of the country, areas that aren't known for the kind of seismic activity we're known for, have had swarms of earthquakes. That scares the hell out of me. It's the kind of thing that I think we need to keep standing up and waving a flag of concern over. We live in too seismically precarious an area to be blithe and unconcerned about an experimental technology until we know a lot more.
Let us close with a quote from Tip O'Neill: "All politics is local." You've got Rick Caruso purchasing properties in the Pacific Palisades and advancing a plan to reinvigorate street life along Swarthmore and Sunset. Share what's imagined in the Pacific Palisades and how you, as the councilperson, balance such investment with the expectations of the homeowners already there. 
First of all, I'm glad that you mentioned Tip O'Neill and that all politics is local. I've tried to bring a bit of a Massachusetts sense to the way I do my job. That's why I'm up there—Tip O'Neill style, Ray Flynn style—filling potholes myself, holding office hours out at farmers markets, continuing to go door-to-door, and trying to put neighborhoods and constituent services first. I was a Massachusetts resident when Tip was still in office, and there's a lot that the current generation of us in office have to learn from that style of close-to-the-neighborhood politics.
Like most of the folks in the Pacific Palisades, I'm encouraged that Rick Caruso is getting involved and has his eyes on the downtown business district. Downtown Palisades has been slowly dying and atrophying over the past several years, and it's one of the top things I hear about from my constituents in the Pacific Palisades, all the time. "Our central business district is dying. Our downtown is dying. We need more local and neighborhood-serving amenities." I can't think of anybody who does classier work with an eye for detail than Rick Caruso.
When he first mentioned to me that he was interested in downtown Palisades, I was intrigued and excited. Anytime someone proposes something, it gets met with a mixture of enthusiasm, concern, and opposition. The balance I have seen in the reaction to Rick's proposals has been overwhelmingly toward the enthusiastic side. He had a town hall meeting to discuss his vision and to hear the community's vision recently in the Pacific Palisades, and he was extremely well received. I think the symmetry of vision and the chemistry of intention between the neighbors and Rick was there, and was palpable.