Deborah Weintraub brings a background in architecture to her position as Interim City Engineer for Los Angeles. Weintraub spoke with TPR about the projects she has focused on during her first six months in the post, commenting specifically on the recently announced La Noria waterwheel proposed for the LA River by Lauren Bon of Metabolic Studios. Putting the waterwheel in context, Wenitraub outlines the numerous river revitalization projects underway. Speaking more broadly, she provides an overview of the Bureau of Engineering's role in Mayor Eric Garcetti's Great Streets initiative and water infrastructure projects.
Note: At the time this interview was conducted, former City Engineer Gary Lee Moore was serving as Interim Executive Director of the Port of Los Angeles. Since then, he has returned to his position as City Engineer, and Weintraub has resumed her position as Chief Deputy.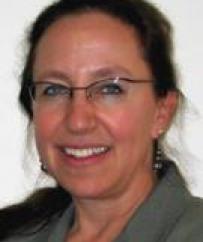 "I am trained as an architect, and in this organization, my background is unusual for a person in a leadership role. That means that while I'm well aware of all of the engineering constraints that we operate within, I'm also ambitious about the design and the environmental opportunities that these projects present to us. I try my best in these discussions to make sure that the design and environmental issues are not lost, and that the dialogue all through the life of a project is inclusive of these concerns, even when you get into construction and face challenges or funding shortfalls." -Deborah Weintraub
For six months you have been the City of LA's Interim City Engineer, serving in that position after an illustrious career in that department, including being the City of Los Angeles' chief architect. Share the scope of your responsibilities.
I took on these responsibilities starting last October when Gary Lee Moore, who had been the City Engineer, was asked by the Mayor to assume responsibilities as Interim Executive Director of the Port of Los Angeles. For me here at Engineering, it's a job and scope of work that I understand quite well. We are the capital delivery organization for all of the non-proprietary, council-controlled departments. Our clients are the Council offices, the Mayor's Office, and other departments, particularly departments such as Sanitation, Recreation and Parks, Police, Fire—all of whom need new buildings, new open space, street designs, and bridges. That's the kind of work that the Bureau does.
I am very fortunate to have a really excellent professional community around me. We are in the midst of a great deal of exciting work, and I've been blessed to have great people to work with, inside the City and from our consulting colleagues. 
Engineering, as the capital delivery arm of the City of Los Angeles, oversees execution of an extensive list of building projects, including the Sixth Street Viaduct, the LA River's revitalization planning, Metro's station permitting for right-of-way within the City of Los Angeles, and potentially Mayor Garcetti's Great Streets Initiative. But begin with City Engineering's involvement with the La Noria waterwheel on the LA River. Describe the project and update our readers on its planning and implementation?
La Noria, the waterwheel, is a project by Metabolic Studios and their consultants. As the implementer of the city's LA River Revitalization Master Plan, this is precisely the kind of privately generated initiative that we had hoped would come from the city's focus on the river, and this is a unique one in that it's an art piece that will have a functional benefit of lifting water out of the river to irrigate the adjacent state park and other areas. That's the intention of the project.
We have supported the project by being the lead agency for the environmental document, which went through City Council and was approved on March 5. What's wonderful about this project is that it will draw attention to river revitalization and to the history of the founding of the city next to the river, and will capture and reuse the water for irrigation. This project has wonderful meanings at all levels, and we're thrilled to be assisting. It is a 100 percent privately financed effort that could become an international symbol for Los Angeles.  
Metabolic Studios' Lauren Bon brought La Noria forward having done similar work with "Not A Cornfield." Are you suggesting that this is functional as well as visual? 
Yes. My understanding is that when State Parks has completed their renovation of the adjacent park, water that's lifted from the river and cleaned will be used for irrigation at the State park and other nearby open spaces. My understanding is that it absolutely is intended to be functional as well as visually compelling.
That leads us into talking about Engineering's lead role on the LA River's revitalization. What is the status of current projects?
There is a great deal of activity on the LA River, both through the city and through associated outside advocates. Lauren Bon's Metabolic Studios is one of them. We hope shortly there will be an announcement from the Army Corps on the LA River Feasibility Ecosystem Study we've been working on for the last eight years, giving us their preferred alternative. We're pushing to complete all of the documentation required for that study by the end of this year so that it may go forward to Congress for their review and approval. That will position the LA River for federal funding—a major step that we hope to complete this year.
Meanwhile, my organization is working on a related project—the Sixth Street Viaduct Project that crosses the river at Sixth Street and will provide new access to the River. There's an existing river access tunnel at that location, and we're going to be reconstructing it as a new River gateway. We've been having discussions with the Councilmember of that area, with some of the community members, and with the River Revitalization Corporation about connecting that work to a bike path that would run along the river through that section. The Sixth Street project is a transportation project largely funded largely with federal money—close to 90 percent federal funds—and has secondary benefits that include river access and new open spaces as a result.  On the Arts District site, a new under-bridge slopping plaza is being designed, and on the Boyle Heights side, new community open space is planned. 
The Sixth Street Viaduct is a new and innovative infrastructure design that references the arches of the old bridge and creates what will become a visual landmark for LA, while providing new community-focused elements that include multi-modal transit and pedestrian facilities. It is an example of how infrastructure dollars should be spent, targeting the multiple urban design necessities of a growing city.
In addition, we are working on bikeways. There's a bikeway that's completing construction in the far west end of the Valley. We are also continuing to pursue funding for completing the gaps in the river bikeway and are working closely with our sister organization, the Los Angeles Department of Transportation, on grant proposals to do that.
We've supported the River Revitalization Corporation in their design and construction documents for an equestrian and pedestrian bridge in north Atwater. Their documents are largely done. I know that they're in the process of identifying some additional funding needed to start construction. We've also initiated the design of another bridge in the Taylor Yard area that will be a pedestrian and bicycle bridge across the river, which is a project my organization is managing, working with SPF Architects.
Last but not least I'll mention that under the auspices of the City Council and the Mayor's office, the city is in negotiation to purchase the Taylor Yard G2 site, which is 42 acres. Ever since we began talking about river restoration, this has been conceived of in the master plan as a key site for river restoration. It's very exciting to have the city in negotiation with Union Pacific to purchase this site.
Deborah, please share how City Engineering is involved with Mayor Garcetti's Great Streets Initiative. 
As we design and deliver street improvement projects, Engineering staff have been actively involved in all of the task force meetings to identify great streets. I'm very excited to be involved with this because I think it represents an enormous opportunity for the city in terms of urban growth, urban sophistication, supporting pedestrian activities, and having a totally integrated public open space. I am excited by the potential to develop neighborhoods and to move away from a car-centric focus to a multi-modal focus.  I cannot tell you yet what projects specifically we might be involved with, but I anticipate we will help to deliver this Mayoral initiative.
The previous issue of The Planning Report led with comments by Rick Cole on the mayor's Great Streets Initiative. He stressed that for the initiative to be successful, it must be integrated with other city departments and the population that it serves. With your many years of experience in Engineering, please address how challenging it is for multiple departments in a city of the size of Los Angeles to both engage with the publics served and to collaborate with other departments in City Hall on initiatives like Great Streets. 
We're a big, complicated city, and there's a lot that goes on in the public right of way, which includes sidewalks and streets. Anytime you're going to initiate a project that reconfigures that, you're going to find not only our own infrastructure, but also the infrastructure of all of the utilities that use that right-of-way to deliver water, phone service, etc. It's complicated—even just the basic construction conceptualization is complicated.
Engineering has been very strongly committed to community input and public outreach. Working with the community, you often get varied opinions about what ought to happen. It's always a learning process to assemble the input and to balance all of the various concerns. I think our role is to talk about what's feasible, provide a vision that supports the mayor's goal and the councilmembers' goals, and then to synthesize all of what we hear from community members.
I think we are at the point in the growth of LA when everyone acknowledges that the public right-of-way is an enormous opportunity that maybe has been conceived of as largely serving vehicular movement for too long. That's shifting, and I think it is an interesting point to be at. I'm certainly interested in being part of that conversation. It's a conversation about balancing car mobility, public transit, bicycles, people, maybe turning some of our streets into more well-conceived public open spaces with landscaping, lighting, art, theater and more. There's a lot of design opportunity, and that excites me.
Since the passage of LA City's Prop O [$500,000 million in bond funding], a series of water infrastructure projects have been awarded funding. What are the Prop O projects currently on Engineering's to-do list? 
I'm really pleased to let folks know that as part of our commitment to environmental issues—you know I have a longstanding commitment to green buildings and to LEED—we identified a green-building rating system for civil projects called Envision. We retroactively rated our South LA Wetlands using Envision, and it was not all that long ago awarded an Envision Platinum rating. There are only three projects so far that have been rated nationally, so it is a new protocol. I have had a couple of staff members who have become Envision certified, and we're now using that same rating system for the Sixth Street Viaduct, for the pedestrian bridge in Taylor Yard, for another Prop O project, and for the Albion Dairy Park.
Currently, our biggest, most exciting project through Prop O—which is a water quality bond measure—is the Machado Lake project. It's an ecosystem rehabilitation project for a large lake—a 45-acre lake in a 290-acre park in the Harbor area of Los Angeles. It involves total rehabilitation of the ecosystem of the lake, as well as rehabilitation of the surrounding park landscaping. We just did a groundbreaking for that on March 22, with Councilmember Buscaino, whose district it is in.
It has continued in the tradition of lake rehabilitations. I'm sure you know that just before the mayor came to office, when he was still a councilmember, we opened Echo Park Lake, which I think has been tremendously successful as a community amenity—and this is where the design and the science come together—and also has been totally rehabilitated in terms of how it functions as a stormwater capture and water quality improvement for the city.
Lastly, Deborah, Mayor Garcetti's elevation of you to Interim City Engineer of Engineering—given that no woman has ever held that position in LA—suggests that he values your professionalism, as well as your expertise in both sustainability and architecture. Elaborate on what you bring to this challenging position.
Firstly, I was honored to be asked to serve on an interim basis. As far as my background, I am trained as an architect, and in this organization, my background is unusual for a person in a leadership role. That means that while I'm well aware of all of the engineering constraints that we operate within, I'm also ambitious about the design and the environmental opportunities that these projects present to us. I try my best in these discussions to make sure that the design and environmental issues are not lost, and that the dialogue all through the life of a project is inclusive of these concerns, even when you get into construction and face challenges or funding shortfalls.
My goal is that every investment we make in the city ought to have a functional benefit, and environmental benefit, and an aesthetic benefit to the city and its development. I'm excited to be in this position, with the trust that the mayor and his staff have given me, and to be able to continue to bring those issues to the forefront. I look forward to serving this mayor in whatever capacity I can in the future.
<