The LAEDC hosted a February 21st announcement of Blackstone Charitable Foundation's gift to bring its student-entrepreneurship program—Blackstone LaunchPad—to three universities in Southern California. TPR reprints the addresses delivered by LAEDC President/CEO Bill Allen and L.A. Mayor Eric Garcetti. Readers can find additional excerpts from Blackstone Chairman, CEO and Co-Founder Stephen A. Schwarzman, along with Hollywood producer Harvey Weinstein.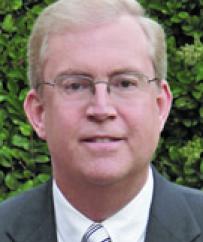 "Today's [BlackStone LaunchPad] announcement is meant to harness the resources of three world-class research universities, along with serial entrepreneurs, venture capitalists, and professional service providers as venture [student] coaches..." -Bill Allen
Bill Allen: On behalf of the entire staff, board and membership of the Los Angeles County Economic Development Corporation, I am excited today to participate in this terrific announcement, boosting entrepreneurship throughout the Southern California region. The County of Los Angeles established our organization 32 years ago to help attract, retain, and grow jobs for its 10 million residents. We have had a direct hand in attracting or helping nurture the creation or retention of over 192,000 jobs that contribute over $12 billion a year in wages and benefits to the people of Los Angeles County. Now, with the new Innovate Los Angeles initiative chaired by Zack Zalon and David Hernand that we announced yesterday, we will be working to build on the boundless creativity of our region, to accelerate the pace of innovation. Today's announcement about the new Blackstone LaunchPad builds substantially on that theme, by promoting the pathway of entrepreneurship as a viable option for students on our campuses, and encouraging and enabling those students to launch their enterprises here in our region. Connecting and facilitating the delivery of on and off campus resources to these young visionaries will increase their chances of success.
Steve Schwarzman and his partners at the Blackstone Group are headquartered in New York and they are widely recognized throughout the world as among the most astute investors and generous philanthropists. It's therefore particularly encouraging to me to celebrate today that even New Yorkers are now investing in LA.
We're also pleased to be here this morning in the LA Theater Center. We have chosen this site because it truly represents the spirit of today's announcement. Owned by the city but operated by the entrepreneurial Latino Theater Company here in Los Angeles, this is a world-class center for those pursuing artistic excellence. It is a laboratory where both tradition and innovation are honored. It is a place where the convergence of people, cultures, and ideas contribute to the future. 
The LA area has been extraordinarily fertile ground for entrepreneurs for over 100 years. We still revere the founding entrepreneurs of our aviation and entertainment industries, who established their visionary enterprises in this area as far back as a century ago—names like Jack Northrop, Donald Douglas, and the Loughead brothers in aviation, along with Carl Laemmle, Walt and Roy Disney, and the four Warner brothers in entertainment. They established the foundations of what is today one of the world's most diverse, creative, and vibrant economies, totaling $572 billion in LA County alone and nearly $1 trillion across Southern California. On the shoulders of those great entrepreneurs, we have built the creative, manufacturing, and international-trade capital of America. 
Today, entrepreneurs raised in our communities and those coming here from around the world continue to innovate, take risks, and pursue the American dream in the capital of creativity. People like Alfred Mann, who has created one successful biomedical device manufacturing company after another in this region. Dov Charney was living in his car under the 6th Street Bridge about 15 years ago, and today he employs over 10,000 people at American Apparel, headquartered Downtown. Do Won and Jin Sook Chang came here from South Korea with nothing but a dream. They started a small fashion store just to serve their community in Highland Park. Today, they have literally thousands of stores around the world and thousands of employees here in this region. Throughout the world, they have hundreds more, billions of dollars in revenue, and one of the fastest growing and most respected brand names in retail fashion: Forever 21. Let's not forget Elon Musk. He is commercializing and transforming the space industry with SpaceX, which created 3,000 jobs in Hawthorne—in the heart of this county—just in recent years. And, most recently, Evan Spiegel and Bobby Murphy turned down a $3 billion offer for their company SnapChat, from Facebook. Make no mistake that the investment community has taken notice of Los Angeles. Last year, a record $1.6 billion in venture capital funding was invested in more than 200 companies in our region. The Silicon Beach phenomenon is real and growing. 
Today's announcement is meant to harness the resources of three world-class research universities here in our region, along with serial entrepreneurs, venture capitalists, and professional service providers as venture coaches for the 110,000 students collectively enrolled on these three university campuses (UCLA, USC and UC Irvine). This will be organized through a proven model for entrepreneurial support developed at the University of Miami and successfully expanded to 11 other universities across five states, with the help of the Blackstone Charitable Foundation. California is now the sixth state to receive funding and authorization to establish Blackstone LaunchPads. We are here to announce and celebrate that wonderful news today. 
Mayor Eric Garcetti: I want to thank Steve Schwarzman for his incredible commitment today to this city. In some ways, it is the best place in the world if you have a great idea, product, company, or story. Coming to the Los Angeles metropolitan area is like visiting the world all in one place. What you are doing here today is not only going to have a great impact on those of us who call it home. In some ways, the Los Angeles of 2014 is everybody in the world's second home. Creativity here is off the charts. More diversity is accumulated than in any other place in the history of humanity. That laboratory and that concentration create an amazing platform, to which you have brought this powerful initiative. The difference it will make here will spread out—not just through this state and country, but throughout this world.
Each and every one of you know that your own stories begin with those who came before you. It's the same for me. Here I am, a typical American, or a typical Angeleno—Italian last name, half Mexican, half Jewish, and the product of two entrepreneurs. One was a Mexican-American immigrant who came here because he lost his father in the Mexican Revolution when he was one year old. He was carried over the boarder by his mother, who didn't finish elementary school. After he turned his life around, fought in World War II, and became a citizen, he became a barber. First, he worked in someone else's shop. Eventually, he saved up enough money with my grandmother, who was working nights as a meatpacker, to open up his own barbershop—to own his own piece of America. That allowed his son, my father, to study hard, graduate from high school, and attend USC on a college scholarship. He was the first in his family to graduate. 
My mother's father's family came here fleeing what was happening to Jews during the Russian Empire. They fled in the midst of pogroms to the United States, through New York, and then to Los Angeles. My grandfather was trained as a musician and met my grandmother in music school. They were both from LA and had dreams of playing the piano. During the Depression, there weren't many opportunities, so he picked up his dad's trade in the shmata business and became a tailor. He built a small tailor business into one that manufactured suits in Los Angeles that were bought around the world. It was known as Lewis Roth clothes. He became President Johnson's tailor. He saw the sweep—in a single generation—from having nothing to tailoring suits for the president of the United States in a factory just a few blocks from here. 
I wouldn't be here were it not for that entrepreneurialism. I'm proud to be the mayor of a city in which more than one out of 200 residents are entrepreneurs—whether they're born here, are fourth-generation like myself, or are new immigrants from Oaxaca. It's the highest rate in the country. We have measured that one out of 50 Oaxacan immigrants who come here are entrepreneurs, opening up corner stores or businesses out of their home. 
We are in a city with high wage jobs on the increase, but poverty also on the increase. How do we square those two things together? There are not enough people growing up here who are getting the good jobs. We can change that with this program. A kid a generation ago might have learned in shop class the necessary vocational skills to get a good, middle-class aerospace manufacturing job. Today we need to teach her computer coding in the classroom. Silicon Beach—which is creating a new startup in the digital technology space every 40 hours in this town—will hire her for $70,000 a year the moment she graduates, even without a college degree, because she has the skills. 
In South LA, we've started laying down the foundation for an initiative like this with Business in a Box, a program like Junior Achievement on steroids. It allows somebody to learn about business but also to receive a box with every form and lesson to incorporate a business by the time they graduate. What could be more empowering in today's economy than to know you are an entrepreneur and small business owner the day that you graduate from high school? 
This is the perfect town to do this, working together with great institutions of higher learning. We are the only city in America with three Top 25 universities. We're the only place that has this amount of culture and diversity: 220 languages, 150 countries of origin, and 37 countries with their largest population here outside their home country. Young Presidents Organization is having its global leadership conference here this coming week. These are all men and women who started and lead businesses around the globe. They are the people writing the next chapter of human history. 
We have to make sure that those chapters are written in every corner of this town. A young woman growing up in South Los Angeles or a young man growing up in Boyle Heights must they see their pathway to success unleashed through the creativity in their own hands, in their own heads, and in their own hearts. We have always been a temple for creativity. The best storytellers and story-makers come here or are raised here. If this were ancient times, we'd all be sitting around a cave watching the shadows dance off the firelight as we tell the stories of humanity. Now, we put them on digital media. 
We produce things like Riot Games, which didn't exist five years ago. A USC grad was able to put down a new company here that they think is responsible for two percent of the time humanity spends on the Internet, through a game called League of Legends. If you have played it, I apologize for your loss of productivity. It is 1,500 hundred people strong now. We are helping him move into the City of Los Angeles, and he expects to double the number of employees in the next four or five years. I asked him, "Why are you in Los Angeles?" He said, "What other city could I be in? I need programmers who speak every language. I need to retain a creative workforce that knows you can go to the beach or go skiing. I want to be in a place that's sunny, that has a great seaport, and with an airport that's number one for flights beginning and ending of any in the world." 
Los Angeles is the place where creativity lives. Because it is everybody's second home, we want to make sure that those people who do live and study here become the game-changers of tomorrow. I thank Blackstone, and I thank Steve for his commitment to making Los Angeles one of those platforms. We will not disappoint
I'll close on this: During the summer that the London Olympics occurred, our folks out of Caltech designed a rover that landed on Mars using space technology from Los Angeles. During those Olympics, athletes who trained in Los Angeles or were from here won 90 medals. That's two more than China. We would have been in second place were we an independent country. When you put those two things together, you realize just what skills are already here. There are still some locked away from those pathways. All we have to do with this program is build another on-ramp or off-ramp to let young people today get on this incredible platform called Los Angeles. Someone once told me, "People don't come to Los Angeles to work for big companies. They come to Los Angeles to start them." 
Harvey Weinstein: I'm glad to see the Blackstone LaunchPad is starting in Southern California because I believe this is a great place for innovation and ambition. I'm a producer, but I'm also an entrepreneur in running my company. Entrepreneurship helps our economies and also helps change and innovate industries. I've had successes and failures, and taking chances and ambition has played a big part in all of it.
I think there's nothing more important than mentorship. The LaunchPad will connect you with the leaders and experts in your field, so that you can become the next great producer, the next Bill Gates, the next Anna Wintour, the next Mark Zuckerberg, or the next Steve Schwarzman. I know that in my own personal career, I started as an apprentice and an intern at Paramount Pictures. I also worked at Apple Records for Paul McCartney, and later on at Paul's company. Without their mentorship, I wouldn't have succeeded.
Steve Schwarzman: Why are we doing this? What's this about? Without Donna Shalala pioneering this, we wouldn't be here. What Donna pioneered, Amy Stursberg who runs the Blackstone Foundation found, and they've been collaborating. What we're trying to do is help students find their own way.
For us entrepreneurs, some of us start cutting lawns, shoveling snow, or selling lightbulbs door to door, or whatever I was doing because I didn't have any money. That's a very normal American approach. What you find in life is that the same way we helped Harvey a bit, I think, you can say that everybody on this stage was successful because somebody, someplace helped them. No one is an island. It's not the way somebody writes these books. In real life, it's different. No matter where you start, somebody helps you, somebody's a mentor, somebody shows you the way. They like you, they see something in you, and they help you if you've got talent to get farther. This is almost uniquely American as a concept.
As we've looked at where the world was after the financial crisis, we thought that what we should do is help people, and help them get jobs. When you don't have a job, it's very dislocating; it's depressing; suicide rates go up; self-esteem is low; and you end up being on government programs. And while it's good that they have them, it's not where you want to be with your life.
Somebody asked, "How can we impact things?" We decided to concentrate on the student population and let them have programs with business plans that they can start with. We've organized experts to work with them and help them in effect raise money, and create jobs for themselves, because frankly a few years ago, there weren't jobs to be had by almost anybody.
One of the other things that we're doing is we're hiring 50,000 military veterans. We're doing that because Mrs. Obama talked about it at an event I attended. I was in the Army Reserves, and can you imagine trying to come out into that harsh job market? You're trained as a sniper. It's not exactly a great job reference. It's really hard for these people to transition, and we're trying to help them. Last year, we hired 10,000 military veterans. We're also helping to change the way things are done in trying to integrate them by getting ahold of these people a year before they're discharged. That way, we can start talking to them about what's going on in the commercial part of the world. Then, we're trying to get them with the GI Bill to do things where they can rotate within the company for effective training, so their chance of success are better.
At Blackstone, we look at what we do just not commercially. I started like most of Americans my age, I was lucky enough to be born right after World War II so there was nobody ahead of this big bulge—the Baby Boom. I was in the second year, which made it a lot easier to be successful. I had a really good education, which is fantastic in America at the secondary level, and we've seen real examples of that. Education is the passport to the future for people in our country, from being a regular person and making something better out of yourself. 
I went to work for an investment banking firm, and I lasted for 13 years until the firm put itself up, and I sold it. I started a business—two people, $400,000, one secretary, and my partner.