Metro's Board authorized a multi-year re-evaluation of LA County's Congestion Management Program more than three years ago, a program that requires that every county designate a congestion management agency, which in turn would designate a regional roadway network for monitoring purposes and would develop a plan to address deficiencies in levels of service on the network. Jurisdictions that failed to comply with CMP requirements lose their state gasoline tax revenues.
In 1990, the California Legislature enacted the Congestion Management Program (CMP) to implement Proposition 111, a state-wide transportation funding proposal that required local governments to implement mitigation measures to offset the impacts from new development on the regional transportation system. The goal was to link land use, transportation, and air quality decisions at the regional and local level. The program required, among other things, that every county designate a congestion management agency, which in turn would designate a regional roadway network for monitoring purposes and develop a deficiency plan to address deficiencies in levels of service on the network. The legislation also provided that jurisdictions that fail to comply with the CMP requirements will lose their state gasoline tax revenues.
Los Angeles County Metro was subsequently designated as the congestion management agency (CMA) for Los Angeles County. Metro initiated a process of outreach to local governments and the private sector, established a policy advisory committee, and after considerable effort, settled on a "debit-credit" system for determining local government compliance.  Under this framework, the local government was required to analyze new development projects to determine their impact on the regional transportation system, which would generate "debits," and impose specific mitigation measures that would in turn generate "credits" to balance out the impacts. Metro developed a comprehensive tool box of mitigation measures and assigned uniform credit values to the measures to facilitate the analytical process. Cities were required to report their activities to Metro annually and certify that they were in compliance with the CMP requirements.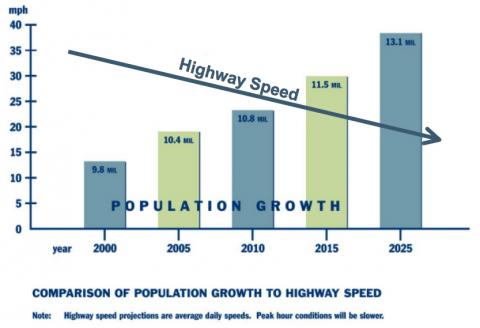 This system worked for a number of years, and was more useful in communities that were developing, but did not work particularly well in cities that were fully built-out or otherwise economically static. Over time, more and more cities ran out of mitigation measures to generate credits and risked losing their gas tax.  The CMP was increasingly perceived as a numbers game that didn't produce meaningful reduction in congestion.  The more effective mitigation measures required dollars to implement, and sufficient funds were not being generated from project-by-project exactions or local return funds from County Prop A, Prop C, and Prop R transportation sales tax measures. The restriction that local return funds be expended within the jurisdiction also limited the number of regionally significant projects that could be funded.
This led Metro to launch a multi-year reevaluation of the CMP. Ultimately, an initial determination was made to suspend the debit-credit approach and move toward a regional traffic mitigation fee. Cambridge Systematics, a transportation planning firm, was hired to develop pilot studies which would demonstrate how a possible congestion mitigation fee (CMF) would function in each of the county's eight subregions. Metro worked with a majority of the jurisdictions in the county to develop a comprehensive list of potential local projects and the associated costs. The list was then evaluated in a regional traffic model in order to (1) eliminate those that would not produce reductions in congestion and (2) determine the fair share of costs allocable to new development for those projects that did qualify. The qualified projects were then grouped by city and subregion to determine what the range of fees would be for each of seven land use types to fund them, assuming any committed funding for each project from other sources. 
The final set of eight pilot studies, along with a recommendation to move forward with a fee, was tabled by the Metro Board in June 2013, and staff was directed to hold new stakeholder meetings to determine if the CMP was still relevant in light of more recent developments, including the greenhouse gas reduction goals set forth in AB 32, SB 375, and the Sustainable Communities Strategy (SCS) adopted by SCAG in 2012 pursuant to SB 375. Staff was further directed to report back to the Metro Board in 2014.
The business and development community was vocal in its opposition to any type of new fee for traffic mitigation, even though 22 jurisdictions in the County currently have them in place, ranging from token amounts of $50 per unit in Baldwin Park to $17,000 plus fees on single-family residential units charged by bridge and thoroughfare districts in the Santa Clarita Valley. Private sector opposition fell into three general categories: (1) the new SB 375 coordinates land use and transportation planning in order to reduce greenhouse gasses, which renders the CMP obsolete, (2) the fee will not generate enough dollars to build mitigation projects in a timely basis, and (3) the economy can't stand additional fees just when it's getting back on its feet and the fee will kill the real estate recovery in Southern California.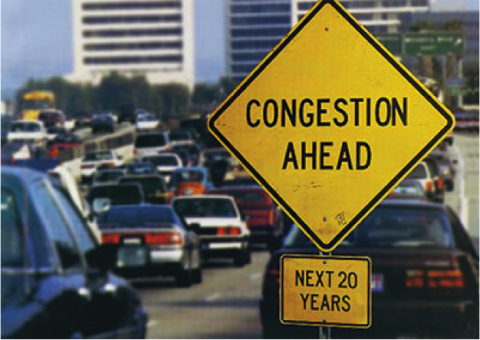 There are compelling responses to each of these objections, but, to date, there has not been a meaningful policy debate regarding the alternatives to the CMP. Obviously one option is to return to the debit-credit approach, but its shortcomings were previously noted, and the ability to mitigate is even more limited today than when the approach was suspended.  
Another approach is found in the CMP statute. Counties can choose to opt out of the program in certain circumstances.  The concern with that approach is that Federal transportation legislation now requires that every Regional Transportation Plan (RTP) include a congestion management system component, including monitoring or a regional network. SCAG's 2012 combined RTP/SCS incorporates the current CMP program to demonstrate compliance with the Federal requirements. If the CMP is scrapped entirely, SCAG will need to start over to establish new mechanisms for satisfying the Federal requirements in order to demonstrate conformity with adopted air quality reduction goals and avoid a cutoff of Federal transportation funding for failure to comply. For example, San Diego County opted out of the CMP, but demonstrated an alternative path to compliance through imposition of a regional fee on new development.
It may be possible to modify the County sales tax measures to loosen the restriction on use of local return funds to facilitate regionally-oriented projects.  Both the legality and political viability of this approach is unknown. 
Some form of regional traffic mitigation fee is still a viable option. There are dozens of such fees in place around California, including all the counties that surround Los Angeles.   The funds would be collected, programed, and spent locally, and could be combined with local return sale tax dollars to leverage other funding, such as Metro's Call for Projects program.  This is especially attractive to local governments who have lost redevelopment revenues. 
The accelerating erosion of gas tax revenues present major urgent challenge transportation funding. The Caltrans budget for construction and repairs was reduced significantly in the most recently adopted state budget. The Highway Trust Fund, the primary Federal source for state and local transportation projects, is projected to run out of funds in FY 2015 if no new revenue source is identified.  In short, the days of significant grants from larger units of government for transportation improvements are coming to an end.  The strong trend (e.g., MAP-21) is toward credit enchantments, public-private partnerships, and self-help financing mechanisms and funding sources  to encourage local governments to establish local revenue streams that can support long-term borrowing to fund infrastructure. Obtaining voter support for new revenues becomes more challenging if the public perceives that new development is not contributing to the solution. 
It is also noteworthy that most of the jurisdictions that have pursued the goals of SB 375 to their logical conclusion, either by creating local Climate Action Plans or revising their General Plans to more fully integrate land use and transportation planning, have significant traffic mitigation fees in place as one of a number of tools to reduce congestion and greenhouse gas emissions. 
At the end of the day, the question remains: if the CMP is eliminated, how does the region fund the local traffic improvements necessary to reduce congestion and improve air quality?