Los Angeles City Council Member Felipe Fuentes of the 7th District assumed office in July, bringing experience as a California State Assemblymember and as Chief of Staff to former Los Angeles City Council President Alex Padilla. Fuentes, now chairing the Energy and Environment Committee, talks with TPR about the DWP public hearings he oversaw, the DWP's relationship with the council, the council's accountability to its constituents, and his priorities for the 7th District. In a city as complex as Los Angeles, a one-size-fits-all metric is difficult to apply to strengthening neighborhoods and city services.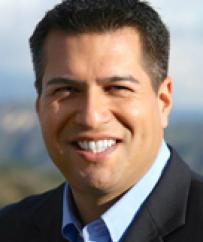 "As much as we like to dive into real, big policy issues, what's ultimately important for my district and Los Angeles is making sure that we provide the basic service delivery that every resident of the city deserves." -Felipe Fuentes
"I wanted to chair the committee that dealt with energy and environment issues, primarily because I really believe that the Department of Water and Power is underutilized. I see it as a real cornerstone for [Los Angeles' future economy]." -Felipe Fuentes
Felipe, in July you assumed council office, becoming the councilmember representing LA's 7th District. Having been in office for more than 150 days now, share with our readers what you're trying to accomplish in this new position at the city council.
I do think it's pretty simple. If I could sum it up in one word, I want to figure out how to help my district become more self-sufficient, whether it's land use, whether it's commercial opportunities, whether it's just making sure that we have more food security. My district, like much of Los Angeles, can benefit from becoming more sustainable. 
You bring quite a history with that district, both at the city level and at the state level. You were chief of staff for LA City Councilmember Alex Padilla, and you've been chief of staff to Alex Padilla in the California State Senate.  What did you pick up in those years and in those responsibilities that gives you an added advantage in pursuing your goals?
I'm really lucky. I've served as a staff member to the council president and to the mayor of Los Angeles longer than I've been an elected official.  I think that boots on the ground mentality helps me remember each and every day what is important. As much as we like to dive into real, big policy issues, what's ultimately important for my district and Los Angeles is making sure that we provide the basic service delivery that every resident of the city deserves. Having spent so much time in City Hall, and now the legislature, and now as the elected member of the 7th Council District, I think that I've got a pretty good connection, a pretty good pulse as to what it is that we need to be focusing on in my district and in the entire city.
Give our readers a sense of what the folks in the 7th District want.
I think, first and foremost, they want to have good-quality city-service delivery, whether it's tree trimming, sidewalk repair, or repaving. I hear from every corner of my district, as well as many parts of Los Angeles, that the city of Los Angeles has not done a good job of ensuring those basic city services. Having come off the worst recession in our lifetimes, I understand better than ever that we are now in a restoration phase, having made so many cuts at the legislature to so many different important services in the state. I'm eager to be innovative, and hopefully more intelligent, about trying to get more from less. 
This environment that we're in—of realigning service delivery and consolidating agencies—I think is a real opportunity for us to be able to improve what it is that we do and hopefully make the case to the residents of Los Angeles that we may need some additional help from them. But only after we've done all of these exercises will I go out to voters and ask for additional bond or tax authority.
Councilmember, we're going to carry an interview about the agenda of a number of mayors, including our new mayor, regarding trying to use metrics to measure performance in terms of the delivery of public services. Are you a supporter of that idea?
Most days I am. I think that for us to be able to demonstrate a marked increase in tree-trimming or street repaving or sidewalk repair is a good start. But I think for much of Los Angeles, it's very difficult to quantify what success is. In some parts of my district, being able to connect equestrian trails and making sure that we're protecting the land use for those trails and those communities is going to be a very difficult thing to
measure when you contrast that with the need that I have to revitalize some of our commercial corridors. In one column you may have no street repair and very little infrastructure improvement, which would be considered a success in Lakeview Terrace or Shadow Hills, but in parts of Pacoima and North Hills, we're screaming for more concrete. I think that there isn't a one-size-fits-all metric that we're going to be able to use to measure our success. It's literally going to have to be feel. It's going to have to be culture and people coming to us saying, "This feels good. Our community is alive again." That's difficult to quantify.
The core of that effort to use metrics revolves around a phone intake process that gets the complaints, concerns, and requests of the public documented, distributed, and measured in terms of response. Are you for that kind of input mechanism? 
Absolutely. I think you're talking about accountability. If I were to call a council office or a mayor's office and say, "I'm having a problem with situation X, Y, and Z," we absolutely owe our constituents not just a call back, but a status and hopefully a resolution to their issues. Above all, we owe them the honesty. If we can't get to that tree-stump removal because we only have 15 or 25 allotted per council district and we've reached our inability to address it, then we need to be honest with our constituents as well, saying, "We don't have the resources to repave all the streets or remove all the tree stumps." Only then, I think, can we have an honest conversation about what Los Angeles' needs are, and what potential solutions may be out there to address those needs. As it relates to accountability, I'm absolutely for that.
Let's turn to the challenging policy issues that you've taken on by virtue of your committee chairmanship of Energy and the Environment. Talk about the Department of Water and Power's relationship with the Council and the mayor, and what you proceeded to do to improve that relationship.
I'm very fortunate, because I got what I asked for. I wanted to chair the committee that dealt with energy and environment issues, primarily because I really believe that the Department of Water and Power is underutilized. I see it as a real cornerstone for [Los Angeles' future economy], whether it's pivoting from a graystack economy to a greenstack economy, whether it's talking about fairness in residential rates or commercial rates.
Low and behold, I got exactly what I asked for. In the first 100 days that I've been on the job, we've had to renegotiate a new contract with its workforce. We've had to reach a settlement agreement with a lawsuit brought by the employees, we've had to begin to dive a little bit deeper into the practices—like the work agreements and side rules that the utility has been able to negotiate with management that have impacted ratepayers. We've had to introduce motions to begin to investigate the efficacy of things like the Joint Training Institute and the Joint Safety Institute, to try to understand—are we getting the most that we're supposed to get out of this utility? 
Up until this point, things have happened in the complete darkness of management and labor, and I thank the mayor as well as this City Council for beginning to take reign of the different issues that make this utility either very effective or very expensive—and time will tell if we will be able to manage it in the way that the ratepayer deserves. 
In August, you and Councilmember Krekorian held a series of public hearings around the DWP contract negotiations. I can't think of three letters that have more emotional reaction than DWP in the Valley. What did you find with Councilman Krekorian and, again, what steps can be taken to build confidence?
We found that there are hundreds of side agreements and work rules that have never seen the light of day, which relate to additional benefits and work restrictions on the workforce at DWP. Maybe some of them are good, maybe some of them are bad, but none of us have a real understanding of what they are, because they haven't had the scrutiny of the public process. We've also learned that the utility has not really been managed by the city elected officials. We just take in good faith what their needs are, and don't really drill down on making sure that what it is they're asking for is precisely what they need. I think the conversation that Mr. Krekorian and I had in the joint committee meeting is just the beginning of trying to keep this utility accountable. You're absolutely right. The Department of Water and Power evokes a certain emotion today. I'm hoping that we can make it an emotion in the future of pride and innovation and as the future of this city as we try to endeavor to move into this new economy post this Great Recession. 
Felipe, in defense of DWP—which is unusual for this newsletter—it's difficult to pivot in this changing energy paradigm when you're governed by a strong union, the Commission, and the Council all at once. How do you give confidence to your management that they've got the direction and unanimity of oversight that allows them to take the actions necessary to be relevant going forward.
You begin to do what you suggested earlier: You apply metrics. We don't have competitors in this arena, but we know relative to the five or six different electric and water providers in the area—energy providers in the area—we have amongst the lowest rates around. That story doesn't get told well enough. We know that we are complying at a very equitable and very just rate with state regulations on renewable energy and meeting our targets so that we don't get dinged in the post-AB 32 world that we're living in. We have one of the most efficient utilities, as it relates to energy efficiency increases, in the entire state. I can tell you this with assuredness having chaired the Utilities and Commerce Committee for the California State Assembly. What we don't have is a good story being told by either the management, the labor force, or the elected leadership, largely because we have not managed the utility like we probably could and should. Which is to say that we need to take credit for all of those gains, and we need to hold our workforce accountable when they're not being as good as they are. There is a story to tell, but we have to do it based on metrics and less emotion.
Is under-funding investment in the infrastructure as a way of keeping the rates low  part of the story, as well? 
It is—and to be absolutely fair, the elected leadership in Los Angeles has not done the best that it could historically to be honest with the ratepayer about what it is that we need in terms of rate hikes. We've had this lumpy approach to rate hikes, and it's been unfortunately by political will. What needs to happen is we need to be honest with our ratepayers. We need to determine exactly how much we need and when we need it by, and use less politics on deciding when we do that, and focus more on doing what we're supposed to be doing.
Let me move on to your very valuable relationship with LA Sanitation Director Enrique Zaldivar in preparing residents for the upcoming rainy season to prevent flooding and storm-water pollution.  The Northeast Valley has some of the most innovative experiments in how to deal with floods, waste water, and sanitation. Why don't you elaborate a little on those successes and what you hope to see going forward?
What the City of Los Angeles has done well in the last couple of years is put together some very good demonstrations about what it means to be more efficient and innovative as it relates to water. Whether we're talking about wastewater treatment, whether we're talking about importing water, whether we're talking about storm water runoff, Los Angeles is on the cusp of becoming a leader on preserving water. At $984 an acre-foot for imported water, we can't afford not to be smart. I'm excited that the paradigm is beginning to shift on how we view water. I introduced a motion recently to help people understand that we shouldn't view it as a different category every time we look at the color of water. Water is a precious resource, it's a really expensive resource, and it's something that we've got to be smarter about. We can't just canal it into the ocean and into the Santa Monica Bay anymore. We've got to figure out how to take advantage of the Northeast San Fernando Valley, which has a topography that lends itself to more storm-water capture and more recharge opportunities. We also have to begin to look at how we're going to remediate so much of the contamination that has led to a large part of the success in the San Fernando Valley. It's an area that I'm very excited about, and I think is absolutely crucial to Los Angeles' future success.
The mayor opened the US Water Alliance's "One Water" Conference in LA with the statement that leaders across the country should focus on "One Water": storm water, waste water, potable water. Is the "One Water" concept, which would require reconfiguring how we silo our water treatment, something that appeals to you?
It is. That was precisely the motion that I introduced. I know that the mayor made that proclamation at the opening of the conference, and as a participant in the conference, I made a motion for us to begin to start using that paradigm here inside our city agencies. It may very well be that in the future there will be only one department that deals with water and I think that will be a huge success. Until then, we'll have to figure out how not to operate in silos, leverage this asset that we have, and figure out how to take advantage of it.
Let's draw this to a close, Felipe. What's on the agenda of the Council and the mayor that brings the executive branch and the legislative branch together to come out of this recession addressing some of the challenges you see as priorities?
If I had to borrow a line from what the mayor has been talking about these days, he has mentioned this approach of improving our infrastructure and making "great streets." If I could put a finer point on his message, I think great streets aren't defined necessarily by pedestrian traffic, when you talk about equine communities like the one I represent. I don't think great streets are defined by free-flowing traffic. In fact, there are areas in my district in which I want to figure out how to use traffic controls and land use to be able to slow down traffic so that people get out of their cars and make it more walkable. I think there are great streets in my district that have the potential to be great residential landscapes—streets like those in the communities of San Marino. I think ultimately it becomes about sustainability. Can we create an environment in Los Angeles that is sustainable to our residences, to our businesses, and to our families, and make it so that we don't ever have to leave our communities for everything that we need, whether it's shopping, recreating, or working? I think that's what's going to bring this Council and this mayor together. 
If we talk in six months against what you just said, what will we be discussing? What benchmarks should we keep in mind when we speak again?
For me, a good measure of our progress to that end is making sure that we adopt things like the Sylmar Community Plan, something that was begun by the city, which will hopefully help preserve those amenities in the district from a land use perspective that we want to preserve and encourage the capitalization of manufacturing and business opportunities. For me, memorializing those plans in council actions, ultimately with the signature from the mayor, is going to be a real success for me, and I think that we'll at least be able to accomplish the Sylmar one by then. As you know, these community plans take many, many years, much participation. At least selfishly in my area, this particular plan is something I'm really excited about, because it encapsulates everything that I want to talk to you about in my district.