Mary D. Nichols, Chairman of the California Air Resources Board since 2007, spoke at the CleanTech LA Global Showcase on November 5. MIR presents the following transcript of her address, titled "Creating a Sustainable Freight System in California," where Nichols addresses the importance of transitioning to zero-emissions goods movement in the state. Focusing on ports, railroads, airports, and ground transportation, she highlights the progress already made around green freight, along with challenges facing the industry.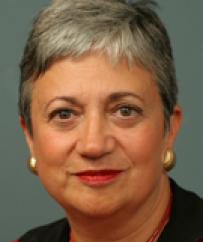 "The hard-core of the transportation adaptation we need to deal with is actually our goods-movement system. The clean-freight issue—the issue of how we move clean tech industry and clean freight—is really key to our ability to solve our other public policy goals." -Mary Nichols
Mary Nichols: One of the things that I've noticed recently is how many incredibly smart and knowledgeable people have gravitated to the issue of electricity and providing electricity. Those of us who have been in this state for a while know very well how horrible it is when there are disruptions and uncertainty about the supply of electricity. But when it comes to looking at what it takes to actually meet our air, climate, and other environmental as well as economic goals, the part of our equation that we don't talk about, which is actually a larger part of our inventory, is our transportation system.
The hard-core of the transportation adaptation we need to deal with is actually our goods-movement system. The clean-freight issue—the issue of how we move clean tech industry and clean freight—is really key to our ability to solve our other public policy goals.
As the international trade leader of the United States, serving as the gateway to the Pacific Rim and the larger global economy, California relies on a robust, efficient freight system. International trade and the movement of goods into and through California to the rest of the United States is also vital to our economy and certainly is responsible for job creation on an ongoing basis. Here in Los Angeles, the ports of Los Angeles and Long Beach combined are the busiest in the nation, although we are only the sixth largest in the world. These two ports together generate 3.3 jobs nationwide, and goods movement is anticipated to grow. The need for freight movement is growing in Southern California already, and the amount of movement through the ports has tripled since 1990. It is expected to triple again over the next 20 years.
If I sound like I'm an advocate for the ports, I think it's fair to say that I am, because I see them as both a challenge and an area of tremendous opportunity.  The clearest challenge is competition. Expansion in the Panama Canal and other ports in North America and Mexico, plus continued pressure from East Coast ports, will intensify the pressure on California's market share of shipping. In many cases, the current infrastructure is not sufficient to handle the anticipated growth. Another persistent challenge—in some ways it has been more challenging—is the significant public health and environmental impact of freight movement through our state. In fact, freight is California's single largest remaining air-quality challenge. The status quo will increase energy consumption, energy need, and greenhouse-gas emissions. It will significantly impact the health of California's residents, as well as have an impact on our climate and that of the rest of the world. Creating a more sustainable freight system in California is part of a comprehensive sweep of strategies to achieve our climate and air-quality goals. We're working to reduce the carbon content of our electricity. We're continuing to improve the fuel efficiency of every kind of vehicle engine, as well as the carbon content of fuels.
To ensure that the California freight system achieves both our economic and environmental goals, we need to transition to a system that moves commodities more efficiently and with zero or near-zero emissions, using cleaner, renewable transportation energy. We need to provide the kind of speed and reliability that the industry needs with expanded system capacity, and to optimize movement of freight between modes, while integrating with national and international freight transportation systems. This will also include lower carbon fuels during the transition to the ultimate goal of a zero-emission freight system. We're not talking about tomorrow here, but if we're not starting now and we're not clear about our vision, we face a very low chance of getting where we want to go.
Achieving the vision will have important benefits for keeping California's ports, railroads, airports, and logistics industry competitive, improving the delivery of California products to other states and countries, creating jobs in California, and improving the air quality and health in California's impacted communities. We're also talking about growth in the recognition that certain parts of our state, certain groups in our population, certain areas are disproportionately impacted by business as usual. Living around or near a port or rail yard is indeed one of the things you can do that would be worst for your health.
Many businesses in California and around the US are already seeing that there are benefits from shifting to greener transportation practices. Throughout the United States, Coca Cola's fleet of alternative-fuel vehicles, including hybrid and electric delivery trucks and electric refrigerator trucks, will number 750 by the end of the year. These hybrid trucks alone are 30 percent more efficient and the all-electric refrigerator delivery trucks that they're using around the Bay Area are expected to pay for themselves within three to four years. The US Postal Service is another good example. They are already operating one of the largest alternative-fuel vehicle fleets in the industry, including all-electric, hybrid-electric, and LNG vehicles. Just last week, UPS announced that they've rolled out state-of-the-art operational software to optimize delivery routes, which they expect will save 1.5 million gallons of fuel by the end of this year alone. A reduction of just one mile each day per driver over the course of a year saves the company up to $50 million a year. For another example, FedEx now offers special delivery options, including Saturday deliveries, to minimize multiple delivery attempts and serve their customers better, as well as reducing fuel costs and greenhouse gas emissions. They're also working to make their vehicle fleet more fuel-efficient. They set the US transportation industry's first fuel-efficiency goal, aiming to improve the fuel efficiency of their global vehicle fleet by 20 percent by 2020. This year, they already surpassed the 2020 goal.
We think that green transportation is also a smart business move. In addition to saving money from fuel and maintenance, lower carbon freight transportation can also help protect against the vulnerability to fuel-price volatility and uncertain oil supplies. Consumers and business customers are increasingly demanding green transport. In a recent global survey conducted by a logistics company, 50 percent of business customers estimated that the green transport of their products would be a decisive factor to them in attracting customers in the future. A trend-setting sustainability-oriented business model can also help shape a company's reputation and open up new market opportunities.
In California, public policy and regulation are working together to create a more sustainable freight system in order to maintain our economic competitiveness and deal with our environmental challenges. The Air Resources Board's combination of standards and incentives to clean up the dirtiest diesel engines at the ports have laid a strong foundation for continuing to transform freight in California. Today's diesel engines are 98 percent cleaner than they were before we began setting new engine-emissions standards 20 years ago. Very promising efforts are being made to develop and adopt innovative zero or near-zero emissions technologies in the freight sector. The ports of Los Angeles, Long Beach, and the South Coast Air Quality Management District have co-funded several technology demonstration projects, including the world's first plug-in, battery electric Class 8 truck, as well as hybrid and hydrogen-fuel Class 8 trucks. The California ports have also been leaders in this area, installing the necessary infrastructure to allow ships to plug into shore power while at berth, reducing emissions from their diesel engines.
But we do still have a long way to go to achieve a system that will guarantee both the strong economic growth that we need and healthier California communities. It's going to take more than investment in research and development. It is going to take more efforts to create a policy environment and public awareness that support low-carbon goods movement, including more and better-targeted incentives. It's going to take the adoption of more sustainable business practices and perhaps above all, in light of themes I've already heard here this morning, it's going to take more coordinated planning and collaboration. This is not something that can be achieved unilaterally by any agency, any level of government, or indeed by government on its own, although clearly reform is needed within our governmental systems. We also need much better and intensive collaborations than have existed in the past, certainly between our agencies and the private sector.
We're looking to some models that we've already seen succeed. Our work with the light-duty vehicles can serve as a model for ways to improve freight-movement in the state, as well. That is, a combination of increasingly stringent standards based on a good knowledge of what technology can achieve, as well as work on the fuel side, and integrated planning to work together to try to achieve improvements in the system as a whole. The same three-pronged approach that focuses on the vehicle, the fuel, and on the demand and deployment of those vehicles certainly can guide our work as we go forward working with the freight system. I hate to say this, but we are actually here to deliver a message of being available to help, because there is already a lot going on here at the local level. One of the things that people who are struggling with some of these issues at the local and regional level may not always realize is the extent to which the state can play a role that can be helpful, not only in terms of targeting our regulatory efforts and our incentive programs, but also through the work that we're doing nationally and increasingly at the international level in sharing best practices and technology. This summer, I went to Shenzen and Hong Kong to pursue some conversations that had begun when the governor was there in the spring. We're now intensifying these discussions, and one of the areas that we're focusing on with ports that are much larger and much more emissions-intensive than ours is the sharing of best practices and technologies that can benefit all of us.
Clearly, creating a system that will more efficiently and cleanly move goods through our state is going to be essential to maintaining California's market share, and improving it, we hope. We want to work with you on that together, because we believe that greener transport of products is going to be good for business, good for the climate, and good for the health of all of us and our children.