Overdrive, which closed July 21, was the principle venue of the Getty's sweeping celebration of modern architecture in LA that included eleven exhibitions and accompanying programs and events. TPR asked Sam Hall Kaplan if he would comment on the others besides Overdrive, but he declined because he did not want to be more of an architecture scold that he already was known for during his tenure as the LA Times design critic and later on radio and television and select publications. (Originally published in archpaper.com)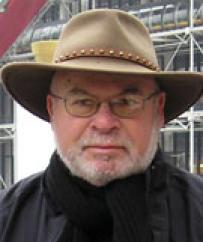 "It was as if architecture and its implications of permanence had become a photo opportunity. The result was what I labeled plop architecture, designs ignoring context, climate, and culture that seemed to have been dropped from above to land haphazardly on various city sites." -Sam Hall Kaplan
There is nothing middling in the Getty Center's celebration of a half century of modern architecture in Los Angeles, from 1940 to 1990. Labeled Overdrive, the evolving city is prodigiously described as "a vibrant laboratory for architectural innovation," at a time when "experimental concepts were tested, and visionary designs realized."
The region indeed does have a rich Modernistic architectural history, actually dating back to the early 1900s and including the notable exercises of Irving Gill, Frank Lloyd Wright, R.M. Schindler and Richard Neutra. The tradition carried forward by the Case Study Houses and populist practitioners such as Cliff May and Ray Kappe persevered through the 1970s.
However, from my front row, center seat as the Los Angeles Times architecture and design critic for much of the decade, the 1980s was marked by a sad shift in architecture from its social imperative to create places and spaces for human endeavor to idiosyncratic designs, with how things look taking precedence over how things work.
It was as if architecture and its implications of permanence had become a photo opportunity. The result was what I labeled plop architecture, designs ignoring context, climate, and culture that seemed to have been dropped from above to land haphazardly on various city sites. If their conceits didn't always work as architecture, they hailed it as art.
The renowned photographer Julius Shulman, with whom I was collaborating at the time on a history of Los Angeles architecture, often dismissed the forced constructs as "junk piles." But he added not to worry, for priding himself a commercial photographer he felt he could make almost any building look good. And he did. Many of his photographs are included in the Getty survey. 
As noted by the Getty, the designs and declarations of the 1980s did garner much national and international attention, and many awards, though from my perspective they were prompted by the east coast design arbiters who were looking for good copy to fulfill the cliché of Southern California as a new age art and architecture spectacle, and anxious to score junkets.
The desire to be different even at the cost of crafting buildings that didn't work very well was mimicked by a host of local architects desperate to be in the slip stream of fads and fashions, and snare their own headlines, and hopefully new commissions. Glitz and glamour were the way to go.
But their hyped designs, as well as most of those by the so-called L.A. Ten, failed at becoming paradigms, whether too costly, or just too quirky. At best, several select designs of Frank Gehry, Thom Mayne, and Eric Owen Moss were interesting sculptural and structural exercises, though not particularly user friendly.
A post occupancy evaluation of the designs would have been revealing. However, my attempts when the projects were completed in the 1980s drew the wrath of architects and clients, who were concerned that such evaluations, if critical, would detract from the well-publicized efforts adding value to their projects.
Such evaluations I feel still would be interesting. Certainly they would have lent the gala Getty initiative some needed scholarly credibility, and at a fraction of the cost of the several million dollars it has spent on affiliated programs and publications promoting the exhibitions and celebrating itself.
To be sure, a number of distinguished designs were generated in Los Angeles in the 1980s, but they were not conceits the Getty identifies. These include playful open-air shopping centers and a kit of parts for the 1984 Olympics by Jerde Associates, the various neighborhood-friendly residential projects by the firm of Killefer Flammang, and the sensitive restorations of Brenda Levin. It was, I feel, the work of these architects that spurred the welcomed resurgence of Downtown, and the city's incipient historic preservation movement.
Such user-friendly projects, along with the construction of the Metro, as well as the continued conversion of public places into people places, have given rise to a promising renewed commitment to social architecture. Still, Los Angeles architecture remains mostly an afterthought—its hyped history not withstanding. Deserving attention by the august Getty, if only for continuance, are the ambitious stolid—and critically ignored— designs by the firms of AECOM and Gensler and site specific constructs by the more-lauded Michael Maltzan, Frank Israel, and select others in the last 20 years. And then there is the Getty Center itself by Richard Meier, conceived in the 1980s and christened in 1996, which despite its isolated location is surprisingly engaging and user friendly.
And this despite the continued indulgences of the self-aggrandizing star architects who came to the fore in the 70s and 80s, cranking out vanity projects for celebrity seeking clients. Also particularly pernicious was the inordinate attention these conceits generated among several generations of star struck students, which I sadly observed as a guest critic at local architecture schools. Lending little perspective was a puerile design community and its braying publicists posing as critics and commentators.
The Getty initiative I feel unfortunately has fed this dissipated Southern California indisposition among hidebound scholars and benign bureaucrats to be voguish. It is a problem when existing in the shadow of Hollywood.
"Overdrive may have been an apt headline for the postwar years, but by the time the 1980s was upon us cars and Los Angeles just were not mixing well. Also not doing well was the hyped avant-garde architecture, perplexing and isolating the public.  If anything has put an end to this modern period extolled by the Getty, it is the recent recession; a time to down shift from Overdrive, slow down to go beyond the freeways, try to find a parking space, and experience the evolving city on a bike or walking.
LA survives, its architecture a backdrop to its seductive setting and aspiring lifestyle.
-------------------
Sam further noted to TPR that the Getty initiative, most of which he attended, was very much a mixed bag, with a few insightful and engaging but most poorly presented discursive indulgences, "served up with cheeses and whines."  We prevailed, if only for thumbnail reviews, which he promised for next month. We look forward to it with some trepidation.