June saw the unveiling of plans for a marine research & innovation center called AltaSea at the Port of Los Angeles - a repurposing of City Dock No. 1. The Annenberg Foundation along with the Port are the project's lead donors, and at a June LAEDC Board of Governors meeting, Annenberg Executive Director Leonard Aube explained how AltaSea fits into the port's larger goal of growing public-serving assets while strengthening its core business. In the same talk, Aube outlines the project's construction timeline, costs, and goals. MIR also caught up with Cindy Miscikowski, President of the Board of Harbor Commissioners, to learn the details of the unique public/private/nonprofit entity that will manage AltaSea. Miscikowski provides the global lens to Aube's detailed description of the program.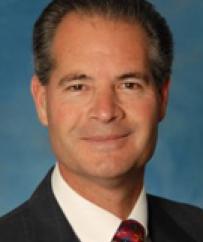 "The vision for the port over time is to evolve a balanced relationship between its core business and a growth in public-serving assets. Clean tech and manufacturing, academic research and development, fishing, recreation, tourism, arts, and culture are now starting to play increasingly significant roles at the port." -Leonard Aube
Leonard Aube: The largest thing that has ever lived on our planet, the blue whale, would just about fit, nose to tail, in this large meeting room. If you were a blue whale calf, you could gain 250 pounds of weight a day nursing from your mother. The ocean holds so many fascinating creatures, elements, and a sense of unknown. We know much more about deep space than we do about the deep oceans. The amount of species undiscovered in the oceans continues to dominate marine science, and we see new discoveries being made almost daily. Jacques Cousteau once said: "For most of history, man has had to fight nature to survive; in this century, we're beginning to realize that in order to survive, we must protect it." It really begins with the oceans. 70 percent of the world's population receives its protein not from land, but from the oceans. 
The way that we use the ocean has changed over the years—moving energy around, a global costal development, oil and gas extraction, bigger ships, aquaculture, and fishing more species in more places with better technology. The ocean is a finite resource for us, and we have to continue to be smart about the way we use its assets. 
A quick point of orientation: the port has the distinction of being way down there at the end of the Harbor Freeway—somewhat out of sight, out of mind—there's not much to focus your attention if you live outside of the port community. But it is an incredibly important driver for the region, and it's changed a lot. We think about the heyday of the fisheries and the kinds of businesses that dominated the port in the 1940s, 50s, even the 60s—those industries have been transformed and have essentially gone away. If you look back at the scale of shipbuilding and fishing canneries—those two activities are virtually nonexistent in the port today. Roughly 40 percent of the country's container imports pass through the two ports of Long Beach and LA, so as economic drivers, they are absolutely critical to the region.
The vision for the port over time is to evolve a balanced relationship between its core business and a growth in public-serving assets. Clean tech and manufacturing, academic research and development, fishing, recreation, tourism, arts, and culture are now starting to play increasingly significant roles at the port. The port has also done a phenomenal job over the last several decades moving towards more sustainable, clean-technology practices. The world's first all-electric, heavy-duty drayage trucks were born at the POLA; the world's first hybrid tugboat exists here; we have the world's cleanest port rail fleet, and investment in renewable energy continues to increase. We're starting to see remarkable changes inside the port as a result of environmental improvements—dolphins have been seen swimming off City Dock One; kelp is growing inside the harbor.
POLA has also done a great job converting moribund pieces of assets into public services. For example, a parking lot bellow the Vincent Thomas Bridge was transformed into a dancing fountain. On 22nd Street, there's now a park along the causeway where boats leave for Catalina Island. Gaffy Street has seen a lot of revitalization, and finally near Port C in Wilmington, the Wilmington Waterfront Park was opened in 2011. 
POLA Executive Director Geraldine Knatz often refers to these projects as a 'string of pearls': individual, discrete improvements over time that have really formed a brand-new portrait of POLA, not only focusing on its core businesses, but providing public-serving assets. There's now an active RFP for a company to design an active vision for the Ports O'Call Village. And of course the USS Iowa became a tenant at the port about a year ago. Maybe some of this surprises you if you haven't been to the area in a while, but they are beginning to redefine how we think about the port. 
I'm going to talk a little about the Southern California Marine Institute (SCMI), an interesting coalition of eleven colleges and universities that have been working together collaboratively and combining resources to focus their research. They're presently located at a very modest area out on Terminal Island, and they would be the first tenants of AltaSea. Dominguez Hills, Fullerton, Long Beach, Los Angeles, Northridge, Pomona, San Bernardino and San Marcos as well as the University of Southern California, UCLA, and Occidental College are all a part of this coalition. 
When we got involved in the project we asked them very candidly, "So is this collaboration with a capital 'C' or little 'C'?" One of things that's happened as a result of the vision plan behind the development of AltaSea is that the colleges and universities have taken the time to step back and spend time doing additional visioning work. But how rare is it to have nearly a dozen colleges and universities working together to define a basis for what they do? We asked them, "If you were to identify your highest priorities in terms of your collective work, where might you be focusing your energies?" Over the past five years, California has implemented a string of marine life protected areas from Northern California to Southern California—the only place in the country where this kind of thing exists. The marine scientists of SCMI have added a lot of value to this process. So their list began with protected areas, and then documenting climate change, looking at the algae blooms we see happening along out coast, restoring the marine environment itself, and helping the fishing industry to recover in a sustainable way. 
City Dock One is 28 acres. It had a chemical storage facility up until a year ago that has been removed. It has 250,000 square feet of warehouse space (from when they used to grow cotton in California and bring it to the port to ship) that is now completely empty. This is the footprint for readaptation and redevelopment of what will become AltaSea.
What's going to be there? One of the things you need to create a world-class marine research facility is circulated seawater labs. We'll have classrooms, luncheon halls, and a state-of-the-art visitor center. There's a plan to create the world's largest saltwater tank. To put that in scale for you, we're talking about a wave tank that would be 1,000 feet long and 50-100 feet wide. These wave generators help us understand the way large events may happen out on the open ocean, so tsunami research, climate change, and the impact on urban communities is something that this particular facility may be focused on, attracting investment from international, national, and regional sources. The co-location of high schools, colleges, universities, scientists, government agencies, international partners, industries, etc. would all be here. 
The first phase of the project is $150-million, and it's estimated that phase one readaptation of warehouses and related new construction would create 1000 jobs. Phase two would create an additional 4000 opportunities, and an ongoing workforce of, we think, 1000 individuals working on STEM initiatives and trades. When a NOAA research vessel pulls up dockside and just sits in the water, it can cost upwards of $3- $5 million a year to have the electricians, carpenters, plumbers, and welders maintain it. That's an incredible economic engine for a region. Today, we don't have the deep water or dockside capacity at POLA to handle that. AltaSea will readapt those facilities so that we can handle those research vessels, and we're talking to NOAA about having some of those ships come into POLA to be permanent residents. For every million dollars invested in research at AltaSea, an average of nine jobs are estimated to be created, and we generally know that for every dollar we invest in education, $5.50 is generated for the state economy. 
The other thing that is a major challenge is the movement of invasive species from one area to the other and the severe environmental impacts that has. This is something that the scientific community is really focused on, and AltaSea will have a major contribution to the work that goes into this as well. 
Some of the community-serving elements of the project are the development of interpretive centers, places to sit down and have conversations about environmental impacts and the effects on the world around us—cafes and gift shops, an underwater classroom, tidal and habitat gardens. We're thinking about AltaSea not just as a research destination, but also a public destination. 
With William McDonough involved (Bill is among the leaders within the architectural and design communities advancing the implementation of alternative energies) AltaSea will really be a showcase for alternative energy uses. 
As we mentioned, the project will be developed in two phases. Phase one is a roughly $150 million program with a five-year development horizon. Phase two is estimated to cost about $345 million with completion over the next 15-20 year timeline. Those 11 different colleges and universities would be the first tenants at AltaSea. The goal and vision here is to go beyond the Scripts Institute and other national research centers, take on some of the international facilities that exist, and really establish LA as a world-class destination for marine ecology in an urban setting, which doesn't exist here today. 
Berths 56 and 57 are the primary focus of Phase one development. But going forward, 58, 59, and 60, and the former chemical tank area are really where we want to allow those larger research facilities and vessels to come in. The idea is to have an environmentally sound and sustainable development plan, including photovoltaic roofs, ways to recycle rain water, designing for disassembly, habitat creation, sustainable landscapes, etc. The McDonough team has envisioned an interesting visitor center that could have both above and below-grade experiences, up to and including submersion in the water line itself. It would be used to interpret the research being conducted and to cultivate an active relationship between science and the public.  
Physical construction is estimated to be about $137 million. Operating expenses as we ramp up the nonprofit operator, costs related to the campaign, that's the $155 million or so that we referenced earlier. The POLA has committed funding for site-prep resources, and the Annenberg Foundation has committed a substantial gift ($25 million) as well, to get the ball rolling. So we have a strong head start, leaving the balance of funds to be procured at a little under $100 million. We've just begun the process of reaching out and sharing the opportunities here for AltaSea and the general community. 
So much of what we think about with respect to the project is about helping people experience the endless opportunities for the exploration of the open ocean—it's an aspirational concept. There's the core science that goes on here, but our interest is equally invested in the idea of teachable moments, bringing people together, connecting them, helping them to relate to one another and the natural world, and using AltaSea as a backdrop to achieve all of these objectives. 
-------------------------------------------------------
MIR: Cindy, as president of the Harbor Commission, what is the significance of the AltaSea project for the harbor, the City of Los Angeles, and the Southern California region? 
Cindy Miscikowski: I think it's significant for the city, the harbor, but also for the nation because it's going to be the first time that an urban research institute will focus not just on ocean issues and oceanography but also on the effect of costal sustainability. Most of the major metropolitan regions on our coast are critical, particularly trade and other matters, and the impact of global warming, urban runoff, ocean rising, and coastal erosion on our beaches is critical. So there couldn't be a better place to do this kind of research than in an industrial area in a major metropolitan region, not only because of the research lab that it will create, but also the opportunity for jobs and the collaboration with the university research institutes in our area. 
Who will oversee and operate AltaSea? The Port? The Annenberg Foundation?
AltaSea will be operated by a nonprofit entity with an interesting, unique structure. It will operate the AltaSea organization and the building and what goes on there; underneath that will be two or more agencies participating. 
It is on Port of Los Angeles land, so the port will create a long-term lease arrangement with this nonprofit entity and will maintain the exterior of the premises—the boardwalks, the public places, the interface of the public, private, and nonprofit. The port is a major contributor, not only in having AltaSea on its property, but also in kick-starting the construction by upgrading the facility. The existing warehouses are historic; they're strong; they've withstood earthquakes in this region; they have wide spans with a huge volume of more than 250,000 square feet under roof. But they are also in need of infrastructure work and improvement—the kind of hidden repairs that will be the port's responsibility. 
Then the nonprofit will be seeking significant additional funds. And, we do already have a significant grant from the Annenberg Foundation to kick-start the facility improvements that will focus on making this an inviting and engaging place for public participation. Additionally, under this nonprofit entity, there will be a separate entity which is the Southern California Marine Institute, an alliance of about 11 major universities in the region, all of which have marine biology research departments or capabilities. They will be able to combine and utilize some of the new facilities and resources while maintaining their own individual scientific research projects, forming the vital research arm of AltaSea.  The collaborative impact potential will be huge.
There will also be the opportunity through the university projects to spin off some of the more successful research into technology and new businesses. It has a huge potential in the future for collaboration, job creation, and new market industries that could lead to new ways in which we deal with our environment, particularly our important interface with the ocean at land's edge. 
The public and private partnership overseeing the creation of a world-class Marine Research and Innovation Center is transformative. But the Port of Los Angeles' central mission, as one of the great engines of economic activity in the region, is to be a job generator and center for economic innovation. Could you speak to how the port plans to ensure that AltaSea also generates economic activity? 
You have to look at the perspective. 50 years ago when this was the heyday of a working port, we had more than 100,000 people who worked at the port, from the longshoremen to the fish canneries to the fishing boats. It was a major commercial hub. A lot of those job areas have shrunk as technology evolves; automation is part of it, and other changes both in the cargo movement area and the fishing industry. So you had this large area of land adjacent to the ocean that supported a huge blue-collar job structure providing sustainable jobs that has now dwindled to about 16,000 people working at the port. 
It is important to regenerate that base to the degree we can in this environment, and at the same time the city has been very focused on maintaining and reviving its industrial base overall. Where better to try to work that out than at the port where the interface between commerce, trade, and our environment gives us the opportunity to not only interface with jobs and technology, but also to look to the future and green our environment as well? Not only with returning some new blue-collar jobs, but also introducing some high-tech industry jobs through some of the incubator spinoffs that can come from the research done at AltaSea. The idea is that the San Pedro/Wilmington area can be a hub of research, and with that will come a need for providing housing and other support for the people who will do the work generated by these projects as well as creating additional activity for the public to enjoy. 
You offer a metaphor for the economy of Southern California. But what Harbor initiatives will drive the region's new economy and need for jobs using AltaSea as a platform?
As the president of the Board of Harbor Commissioners, I receive a number of calls from people who want to talk about a new idea they have for a new project that they think could work at the port. Not only dealing with the major business of the port—the movement of cargo and related technology ideas such as zero emission projects to reduce pollution, or new ways of doing dredging —but also looking at all sorts of new potential projects that could create new "blue-green" jobs. 
We know the huge success of Prop O in the city and how the voters' approval of funding for projects underscored the importance of dealing with urban runoff to both clean our ocean and better deal with maintaining our water supply in this region. The bad part of urban runoff is that it ends up in the ocean and damages our shoreline. All of the research that can be done at AltaSea will spur new ideas to further treat this problem on a regional and larger basis. Putting together these academic institutes that will have the opportunity to benefit from the inter-disciplinary collaboration of research will be invaluable, not only in terms of the economy of some shared facilities, but also the exponential value of sharing ideas. The potential will be unlimited.  
For 30 years you've served the City of LA as an elected official and council staff. You dealt with many major initiatives, including both Getty projects. How is AltaSea benefiting from your vast experience seeing major Los Angeles civic developments to fruition? 
I think it's been a combination of things. First off, I give kudos to Mayor Villaraigosa and his administration, particularly Aileen Adams, Deputy Mayor for Strategic Partnerships, whose focus was to ask what philanthropic institutions can do in partnership with our city. She served as a coordinator to tap the talents of philanthropy in our region to deal with and help solve our regional problems. AltaSea is wedding that philanthropic realm to an academic realm of research, as well as to public participation and private partnership. Usually you hear of public-private, but this is public, private, nonprofit, and potentially commercial. I've never seen anything that tries to draw all those four paths of opportunity together. It just gelled. 
The initial idea and possibility of this concept came from Dr. Geraldine Knatz, the Executive Director of the port. And, there is no question in my mind, that having a fellow boardmember on the Board of Harbor Commissioners, Robin Kramer, who matches me in years of experience and various paths of experience in the government and the nongovernmental sectors, helped early on in dealing with the city attorney and getting us all to think outside the box, we recognized early on that the concept was bigger than a city government entity could take on. This couldn't be something that a city commission or public commissioners could be involved in beyond a certain point of helping to spark the idea. To see how it has evolved has been truly exciting, and it continues to generate very positive reactions across the board, even in times of limited resources. People really see how different this is and how spectacular it could be for this region and the nation. 
Lastly, what should future City Hall leaders understand about the challenge of executing projects like AltaSea? 
First, one needs to have grounding. I don't think one could start out in one's career and put as large a concept as this together. I think you need to have a lot of seasoning and a sensibility of who and where and how the various pieces fit.  You also need an incredibly willing team of people from various communities who see the exponential benefit of the idea if we can all come together.   
I think this has been demonstrated, to some degree, in the realm of education where all segments of our society see the need to help do what they can spur solutions that can lead to educational advancement for our kids, and in the long term, for our society. I think both the public sector and private sector realize that the solutions can only come from an open approach, welcoming all ideas to the arena. It's about being open, and particularly being able to think outside the box from what government alone can normally do. With these new kinds of partnerships, everyone can have a chance to participate and contribute to finding solutions and putting that together can and will have an unlimited positive benefit on our society.