Inglewood Mayor James Butts has 39 years of experience in public safety, municipal government, and education, including nearly two decades as a police officer in Inglewood, where he was recently elected mayor. In the following talk with TPR, Mayor Butts discusses the Crenshaw Line, relations with LAX, and the importance of Redevelopment in kick-starting Inglewood's Forum and Hollywood Park Tomorrow projects. Butts also shares Inglewood's plans for pursuing revitalization in the post-Redevelopment era, opining that tough economic times have left cities to their own devices when it comes to attracting development dollars.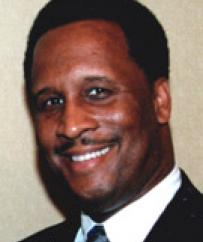 "[T]he State of California is in such bad condition year to year in stabilizing revenues and living up to its obligations with the schools. I doubt you will see a replacement for tax increment financing in the near future." -Mayor James Butts
Mayor Butts, you spoke recently at a USC Real Estate, Law, and Business Forum on a panel titled: "The Redevelopment Adventure That Never Ends." Has the termination of all CRAs in California ended the City of Inglewood's redevelopment initiatives and planning?
Mayor James Butts: Absolutely not! In fact, we are in the beginning of an economic renaissance—if this was a mile race we'd be finishing the first lap.
Does your success mean that Inglewood has no need for a Redevelopment Agency?
Mayor James Butts: It's not because we don't need community redevelopment. Actually, the last gasp of Redevelopment got us out of the starting gate. The difference between Santa Monica, Culver City, and Inglewood and Compton is, to me (and I'm a business major), the risk component. It's less risky economically to develop in cities that have established entertainment, retail and dining synergy. Political instability adds to economic risk as well. But even with all those advantages put together, the Redevelopment dollars allowed us to compete for large corporations' attention and investment.    
One of the last things that we obligated the Redevelopment Agency to do—in addition to the bond money we had already obligated for roadways, a senior center, and other community projects—was a rehabilitation loan funded through tax increment to Madison Square Garden, Inc. to renovate The Inglewood Forum. By that single act of entering into the development agreement, the long dormant project across the street, Hollywood Park Tomorrow (which has had a difficult time assembling investment capital to do infrastructure work since 2007 when it was entitled) received pledges of over $180 million within weeks that has allowed them to move forward. While it can be debated whether or not the Forum purchase by MSG was the final factor in the investors' decisions, it certainly didn't hurt.   
With the infrastructure work for HPT online for 2014, the Forum in reconstruction, we now have other investment/construction consortiums coming here who want to spend their own money for other projects because they see the economic foundation being set. Additionally, in the year since the Forum sale was transacted, real estate values have gone up an average of 12 percent in Inglewood, average listing times (time from when a property is listed for sale to acceptance of an offer) for home sales has dropped from an average of six months to 30 days. We've had a number of investment groups buy up foreclosed properties all over the city and rehabilitate them. Instead of flipping them, they're holding on to them for the future and renting them for good market rents rapidly. All these indicators tell us that interest in Inglewood as a place to invest, to do business, and to live… is rising.
So the tools of Redevelopment helped stimulate new investment in Inglewood?
Mayor James Butts: Let me tell you there is no doubt that Redevelopment's tax increment financing was a major catalyst that helped put us back in the race to compete as a destination city.
With the end of Redevelopment in California, as we knew it, how is the City unwinding or dealing with that governor's termination of Community Redevelopment Agencies?
Mayor James Butts: Like everyone else, we're going through our successor agency and oversight board; we're developing a land disposition plan; we're reconciling our Redevelopment funds with the state so that they know they get everything they are entitled to. That's just another phase of life we're going through right now.
Without city redevelopment, what tools do you, as mayor, now have to advance the economic vitality and livability of Inglewood? Do you see a future for something like tax increment financing to replace Redevelopment going forward?
Mayor James Butts: I doubt it for the time being, at least, because the State of California is in such bad condition year to year in stabilizing revenues and living up to its obligations with the schools. I doubt you will see a replacement for tax increment financing in the near future. Legislators however, recognize that at some point, something must be done. Unfortunately, as I see it, for the near future, the advantage will go to cities that are positioned and poised to be attractive in and of themselves by the factors of geography, proximity to major transit, or other vibrant locations. In Inglewood we have all of the above. We're minutes from the beach, a mile from the airport, 15 minutes from the South Bay cities, right in the epicenter of four major freeways, and we've proven in years past that we can flow traffic to support 39,000-43,000 people on a daily basis when the track was in session. The Metro Rail project will bisect our city. So we have factors and the capacity to bring people and cars here in mass numbers, a developer's dream.    
Now that we have the foundation of Madison Square Garden and Hollywood Park Tomorrow—which will have its own indigenous customer base of about 2500-3000 homes—we are positioned to move forward with or without some substitute for tax increment financing. I feel bad for the cities that didn't get that one big anchor to move forward post tax-increment because it will be difficult for them.
Is this unwinding phase of redevelopment going smoothly or are there bumps in the road?
Mayor James Butts: The state has tasked the Department of Finance with handling the unwinding of Redevelopment. The legislation ending redevelopment was dawn in haste and the implementation has not been the smoothest process. I think there have been 81 lawsuits filed across the state in opposition to some of the decisions of the DOF, and that's indicative of how ambiguous portions of the legislation are, how chaotic this unwinding has been, and how traumatic the dissolution has been for cities in dire need of this economic stimulus tool.
We will return to these issues, but please address in greater detail the city's Madison Square Garden development project. What are the ambitions of both the city and the developer, and are they aligned?
Mayor James Butts: Well, the ambition is to upgrade the facility while keeping its iconic, classic architecture in order to hold concerts, community events, possibly Grammy Awards shows—basically to make it their West Coast flagship. It is Madison Square Gardens' only entertainment venue on the West Coast, and we're proud of that.  Among others, a major advantage of the Forum is its oval shape and hence, its excellent sound propagation properties. It has long been a preferred venue for the top entertainers.   
We feel that the Forum will have great synergy with the Hollywood Park Tomorrow project across the street. Together the two sites will anchor the new economic core of the City of Inglewood. We expect it to be our version of Universal City Walk or the Grove, and it's already spurred interest in development along what we call the D3 site of Florence and La Brea (it used to be a Buffington Cadillac facility). We want to see a project that goes from the Buffington site across Market Street to the CVS lot , and we want to see development that encompasses all that acreage and goes south all the way to Manchester Avenue. It's our hope that we will end up with something like Old Town Pasadena, something that has a mixed-use component, perhaps some 2nd story housing over 1st floor retail— including a renovation of the iconic Fox Theater on Market Street—this will allow us to have two thriving, but compatible business districts.  
If we speak in a year about the Forum, what progress will have been made?
Mayor James Butts: In a year the Forum will be open and booking acts. We will probably be halfway through 300,000 square feet (of a total planned 600,000 square feet) of retail at Hollywood Park Tomorrow. Century Boulevard will be in the process of being renovated from Van Nuys to La Cienega, and it's my expectation (we don't have one before the Inglewood City Council yet) that we will have a development deal signed for the D3 site at Florence and Labrea.
Let's turn to the Crenshaw/LAX Transit Corridor Project, which is scheduled to open in late 2018 and is set to extend from the existing Metro Exposition Line at Crenshaw and Exposition Boulevards to the Green Line's Aviation/LAX Station. What impact will the new Metro line have on Inglewood? What is the City doing in preparation for this new rail line?
Mayor James Butts: What are we doing, or what are we having done to us? Let me put this in perspective. The greatest economic benefit and attraction for ridership of that line would have been, instead of using the old Burlington Santa Fe Railroad line, (which goes along Florence for the most part), for the route to have turned South on Prairie, done a grade separation, and created stops at The Forum and Hollywood Park Tomorrow sites. At Century, the below grade train should have gone westbound with stations in Inglewood and Los Angeles giving access to the hotel corridor/business districts and then terminate at LAX.    
If I were mayor at the time, that's what I would have pushed for. Then we could have had mass transit rail access to the Forum and Hollywood Park. That would have been ideal both for Inglewood and Metro because this scenario would generate greater ridership and provide even more incentive for high quality economic development. I would opine that at the time the Metro line plans were being drawn, because the recession had hit and the housing market had collapsed, perhaps the critical mass of stakeholders did not see a future for the ambitious Hollywood Park Tomorrow proposal. It would have required stakeholder champions to fight extremely hard to fund the more expensive right-of-way grade separation (tunneling expense and land acquisition) required. There was no deal in sight for The Forum, and the Lakers (NBA) and Kings (NHL) left seven years prior. So they went with the cheapest right-of-way to purchase, and that was the train tracks.    
The train route includes only one of the business districts in Inglewood, and that's Market Street, and Market Street is in dire need of revitalization. In large measure because of the Forum project, we're getting proposals on the table, but we need Metro to build a pedestrian overpass from the station so pedestrians don't have to go a block back to the light at Locust Street, cross, and come back to walk down Market Street. We're working with Metro to try to make that happen.
With Inglewood adjacent to LAX, what has been the economic relationship between Inglewood and LAX over the years?
Mayor James Butts: The primary synergy between LAWA and Inglewood has revolved the fact that Century Blvd is the main artery to LAX and traffic travelling from the 110 Freeway on Century to LAX had to come through the eastern border to the western border of Inglewood. With the completion of the 105 Freeway we lost that advantage.  After the departure of the Lakers and Kings to downtown LA, our relationship has centered on noise mitigation measures, sound insulation programs, and community benefits associated with us being in the flight path. Since I've been in office, that relationship has flourished. For about five years I worked for the airport as a Deputy Executive Director in charge of homeland security and public safety. When I became Mayor, I discovered that our sound insulation program had suffered significant procedural problems and bad management decisions at the policy and operations level. We needed to improve the management of the program, and we had lost eligibility for about 36.8 million dollars in grant funds. We've reestablished our relationship and credibility with LAWA, and we will insulate 1000 homes in the next 12 months, and 1000 more in the year after that, putting us on track to meet the 2015 deadline for the contours change. I've found LAWA to be an outstanding partner in living up to their commitments to Inglewood in mitigating the impacts of flights over the city.
Mayor, you have a unique set of experiences: 40 years in public safety, municipal government, service as Chief of Police for the City of Santa Monica and Assistant General Manager (Deputy Executive Director) of Los Angeles World Airports. Many citizens now shy away from public service, but you've thrived. What can you offer our readers in the way of a testimonial for the professional life you've lived?
Mayor James Butts: Growing up I wanted to be one of two things: a Los Angeles Laker or a corporate attorney. Life steered me differently, and that's a story for another time, but being a public servant, starting with being a police officer, has been one of the most rewarding things in life.
At the age of 21 I was protecting people, going to the homes of middle-aged people and settling their marriage disputes, looking after young people, helping them find their way. Then as I advanced in the management of police departments, I actually became responsible for the safety of large populations of residents. Then came working for the airport and being responsible for the safety of the 60 million+ passengers that passed through LAX, Ontario, Van Nuys and Palmdale Airports on an annual basis. Finally becoming a mayor and be responsible for the totality of municipal services for 119,000 people 24/7/365 has been the most rewarding experience I've ever had.
I'd say this about public service: if you have a private-sector "get it done" attitude, then you can do more in the public sector than in the private world because you are focusing your talents and attention on the well-being and quality of life of hundreds of thousands of people.