More than $100 million dollars is being invested in Dodger Stadium by new ownership this off season, and TPR is pleased to share comments and interviews with management (Stan Kasten and Janet Marie Smith) and two of the three design professionals (Brenda Levin and Mia Lehrer) most responsible for enhancing the fan and player experience without, to be sure, losing what makes Dodger Stadium such a magnificent ballpark and so iconic.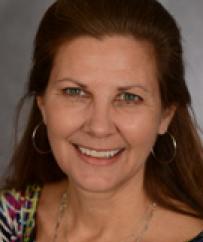 "Many aspects of Dodger Stadium had fallen behind the times and no longer service fans or players in a way that is appropriate for a Major League Park. Our Challenge is to upgrade the venue without changing its character and charm." -Janet Marie Smith
Stan Kasten: As many of you remember, eight months ago the Dodgers made a lot of commitments and a lot of promises. First, we committed to do what we could to improve the team, and we worked aggressively all last summer, adding players to the Major League roster and coaches to the Major League and Minor League rosters. We have expanded community service and given more access to players doing things in the community. And we dedicated two more Dodger Dream Fields.  
We committed to making the fan experience the best that it can be, taking things that we love about this magnificent facility and enhancing them, bringing the experience into the 21st Century in a way that lets us enjoy Dodger Stadium but makes us even more comfortable and happy. You can see from roaming around the stadium that we're working very hard on that, as well.
The process that began in May involved getting input from the staff, from people who have been here, from observation, from walking around and operating the facility. We've had a lot of input from dedicated fans, and, of course, let's not forget the feedback we had from all of you, the media, in this room. I want to thank you for that.
The process has gotten us to this point where we have put in place a very ambitious program. 
I'm going to introduce Janet Marie Smith here to run through and highlight all the things we're doing. We're doing about a hundred things, but we only had 24-25 weeks to get this all done. We had to make some choices, draw some lines, and make decisions about what we could get done by Opening Day. Everything that Janet Marie is going to talk about is something we're going to complete by Opening Day, April 1, but it's going to be a scramble because, as I said, we've been very ambitious and are unable to do everything this first off-season. So let me turn this over to our Senior Director of Planning and Development, Janet Marie Smith.
Janet Marie Smith: Thank you, Stan. We are thrilled to be here, and it really has been fun to listen to fans talk about this park. It's been revered since it opened in 1962 as one of the best places to watch baseball. It's enormously fan-friendly; it's family-friendly; it has a reputation of being one of the cleanest parks in baseball. We wanted to enhance all of the things that we've celebrated in the 50-plus years that Dodger Stadium has been here.
There are some things about its vintage state that aren't good, and we wanted to improve on those. Many aspects of Dodger Stadium had fallen behind the times and no longer service fans or players in a way that is appropriate for a Major League Park. Our Challenge is to upgrade the venue without changing its character and charm. So our focus this season is on the following elements that will touch every fan, every player:
New high definition video boards in left field and right field.  Existing message boards, including ribbon boards at the Loge level and outfield wall, will be replaced with the new technology as well. The unique hexagon shape of both scoreboards in the outfield will be restored.
A new sound system directed to minimize echoes and sound migration outside the stadium and to ensure that fans will have audio in the concessions, restrooms, and entry gates.
A state-of-the-art Wi-Fi network and cellular antenna system to support cell-phone and internet connectivity from mobile devices, all of which required a substantial upgrade to our electrical systems.
Wider concourses, drink rails, standing room with views of the playing field, and additional locations for wheelchair-bound fans and their companions on the Loge, reserve, and Top Deck.
Expanded and renovated restrooms with substantially more fixtures and water fountains, including fan assistance areas and family toilets throughout the ballpark.
Food service enhancements to loge, reserve and upper reserve levels including new stands, cooking facilities, and menus on the loge, reserve, and Top Deck.
New entry plazas with kids play areas on the Reserve Level
New Team Store on the Reserve Level and New Gift Shop on the Top Deck.
Displays of Dodger history and memorabilia throughout the park.
A new home team clubhouse, expanded and enhanced training/conditioning areas, and new batting cages for both teams. 
We feel that all these together will make a major difference to Dodger Stadium, to the way it's perceived by Major League Baseball and by the players, and most importantly by our fans. There are a number of things that are going to touch the park on every level, and we hope that everyone can find something that resonates with them. We're looking forward to taking you on tours of the park in the upcoming months as we get past the heavy construction to a more finished place. 
Brenda, your architecture firm, Levin & Associates Architects, has been charged with designing and overseeing the fan-related improvements highlighted by Dodgers Senior Director of Planning and Development Janet Marie Smith. Could you elaborate on your firm's responsibilities? 
Brenda Levin, FAIA: As has been shared by both Stan Kasten and Janet Marie Smith, the new ownership has made the fan experience a priority, and realizing their goals is our charge. 
Since Dodger Stadium was built in 1962 it has been a beloved landmark in the City of Los Angeles—we are committed to celebrating its historic status as the third oldest park in the Major Leagues. While Levin & Associates has had the privilege of renovating and adapting many iconic buildings in the city—Griffith Observatory, Los Angeles City Hall, Huntington's Boone Gallery, the Wilshire Boulevard Temple—improving Dodger Stadium is an extraordinary and unique opportunity for our architectural firm and for the city. 
Fifty years old now, and in a Southern California setting unmatched by any other ball park in America, the first specific challenge is to improve stadium ambiance and internal circulation for the fans. We began by creating wider concourses. To do this, we removed two to three back rows of seats on each level, seats that were not fan favorites, making this spaces places for fans to congregate. And to enhance the latter, we have designed and added drink rails—places to pause to watch the game, places which now will have a radically improved view of the stadium's playing field. 
The stadium's original design included four distinct colors, each specific to a level of the stadium. These new railings are color coordinated by each level, augmenting the stadium's original design.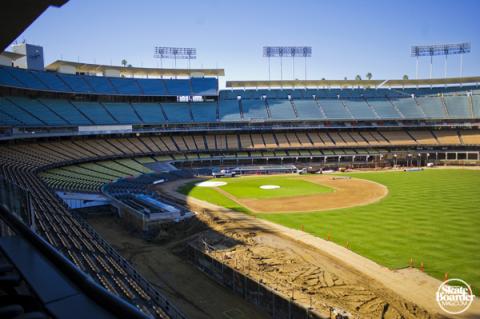 The wider concourses, which fans arriving on opening day will notice immediately, eliminate the conflict between circulation and those ever-present queuing lines at stadium concessions. The Loge level concourse, formerly dark and tunnel-like, has been relighted and painted. As part of the Dodger mandate to improve the game experience for fans on all levels, we have also designed new food concessions and pavilion structures on the loge, reserve, and upper reserve levels, within the stadium and outside the envelope of the building, and new retail and team stores on the reserve and upper reserve levels.
In an effort to retain the integrity of that existing architecture, we have designed these new buildings using a palette of materials that are original to the stadium, including decorative concrete block, corrugated metal panels, and steel railings. These buildings anchor the new plazas that landscape architect Mia Lehrer of Mia Lehrer + Associates is designing.
I think that these improvements, along with the very necessary restroom additions and renovations, will make for a better Dodger Stadium experience for the fans who come back to the ballpark this season. At the same time, our collective efforts have also been to ensure that Dodger Stadium, a great California landmark, remains the recognizable icon and site we all have loved for over fifty years.
Mia Lehrer, your firm's - Mia Lehrer + Associates - landscape design work is meant to complement that of the stadium's architects. Share with us the your contributions this winter to the stadium improvements. 
Mia Lehrer: We are working on enhancing the fan experience as they approach the Dodger Stadium gates. When visitors arrive there will be a series of plazas that direct them into the stadium, and allowing them to also spend some time in those areas where there are team stores, food, or other amenities. There will also be two playgrounds and some fun elements that should be a surprise when people begin visiting: oversized baseballs celebrating Cy Young award winners, retired numbers sculptures, and some really fun life-size Dodger bobble heads.
The idea is to make it confortable, to have a very clear arrival sequence so as you get to the stadium you really understand where you're going. If you arrive a little early or are taking a break during the game, there will be areas to spend some quality time in that are new, different, and appeal to a wide range of fan interests. 
Mia, given that Dodger Stadium is a landmark, a fifty-year-old stadium, what are the values management/ownership provided you to guide your firm's work on the plazas?
Mia Lehrer: The instructions were to enhance the fan experience, to make it easy for fans to find their way into the stadium, to understand where you need to go upon arrival, to find your seat, to find food and restrooms, to buy tickets at the top of the park, to have a shopping experience, to really celebrate the edge of the stadium and make it a great baseball experience. Amplifying the fans' experience at all levels, whether it's upon arrival or departure, and potentially increasing people's space in the stadium's common area. We hope fans will realize Opening Day, that in the future, they might arrive a little earlier and stay and celebrate a great Dodger team a little longer.