TRP presents the following interview with Linda Dishman, Executive Director of the Los Angeles Conservancy, in recognition of 20 years of service to historic preservation across Los Angeles. From efforts to protect Saint Vibiana's to the Century Plaza Hotel to Terminal Island by the Port of Los Angeles, Dishman's work demonstrates a broad understanding and approach to preservation and the role historic icons play in communities.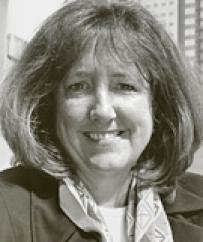 "The Conservancy has developed a track record in trying to find solutions that keep historic buildings but allow new development on the site." -Linda Dishman
Linda, you've served as the leader of the LA Conservancy for 20 years. What, as you reflect on those 20 years, is your most prized success?
Linda Dishman: The preservation movement as a whole has really grown, and the Conservancy has certainly been part of that. It's very heartwarming to see an explosion of interest in historic districts, with so many people buying properties because they want to preserve them. I find that absolutely thrilling.
In 1992, when you began, what was the LA Conservancy's mission and how, if at all, has it evolved? 
My second month at the LA Conservancy was when the civil unrest happened, and that was, for both the city and Conservancy, certainly an eye-opening experience. Our response was to get out into the neighborhoods, and to see where preservation could be a part of rebuilding. I think we did that in a way that was very thoughtful and set the stage for some of our more proactive efforts later on.
Elaborate, please, on the mission of the Conservancy today and what propels that mission.
Our belief is that historic places are a critical part of our communities and our future. I think there's a perception that preservation groups are just about the past, but in fact we are very focused on how to adapt these buildings so that they serve as key components of our communities now and in the future. 
Share who over the years has joined the Conservancy? What motivates them to participate today? 
We've really grown our membership, and people are often surprised to hear that we have almost 7000 households as members and that we have the largest membership of any preservation group at the local level in the country. People would say, "Oh, New York or Chicago must have more members because they really care about preservation there." But in LA we have a very large and stable membership.
I think the people who care about preservation here are across the board. It's people from all over the city, all over the county, even around the country and abroad. It's people who love their neighborhoods and their houses. It's people who live, or wish they lived, in a historic neighborhood. There's no one stereotype that fits our membership. That's what makes it so exciting! When I'm at an event I love talking to members to find out why they are interested in what we do. People take our walking tours on the weekends and become members. People go to our film series and become members, or people read an article in The Planning Report and become members. It really runs the gamut, and that's what makes our membership so strong.
One of the defining moments of the Conservancy was the battle for Saint Vibiana's. Could you comment on that fight's importance for the Conservancy? 
I do think that the effort to save [the former Cathedral of] Saint Vibiana was a key point for the Conservancy in several ways. First, we really marshaled every resource we had and were fortunate to have pro bono legal assistance since we had to go to court twice in one summer. It was a tough summer, and our board, staff, and members really found a resilience in terms of fighting when everyone was against us. I view that as a defining moment for us. 
Second, the whole effort really caused us to consider that we want to be more proactive—not always against projects, but for projects that reuse historic places in the right way. Out of that, we had a year of discussion and ultimately launched our Broadway Initiative to help revitalize the Historic Core of Downtown. That was an amazing effort because we were working on the same side as developers. We certainly had enjoyed good relationships with developers, since we need them to come forward to save historic buildings, but this was a further step in that relationship.
Today we have news headlines lauding a 'reuse renaissance'. Please reflect on what's happened to Broadway and the Historic Core over the past 20 years.
20 years in the history of these buildings is not very long, but I think they've been a really critical 20 years in showing that they can be brought back to life. The upper floors were vacant. While on Broadway there was a vital street life on a commercial level, on Spring and Main, not so much. Our efforts focused on finding new uses and bringing these opportunities to the attention of the development community. A lot of this coincided with the Adaptive Reuse Ordinance that was adopted by the City, which made it easier to adapt these buildings. 
I think one of the things that is important is to figure out how we get to preservation. The Adaptive Reuse Ordinance was certainly one of the ways, but there were many other components. The Conservancy was able to bring grant funds to Broadway for facade improvements, for cultural events in the theaters, and to provide day-to-day assistance to the property owners in getting the job done, in getting these buildings rehabbed. 
To me, one of the more heartwarming things is to be able to look out my office window at night and see lights on in these buildings!
There are many landmarks that are part of the landscape and culture of metro Los Angeles. How does the Conservancy choose what to save from the many candidate residential, office, commercial, sports, and public buildings that technically qualify as historical? 
We look at many factors. How significant is the resource? Are there other groups that are fighting to save the resource? Do we need to be the lead or should we just be helping? It's hard because often there are lots of resources that are threatened. It's a thoughtful process, and our goal is really to find a win-win solution that serves the needs of property owners while preserving the historic resource.
Let me give you a good example: the Century Plaza Hotel. The developer bought it and announced that he wanted to demolish the building and replace it with two high-rise towers. When we first embarked on this issue, there were some people who didn't think it was really historic. It was built in 1966, and it wasn't yet 50 years old. But in looking at the context of 1960s architecture and the role Century City played in the development of Los Angeles, we really felt that this was a key issue, one we needed to take a leadership position on.
We worked with the National Trust for Historic Preservation to get the Century Plaza Hotel designated as one of America's 11 Most Endangered Historic Places, and we worked to make the potential loss of the hotel a campaign issue in Council District 5. When Councilmember Koretz was elected, he said in his first week in office that he wanted this building saved. His staff really pushed the two sides to come together and find a solution. The effort to find that solution—we had 13 meetings with the developer over a three-month period—was successful. Now we're thrilled that the hotel is going to be saved. I think the developer would say that he is pleased that the hotel is being preserved and is a centerpiece of the new development.  
Every passing year, 50-year-old buildings qualify as eligible for designation as historic. What buildings in 2012 have become eligible? Is the Conservancy interested in protecting any particular buildings?  
Just a couple of well-known buildings that turned 50 this year are the LA County Hall of Records and the great Garcia Residence by John Lautner. 
One of the places where we are very active right now is the Port of Los Angeles, whose Terminal Island was listed this year as one of the 11 Most Endangered Historic Places in America by the National Trust for Historic Preservation. We've been working to save buildings on Terminal Island at the Port for the last seven years. There's currently a master plan being drafted by the Port staff. We are working closely with them to make sure that preservation is a part of that plan and to make sure that these resources can be protected. 
It's interesting because not everyone knows about the Port of Los Angeles and what it looks like. Part of our effort here has been focused on awareness-building, not only on what resources are there but why they are important. The canned tuna fish industry really began on Terminal Island, with StarKist and Chicken of the Sea, changing in many ways how America ate. 
Any other buildings that could potentially attract the Conservancy's attention? What about Dodger Stadium?
Well, we certainly love Dodger Stadium—which also turned 50 this year—and we are hopeful that the new ownership loves it as much as Angelenos do. We are hoping to meet with the ownership team at the stadium soon to find out what their plans are. We try to reach out early in the process. We've traditionally had a good relationship with the owners of Dodger Stadium, so we hope to continue that tradition.
Elaborate on the significance of the 50-year demarcation for historic designation?
That is a traditional demarcation of what is widely considered historic, though not every old building is historic. In Los Angeles the 50-year mark may have a little less value because so much of our growth happened after World War II. We want to make sure we don't lose things before they turn 50-years-old; we don't just want to save what's left of the '60s, for example, but what's important from the '60s. 
We did an initiative several years ago called The Sixties Turn 50. Many people responded by saying, "That can't be historic because I remember when that was built!" It was interesting feedback because people don't want to think that they themselves are historic. That played into what people think is significant or not. But we've found with the Century Plaza Hotel that it had tremendous national history, a great architect, but also stories of weddings and bar mitzvahs, all sorts of personal celebrations taking place at the hotel. That makes things significant, people having their own attachments and personal stories occurring there.
Elaborate on the Sixties turning 50. What is significant about 1960's Los Angeles architecture? 
As we've delved into the '60s, one of the things I've found so compelling, having grown up in California in the '60s, is that it was such a period of optimism. You had the 5 Freeway being built; you had the big water projects; you had the development of the UC system. The architecture really speaks to that optimism. You see that going back to the Century Plaza Hotel with that sweep, that curve of the building. It's a period where, in many ways, Los Angeles and the state were in top form. People believed in the future and that life was getting better, that they were in this golden landscape where they were the luckiest people in the world. I think that we've lost a lot of that optimism in our city, and I hope that the buildings from this time period can help us regain that as we learn how to preserve them and bring them into the future.
Linda, describe the shifting role of the Conservancy in LA as it plays out with respect to future development.
I think there's been a shift where it's more well known when properties are historic, so when people buy a property they usually know that they're going to have trouble if they propose demolition since it's a historic resource. The Conservancy has developed a track record in trying to find solutions that keep historic buildings but allow new development on the site. The Century Plaza Hotel is a great example.
One thing that we've seen with the historic resources of post-war LA is they have a lot of surface parking to accommodate the car. It's not the same kind of lot-to-lot development of Downtown, where there's no flexibility in terms of increasing square footage. 
There's a lot of room on these lots. Columbia Square is another good example of density being developed near a transit stop, yet the historic CBS Studios is being preserved. I think we'll see more of that, with historic buildings as the centerpieces of new development. 
The Julia Morgan 2012 State Festival begins this October and lasts for over six weeks. It celebrates the life and work of California's first licensed female architect, one of the first female civil engineering graduates of UC Berkeley, and the creator of over 700 structures in California alone. Is the Conservancy involved in recognizing her accomplishments? 
A large part of what the Conservancy does is education. We want people to know about the jewels we have in our communities. As the Conservancy's contribution to this statewide celebration, we're going to be doing an event at the YWCA in San Pedro, which was designed by Julia Morgan as one of her earlier works, dating to 1918. It is absolutely quintessential, fabulous Julia Morgan, and I had never been there until we started looking at Julia Morgan resources for an event location. We're excited to be going to San Pedro, and we're excited to showcase Julia Morgan's work. We're proud to be part of a statewide celebration of this architect who did so much, both as a groundbreaking female architect and a great architect, period. 
If we interview you again in 20 years, on your 40th anniversary as the LA Conservancy's leader, what will we be discussing?
Hopefully we'll be talking about how the County of Los Angeles and its 88 cities all have preservation ordinances. Right now about a third of the cities in LA County have no preservation ordinances to protect historic properties, and about a third of them have pretty weak ordinances. We're working to reach out to cities. The County has just begun a process to develop a preservation ordinance. That's the first step. If we have an ordinance in every city there'll at least be a process to look at preservation and decide what's important and what should be preserved. 
<