Joe Buscaino is the newest member of the Los Angeles City Council, elected in January 2012 to fill the vacancy left by Janice Hahn. He represents the 15th Council District and chairs the Council's Public Works Committee, which oversees the Department of Public Works. His Council District includes the Port of Los Angeles and the communities of San Pedro, Wilmington, Harbor City, Harbor Gateway and Watts. TPR asks Councilmember Buscaino about his goals and focus on the job.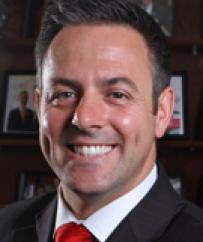 "But sidewalks, tree trimming, and street lighting should all be the City's responsibility. A bond measure, something to secure new revenue, I think, is the only way to take on this crucial task." -Joe Buscaino
Councilman, you were elected last year to the 15th LA City Council District, replacing now Congresswoman Janice Hahn. Please share with our readers your background and what drew you to seek city election?
Joes Buscaino: I'm a son of immigrants. My family emigrated here from Italy a little over 40 years ago. They landed in San Pedro because of the once thriving fishing industry. My dad worked the fishing industry and my mom worked the canneries at the port. My father later moved on to Di Carlo's Bakery, working there for over 25 years.
My two sisters and I went to school in the San Pedro public school system. I moved on to Los Angeles Harbor College in Wilmington, transferred to UCLA, and finished at Cal State Dominguez with a degree in communications. But my family brought us up and emphasized the importance of giving back.
I joined the LAPD and worked a blessed fourteen-year career with the department. It was important for me to serve my hometown as a police officer. In a city so large it's rare that you get to know your neighborhood cop. During my last six years at the LAPD I served as a senior lead officer, and in San Pedro I was able to partner with the community, build neighborhood and business watch programs, and work with community-based organizations and local non-profits. I organized a teen program that helped reduce youth violence in the Harbor Area.
When Janice Hahn decided to run for congress, it was a great opportunity for me to have a larger audience, to do better things, and to be at the top of the food chain. In police work you go through the chain of command, so some of the frustrations I had as a police officer lay in going through the chain of command to get things done. As a police officer I dealt with poverty, and I've seen the despicable choices poverty puts on people. I wanted to help. It was a true grassroots campaign.
I've been married 11 years with my wife who has been a schoolteacher for almost 15 years, and for her too it was important to work in her own town as a schoolteacher. And my wife Geralyn has taught in San Pedro for many years, and we're raising our kids in San Pedro. We have a vested interest in our city, in San Pedro, and in the Harbor Area. Ultimately, we want our kids to stay here, we want our kids' kids to remain in the city, and we want to improve the quality of life overall.
Share with our readers the communities, demographics, and planning issues associated with the 15th Council District.
We have nearly 260,000 residents, and I think we are one of the most diverse districts in the city. We're home to the Port of Los Angeles as well as one of the poorest communities in the city, which is Watts. I also represent Wilmington, Harbor City, and a section called Harbor Gateway in the northern part of the district. Historically, a councilmember elected to this office is from San Pedro, but I'm here to serve everyone in this district, as I did as a police officer. I worked the streets in Wilmington, in Harbor City, and in Harbor Gateway.
We have the industrial part of Wilmington, and I have the most housing developments in the city. One of my first actions as a councilmember was to spend a night at Jordan Downs, one of the most violent developments in LA. That gave me an opportunity to meet the residents and to introduce myself, because they really didn't know me. Harbor City has a huge residential area and you have an incredible business corridor along the PCH. Of course Wilmington is an amazing community, full of spirit, with a lot of folks who are interested in improving the quality of life in Wilmington. It's home to a number of refineries, so we have some environmental impact here in Wilmington and a number of pipelines.
Focusing on the Harbor and Port of Los Angeles, elaborate on the planning challenges of balancing the infrastructure investment needs of the Port and the livability and health impacts Port growth has on your constituents in Wilmington, Harbor City, and San Pedro.
There's no bigger planning project than the Port of Los Angeles. In this economy, no one's building, but here the largest and busiest container port in the country over the next five years will invest $1.5 billion in capital improvement projects to make sure that we have the most efficient infrastructure in place. With the widening of the Panama Canal we need to be the most reliable goods movement system in the nation. Ultimately, the $1.5 billion in improvements will help the Port move cargo containers faster and more efficiently.
You talked about livability. I've always said that the Port ought to be not only the international gateway of cargo but also the international gateway for people as well. The most exciting element in the capital improvement plan is the $1.2 billion investment in the LA Waterfront Project that was approved in 2009. That will create over 4000 new local jobs. You're looking at a 30-acre redevelopment site—Ports O'Call—that includes 30,000 linear feet of rare waterfront opportunity and 375,000 square feet for retail, tours, and related uses.
We always hear about the success of Seattle, Baltimore, and San Francisco, and even of our neighbors in Long Beach. Our waterfront ought to be a destination. Between the USS Iowa and Crafted, which is the largest indoor craft marketplace in the country, it's a major gathering point with over 100,000 new visitors to the area since June of this year. This waterfront development plan is something that I campaigned on, and it's no secret that I want this development to be the central element of my economic development plan for San Pedro and the Harbor area.
As a police officer, my first assignment was in Downtown LA, and I remember arresting drug addicts, prostitutes, and gangsters on Francisco Street and Georgia Street. What's on those two streets today? It's a complex called LA Live. With proper planning and development, what LA Live and also parts of Hollywood have done is weed out the poverty in these two areas. It's put people back to work; it's become a destination, and that's what I'll be fighting for with the LA Waterfront.
Councilman, for more than 25 years, TPR/MIR have covered the hopes and plans of San Pedro's Waterfront, including the promise by Janice Hahn and Mayor Hahn to bring investment and redevelopment. What's inhibited City attention and investment to date? 
We say that we're the cul-de-sac of the City of Los Angeles, but we're also the hidden gem. We are a seaside community, like Point Loma or Downtown San Diego. Yes, we are at the south tip of LA, but we say we ought to bring the sea to the city and the city to the sea. It's amazing what a waterfront attraction will do to a city.
Please give us an update on the status of San Pedro's Community Plan, what it includes, and what our TPR readers should know.
I'm really excited. We just had a briefing with my planning deputy, Alison Becker, as well as Michael LoGrande and his team. I'll share with you some of the major themes of the plan.
The first one is to protect single-family neighborhoods. We have a stable residential population; almost 40 percent of our community resides in a single-family neighborhood. Thankfully, this plan protects these neighborhoods from additional density and new development. But the plan does need to accommodate some new residential units, and it does that by encouraging mixed-use developments in our downtown area. This is a critical component for San Pedro. We have some developments already in place to bring people to live, shop, and work in the downtown region.
A second major theme of this plan is to concentrate growth in the downtown district, as I just mentioned. We have lofts; we have The Vue already in place; we have developers who are eyeing some other key parcels in downtown San Pedro. It's important that we make downtown an attractive place to live and work, crafting design guidelines to improve the quality of development there.
Another major theme is to adapt the streets and sidewalks so they are safer for pedestrians and cyclists. It's amazing how many cyclists come in and out of our town from Rancho Palos Verdes, down the hill, and from other parts of the region. What this part of the plan will do is encourage infrastructure improvements that support a variety of transportation options.
My dream is to one day have the Green Line come down to the Harbor Area. That will connect Downtown, the airport, down to the Harbor. They're telling me to dream big so I'm dreaming big. I would love to see that in place. The transportation component is so important to bring people in. Workers could easily take the Green Line to San Pedro, and people visiting from the airport could come straight down to the waterfront right off the airplane. I do know we have train tracks in place because of our Port, so it could be possible.
Going back to the plan, we hope to support job development by encouraging land recycling in industrial districts and new industrial development that's clean and green. We do have some industrial areas in San Pedro. They're not very active, with aging facilities, and the plan will protect these areas for new business and encourage green industry. Clean industry is important since the areas are so close to existing residential neighborhoods.
Another major theme of this plan is to protect the community's scenic and cultural assets. I've been really blessed being brought up in San Pedro. Now my wife and I are raising our kids there, in such a beautiful, scenic town with so many cultural assets. That's something that we need to capitalize on, to celebrate, and to invest in. We have beautiful views of the Harbor, the Pacific Ocean, and we have a number of cultural sites like the Korean Friendship Bell and the historic preservation district called Vinegar Hill in San Pedro. So this plan also emphasizes these community assets as our foundation for future development.
Lastly, the plan calls to strengthen the San Pedro Waterfront as a regional destination. For decades we've been thirsting for an opportunity for the Waterfront to be a destination, not only locally but also regionally and nationally. Let us remember that we have a cruise terminal at the Port of Los Angeles. What I found growing up is that when cruise passengers disembark from the cruise, they have a number of busses waiting to take them to everywhere but San Pedro and the Harbor Area. To me that was alarming, and we want to change that. We want people, upon getting off the cruise ship, to remain in San Pedro, to spend their dollars in San Pedro, to ride a bike in San Pedro, and to visit one of our art galleries in San Pedro. This plan strengthens that effort in making sure that San Pedro is not only a waterfront destination but also a regional destination. 
Is the unattractive freeway gateway to San Pedro part of the reason it's a hidden gem? Are there any plans to change how the 110 Freeway flows into Gaffey?
For me, first impressions are everything. We ought to look at the traffic impacts of people coming in and out of the Harbor Area because the last thing we want to do is back up traffic—we want to make it an enjoyable experience. Now, what I have planned is to beautify the entrance of Gaffey in working with State Assemblywoman Bonny Lowenthal. At the end of the freeway and Gaffey, you have this huge pile of weeds sitting on the right. I would like to see a parade of flags of our sister cities, maybe, or something with a water element. Again, first impressions are everything.
We also need to work with Caltrans to perhaps widen our freeway—actually, the Port is already working on that plan for the Harbor Freeway. Today we're re-surfacing the entire Gaffey corridor, which is a start. We're also looking at putting together a plan with the Gaffey business improvement district that has received interest from a number of the property owners along the Gaffey corridor. Gaffey is a main artery, as is Harbor Boulevard, going into the Harbor area. We have to make it attractive, and we have to be sure that when people come visit us down at the Harbor they will want to come back. 
As the Chair of the LA City Council's Public Works Committee, what is the City's plan to fix the 42 percent of the 10,750 miles of sidewalks in LA that are believed to be in disrepair?
These crumbling sidewalks are the single biggest publics works issue facing the City, it's no big secret. I think the issue here is that the public has not been educated enough on why the City is in this position. State law in 1911 mandated that property owners be responsible for construction and maintenance of all sidewalks, and in 1973 the LA City Council took responsibility over sidewalk issues without even considering how the City would pay for them. And here I am as a new councilmember with a new set of eyes on this citywide problem, and I've come to see that without adequate funding, sidewalks have been steadily deteriorating for over 3 decades. You can say that it's a failure of leadership by forefathers back in the day; you need to figure out how to pay for fixing these 4300 miles of broken sidewalks. But sidewalks, tree trimming, and street lighting should all be the City's responsibility. A bond measure, something to secure new revenue, I think, is the only way to take on this crucial task.
There's talk of a study that street services wants to put out—that's something I'm looking at. We need to know what the heck the problem is and how much it's going to cost before attacking it and fixing these sidewalks. 
TPR has recently done a series of interviews, with Councilmen Krekorian and Huizar as well as City Administrative Officer Miguel Santana, focused on the City of Los Angeles' structural deficit. Given the City's budget is $7.2 billion—more than $20 billion in total if you include the City's proprietary departments—why is there a need to search for additional revenue to cover the costs of repairing city sidewalks?
Naturally, public safety, police and fire, are of the utmost importance, I feel. It's not because I worked the police department. I've always said if people don't feel safe, they're not going to want to live here, work here, visit here, build here, and do business here. We have had the best crime reduction numbers over the last 50 years, and I think that's a testament to doing more with less. It's also a testament to the police department's community-based-policing philosophy.
When you look at infrastructure, people want their streets paved, their streets lit, and their trees trimmed. It's important that we provide adequate services. But if you look at the Planning Department, a critical component to city government, you see we're cutting department staff. It's a concern. I know this last fiscal year we've added a couple positions, but over the last decade or so they've cut the Planning Department damn near in half.
You also need to look at what we have in place. Let's look at how much it costs to run the zoo and the convention center. Those need to be examined when it comes to prioritizing our budget. Even today I stood with the Mayor in support of his pension reforms, which include upping the retirement age and having new employees contribute more. Police and fire have a new tiered pension system, and I really commend their efforts in going to the voters.
We need to find ways to bring business to LA. We need to find new revenue sources. In my district I'm surrounded by more business-friendly cities, like Carson, Torrance, Long Beach, and Rancho Palos Verdes. This is why I supported an expansion of the business tax holiday. A business on Western can pick up and move across the street to Rancho Palos Verdes to a city that offers more incentives.
If we talk again in 6 months, what will be the benchmarks of success?
Well, we're going to have a developer in place for the LA Waterfront. That's mission accomplished on that end.