Councilmember José Huizar's 14th District has undergone dramatic changes with the recent redistricting effort placing most of Downtown Los Angeles under his supervision. TPR spoke with Councilmember Huizar on the new challenges and opportunities that have arisen in the 14th District, the current state of the Downtown Streetcar Project, and his contributions to the effort as a boardmember of Metro. The development of new public transportation systems is driving growth in Los Angeles, and Councilmember Huizar's district is becoming the face of this change with development along Broadway and the forthcoming Regional Connector.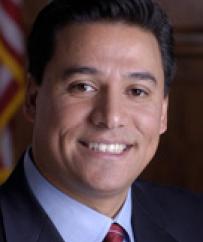 "Metro is acting as the administrator right now. It is conducting the EIR and applying for these funds. The question still remains: who will operate the streetcar?" -Jose Huizar
Councilman, this year's redistricting process has shifted much of downtown Los Angeles into your 14th Council District. How has redistricting changed your priorities and your focus as councilman? 
José Huizar: First of all, we know that Downtown is a major economic development driver for the region: 500,000 people come to downtown each day to work. Ten years ago we had about 10,000 residents, and now we have somewhere near 50,000 people calling Downtown home. It is uniquely situated to provide jobs and economic prosperity for the region. 
Now that the majority of downtown is in my district I hope to focus on several things to continue the momentum. Number one is to continue the economic activity that has occurred, which means to support economic development, support new restaurants, entertainment areas, etc. 
Second is to focus on livability for downtown. We have a lot of folks who come when they're young but move on once they start having families. We want to make this a place where you can raise a family, which means perhaps larger apartments and condos, more parks, and schools. 
Finally we hope to connect all of downtown. Having all of downtown in one council district presents a unique opportunity to create a common vision and plan for the future, but you have very distinct neighborhoods now. The challenge is, how do you connect all of these distinct neighborhoods into one common vision for all of downtown? 
TPR covered, in the early years of the Villaraigosa administration, a skirmish between CRA and Planning—Cecilia Estolano and Gail Goldberg and the Central City Association and residential developers—over the merits of preserving industrial land east of Alameda. It was never totally resolved, but the facts on the ground suggest clear erosion of industrial land. Could you comment and update our readers on the city's industrial land use policies?
We have to create new jobs in this new economy, and the city is behind in attracting new emerging industries. Whether it's biotech or cleantech, we have to create a list of incentives for companies to take advantage of. 
Other cities have been more successful than we have. For example, San Jose is successful in attracting the biotech industry, but they already have those incentives, land, and buildings already ready to go. At the same time, we have some unique areas downtown, like the Arts District where buildings can be adaptively reused for housing. While I support us trying to find new spaces for economic development and industry, we have to be strategic about where we do that. Some of the industrial areas of downtown have communities blossoming, and we should allow those communities to continue to blossom. But it has to be strategic. 
I was opposed to the original policy they put out because it's wrong to say, flat out, "no more industrial property will be converted to commercial and residential." As a policy for everywhere, one size does not fit all. 
Given that less than four percent of the City of Los Angeles' land is devoted to industrial uses, and given that the city in 2010 had 165,077 fewer jobs than it did in 1980, despite having 823,440 additional residents, is there merit in having a strong industrial land use policy? Once residential is permitted within industrial zones, don't livability demands take on a life of their own?
We have that available land zoned industrial, but a lot of that land is not being put to use. With the land that we have available, we have older buildings that new industry doesn't want to move into unless they are converted. Our clean tech site (Crown Coach Site), for example, has been sitting there for decades. 
Unique opportunities exist to create new communities, and when we convert industrial to live-work you're still creating jobs. Architects and designers use these flexible spaces. Consider the Toy Lofts: that created about 200 jobs on a space that otherwise would have remained vacant. Just because we convert those buildings doesn't mean we're doing away with jobs. We're creating different types of jobs, but they are still jobs. 
Let's turn to one of the emerging neighborhoods in downtown Los Angeles and your initiative to Bring Back Broadway in part through the reintroduction of a street car. 
I'm really excited about Bringing Back Broadway. When I first got elected about six years ago, I noticed that Broadway was the hole in the donut, so to speak. There was a lot of revitalization occurring throughout downtown except on Broadway, and that was the one portion of my district that covered the historic core of downtown. We immediately got to work, talked to a number of stakeholders, and came up with a ten-year plan. We are in the fourth year of that plan, and we have met every objective up to this point and have actually exceeded expectations. 
More businesses want to locate on Broadway today than we originally planned for. There is an Umami Burger (Umamicatessen); Ross Stores decided to locate there; the Ace Hotel has announced that they are going to move into the United Artists building. Some of these historic buildings' owners have put more money into their theaters to open them up. The Palace (Theatre) has undergone a million dollar renovation. We have some real assets in the historic theaters and in between them some beautiful buildings that need to be polished up a bit. That's where the city comes in. 
This is a real public-private partnership. We are trying to create policies that make it easier and cheaper for building owners to invest in their buildings. Right now Broadway has some activity during the day, some activity during the weekends, but at nighttime it is a ghost town. We've already adopted a streetscape master plan, and we are getting money from every fund we can to implement it, creating new signage and guideposts. We also adopted a new entertainment overlay zone that makes it easier for buildings there to convert to entertainment uses. 
We are working on a commercial adaptive reuse ordinance for the upper floors of those buildings. There's about a million square ft. of vacant space in the upper floors of those buildings, and we want to put them back to use. This ordinance will make it easier and cheaper for building owners to convert those spaces to office space. 
Finally, the streetcar is a key component. A streetcar is not only for transportation purposes—in other cities it is an economic driver. In Portland, Seattle, and Tacoma, wherever a streetcar went we saw building owners invest in their properties because there was a fixed asset bringing people to their properties. We look at the streetcar for several reasons: nostalgia; transportation-wise it's convenient and easy—that last leg for getting places downtown. It will connect Broadway, LA Live, the cultural centers up by Disney Hall, and the Civic Center. We have a lot of ways of getting to downtown, but it's always that last leg that's tough if you want to spend a lot of time downtown to get to one place to another. 
It will be a great night thing when somebody goes to watch a Laker game and then takes the streetcar to Broadway to get food at Umamicatessen. That's the idea: to connect the area. Like I said, it's going to be a huge shot in the arm for economic developments. In November voters within a three block radius of that streetcar line will vote on whether they would like to see the line come in. 
Affected landowners and residents must approve an assessment by a two-thirds vote. Is that doable politically? 
We think it is. There is a lot of excitement, and we see a lot of people who want better transportation options. The people moving to downtown want an urban lifestyle with services and destinations close to where they live and work. 
For tourism we see a lot of boosters from businesses that see the potential of attracting more tourists with a circulator downtown. The majority of property owners are very supportive, we've been working on that support for the last two years. LA Live is a huge supporter; the largest property owners are our supporters. 
Our challenge now is to communicate these benefits so that the voters will vote. The assessment on a condo owner, for example, is going to be less than a hundred dollars on average per year (with median assessment for condos about $58 per year.) It's pretty affordable, at the end of the day. It's like going out to three or four dinners, or it's saving the gas you would use driving around downtown. 
The Broadway corridor Streetcar is estimated to require about $125 million of public-private investment. What will be the source of this funding? 
We intend to receive about $62 million from the assessment, and the CRA put in $10 million when it existed, which remains an enforceable obligation on their part. For the remainder we're going to apply for federal grants. We've applied for these New Starts grants in the past, probably knowing that we weren't quite ready, but they told us that once we've finished our environmental, our matching local funds, we will be in a great spot to receive the grants. 
Is the city the applicant? 
Metro is the applicant. I'm now on the Metro Board, and one of my objectives was to get the streetcar on the long-range development plan. So Metro is acting as the administrator right now. It is conducting the EIR and applying for these funds. The question still remains: who will operate the streetcar? We've had some very good discussions with the Department of Transportation within the city and with Metro, and we have not quite decided who will operate it. 
With regard to operations, will passengers be able to transfer and use with one ticket all of Metro's bus and rail lines? 
We haven't worked that out, but one thing we are looking at now in the planning stage is to ensure that the regional connector stops right where the streetcar will go. We're working with our DASH lines, and we see that the DASH lines compliment the streetcar. In terms of paying and passenger rates, we have yet to work that out. 
Who will be staffing the streetcars? Who is responsible for planning and the submission? 
It's a combination. Six years ago when we decided that the streetcar would be a great addition to downtown, I saw that the conversation around the streetcar was taking in different parts of downtown. Our goal was to bring all of these different conversations to one platform, which was Bringing Back Broadway. 
Portland and other cities started non-profits to do some of the initial planning and advocacy. We followed that model, started a non-profit called LA Street Car Inc., and got a lot of advice from our friends up in Portland. It's made up of several board members and stakeholders from downtown. I have a dedicated person within my office, Jessica Wethington McLean, who is Executive Director for Bringing Back Broadway. She is one of the driving forces. 
The linkage between transportation, land use, and the development of these neighborhoods is becoming crystal clear in Los Angeles, even as city departments and agencies remain in their silos. What's Metro's role regarding the streetcar and integrating it into the fabric of the city and region? 
Metro has recognized that not only does light rail move people cheaply and efficiently but it is a great economic development driver for different communities. Look at the Gold Line in Boyle Heights and East LA! We have some parcels in Boyle Heights and East LA that were used as staging areas that will be developed as transit-oriented. It's much easier to do when you have those vacant parcels and can start from scratch. 
As more light rail lines have opened up, Metro is starting to realize that we are not only providing transportation, we are providing community benefits that encompass housing, health, and encouraging alternative uses of transportation. When we think of Metro, it's not only improving transportation—it's improving communities. 
In Boyle Heights, for example, once the Gold Line went in, all of a sudden you saw small businesses take better care of themselves. 
They're trimming their trees out front; they're painting their walls outside; there's more activity. We have $10 million for local improvements to encourage transit-oriented development. 
We are fostering an arts district from Mission to Soto, and we've had a lot of success. We're bringing Self Help Graphics from unincorporated East LA. We have the first live theater coming to First Street in Boyle Heights, Casa 0101, and we have a lot of artsy coffee shops and small bars opening up. I think the catalyst for that was the Gold Line. 
We're trying to create more public art through the $10 million grant we got from the MTA. We're painting the electrical boxes in the street; we're encouraging more murals; it's going to be a great arts district once we're done. 
The extension of Measure R is likely to be on the ballot, and you're a Councilman with a new, dynamic district in terms of land use and communities. You're also on the Metro Board of a region of 4,000 square miles. How do you balance regional needs with the legitimate parochial needs for your district? 
You always have to look at local needs, but at the end of the day, as we expand our transportation system and improve our bus lines, we're making things smaller in some respects. So those parochial needs are really expanding now. As you improve those transportation systems, people are able to get to and from your area easier, so as an elected official my parochial interests are getting larger and larger. What impacts my district is now a larger area. I think that's a good thing. 
We have to think regionally. We have to think about how Boyle Heights is impacted by Pasadena now that the Gold Line can move people between the two areas much easier now. You also have to think about what types of people are traveling between Pasadena and Boyle Heights. People are going to Pasadena to explore an area that they never explored before. So what happens in Pasadena, although it's a different city than mine, all of a sudden matters to me because of my constituents' proximity with public transportation. 
Let's now zero in on Metro's regional connector. It seems infected with controversy, presently.
All our light rail lines are very important, but this one, which will connect all these lines downtown, is more important. It is critical that we complete it. Some may ask why so much money in such a small area? With Union Station so close by and all of these lines loosely connected, the regional connector is more important than we think. 
In terms of the recent controversy, I supported the Hotel Bonaventure and other properties on Flower that were looking to have underground tunneling when they constructed the regional connector instead of cut-and-cover. I supported them to the extent that I could without jeopardizing the project. All I did was say, "why don't we ask for a bid on cut-and-cover and a bid on underground and let the private sector tell us which costs more." Obviously we are working under a certain budget, and if going underground costs more than cut-and-cover, then we'll go with cut-and-cover because that is all we can afford. I was disappointed to hear that Metro didn't even entertain the possibility. It was a last minute recommendation by staff that should we do the double bid that it would delay the project, which I found to be absurd. 
The regional connector's status today? 
It's moving forward. You may need to speak to some of the impacted properties since they are talking about litigation, but at least from what I know the project continues to move forward. Litigation may cost us more in the end and delay the project. If we could have come up with something within our budget underground, it could have saved us from discussing litigation and delays. 
Seguing to the current Union Station master plan effort and their planning for the inclusion of high-speed rail—what are your issues and priorities for both? 
As we build more rail, it's a great opportunity to think about how people move through Union Station and how Union Station can help people connect with local communities. Little Tokyo, Olvera Street, Boyle Heights, and Chinatown are some of the most significant neighborhoods in Los Angeles. It's not only light rail, the bus systems, or high speed rail—we should be thinking of other systems as well. How do we encourage people to take their bicycles? How do we encourage people to walk to their destination from Union Station? I'm looking at the master planning process for Union Station not only as a preservation effort, not only as an utility effort to maximize moving people through there, but also, and more importantly for me, as a way to connect Union Station to the surrounding community. 
Transportation planning clearly has immense ramifications for livability in Los Angeles. Metro and the City of Los Angeles are engaged in building significant projects, but at the same time the fiscal constraints and professional staffing challenges for the city have never been greater. With the city having early retired most of its experienced staff, how well is the public sector able to manage and deliver on obligations being incurred? 
It's about getting creative, like the Mayor's plan to borrow money from the federal government to expedite projects planned with Measure R. How do we bond for projects and encourage more private sector participation? As the public sector loses people and resources, I think the private still wants these projects to move forward. They want better roads, better transportation, better communities, and so we have to find ways where we ask the private sector to get involved and help us with that. It is our job as public servants in these positions to deliver; we just have to be more creative about it. 
We all have to work together. We often work in silos, but when we do collaborate, when we're communicating, that's when we're at our best. The best projects come out of that. 
As our interview concludes, share with our readers what you have learned in public office over the past decade. 
I first got started on the school board at a time when people didn't believe that the district would build any schools. It had been 30 years since they had built a comprehensive high school. We have since built over a hundred schools. I have learned that when the public's attention is focused on a regional need, we should take advantage of it and not let that opportunity pass by. 
People were asking for more schools at that time, and we got to step up and deliver. People are asking for better transportation now, and we have got to deliver now and not let this opportunity go beyond us. At the end of the day, LA is a very unique place. Our governance structure is unique. There are many opportunities for public input, and we as leaders should continue to listen to the public. 
And if we again interview you for TPR in a year, what successes you will tout? 
We will be breaking ground on a streetcar. We will see a lot more businesses downtown on Broadway and throughout the area. You will see more people working and living in downtown, and we will have a couple more parks open for people to enjoy.