TPR presents the following interview with Harriet Tregoning, Director of the Washington DC Office of Planning, on the District's plans to connect both sides of the Anacostia River through a revitalized and pedestrian-oriented 11th Street Bridge. Tregoning's efforts reflect a recent focus on making use of formerly unused federal land to reinvest in the communities using the principles of Smart Growth. As the Los Angeles River begins its own revitalization efforts, Tregoining's plans for the Anacostia may serve as models for design, programming, and community outreach.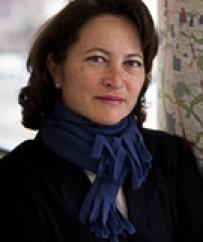 "It's our forgotten river; there are people that live within less than half a mile of the Anacostia River that have never laid eyes on it. It's not been an amenity, and we're beginning to change that with 20 miles of trails up and down both sides of the river, and with whole new riverfront neighborhoods being carved out of former industrial and federal land." -Harriet Tregoning
The Anacostia River has long been an east-west metaphorical and physical barrier in the nation's capital, but a design competition has been announced for re-envisioning the 11th Street Bridge connection between Anacostia and Capitol Hill. What motivates the Mayor's office and the DC planning department to focus on the bridge?
Harriet Tregoning: There aren't a lot of places where people from both sides of the Anacostia River come together, so that's the idea behind the 11th Street Bridge. It makes a very important connection between the east and west sides of Washington, but it's also a place where east and west can come together.
But the District is not just focused on the two neighborhoods, Anacostia and Capitol Hill—it is all communities on both sides of the Anacostia River. There is pretty good access to these neighborhoods by metro, but the Anacostia is one of the most polluted and slow moving rivers in the US. It's our forgotten river; there are people that live within less than half a mile of the Anacostia River that have never laid eyes on it. It's not been an amenity, and we're beginning to change that with 20 miles of trails up and down both sides of the river, and with whole new riverfront neighborhoods being carved out of former industrial and federal land.
In 2005 TPR interviewed former DC Planning Director and Anacostia River Development Corporation Andrew Altman about plans for Anacostia and the River's shoreline (http://www.planningreport.com/2005/10/27/washington-dcs-revival-rests-mayor-and-planning-directors-vision). Please update our readers on the current opportunity presented by repurposing the 11th Street Bridge.
The District is presently rebuilding some of our road and bridge infrastructure, and the 11thStreet Bridge is essentially getting a new pair of bridges built within the existing spans, leaving an upstream and downstream span that were due to be demolished. So we are looking at repurposing the downstream span, peeling the deck off, but keeping the piers and putting on a new deck that could be a recreational, arts, and gathering place.
One of the things we're even looking at is potentially running a streetcar on that part of the bridge. It would be both a destination but also a very pleasant and enhanced conduit to help people get across the river.
Are you drawing on models from other regions and cities to imagine how this bridge opportunity might work?
We're looking at the dozens of precedents that exist across the globe for this kind of repurposed infrastructure. We're really looking to do some place-making here. The reconstructed 11thStreet bridge is going to have a nice wide pedestrian path and bike path in addition to serving local traffic, while the other new 11thStreet span will direct regional traffic out of neighborhoods and connect to pieces of highway. The local bridge is going to have much better facilities for crossing if you are a pedestrian or bicyclist.
For the repurposed downstream span we intend for a place to cross and a place to linger with some unique recreational opportunities, whether that's something like a zip line or rock climbing or horseshoes. We're still trying to figure out what we'll try to accommodate. It's about 1000 feet long, and the width will be able to vary probably somewhere between 60-90 feet. That might vary depending on where on the bridge you are.
As the Planning Director of Washington DC, how are you aligning the many governmental interests involved?
This was previously a bridge commissioned by the Federal Highway Administration as a federal aid road, so we definitely working with the Department of Transportation. Like I said, we're also considering running some new transit infrastructure across the bridge, so we are concerned about their perspective.
We have federal agencies on both sides of the river, including the navy yard at the western foot of the bridge. We're very interested in consulting with our federal partners, and that includes the park service and the coast guard. This is going to be a project that receives a lot of input. We've already gone to a lot of meetings in neighborhoods and with citizens to see if this is something they are interested in and if it is an amenity that could contribute to their quality of life and enjoyment of the city.
How would the 11th Street Bridge Project be funded? A public-private partnership?
We haven't determined that yet, although my ambition is to raise the funds for this privately and also have it privately managed by a non-profit. Here we are looking at things like the Friends of the Highline and the New York Central Park Conservancy as examples of organizations that maintain to the highest quality and intensely program some of these spaces. The intensity of the management called for at some of these special parks is often beyond the budgets of publicly funded agencies. We're looking at something that would be very intensely used and managed, so I'm looking at some of those private models in particular as a way to manage the activities of the park and bridge going forward.
For context, what has and is being developed on both sides of the Anacostia? What linkages already exist or are contemplated?
One of the big structural issues in the District of Columbia is that more than 40 percent of the land of the city is off our tax rolls. It's federal agencies; it's federal park land; it's non-profit organizations; it's colleges and universities; it's non-profit hospitals. The federal government further limits the height of buildings in the district, so in many ways we have a structural deficit in terms of our budget. We have all the demands of a city plus many of the demands of a state, and we have a very limited tax base.
More than a dozen years ago the federal government sought to respond to the structural deficit by examining some of the land it owned along the Anacostia—in particular land that was underutilized or not used at all—and arranged to either long term lease or transfer those lands to the District of Columbia where it could be added to our tax rolls. That was the start of a major planning and redevelopment effort along the Anacostia that has now created some wonderfully vibrant and exciting neighborhoods.
In other cases that development is still ahead of us, even some of those land transfers are still ahead of us. You can look at the Capital Riverfront, which is what we're now calling something that used to be known as the Southeast Federal Center, and it's becoming a tremendously beautiful and exciting new neighborhood anchored by a gorgeous park along the river and a trail network that hugs the Anacostia. There's an enormous amount of new housing—eventually more than 30,000 people will be living in this new neighborhood where there were very few residents before. There will be millions of square feet of new office that is anchored by a new baseball stadium for the Washington Nationals in this Capital Riverfront area.
Poplar Point on the other side of the river is destined to be transferred to DC from the National Park Service. Just a mile or so up the road, not right on the river, is the St. Elizabeths Hospital, which is the new headquarters for the Department of Homeland Security—it will eventually have more than 14,000 employees in an area that right now does not have significant employment.
All of these changes and more are beginning to happen along the Anacostia. These plans are about turning our attention towards the Anacostia River, and they are absolutely in full flower and underway.
Let's turn to your unique professional background and what you bring to this very challenging effort. Please elaborate on your work with the Maryland Governor's Institute, Maryland's smart growth initiatives, and US EPA.
In some ways I would consider this my vocation. After a long time with the Environmental Protection Agency I discovered a set of issues that hadn't been getting a ton of attention: our settlement pattern and how land consumptive and resource consumptive it was. It didn't really seem to be anybody's issue to address or even recognize that there might be better ways for our communities to grow. When I say better I mean more efficient, less wasteful of energy, better for our health in giving us opportunities to be physically active, safer for pedestrians.
At EPA I got a chance to start a national smart growth effort and eventually was asked by then Governor of Maryland Parris Glendening to join his administration to make smart growth a reality at the state level. After serving with Governor Glendening, both as his Secretary of Planning and then as sort of an uber Secretary for Smart Growth, working with a dozen different cabinet level agencies, at the end of his administration we created a non-profit organization designed to help states and local governments grapple with these issues, land development and economic development.
I got a chance to do this work at the city beginning with the previous Mayor of Washington DC, Adrian Fenty, back in 2007 and continuing with his successor, Mayor Vincent Gray. For me in all of these jobs it's been a succession of opportunities to try to create great places and demonstrate that jurisdictions that help to foster these approaches are going to be winners in the global competition for resources, for investment, for figuring out what the evolving economy is going to be.
Washington is the latest and in some ways the most exciting of places that I have worked in. It is really trying to demonstrate not just that great places attract people but that even in the global recession we've experienced, this way of building and growing, this type of settlement pattern, is extremely resilient, extremely economically resilient, and wonderful. We are now a city that is growing at a pace of 1000 people a month, making it one of the fastest growing cities in the northeast after decline for decades. It wasn't until the 2010 census that we actually had a solid decade of growth behind us, but it has really begun to accelerate.
I think a lot of that has to do with the kind of places that we're creating. In our existing neighborhoods we're bringing new amenities, new transportation choices, and we're making it very convenient to live in almost every neighborhood in Washington. The neighborhoods are responding with wonderful revitalization and investment, public and private.
In Los Angeles there has been an effort to create a number of urban parks and to start mixed-use development along our river, the Los Angeles River. What lessons can Los Angeles take from your experience as Director of Planning in DC?
I have to say, there aren't too many places that have greater differences than Los Angeles and Washington; in part it's just the physical size. We're just 68 square miles, and the City of Los Angeles is about 480 square miles. The county is extremely vast at 4,000 square miles.
One of the things that has been transformative in Washington is the ability to serve so many neighborhoods with transit. 96 percent of our residents are within a quarter mile of transit. Most of that is bus transit, but 15 percent today are within a quarter mile of rail. We project that number will be 50 percent when we add a 37 mile street car line that will be able to attract the vast majority of new growth. That is really transformative.
I attribute part of our population growth to our low transportation costs. We're one of the few places in the US where you can live without an automobile. In recent years we've added more than 30,000 people, and our motor vehicle registrations have essentially stayed flat.
Regarding the 26-mile LA River, all of the places that I'm talking about also have good transit connections on the river so that you can really access these places from the entire region. The constituency for our river developments isn't just the communities that literally border the river. In contrast, I lived in Toluca Lake back in the 80s and my brother still lives in Redondo, a lovely community. But every time I go to visit him I continue to be somewhat frustrated by the fact that Los Angeles is seemingly there for you—the beaches, the desert, every amenity you might want to imagine. But those amenities are so difficult to get to. I think that is one of the challenges for Los Angeles. The LA River, the investment you're making, should be something that is perceived as for the entire region. Making sure that people can access it will be key.