The first two blocks of Grand Park, the 12-acre park located in Downtown Los Angeles, officially opened this July. The new green space is the product of the efforts of many civic leaders in Los Angeles from both the public and private sectors. The leaders most involved in the project gathered to celebrate the opening of the park and speak on what the accomplishment means for the Los Angeles region. MIR presents excerpts of the remarks by LA County Supervisors Gloria Molina, Zev Yaroslavsky, Mark Ridley-Thomas, Don Knabe, and Michael Antonovich; LA City Councilmember Jan Perry; philanthropist Eli Broad; and Bea Hsu, Vice President of Development at Related California.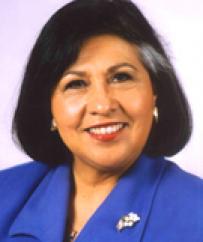 "Any great city needs to have its open spaces—not just any spaces, but spaces that make sense, that affect people, that are conducive to artistic expression, cultural events, passive activities. This Grand Park will have it all." -Zev Yaroslavsky
Gloria Molina: Two years ago we gathered here to break ground, and today we unveil the first two blocks of Grand Park. I'm proud to say it's on time and on budget. In the coming weeks as the grass takes root, we will unveil the remaining two blocks and complete our goal: a park and a gathering space here in the center of downtown, to connect new Los Angeles with Old Los Angeles. We have created a much-needed amenity: green space in downtown, which is undergoing its own renaissance, and we're proud to say that we have a role in this rebirth.    
We will ensure that Grand Park becomes a multipurpose multicultural destination for all Angelenos to enjoy. It may be a place for a lunchtime stroll; it may be a place to read a book; or it may be where you enjoy the diverse programming and recreation as well as wellness activities that we have planned. We aim to please every single Angeleno. Los Angeles' artistic and cultural diversity is unparalleled. This park was planned inclusively, and we will continue to be inclusive to make Grand Park a park for everyone. To do that, our offerings will be free of charge.    
This park is the product of an incredible collaboration between the county and the city and between the public and the private sector. We owe a huge 'thank you' to the Related Companies, in particular President Bill Witte for facilitating over $50 million that made this park possible. I am also grateful to the Music Center for its commitment to operate Grand Park under the guidance of the Grand Park authority board, and I look forward to the establishment of the Grand Park Foundation.
Zev Yaroslavsky: Thank you. What a wonderful day, and what a wonderful outcome. This is one of those projects where the end product is actually better than the renderings.
Congratulations to Rios Clemente Hale and to everyone that was part of the design and construction of the park. A lot of people have been involved in making this happen, but no individual has spent more of her time and energy in getting us to this day than Supervisor Gloria Molina, and I think we should give her another hand. I also want to acknowledge the vision of Eli Broad, whose vision for Grand Avenue spawned this idea and many others that are taking root in and around this spot.    
Any great city needs to have its open spaces—not just any spaces, but spaces that make sense, that affect people, that are conducive to artistic expression, cultural events, passive activities. This Grand Park will have it all. My hope and dream still is that one day, long after we're all gone, these three buildings will be removed and we can triple the size of this park.    
This is a great day for Los Angeles. I salute everyone who has been a part of it, and I thank our collective staffs. To the people of Los Angeles City and County: it's all yours. Use it, preserve it, and protect it. Thank you very much and congratulations.
Mark Ridley-Thomas: Thank you, Supervisor Molina. Your leadership brought us here today. 
I think today is a day of celebration. We celebrate this collaboration of the public and private; it's a day of celebration because we celebrate the very notion of recreation; it's a celebration because we celebrate diversity, we celebrate our culture, and we celebrate all that is Los Angeles County. It is with this in mind that I am very pleased to be here and witness yet another stellar unfolding of what this county is about. It seems to me that we have every reason to be proud of where we are and what we do and to have projects just like this. I simply want to close by saying this is an expression of what the human experience is: it's a grand experience, and I trust that we revel in it. Thank you and God bless you.
Don Knabe: Thank you, Gloria, for your leadership in this great project. As my colleagues have said, and all will say, "wow, what an amazing afternoon to be here and celebrate!" As Zev indicated, when these buildings are gone we'll triple the size of the park. LA County is the largest county in America. Many other cities around the world enjoy the beauty of large urban parks, and now the City of LA, the County of LA, gets to celebrate that and to join the rest of the world with this magnificent facility.    
So often in our fast paced lives, the microwave lifestyles that we live, we don't get to meet folks. The parks are about that. Parks are about the idea of being able to engage each other, to say hello, to take a brief deep breath, to talk about something, to share your stories about family and animals and everything else. So congratulations Los Angeles County.
Michael Antonovich: I also want to commend Supervisor Molina for her efforts on this project. When you have a project that comes in under budget and on time, it's very important.    
Los Angeles County has very historic beginnings. Back in the 1700s missionaries from Spain located in San Gabriel and built a church and community. About three years after, flooding that took place there made them relocate to a new mission, which is in the city of San Gabriel today. Ten years after that they walked down to what is now Olvera Street and built another mission. And that's our history.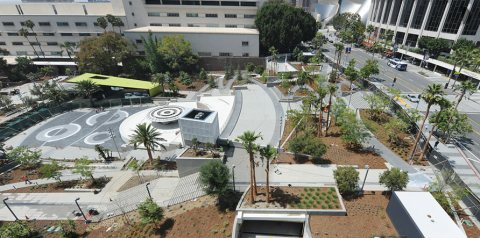 In 1850 California became a state, and the state made counties, and that's how the County of Los Angeles was established. We founded our first city soon after that, the City of Los Angeles. Today the county has 88 cities. Back in 1965, the Board of Supervisors designated this spot to commemorate that founding in 1850 and to celebrate our rich cultural heritage.   
Let me once again thank Supervisor Molina and my colleagues. I look forward to having a wonderful program here through many years with music, dance, and festivities to benefit all 88 cities in Los Angeles County.
Gloria Molina: Our next speaker has been by my side for the last eight years. Councilwoman Jan Perry cared about the public benefits of Grand Avenue Park and fought for them to make them real. Ladies and gentlemen, my vice chair since the inception of the Grand Avenue Authority, Councilwoman Jan Perry.
Jan Perry: Thank you very much Supervisor. I appreciate very much your foresight in establishing the fund for this park at the beginning of this process that has ensured despite the challenges that we faced. We are here today on the cusp of opening this park for everyone to enjoy. To my colleagues on the Grand Avenue Joint Powers Authority, it has been a joy to work with you to make this vision a reality, and I want to thank the Grand Avenue Committee. They were the sounding board, they were the vetting group, and they worked very hard.
As this park says in many languages, it is a place for everyone. It's a simple but powerful message that reflects the goals that Supervisor Molina established from the beginning of this project. This park will be here for generations to come, and it will bring together the people of the city and county together. This is a tribute to Supervisor Molina's legacy that she worked so hard to establish through her advocacy and years of public service. We have been together for eight years, and we are standing in front of an LA County landmark, the Arthur J. William memorial fountain looking east at our City Hall. What was once cement has been transformed into something beautiful, very green, that will contribute greatly to the quality of life for everyone.
Soon to be completed, the Broad Museum will provide even more to enrich the lives of the people of Los Angeles. The vision of the park for the people has been realized, and I'm proud to have been a part of this process.
Eli Broad: Thank you, Supervisor Molina. This is a great day for Los Angeles. This park was built without any taxpayer money. That is truly remarkable in these economic times. The opening of the park is part of a realization that others and I have to transform Grand Avenue.
Let me briefly take you back 12 years. There was no Disney Concert Hall; there was no LA Cathedral; there was no high school for the performing arts. It was at that time that I had the privilege to work with then Mayor Dick Reardon to raise the money to build the Disney Hall. It was then that I realized that the city and county owned quite a bit of land on Grand Avenue but didn't have a master plan. So we formed the Grand Avenue Committee composed of members from the county, the city, the archdiocese, the music center, MOCA, and several years later we convinced the city and county to form the Joint Powers Authority, which I believe has been a great success.
I'm so pleased that during the course of our negotiation we have a $50 million non-refundable deposit in the Related Companies. Take that plus the interest earned in the last several years and it's enabled us to build this park. I expect today's opening of the park, coupled with the construction of the Broad Museum across from Disney Concert Hall and the Related Company's plans to build an apartment tower in the foreseeable future, will help jumpstart the Grand Avenue Project.
We have few districts downtown. We have the sports and entertainment district downtown anchored by LA Live, and we have the civic and cultural district here on Grand Avenue. These 12 acres have to potential to unify the city in one central gathering place. Families from around the region will have a place to celebrate what I hope will be the Dodgers winning the World Series, the Lakers and Clippers winning the NBA Championship, the Kings winning the Stanley Cup, and as a gathering place to celebrate Cinco de Mayo, the 4th of July, and New Years Eve.
Bea Hsu: On behalf of Related Companies and Related California, I want to say congratulations to everyone here who was part of this effort over the last several years. We at related could not be more proud of a partner in this achievement, and we're thrilled to be celebrating it with you today. We've long believed that the success of Grand Avenue would rely on the success of great public spaces and the achievement of Grand Park is certainly a major milestone in the realization of that vision.
I want to acknowledge the individual who deserves the most recognition at Related: Barry Widen, our Vice President of Construction, who led the construction management of the project. Though we've been delighted to fund the construction of the park, our lesser-known contribution to the project is putting Barry's talent and commitment on the job.  He has for the past several years kept the project running smoothly, on schedule, and within budget from beginning to end. Having Barry on the team has meant the rest of us at Related have been able to breath easy. Having Barry on the job has let us proceed with the comfort of knowing that this project has been in the best hands possible, and we're very proud to have him as part of our team.
For us, the Grand Avenue is a long-term investment to which we bring long-term commitment. We look forward to our next chapter, a residential tower next to the Broad, which is breaking ground next year. The park is going to be a truly wonderful amenity for the tower's residents, and we commend and congratulate you. We hope you all have a great day at the park, thank you.