Enrique Zaldivar, Director of the Los Angeles City Bureau of Sanitation, had a conversation this month with MIR on the status of the Bureau's efforts to improve the quality of life and water in the City of LA. Zaldivar discusses the accomplishments his staff has achieved through Proposition O, the difficulties that arise in managing 6500 miles of sewers, the Bureau of Sanitation's role in Operation Clean Streets, and what the future of water will look like in Los Angeles. Leading a staff of 2800, Zaldivar's Bureau has managed to significantly reduce the number of spills occuring each year in LA and is taking bold steps in updating the hidden infrastructure for the 21st century.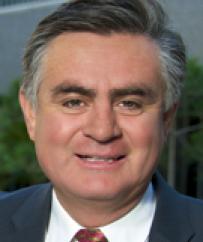 "We've had some significant investments over the last ten years, and now with this rate adjustment and additional revenue to increase that investment by upwards of $3 billion in the next ten years..." -Enrique Zaldivar
Enrique, let's begin with your assessment, as Director of the LA City Bureau of Sanitation, of the challenge you face in leading a staff of 2800 in managing the city's clean water, solid resources, and watershed resources programs, especially given the city's fiscal difficulties. 
Enrique Zaldivar: It's a big challenge, but with that comes an exciting opportunity for meaningful contributions for the wellbeing of our city. We're proud to be the department that provides some of the most essential services that determine the health and environmental well being of a city. We welcome the challenge. We've got some great environmental leaders in our elected officials, and that helps in so many ways, particularly with Mayor Villaraigosa's environmental initiatives. 
At VerdeXchange's VX2012 this past year, your expert water panel was entitled 'One Water'. Why 'One Water'? Are all three of your aforementioned management responsibilities incorporated under that concept? 
One Water is what we live everyday. It is a powerful concept that may come across as somewhat abstract, but it's important that we understand it at it's most basic definition: the same water that comes down from the heavens is the same as the water that we drink, is the water that goes in sewer system, and is the water that eventually cycles back. In one sense, it's all the same water, and it's finite. As much as we don't want to accept that fact, it is finite. 
This certainly touches my clean water program. That is an effort where, in effect, we make sure that we are able to return all of the water that is in our wastewater collection and treatment system so that it is good for future use. The other side is the watershed protection program, which takes all of the water that lands in our streets and open spaces that eventually becomes part of our water supply. Then you add up the Department of Water and Power supply side of this and you have all three sides of the One Water. 
With a finite and diminishing supply of imported water, how's the city's stormwater program addressing both pollution clean up and the necessity of increasing local water supply? 
We've got, along those lines, some huge undertakings. One is Prop O—what we have come to call the Prop O Initiative—that is a $500 million voter-approved and property tax-supported investment, which has been going on now for the last ten years and whose purpose is to take the water on our streets, clean it up, and have it be a win-win. It can be thought of as a win-win-win, in that we clean up the water, recharge the groundwater, and create some related community benefits and use around these features. A wetland is an example that provides even recreational opportunities for communities. 
With 33 stormwater improvement projects approved under Prop O over the years and with 17 now having been completed, could you talk about the 16 remaining projects, as well as the completed projects of which you are most proud? 
We're proud of every single one of them; each has its own significance to the community it happens to be in. The one common denominator in all of them, though, is water quality. 
One completed project that comes to mind with a number of meaningful values is the South LA Wetlands Park that reclaimed what had been an abandoned piece of land—blighted, if you will—and turned it into a wetlands oasis and a part of South Los Angeles that provides water quality, first and foremost. It also is now a place for the people in the community to connect with nature and see the natural water filtration processes at work.
And the 16 remaining to be completed? Can you give us an update? 
We have two projects—the largest in the Prop O program—very much under construction right now. Echo Park, which, like the South LA Wetlands, has special significance to its community. It's a place where folks come to connection with nature and water. Towards the end of next year we should be seeing it's completion. Lake Machado, down in the LA harbor area, is approaching completion of the design of what is essentially the restoration of the area so that the water quality of that lake will be improved, as it was intended through Prop O. Those two are well underway. I would say in the next five years we will be completed with all of the other projects under Prop O. 
Your bureau manages over 6500 miles of sewers for residents and business customers. Talk about the status of the city's sewer system and what has been done to improve and maintain it. What ensures that it is as functional tomorrow as it is today? 
The sewer system being largely invisible, no one ever sees it, no one ever really notices it (except when it isn't working). It's a massive critical infrastructure under the city, and we all know and recognize that. I say recognize that because six months ago the ratepayers supported our request for a rate adjustment to bring in revenue to upgrade what has been an aging and deteriorating system, but one that must always be working effectively and without interruption. We've had some significant investments over the last ten years, and now with this rate adjustment and additional revenue to increase that investment by upwards of $3 billion in the next ten years, we may not only replace aging components but add new processes for treatment to ensure that above all the system works reliably for the good of the city. 
Given the Bureau's laudable investment in and maintenance of its critical infrastructure, help our readers differentiate between Sanitation's responsibilities for it's pipes and those of the Department of Water and Power, which have been frequently rupturing. What's the jurisdiction demarcation between the responsibilities of DWP and Sanitation? 
It's an easy demarcation, and it happens in the transition from when a consumer uses the water for any one purpose and the residual water then gets into what becomes our system. To the point of uptake, when the customer uses water, whether it's for the shower or the sink or water heater, the moment it gets into our system on the residual side, it becomes our jurisdiction. 
We then enter into the underground piping system where we have been deliberate about an upgrade that I mentioned earlier as well as future upgrades to ensure the prevention of our equivalent of a water break, which would be a sewer spill. And so we attack it like a crime. Our goal is to keep that to a minimum, if not outright eliminate them, but we know we cannot completely do that. This year we closed on a record low of 116 spills in the year, and we're driven by ensuring that none of that water ever gets out of its confined piping system. 
Enrique, Sanitation appears to have a much better record in maintaining its 6500 miles of pipes than DWP has had in maintaining its extensive system. Is it just that you have more voter-approved resources available to you for your 6500 miles of sewer pipeline than DWP has for its water system? 
Not to draw the comparison, but we've had different ways of replacement. I know DWP also has an aggressive replacement program in place. Our pipes are not under pressure, theirs are. We have a very effective maintenance program that has improved over the last five years; it was not like this before. It was a common occurrence that at least twice in one day we would have a spill someplace in the city, small and large twice in one day. It was more than a common occurrence—over 700 spills a year. Now we've brought it down to 116, a huge reduction. 
Let's now turn to a very visible and successful City initiative, Operation Clean Streets—the clean up of Skid Row. Could you elaborate on that operation's goals, Sanitation's responsibilities, the effort's significance, its cost, and what the reaction has been to date? 
This has been a response led by the Mayor in recognition of a situation that requires a coalition of many agencies working together. The homeless are particularly vulnerable to public health afflictions and the lack of sanitary services. In Skid Row, there was a situation where public health was at risk in its most basic form. We were proud participants in the team led by the Mayor's office in responding to the clean up by removing unwanted items that had been harbors of potential disease. It's been several weeks in the making, and we have been successful, in this stage. It's going to now move into a maintenance mode. The Mayor remains fully committed to ensure that this problem is addressed. 
Operation Clean Streets is reported to have removed five tons of trash. Will this coordinated clean up of a city neighborhood now serve as a precedent for others? 
It certainly has given us a great learning experience for how other areas with similar challenges can be responded to if those occur. The intent is, of course, that this should not become a regular pattern in which people will live. This has been a great way for us to respond effectively and with respect of human dignity. 
Clearly, the Bureau of Sanitation has a host of responsibilities. Recently the Los Angeles Superior Court approved a legal settlement with Crimson Pipeline—the case involved a large oil spill in Wilmington in 2010—highlighting this fact. Could you comment on that court-approved settlement? What was the Bureau's role in cleaning up the spill in the port? And is the settlement a precedent for other similar environmental incidents? 
It's our mission to protect public health and the environment, and any one event can become a threat to the environment. That was the case in the oil spill, with crude oil entering a waterway. In that case it was Dominguez Channel, but it could be the LA River, Santa Monica Bay, Echo Park, any one of our precious waterways. We respond to ensure the immediate protection of the environment. We participated with the US EPA, the state authorities, and the regional water quality control board, with whom we partner more often than not in protecting the environment. The company assumed the responsibility, and with the city attorney as a lead, they recognized that our response had a cost. We were able to minimize and prevent the worst damage there to the environment. 
Are such port clean up settlements common in Los Angeles? 
I can't think of a recent, similar spill from a pipeline. We know of tankers, but I cannot say I know of another specific spill of that form. We have had cases from industry and other areas where a spill will occur, and gone are the days where it was a common occurrence. Going back over 20 years there were far more challenges in working with industry in those years. It was a far more common occurrence to have discharges of pollutants or illicit discharges of chemicals into the sewer system. I'm happy to say that those kinds of occurrences are very far between now. 
Let's turn now, with your permission, to AB 341, which took effect this month. It requires recycling by businesses and apartment buildings with more than 4 units. How will AB 341 be implemented by the Bureau of Sanitation? 
We were one of the fortunate cities that got a head start in bringing recycling to the commercial and apartment sector. We have had a system, a voluntary system, in place for the last five years in LA, so our ability to comply with the state's new law will create a smoother transition. Now, I don't mean an immediate transition—I mean a smoother transition. The translation of it being a requirement for each business and individual across the city will probably be eased by the fact that we are providing a system where everyone may participate voluntarily, but we must comply with state law, which means we must have this system in place to begin with. 
We believe we can be successful in doing it that way. We have a head start by having an apartment recycling program in place already, and we know that there is a good amount of recycling going on in the business sector, just from market forces alone. With this new law we will make sure that a system is provided across all sectors. We intend to be in full compliance with this new law. 
In closing, it appears that some debris from the devastating earthquake and tsunami in Japan is appearing now on the west coast. Could you give us an update on what, if anything, is washing ashore and how it's being handled? 
We've had a minimum role in that. Of course our largest water reclamation plant is on the beachfront in the Santa Monica Bay—the Hyperion Treatment Plant—and we are aware that there has been debris that has washed ashore in some parts of the north coast. We should be ready for anything that comes because we also collect solid waste, but we have been pleased to know that it hasn't materialized at least in Southern California, and hopefully that will not occur.