On Sunday, April 15th, LA neighborhoods from East Hollywood to Boyle Heights will transform, as major boulevards become car-free pedestrian and bike spaces during CicLAvia. TPR sat down with Aaron Paley, president of Community Arts Resources (CARS) and a founder of the public event, to discuss the conceptual underpinnings of the CicLAvia, how it is organized, and where it is growing and evolving. Paley emphasizes that CicLAvia, in his mind, is not just about bicycles and exercise—it's a fun experience of public space that transforms one's concept of how we as individuals relate to the city.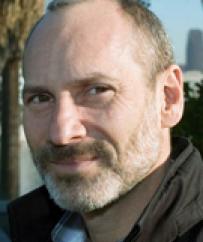 "In many ways our success has made it a little difficult for me to get the message across that it's not just about bicycles. Seeing 100,000 people on television and in pictures on bicycles at CicLAvia is a wonderful thing, but I can say that I really see this as a public space event more than anything else." -Aaron Paley
Aaron, CicLAvia is April 15th. It literally helps open the American Planning Association's national conference in Los Angeles. What might North American city planners learn from the success to date of CicLAvia?
Aaron Paley: We actually planned CicLAvia to happen at the same time as APA, delaying it by a week because we wanted planners to experience it. For planners, really, the lesson that can be taken away here is that temporary interventions—light, quick, cheap, ways of transforming the city—can be just as influential as brick, mortar, and concrete. Through this method we can take more risks and show how things can get done in a demonstrative way. This gives everybody—planners, but, more importantly, regular people—a taste of what real change looks like.
What's the evidence to legitimize your assertion that temporary interventions have real impacts on city livability?
It is successful because over 100,000 people are coming each time—it's now the most attended open street, car-free event in the United States. We know that many of the businesses located on the route are having their biggest days of the year on CicLAvia days. We have the candidates that are running for mayor touting CicLAvia in their campaign speeches and in their platforms, saying that they want more of these. We're working with Metro to figure out a way to create long-term funding for CicLAvia, with Metro as a potential sponsor, along with the LA County Department of Public Heath as another. Those kinds of large-scale institutions see having more of these as a good thing, and that's part of the proof.
But that's still only the beginning. One thing this will lead to, for example, would be bike lanes. Two major bike lanes recently developed in Los Angeles just happened to be along the CicLAvia route, and I don't think that is a coincidence. DOT picked the Spring Street route, which is our main North-South route in downtown, for the demonstration of the separated green bike lane. Getting people out of their cars and riding bikes is just one part of this.
I also think that it is going to lead to more projects like the triangle at Sunset Junction, where they painted the street and placed a temporary intervention there to transform that space from a way of driving from Sunset to Griffith Park Boulevard into a small park. That kind of a radical initiative, one that can be done quickly and easily, now has much more legitimacy, where before they were pipedreams. Now people can point to things like CicLAvia and say, "look, that's something that was absolutely transformative—let's see if we can try something new, and let's do it in a way, first, that lets us see what it would look like and how it would function."
LA Weekly published a wonderful piece this month on CicLAvia and its history. Please share your due diligence regarding the event's origins. What about its past influenced Los Angeles' evolving event. 
The Weekly surprised me because they traced its origins back to Seattle, which I had never heard of. What I had heard from Jaime Ortiz, who is one of the founders of Ciclovía in Bogota in 1974, was when he was a student in the United States at Case Western in urban planning in 1969, 70, 71, he was witness to the counter cultural movements of the United States. During the anti-war protests, he marched on the Pentagon, and he witnessed all these things that were happening in the streets of the United States. When he went back to his native Bogota, he decided that he wanted to do something in the streets there that would capture some of that spirit. So he created with some friends Ciclovía in 1974.
I love the fact that this idea, which has now taken root in South America, had some inspiration here in the United States. The way it took form in South America was it became more than just an event—it really became an institutionalized phenomenon. Ciclovía is now a weekly event in Bogota as well as in 50 other cities across Latin America, and by becoming a regular event, which is what we're aiming to be in LA (maybe not weekly, but monthly), it has radically transformed the way parks and recreation works in these cities.
Now they not only have physical parks with monuments and grass, but they've got these linear transformative parks that emerge once a week. Those are the things that are actually bringing in many more people—they're getting 1 million to 2 million people a week participating in physical activity in Bogota because of Ciclovía, and this has linked the city together in a way that the city did not experience before. People did not go from one end of the city to the other, from the poor end to the rich end, and now they can bike or walk there. Ciclovía has radically changed that city and how it thinks of itself.
I went down to see CicLAvia in Bogota and in Guadalajara, Mexico. I wanted to experience it firsthand because I had seen the films, but I didn't really know what it would feel like. It looked so amazing, and I needed to have that firsthand experience as we were working in Los Angeles to get this thing through.
We had so many meetings where people were very skeptical, saying, "well, I just don't see how this is going to work or how it functions." Having seen it once in Bogota really helped me. For people who haven't seen it before, it's a leap because it isn't like anything else. It is not like a regular street parade, and it isn't like a marathon—it is completely different, like an urban park, but a moving urban park.
Aaron, how have events in other cities influenced LA? How is LA influencing other metropolitan programs?
I think it's really exciting that this idea has taken hold in many cities around North America. We see a regular program in New York, Portland, and San Francisco. Atlanta has a small program, and Dallas just started a program. I know there might be up to two dozen cities in the United States that are doing some form of car-free open street event. I'm hoping that this takes off and that Los Angeles may prove to be an example for the Sun Belt cities and for the sprawl cities. I want the message to be that if it can happen here, it can happen in your town. The idea that you might be a car-oriented city or a freeway-oriented city and you think that you can't pull something like this off does not hold true. If we can do it in Los Angeles, it can happen in Phoenix, Tucson, wherever.
It might be helpful for visiting APA members to appreciate how CicLAvia evolved. Share how the event won acceptance and won a massively growing participatory audience.
CicLAvia really needed visionary leadership from the Mayor's office, and Mayor Villaraigosa supported this from the beginning when we first presented it to his office. They jumped on this right away. We needed that support because as we moved through the Department of Transportation and Police Department, and as we reviewed the associated safety issues, what we were hearing was, "we really don't understand how this is going to work; we really don't think this is that great of an idea; but we're on board because the Mayor wants this to happen."
We had cooperation, but we also had extreme skepticism at the table. One of the things that we brought to Los Angeles was this idea of a 'soft closure', which is the way they do it in South America. It means when we cross a major street, like Wilshire Boulevard, we allow the car traffic on Wilshire Boulevard to continue east-west, uninterrupted by CicLAvia. That means the participants in CicLAvia have to stop for the red light and let the car traffic go by, and then when the car traffic stops, we get to go by. That was a radical idea for the City because, from a liability point of view, they like to separate automobiles and people in every way, shape, and form.
We knew Angelinos were not going to want this to happen on a regular basis if it felt like too much of a disruption of regular life. What we want is for CicLAvia to fit into the regular mesh of Los Angeles and to have as little an impact as possible on traffic (and maybe even a positive impact by reducing the number of cars on the street).
That was a huge leap of faith for everyone to take. The compromise that we ended up with now puts four police officers and four LADOT officers at each of those soft closure intersections to ensure safety, which probably makes us the safest car free event in the world. After the first CicLAvia it worked, and police and traffic officers said, "wow, that worked, that was great!" At the very first wrap-up meeting that we had with City staff, they literally took their hats off to us and said, "not only was this a fantastic event with no major incidents, but it was an event where everybody was happy." We had police at the table say, "it's the kind of event that I'm going to come to next time with my family because it was so great." Everyone is drinking the Kool-Aid.
How has the success of CicLAvia influenced how the event will evolve in years to come? 
We've basically been working on the same route, and we're now working on new routes throughout the entire county. There has been interest from all over the region to see if we could do a CicLAvia in other places. We started with funding from the County Department of Public Health, which enabled us to work earnestly and in depth in the southeast cities area, which is Lynnwood, Huntington Park, and Southgate; in the Pomona and Claremont area; and in the northeast San Fernando Valley, around Pacoima and San Fernando. We've developed routes in each of those areas that are in the draft stages.
We're now working on a new route that would connect North Hollywood to Burbank and Glendale; a route that would connect Santa Monica and maybe Venice, or some part of the West Side, or maybe even connecting with Culver City and a route in Long Beach; we have other routes that we'd like to work on in the South San Fernando Valley, Pasadena, South Pasadena, and Pasadena East, as well as many other parts of the county. 
Our idea in each of these areas is to create a committee of stakeholders comprised of business owners, advocates, and residents—people who are interested in making this happen with City staff so that they're working together in the planning stages in each of these areas, from the ground up, to figure out the appropriate routes, who the stake holders are, and how to get them on board. The idea is then to develop a total of about 15 different routes that would rotate on a monthly basis, so that there would be a CicLAvia every month somewhere in the Los Angeles region.
Who leads and manages CicLAvia? Who funds it? Who sanctions it?
There is a nonprofit called CicLAvia, and it has an extremely interesting board of directors leading the overall strategy. We have a couple of people who are acting as consultants—instead of paid staff we are basically contracting out. My firm, Community Arts Resources, receives a monthly contract with CicLAvia to oversee this and to produce the event. We also have other people who are getting paid to do outreach, graphics, and other aspects of this.
We're basically trying to shepherd it through. As I said, I'd love to see Metro come on as a regular sponsor as well as the County Department of Public Health, but we're also looking to see what we can do on the corporate side. We've been trying to enlist large corporate support since the first CicLAvia 18 months ago, and I think we're finally beginning to make some inroads there. We may see some results in October. I would like to see a model where there is significant corporate support as well as foundation support, individual support, and some major government support at different levels.
Aaron, our conversation has been focused upon the impact of events like these on communities, cities, and regions. But how do you dispel the public assumption that CicLAvia is about bicycles more than about place?
In many ways our success has made it a little difficult for me to get the message across that it's not just about bicycles. Seeing 100,000 people on television and in pictures on bicycles at CicLAvia is a wonderful thing, but I can say that I really see this as a public space event more than anything else. I'm trying to get the message across through our marketing as much as possible. You do not need a bike to come. You can come in your wheelchair, on your two feet, on a skateboard, or with your kid in a stroller—that the idea of CicLAvia is to experience the city in a whole new way and to fall in love with Los Angeles in a whole new way.
Part of the bike-centric idea has to do with the fact that the route is ten miles long. There's that sense that one has to travel whole thing. If you're going to do the whole thing—20 miles there and back—it's probably easier to do that on a bike. We've arranged it, however, to coincide with the Blue Line, the Gold Line, the Red Line, and the Purple Line, and you can actually go in one direction and then take the train back in another direction. 
This time we are publishing an architecture guide of great things to see along the way. We're encouraging people to take the time to experience those things, and that conveys the message that on a bike you may be going too fast and need to slow down even more.
In closing our interview, please address how your long experience with Community Arts Resources has influenced the design and execution of CicLAvia.
Our experience at Community Arts Resources has enabled us to make CicLAvia more than just a biking event. When you come to CicLAvia and you experience it, you get a sense that this is a very different kind of event. How do you create something that appeals to everybody? What you see at CicLAvia is this phenomenal cross-section of Angelinos, of all ages, races, ethnic groups, and income groups.
We are telling people that the reason they should come is because it's great and fun. It's not a health event, it's not an environmental event, and it's not an art or cultural event—it's just fun. We've learned this through Glow and the Santa Monica Festival and many of the other events that we've done, but you have to get that message across. We've tried to create certain production values to how we put on CicLAvia so that it feels like it's organized, it's together, that there really is a message behind it, and there is a real sense of design to it. There is an aesthetic to it all, which ties it together, which is also something, I think, we bring to the table from our other work.
I feel like this is the culmination of thirty years of creating events in public space in Los Angeles, and this takes all the things that we've done from family festivals at the Getty to the Festival of Masks, which used to close Wilshire Boulevard to do creative math, to creating these spectacles on the beach at Glow—all of them combine everything together into one very large and exciting intervention into the city. 
I remember trying to do something like this in 1987 when I put the Fringe Festival together. I was trying to think about what we could do that would capture Los Angeles in a way, and one of the things we did was 24 hours of art, where we had an event going on every hour on the hour somewhere in the city. We tied it all together with buses so there were people going on bus from event to event, and hundreds of people followed in their cars, basically traversing the entire geography of the county. At one point Sandra Tsing Loh was playing piano on the harbor freeway overlooking the traffic.
I can see the kernel of that idea in what's happening here, but what is so wonderful about this event is how absolutely engaging and participatory it is, with 100,000 people actually taking part in it and viscerally experiencing the city as a phenomenon they can navigate. It's just amazing that people feel like they can go from one part of the city to the other under their own power and the city feels and looks completely different to them. Not only are we creating public space, we're giving people back a new sense of their city, which, I think, is the most important thing here.
Congratulations, Aaron.