Glendale has its own version of the Southern California success story, one which is defined by careful management of land use assets, such as redevelopment zones, mixed use development, parking operations, and large-scale, regional infrastructure assets, such as the Bob Hope Airport. To detail some of Glendale's land use strategies and business friendly regulations strategies, TPR presents the following excerpts from an LAEDC Economic Forecast panel that featured Glendale Mayor Frank Quintero, preceded by an exclusive interview with TPR to expand upon his panel remarks.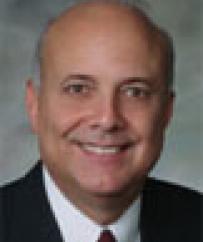 TPR: Federal and regional regulatory officials have been warning for some time about a coming commercial real estate crisis. The city of Burbank's vacancy rate shot up in the last year from 4 percent to 17.8 percent. How large a problem does Glendale have? How is the city planning for and managing it's commercial real estate challenges?
As a real estate licensee since the 1970s, I am not surprised. That's the way commercial real estate works. As a city we are working with our economic development team and with local realtors to try to make the same presentation we did to bring in tenants, as we did with AT&T Interactive, which has taken up quite a bit of space and is certainly a growth sector. Our San Fernando corridor, which is basically manufacturing, tech, and entertainment, is in good shape. That is also redevelopment land. We have, as tools to address vacancies, the Downtown Redevelopment fund and the San Fernando Road Corridor fund.
Glendale's Americana at Brand opened in April of 2008. What primary and secondary economic impacts have you seen? How has the Americana added to the city's urban fabric, especially along Brand? Is it an economic generator for other businesses along Brand?
It's a big draw, and it has been a big success in terms of bringing people to the project. There hasn't been a lot of effect on Brand Boulevard. We have a lot of mom and pop type of stores. They are having a difficult time, like everyone else, with the economy's downturn.
What subsidies did the city of Glendale grant to entice Caruso Affiliated and the Americana to Glendale?
It is in a redevelopment zone. Basically we went out to bid and Caruso Affiliated was the successful bidder on the RFP. There were a number of public subsidies, but primarily the land.
Glendale recently hired a team of consultants to revamp its image as a destination city in the region. What benefits are you expecting from this initiative?
We are now trying to brand the city of Glendale-which is practice that has become very popular with cities throughout the country, to try to get the name out there-to try to get an image that fits with our city's goals.
In terms of assuring Glendale is on track for long-term economic growth and stability, what are some benchmarks that you will look to over the next year or two to measure the city's progress?
I am a free market person, so while there are a lot of things we can do as a local government to incentivize business and so forth, ultimately we are a part of the economic cycle like everyone else. We need to focus on our entertainment business, with Disney and Dreamworks. Disney is going through a considerable time of growth. Like every locality we have to pay attention to the small business community. I am the past president of the Glendale Chamber of Commerce. In Glendale it is about small business-some of them have been there literally for three generations. They continue to thrive. We are always cognizant that we don't negatively affect our long time business owners.
Turning to the Bob Hope Airport in Burbank, what's being planned and built?
We are building a regional intermodal transportation center, where we will link parking facilities with rental car agencies, Metrolink rail, and MTA bus lines into one consolidated facility. It will take cars off the streets of Burbank and make for much smoother flow for our passengers. We are very excited about these investments.
The Bob Hope Airport is owned by Burbank, Glendale, and Pasadena. There have been no-growth agreements restricting building and parking near the airport in the past. How have the three cities and the airport authority resolved these issues?
In the past there have been a lot of issues from city of Burbank residents-and rightfully so-because they are most impacted by growth at the airport. But after signing a development agreement, we have put it behind us and we are moving in the spirit of cooperation between the three cities and the Airport Commission. We are all excited to take care of all the issues, but especially nighttime noise relief. Our goal, which the FAA has not yet agreed to, is to have a permanent ban on take offs and landings from 10 pm to 7 am at Bob Hope Airport.
LAEDC Economic Forecast Panel Responses
LAEDC: With the state's unemployment rate at an all time high, a lot of businesses want to create jobs and many people are here today trying to decide whether or to expand or not. What should we do to make our city and state more business friendly?
I would start by educating some of the elected officials at the state level and the staff that essentially runs the state. I sit on the state's workforce investment board so I have interacted with Sacramento-level bureaucrats for almost 20 years. They don't have a clue. They have literally never worked in private business. They have gone directly from college and the university directly into public employment. They now hold high positions, and they don't have a clue. Chambers of Commerce have to educate local elected officials, and then go onto the state-level bureaucrats.
From a local perspective, what is affecting us are the take-aways-the different ways that the state will go after city funds. For those cities that have redevelopment zones, those funds have been the big catalyst for change. In the local area, you will see the redevelopment agencies in the different cities, Glendale's included, have done a really good job. In Glendale's case, we have redevelopment funds directly targeted by the Legislature unless a state level court can reverse the legislation. The state is constantly trying to get us. In Glendale we have used over $1.5 billion in our two redevelopment zones: the Central City Downtown Area and the San Fernando Road Corridor.
There is fierce competition from other states trying to lure business to their region. What should be done at the state and local level to keep business here in California?
I would start by bringing back the manufacturer's investment credit. That was very, very successful in the San Fernando Road Corridor, which basically stretches from Los Angeles through Glendale into Burbank and the San Fernando Valley. Some of the most successful companies along there used that to expand their business.
We don't do enough in retraining. Years ago we had countless opportunities with aerospace workers and financial workers to retrain people as they lost their jobs. Little by little, over the years, there is less funding. Community colleges are not doing what they should do with solar panels and a new grid that needs to be integrated with the local population and paying attention to the business needs in that sector.
The state's industry will fare worse than last year. Do you expect any meaningful reform in the state's budget and tax problems given the state's budget situation? What steps can be taken to ensure that we don't enter into this same mess every year?
I am not optimistic that anything will be accomplished this year, even with the gubernatorial election and so forth. It's not just California. If you look at different states throughout the country, they are certainly in bad shape. The federal government is certainly in bad shape. I would just suggest that every business person here this morning talk to their assemblymembers and state senators and keep the pressure up-individually and through your associations. We can absolutely turn the ship around but we have awhile to go.
One of the top issues facing consumers and business people: will the lending industry turn around this year?
Small, local community banks are the best way to turn around. The larger banks are holding on to their cash, but local banks seem to be even.
Glendale was a finalist in 2008 for the LAEDC Most Business Friendly city award. How does Glendale attract jobs and businesses?
It's in the civic culture. Glendale has always been a business friendly city. We don't have a gross receipt tax. We don't have any business license fees. We are one of the safest cities in the nation with a population over 200,000. It comes up in every election-the business license fee and business taxes are constantly a candidate. More than half of the candidates that have run for the city council seats are for business license taxes, etc. But they don't seem to deliver. It is just part of Glendale's culture.
We spent an incredible amount of money in our redevelopment efforts. We are competing to rethink ourselves as a creative type of city to bring in creative types of companies. Rick Caruso built the Americana.
We have trained our staff-our redevelopment people and our economic development-to constantly make calls-to constantly talk about local business enterprises, small business, and large companies. We have Nestle, Nikon, Dreamworks, Disney, and Public Storage. We are in contact with those companies on a regular basis, talking to them and forming a personal relationship. We go out of our way with neighborhood business groups. We are big enough so that we have our Downtown Merchant Association; we have a merchant group up in Montrose on the west side of the city and in Adams Hills.
It's part of the culture. If you get hired in Glendale, you know you are going to have to work with the business community. Even in some of the smaller cities in this county, it's not something they pay attention to; they take the local business community for granted. It's a big mistake.
Is the economic recovery on course? What is this year look like?
In our region, which I define as Burbank-Glendale-Pasadena, we have pretty well bottomed out. Our single-family homes haven't really taken the dive that other areas have. Condominiums have been a glut in the market but we are starting to work through that. The vacancy rate in the office buildings is fairly high. On the other hand in all the industrial, manufacturing, and warehousing there is almost zero vacancy. The unemployment rate is fairly stable. Those cities are in fairly good shape, certainly when compared to the Inland Empire or other regions in the state.