With the gubernatorial campaign gearing up and his tenure leading California coming to a close, Governor Arnold Schwarzenegger remains committed to green legislation pursuant to the goals of AB 32. Reflecting the leadership exhibited during his administration, Gov. Schwarzenegger recently hosted the Governors' Climate Summit 2, which focused on the United Nations Climate Change Conference Copenhagen 2009. TPR is pleased to present the following excerpts from Gov. Schwarzenegger's opening remarks from that event, hosted earlier this month in Beverly Hills.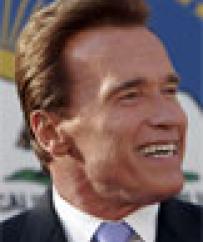 Governor Schwarzenegger: What a thrill it is to look around here and to see so many great minds at work from so many different cultures and to see the critical partnerships that are being formed all around us here....
...This is exactly the kind of collaboration that is needed to launch a national and international green revolution. That is what we need, nothing less than a revolution, to combat climate change and to win our energy independence and to develop new low-carbon technologies. To grow our green economies is also very important and to achieve global balance. There is no single issue that threatens the health and the prosperity of our nations and humanity more than climate change.
That is why last year we all joined together for the first time for the First Governors' Global Climate Summit. There was so much action-action, action, action. We committed to reducing greenhouse gases from deforestation. We established and strengthened international relationships.
And we collaborated with nations such as China, which has since launched its first voluntary carbon registry. This will allow China to measure how much individual businesses are actually emitting in greenhouse gases, which is the first step, of course, in reducing those emissions. It's no different than when you decide to go on a diet. You first have to step on the scale and say, "Oh, my God, I've got to lose 50 pounds." And then you know how to measure it, so you make sure that you actually lose the weight...
... We have leaders here from more than 70 states, provinces, countries and island nations representing six of the world's seven continents; Australia, Asia, Africa, Europe, South America and North America. This is an unprecedented collaboration. It is an international conference of the highest level. Experts and leaders from around the world are here partnering and creating relationships that are the model for our nations.
Together, we are calling on our national governments to recognize the support that we are giving, how critical of a role we are playing in fighting global warming. Because while all those governments, the national governments, are debating over who should go first with the reductions, while they're debating what should the developing nations do, or the developed nations do and all of those things, we on the regional level are already creating the action.
Our experience and our expertise are essential to the climate talks that will begin in just two months in Copenhagen. We will give the findings from this summit to the U.N. climate change negotiators to help them with their work in December. In fact, I will be traveling to Copenhagen to speak during the climate talks on behalf of all of the regions that are represented here today. They will hear our voices in Copenhagen. They will hear our voices, the voices of our cities and states, provinces and nations, as we work together to make our vision become a reality.
We know that we must have climate action and the action starts right here with us. That is how revolutions begin. And when I talk about revolution I'm talking about the green revolution at the grassroots level. Big movements all start on the grassroots level, on the local level, then on the state level and then they gain momentum and then they sweep through the nations and they go around the world. As a matter of fact, I tell you, there has never been any movement that hasn't started on the grassroots level. That is where the action is.
Our states and provinces are already leading the way. We are the laboratories of our nations, aren't we? We are driving change. We are making the connections and developing the tools and the strategies to fight global warming.
I'm proud of what we have accomplished so far, so I say we need to celebrate here a little bit and pat ourselves on the back, because just think about it. We just met last year and since the last meeting: Indonesia, Brazil and Mexico have created an action plan to protect our rainforests. China has already announced that it will build the largest solar project in the world. Mexico has pledged that it will cut greenhouse gas emissions by 50 million tons by the year 2012. Countries such as Algeria and Senegal and Uruguay are taking action by reaching out and partnering with us. Europe, of course, is leading the way in creating carbon markets and we are all studying their successes. Hundreds of U.S. cities have agreed to meet or to beat the Kyoto targets for greenhouse gas emissions. Mayor Villaraigosa is here because he's so excited, because this city of Los Angeles has done great work when it comes to reducing greenhouse gases and is one of those cities that has joined the Kyoto Treaty.
In California, we have been pushing hard on our goals of AB 32, our landmark Global Warming Law. This will reduce greenhouse gas emissions by 25 percent by the year 2020, rolling back actually to the 1990 level with our greenhouse gas emissions. And over the last year California also passed the world's first Low Carbon Fuel Standard.
We just took big action on renewable energy: We are now requiring that 33 percent of California's energy comes from wind, solar, biomass and geothermal sources by the year 2020. Now, we of course in California, we don't count in hydro when we talk about renewables, may I remind you. If you add the hydro, then we have actually 45 percent renewables by the year 2020.
To show to you how important the regional approach is, we finally were granted the Tailpipe Emission waiver from Washington. We have been fighting for that for years. I want to say thank you very much to EPA Administrator Lisa Jackson for helping us getting that waiver...This is something that Obama has promised on his campaign trail last year. It's a promise made and a promise kept. I will never forget that. It allows us to impose our own strict emission standards on vehicles.
Now the Obama administration has established a National Emission Standard patterned after California. You see what I'm saying? That's how powerful states and regions are. We really are the laboratories for the national governments. That's where the action is.
I'm confident that what we are doing will lead the way to national energy and environmental policy that will benefit this country and will benefit the world for generations to come. Just today there was great action, as you have heard earlier. Today there was great action in Washington with the introduction of the climate change legislation in the Senate. So we have talked about this now for months and months and months and now the action is happening. Maybe because we have this conference here and they feel a little guilty back there in Washington that they haven't created the action yet. I don't know what it is, I'm just guessing here for a second.
California will do everything possible to make this effort a success, because clean air should be a right and not a privilege. It should be a gift, what we give to our children, a gift that we give and hand to our grandchildren. I cannot think of a better gift than that.
Global warming is our collective problem and our shared obligation. It requires a global solution of all of us working together. Yes, the sub-national governments gather here today and talk about leading and coming up with solutions. We know that we have to. You know why? Because in the end, 50 to 80 percent of the climate change action will have to happen on the regional level and on the local level anyway. This is where the action is.
To truly protect our planet, of course and our future, we also need the national and international community. We all have to come together. That means developed nations must step up and recognize their responsibility. Because developing nations, the countries that are the least responsible for greenhouse gas emissions, are severely impacted by our pollution. Africa is a perfect example of that.
Today we are thrilled to be joined for the first time by African leaders, who will announce a new green deal. Africa has the opportunity now to leapfrog to new technologies and get on the fast track to clean, green economies.
Many of us here have already discovered that going green spurs innovation, new technology, new jobs, and new industries. There is no better example than California. We pushed ahead with energy efficiency, with clean cars, with low-carbon fuels, with renewable energy, and the list goes on and on. And now California has the largest green economy in the United States. It has drawn billions and billions of dollars, $6.5 billion just in the last year in venture capital, and it's doubling every year.
Green innovation is helping everywhere, it's happening everywhere, even at our ports. We have helped now develop cutting-edge technology that is reducing pollution at our ports and moving goods around with the first hybrid tugboats and electric trucks. This is the first such thing and, as you all know, ports can be very, very bad and big polluters.
California has such a dynamic market for electric vehicles that an electric truck company just recently has made an announcement that it will move its headquarters to California just to be part of the green revolution here. That means, of course, more jobs.
You can protect the environment and protect the economy at the same time. Since 2005 green jobs here in California have grown ten times faster than the rest of California's job market.
These are incredible opportunities to create the economies of the future and we must seize this opportunity. We all know that in the 20th century wealth and prosperity was fueled by dirty oil, by dirty cars, by dirty factories. But now we know better. Now we have the opportunity to create an economic foundation for the 21st century that is built on clean fuel, on clean energy, on clean cars and on clean factories. Let's take the workers toiling in the coal mines and put them to work building solar panels, let's turn the oil refineries into biodiesel refineries and let's turn the dirty coal plants into clean coal plants. Let's do that. We can do it.
We know that our green revolution will require essential things in order to get all of those things done. We need now to come together and have big visions. We need big goals, big dreams. And in order to make those dreams and those goals become a reality we need, of course, political courage and we need the will. And of course let's not forget some strong muscles, some defined muscles. That's why I am here today, to pump you all up, to pump you all up and to say yes, we can do it. We can do it. The reason why we need all those muscles..is because there is a lot of pushback. There will be a lot of pushback that will be very intense, because there are people out there that don't believe in what we are saying here and they're pushing back. For them it's more important to keep going and polluting the world and just making some money, rather than cleaning the world.
It is crucial that we support each other all through this transformation, and that is why so many progressive leaders, so many smart and talented and passionate leaders, have gathered here at this summit. We are leading the way.
And we also know that the challenge ahead is big. It's like pushing, in a way, a rock or a boulder up to the hill. And you know that alone you cannot push it, so you need people to come on board and to keep pushing and pushing. But you know that as you push it, when you get up there with this boulder on top of that hill, on the other side it rolls down and it will gain momentum. That's exactly the way it will happen with the environmental movement, fighting global warming. There is no one that can push that rock alone. None of us can solve the global warming alone. But together we can and together we will. Together we will usher a new era and launch a green revolution all around the world.
So let's roll up our sleeves and get to work.
<