Los Angeles Mayor Antonio Villaraigosa has consistently set a green agenda as one of the centerpieces of his administration. In anticipation of the recent C40 Conference and the announcement of a similar plan by New York Mayor Michael Bloomberg, Mayor Villaraigosa released the details of the Green L.A. plan. Armed with the support of the City Council and a comprehensive package of environmental initiatives, the mayor made it clear that L.A.'s green agenda will lead the nation. The following excerpts include statements by the mayor and other city officials at the press conference announcing the adoption of the Green L.A. plan.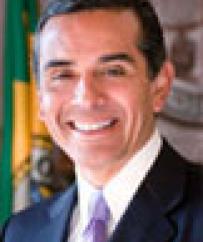 Los Angeles Mayor Antonio Villaraigosa: We gather here today in this beautiful setting because of our collective belief that we all share a responsibility to address a global climate change. Global climate change is a real and gathering threat to our very way of life, here in Southern California and to the earth's ecosystems.
The city of Los Angeles is but one of the great cities in the world, but our impact on the global environment is huge. City operations alone account for one-fifth of one percent of the world's carbon dioxide. Point two percent may not sound like much, but it's roughly equal to the C02 emissions of the entire country of Sweden....Here in Los Angeles, climate change will likely mean longer and hotter summers, longer droughts, more devastating wildfires and a loss of water that threatens public health and the economy. And so, the time for action is now. Today we present Green L.A., an action plan to lead the nation in fighting global warming...
....Everything I did in the legislature and what we do here now-whether it's Proposition O that we've done here in the city or our effort here in the city to address the Clean Air Action Plan-is the most far-reaching anywhere in the world. This isn't hyperbole. This isn't just a press conference to announce some of the things we've done. There's no question that L.A. is leading the way, and we're leading the way together....
....Green L.A. will reduce the city of Los Angeles' greenhouse emissions 35 percent below 1990 levels by 2030, making L.A. the nation's leader in fighting global warming. We're setting the green standard in Los Angeles, reducing our carbon footprint by 30 percent below 1990 levels. It's the most ambitious goal set by a major American city. To achieve this goal, we'll reduce energy consumption, transition to renewable power sources, and change the ways that we commute to work and school. We'll cut smog, we'll save money on energy costs, we'll reduce our dependence on foreign oil and fossil fuels, and we'll create jobs and grow our economy by investing in green technologies.
Angelenos have long been at the forefront of the conservation movement. We recycle more than any large city in the United States of America, diverting 62 percent of our solid waste from landfills, and we set a new goal to increase that to 70 percent by the year 2015. We're holding our use of electricity steady despite a population growth of 15 percent. We're already generating 8 percent of our electricity from renewable sources....
....When I was informed that the state was moving to 20 percent renewables by 2017, I said, "Well, I want to lead the state, what can we do?" And so we brought together a group of environmental leaders and people that worked in the DWP, and I'll tell you, nearly half of them said it wasn't possible-it was too ambitious of a goal. The other half said, "We can do it, but the only way we can do it is to do it together. The only way to do it is really to push the envelope." And so I sided with the group of environmentalists that were bold and I said, "We're going to do the 20 percent renewables." The fact that we moved in two years from 3 percent to 8 percent, the fact that we're sitting together now, with the contracts and the wherewithal to get to 20 percent renewables by 2010, is a great indication of what bold leadership can do.
We're going to redesign our parks to increase parks and open space. We're going to green the L.A. River, we're going to use water more efficiently, we're going to create incentives for investments in innovative technologies, we're going to set new standards for building green and land use planning, and further reduce municipal waste.
It may not be easy to be green, but we can't be a great global city if we don't assume global environmental leadership. So, together we're going to seize the opportunity, we're going to use the ingenuity, the entrepreneurship, and the perseverance that make Los Angeles the city it is today....
City Council President Eric Garcetti: You know, the long-term costs of living cheap are very expensive. It's something that Los Angeles learned the hard way. All the corners that we've cut in our past, bigger plans that we haven't implemented, parks that we haven't built, ports that we let get too polluted-we are seeing those effects with our pollution, our high asthma rates, and the worst traffic in America. But we're not starting something new here today. We are midway through a change in the way that we all act, as government, as private sector, and as individuals here in Los Angeles.
You know, I've traveled to Shanghai with Councilwoman Janice Hahn to sign agreements with our shippers to do the first cold-ironing and electric power plug-in agreements for the city of L.A. I've gone to the Arctic Circle to talk about our implementation of the Kyoto protocol, gone to Korea to see the river revitalization in Seoul, and I've gone to Mexico City to see the half-million trees planted at the university there in that city.
Everything we do here locally has global consequences, and everything that's happening globally should be an inspiration to us locally. Global warming will impact every part of our society, and we only need to think back a week and a half ago, on the driest year we have seen in decades, or the effects of the fires that have blossomed, unfortunately, throughout this town, and to see what happened in Griffith Park to know that global warming is here to stay and those short-term corners that we cut are now coming home to roost.
The water we drink, the air we breathe, the energy we consume, the land we share and that we travel through, and the resources that we dispose of; that's what this plan focuses on. In simple terms, the way that we live. And while you can expect a lot from government, as you should, you need to expect a lot from yourselves, as well. And the city council, together with the Mayor, is going to be emphasizing this year, as well, the individual actions that we can take, whether it's expanding Bike to Work Day to a Bike to Work Week as we did yesterday, whether it's handing out with the Department of Water and Power one million lightbulbs. If everybody in Los Angeles changed one lightbulb, we could take a coal-powered plant offline today. A lot of people doing a little something can result in huge changes.
City Councilmember Jan Perry: As chair of the Energy and Environment Committee and as a member of the governing board of the Air Quality Management District, I feel I have unique skills to bring to the table to work with my colleagues, with the mayor, and with neighboring cities in the western region to work towards this goal of a greener and cleaner environment. And I am pleased and proud to say that each one of us has made our contribution.
In my capacity as chair and with our committee members, many of whom are here with us today, we work collectively to enhance DWP's renewable portfolio standard, and the original goal of 20 percent is laudable, but of course we can do more. We can do more through the next iteration of the wind-tree project, and the next iteration of the power-x hydro facility. And with the Mayor, with our colleagues, I think we already have demonstrated that we understand the significance of DWP and how important the role it plays is in achieving our goals and to meet the growing demands of climate change.
Many of these policies have already been adopted by our utility and I know that we will continue to deepen and strengthen our relationship with DWP, as the Council President mentioned, and to further promote the widespread use of compact fluorescent lightbulbs. Those simple actions can make all the difference to reduce nitrous and sulfur oxide that contribute to smog-this matters. I know this matters because much of my district is in close proximity to the Harbor Freeway, and the incidence of respiratory illness, allergies, cancers, is extremely high along that corridor.
I'm also proud to announce that the ninth district will be the location of the first city building to have a green roof, something we envision as a very important part of city's future. The ninth district Constituents Service Center will lead the way as a LEED-certified city building complete with a rooftop garden, allowing it to serve as an energy efficient facility which will absorb heat and provide air-purifying qualities. And, as one who signed on with colleagues and took the lead on supporting bills like California Assembly Bill 32, the global warming bill, I, along with my colleagues, have been dedicated to ensuring that the city and the residents of Los Angeles are always informed and on top of the issues that contribute to global warming.
This is just a fraction of what we have all been able to do together, collectively. The Mayor's overall vision continues this good work and I know that we are all committed to seeing that the issues surrounding climate change that affect all of our constituents today and in the future are addressed aggressively, practically and proactively. We can, have, and will continue to lead by example.
City Councilmember Bill Rosendahl: Last June, I introduced a motion calling for us think globally and act locally on the issues of climate change. I, along with my council colleagues, looked at ways in which we, at the local level, could play a huge leadership role in reducing greenhouse gas emissions in our neighborhoods and communities and reusing and renewing energy within city departments and programs. From preserving and healing coastal wetlands to greening LAX, we must take a local approach to combat this global issue.
For example, in my district, LAX, which serves as the gateway to L.A. and forms this first impression millions of travelers develop of our great city, is unfortunately a contributor to greenhouse gases. These emissions are a cause of pollution that our residents endure on a daily basis. As a world-class airport, LAX should be one of the greenest airports on earth. It should be held to the highest environmental standards.
In fact, the Tibbett building, the Bradley terminal, we're making a green building. When that's completed, that $750 million will have a huge green impact and will be a model for everybody on the planet when they come into L.A. It should maximize water and energy conservation measures, and incorporate a comprehensive recycling program. In addition, it should have a mass rail line, the Green Line extension, to reduce thousands of car trips by travelers, employees and vendors.
City Councilmember Greig Smith: We passed a law in California in 1990 called AB 939, which said we should recycle 50 percent of your trash by the year 2002. L.A. does a great job; today, we recycle 62 percent of our trash. We're doing a magnificent job. The problem is that in 1990 when we started, we sent 3,500 tons of trash every day to dumps. Today, we send 3,500 tons of trash every day to dumps. All we've done is recycle our growth, and that's not good enough.
If Los Angeles wants to be a green city, it has to get rid of landfills. Landfills pollute the earth; they pollute the water. Most importantly, as we look at global warming, they pollute the air. Methane gas emissions from landfills are one of the worst destroyers of the ozone. We can stop that, and we can stop it by allocation of technology and better ways to deal with trash.
I introduced a program called Renew L.A. which was approved by the City Council, that says: 1) we will increase our recycling and reuse, 2) we will view trash not as a problem but as a resource, 3) we will reduce our use of landfills and eliminate them by the year 2025, and most importantly, 4) we will generate one-third of the power to meet our goals on green energy and renewable energy from trash. I am very proud to say that Los Angeles has a proposal to build the first municipal trash and energy plant that is clean, environmentally sound, does not pollute, and creates a net positive for the environment instead of a net negative like landfills do.
We hope to make a very big announcement later on this year that Los Angeles will lead the nation and join the rest of the world in dealing with this trash as a resource rather than a pollutant, that we'll take it out of the water, take it out of the air, and create green power for the Department of Water and Power to meet its goals and make our communities safer places to live, better places to live, and clean the environment.
Chairman of the Los Angeles Water & Power Commission David Nahai: In the process of reducing our own greenhouse gases, we're going to open up entire new doors to a new and burgeoning industry of which Los Angeles can be a center. And there will be many benefits that this city is going to reap as a result of that effort. I think a generation ago we had the New Deal as a nation; today, as a city under the leadership of Mayor Villaraigosa, we have the Green Deal. And the DWP is well positioned to play its part in the Green Deal.
We've heard about the Renewable Portfolio Standard-the fact that we've tripled it in about a year and a half and that we're committed to going to 35 percent by 2020. We've already adopted a policy prioritizing green buildings in the city that is being implemented as we speak.
We partnered with the Department of Public Works to contribute to the Million Trees initiative. We partnered with the port to run the ships on electricity while they are in port, significantly reducing their greenhouse gas emissions. Our solar roof program is showing promise and we have great hopes for it as that starts to get going. We'll be making the largest investment in DWP history in conservation initiatives this coming year. They include the giveaway of 2.8 million fluorescent light bulbs and the giveaway of thousands of refrigerators, and so on.
The list goes on in terms of what we're doing, but this is, I think, testament to the transformation that DWP is undergoing in a very short period, in just a year and a half.
I asked our staff to put together a chart showing just how much we were reducing greenhouse gas emissions, and they produced a chart showing that going to 20 percent by 2010 will reduce something like 1.8 million tons of greenhouse gas emissions. That's equivalent to taking 3.5 million cars off the road over that period of time. The trees program, over the life of the trees, we'll reduce something like 1.4 million tons. And for each of them, as you see these numbers, you see that we can really, really make a difference.