With widespread clamor for a greener port, shippers that call on L.A. face a future that will require fewer emissions and greater responsibility. But industry giant Maersk Line, operator of the Port of L.A.'s largest terminal, has already accepted a degree of responsibility and implemented voluntary measures to clean its ships that call on California. MIR recently spoke with Sr. VP Gene Pentimonti about those initiatives and the industry's perspective on the region's goods movement challenges.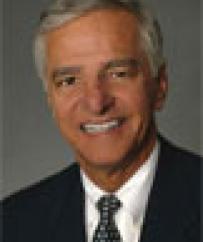 Give us some insight into the operations of Maersk, a global carrier based in Denmark, at the Port of Los Angeles and the significance of this port to your global operations.
Pier 400 is the largest proprietary container terminal in the world. It employs about 1,100 union members every 24 hours, and has a huge piece of the business that comes into the ports of Los Angeles and Long Beach. The business there has about doubled since we opened the terminal three-and-a-half-years ago. We expect Pacific Basin trade to grow around 9 to 10 percent every year. Our investment in Los Angeles and in Pier 400 is significant and was made with this kind of growth in mind.
What goods are being shipped to and from the Los Angeles ports in your container ships?
Coming in are primarily manufactured products that reach U.S. retail stores that were manufactured in Asia. Many of the retailers that we all know manufacture in China or other areas in Asia. These goods constitute a significant portion of the goods that Americans buy. That volume is growing at a much faster pace than even the general population growth.
Typically, raw materials are being exported from the Southern California ports. Very few manufactured goods go out. Particularly in California, we ship lots of agricultural goods, lots of wood products, cotton, and scrap materials like paper and metal.
What sort of competition do the ports of L.A. and Long Beach face from other ports on the Pacific Coast and elsewhere?
In the Pacific Basin, obviously the Panama Canal holds a competitive service insofar as some ships can still go through it, but there are fewer of those every day. They move cargo through the Panama Canal to the Gulf ports as well as the East Coast Ports.
That service, though it takes longer, is attractive to some shippers as they are not always able to reliably move their cargo through Los Angeles and Long Beach at peak periods. Some of the shippers who are looking for guarantees in getting their goods on store shelves will stretch out their supply chains if they can get assured delivery through the Gulf and East Coast.
With the demand for container terminals so strong, what are San Diego, Mexico, Oakland, Seattle, etc., doing to compete with L.A. and Long Beach?
There are development opportunities up and down the coast. A terminal is being built in Prince Rupert, Canada. Terminals are being developed in Mexico. Many are trying to build as much capacity as they can to lure shipping that usually goes through LA/Long Beach.
The ports of Los Angeles are some of the most problem-borne because of congestion and the environment; but they are more attractive because there is such a huge local market. The large ships calling them serve both the local and distribution markets through the U.S.; and you cannot overlook the draw of the local market in Los Angeles.
That sets the pace for the routing of the ships and the ability to bring in large ships with the economies of scale that they provide. There are virtually no local markets in the Canadian and Mexican ports. The local markets in the Northwest are obviously much smaller than those in Los Angeles.
In light of the passage of the infrastructure bonds, the failure of Senator Lowenthal's container fee bill, and growth projections for goods movement traffic in the L.A. area, what is needed to truly mitigate the impacts of goods movement in Southern California?
There is no simple answer, but you have to look at several sources that create the impacts-the vessels themselves, the infrastructure used to move the cargo on land and the most reliable and environmentally friendly ways to move cargo on land. Clearly, developing infrastructure in a way that is environmental friendly creates challenges, but it is the principle that should be followed.
The industry has been trying to understand it and to accommodate the issues of infrastructure development and appropriate environmental mitigation to make sure that our customers and those of us transportation providers can take advantage of L.A. as both a local and through market.
Maersk has made significant strides in reducing emissions in an extremely meaningful way, both on our vessels and at the terminals. We have the largest on-dock rail facility in the country, resulting in the elimination of more than 8,000 truck trips a week from local freeways.
We're excited about the bonds. We think they will provide a boost in making a large regional project that provides the needed infrastructure and helps to mitigate environmental impacts. As you know, there will be many parts of the funding, and these bonds won't by themselves be able to solve the major infrastructure and environmental mitigation needs. It is going to take a large, organized effort by all the stakeholders.
The mayor of L.A. has pressed to have the greenest port in the world. Senator Lowenthal, from Long Beach, proposed a $30 container fee to help pay for the environmental mitigation. How feasible are these objectives?
We are very considerate of the mayor's agenda. He has been an ally of ours as we have taken a leadership position in improving the environmental profile of our ships coming into the port. He has shown his appreciation for it, and we are convinced that he has the right balance in his agenda.
We want to make sure that the government-the city, the state, the environmental regulators, etc.-tells us what their expectations are in terms of cleaning up the environment and allows us to take those performance requirements and run with them. If the port is not green, it is going to be extremely difficult politically to allow the growth to happen.
Similarly, Alan Lowenthal has provided lots of political enthusiasm. If it weren't for Alan Lowenthal, programs like PierPass, which has done some real good in the ports, probably would not have happened. Each of these political leaders is sending a very strong message about what we collectively need to do to make sure that we can grow this industry and accept these volumes moving through Los Angeles.
Regarding the container fee, obviously the amount of funding necessary to develop a regional plan that allows for the growth in that market to appropriately move traffic through the ports and throughout the country is going to be a major issue. Funds are going to be needed from multiple sources: the federal government, the state, the bonds, and from the users.
Infrastructure improvements in Southern California can improve the productivity of running freight into this country-probably more than in any other place. Are there going to be "user fees" like these proposed container fees? Without a doubt. Building an adequate infrastructure for this growth that is environmentally friendly is going to require some funds that come from the users. But the industry has seen its share of investments squandered in the past.
We all want certainty and specificity with regard to how the private sector resources are invested, whatever form it comes in. We need to know the dollars are going to the priority projects and are being deployed, not being wasted or used somewhere else.
A lot of discussion has been going since Senator Lowenthal introduced these bills a couple of years ago. The EPA has also had some discussion with the ports about environmental impacts and the role of the federal government. The new mayor of Long Beach, Bob Foster, and the mayor of L.A., have both spoken eloquently about their agenda. The missing piece seems to be finding the proper balance for carriers and shippers. What burden should they bear?
I am anxious to find solutions to serve the shippers, our customers. As a carrier, we understand that there is a huge problem. We understand that the existing infrastructure cannot handle the future load. I think the frustration that many of the carriers have (and I am sure the shippers as well) is that the problem needs to be addressed in a comprehensive way.
Dealing with one little problem at a time frustrates the shippers and carriers-whether it is an infrastructure problem or an environmental mitigation problem. I think many would be much more comfortable if there was a comprehensive regional approach to the issues of environmental mitigation and infrastructure development.
Wally Baker of the LAEDC has spoken to MIR about a comprehensive, regional Green Freight Initiative. He has implied that no infrastructure exists to coordinate local, state, and federal efforts. What is your take on governance, as it relates to goods movement?
I don't think it exists either. I think it needs to be put together as the region looks at this plan. For example, I am sure you are well aware of the ACTA organization that helped guide the region through the development of the Alameda Corridor. That organization was put together to bring communities and governmental entities together so they could agree on how a regional solution could be built.
In the same form, there is a need for an organization that incorporates the local governments and takes a comprehensive look at improving the infrastructure for this industry's growth in an environmentally friendly way. There is frustration-as I said-when we look at it in little pieces at a time.
The San Pedro Bay Clean Air Action Plan was released this fall. How have the carriers reacted to that plan?
I can only speak for Maersk. We took, in May of last year, a voluntary step to clean up the air from the emissions of our ships, making a significant investment that has already reduced certain contaminants like sulphur oxide and particulate matter by 80-90 percent.
We welcome our competitors making an effort as well. We think the path of solving the emissions problem with our ships will be what we call a "mobile solution." This is where we are doing everything we can to reduce NOx, SOx, and particulate matter by reducing the emissions that our ships put out. We are now in a full deployment of this "mobile solution" by burning ultra low-sulfur fuel (0.2 percent) in all the ships that call California. We are working on additional ways to reduce the NOx levels and looking forward to continuing what we started in May.
We feel that this mobile solution is far more beneficial to cleaning the air because it not only does so when that ships are at port, but it also does so from 24 miles out, and we're doing it not just in Los Angeles but also in Oakland where we have a significant operation as well. We are now saving about 400 tons a year of particulate matter and emissions that would have gone into the L.A Basin based on our voluntary actions. We are convinced that this solution makes great sense from an economic standpoint as well as an environmental one. It can be done immediately. Waiting for cold ironing is a 10–15 year approach, but we can make huge strides in the environment before that solution comes about.
How do the regulations in the ports of Los Angeles compare to those in Europe? How has the industry-carrier, shippers, and others-responded to European regulations?
I am not an expert in the regulatory requirements in Europe, but I do know that there is a Baltic low-sulfur requirement, but I am not sure of the dimensions. Maersk complies with a host of regulations in Europe and has been-as here-a leader.
We have led the industry through a host of things that we have done with our ships over the years. The requirements are not as stringent as the ones that are coming out of CARB right now, but we feel that in many respects, the issue of emissions from ships and the control of those emissions, in many cases, are regionally dependent.
Related to security and terrorism, how is the carrier industry addressing challenges post-9/11?
Maersk has spent a huge amount of its time and energy in the U.S. on security. We are interested in making sure that the services we provide are secure with regards to the threats that the government has identified. We have worked closely with the Department of Homeland Security over the past five years to help put together many programs to enhance security.
In the past month, we signed an agreement with the Department of Homeland Security to develop a program to inspect containers destined for the U.S. through the use of technology in our foreign terminals. Four large global terminal operators have signed this agreement with the Department of Homeland Security.
AP Moller Terminal, the terminal group associated with Maersk, was one of those four operators. Combined, the four terminal operators control about 80 percent of the goods that come into the United States. We have signed an agreement to use technology to both inspect for radioactive material inside the containers at foreign ports before the containers can come into the United States.
We believe this activity is a breakthrough in getting the container inspections for material threats close to the 100 percent that Congress has been interested in, and we're dong this at the ports of origin thousands of miles from U.S. shores.
<