Pasadena has led the region, and the nation in smart, innovative urban solutions, and current Mayor Bill Bogaard is continuing that tradition. But even Pasadena faces its challenges, some of which are local, while others relate to changes in the region as a whole. TPR was pleased to speak with Mayor Bogaard about how Pasadena and other cities in the region can both maintain their character and accommodate new development and growth that is challenging innovative cities like Pasadena to roll up their sleeves once again and prove that density can indeed be elegant.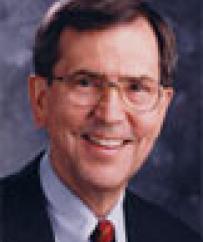 The USC School of Architecture's 2006 Parkinson Spirit of Urbanism Award was recently given to the city of Pasadena and you, as its mayor. Which project merited this award?
USC recognized the city for its success and leadership in pursuing transit-oriented development and smart growth. It was presented at a wonderful event at the Del Mar Station, a classic transit-oriented development project, built around the Gold Line's Del Mar station. Pasadena's historic Santa Fe railroad station-now restored-is an integral part of the project; it is the first thing people see when they step down from the Gold Line.
The project consists of 437 apartments on top of 1,200 subterranean parking spaces, of which 600 are for Gold Line passengers and 600 are for the residential units. This is one of several transit-oriented developments in the city during this decade, based on the city's 1994 general plan, which incorporates the principles and guidelines of smart growth. The general plan calls for development in commercial areas, near transit and near opportunities for work and play and shopping by foot, by bicycle, and by public transit.
Pasadena has survived, better than most, the pressures of urban sprawl. But with every Rose Bowl parade and game, another 100,000 folks annually move to metro Los Angeles. How does Pasadena plan to absorb its share of these newcomers and still maintain its high design and livability standards?
There is a challenge to accommodate the growth that we know is coming in Southern California and to respond to the concerns of Pasadenans. Our experience in regard to new housing, office buildings, and retail in the last eight years has created some discomfort among members of our community when they experience traffic tie-ups at red lights. Many also dislike the appearance of the new buildings.
If we have adopted the right planning guidelines and live up to them, then there will be opportunities for additional development. One of the points of smart growth is that density can accommodate more people without detracting from the quality of life, and the impacts on traffic are greatly reduced.
How valuable has the Gold Line been to Pasadena? What are the prospects for extending it?
The proposed Foothill Extension extends 22 miles to the city of Montclair, through the San Gabriel Valley, where there is heavy congestion on the 210 Freeway. In Pasadena, the arrival of light rail gave investors confidence to invest in the city because they realized that Pasadena would remain a livable city in the 21st century.
We believe that the Gold Line can't achieve its full benefit for regional transportation without this extension. That's why the Gold Line Foothill Extension Construction Authority, headed by CEO Habib Balian, continues to make plans and seek funding. At present, the plan is to start the first part of the Foothill Extension in 2008 and complete it through Azusa in 2010. Work is going on to complete the plans, and to communicate with federal authorities, since the primary source of funding the second phase will be federal funds.
Completion of the 710 Freeway has been on the agenda of transportation planners for a good quarter of a century. Give us a status report and share Pasadena's view of how to solve the 710 extension stalemate.
The project was conceived 40 years ago as a surface freeway that would connect the current north terminus of the 710 (at the 10 Freeway near Alhambra) to the 210 Freeway in downtown Pasadena. That concept has fallen into discredit over the years because of the strong opposition of South Pasadena.
About three years ago, the MTA, working with Caltrans, suggested an alternate solution-a deep tunnel that would begin at the 10 Freeway to the south and would surface in west Pasadena near the 210/134 interchange.
That alternative was the subject of a preliminary study completed about six months ago. The study has been reviewed by stakeholders, including Alhambra, Los Angeles, South Pasadena, Pasadena, and La Cañada. Comments have been submitted and a report on that review and commentary was presented to the MTA in December. It is unclear what steps will be taken from there.
The preliminary study made a tentative finding of feasibility, but it is widely recognized that only a fraction of studies needed to validate this concept have been done. And additional estimates are needed to determine the costs. At $3 billion, in 2006 dollars, for construction it would be a costly solution in an era when transportation and transit funding is in short supply, even with the recent approval of the state transportation bonds.
How do you respond to the claim that Pasadena is the city where "freeways go to die"? Is that a fair charge?
No, it's not in the sense that the 210 is a heavily traveled freeway, and its usage has increased dramatically since it was extended to the east two years ago. The 110 Freeway, the famous Arroyo Seco Parkway, was built 55 years ago and was designed to end at our southern gateway. While it is true that the 710 has not come through Pasadena, Pasadena's official position-determined by a vote of the people about three years ago-is to support the 710 Freeway.
South Pasadena has been extremely active, and so far successful, in avoiding the completion of the freeway because it believes the freeway would harm that small community.
Last year in TPR, Pasadena Councilmember Chris Holden described the Pasadena's efforts to encourage affordable housing, via inclusionary zoning and in-lieu fees, as a never-ending challenge. How do you assess the city's approach to affordable housing?
Both Chris and I would like to see more affordable housing, but I would say that Pasadena's record in creating affordable housing is not only respectable but excellent in relation to other cities. I am proud of Pasadena's efforts dating back to the 1980s. In 2001, the inclusionary housing ordinance established the requirement, for projects of ten units or larger, that 15 percent of the units be affordable.
It's likely about 600 affordable units will be built in this decade, out of a total of about 4,000 residential units. That meets our 15 percent goal. The bulk of those will be a result of our inclusionary housing ordinance. And the balance will result from other programs that use federal and state funds, corporate grants, and non-profit affordable housing developers. If we succeed in building 600 affordable units this decade I think that Pasadena can hold its head high.
Chris Holden's comment about in-lieu fees reflects a concern that I share. Our ordinance allows developers several choices: to put the affordable units within their projects; to create affordable housing in the immediate area; or to make cash payments to our housing trust fund. More developers have used the in-lieu cash payment than we would like. As a result, we have tightened up our ordinance.
There are two purposes to the inclusionary housing ordinance. One is to produce affordable housing. The other is to disperse the housing around the city. This mitigates the traditional concentration of affordable units in one part of the city and creates mixed-income housing in a widespread portion of the city. The city staff is administering the ordinance to require that developers who want to pay the in-lieu fee justify their approach.
L.A. Mayor Antonio Villaraigosa's foray into school affairs and education reform has inspired much discussion in the region. As Pasadena looks for a new school superintendent, what do you and the City Council believe are the merits of integrating city and school governance?
The idea of giving the city direct responsibility for the public schools has not received serious consideration in Pasadena. But the idea of city-schools cooperation and of mayoral leadership and community involvement has sound support. Over the last five years, under the direction of Superintendent Percy Clark, the school district has made progress in student achievement and other ways, which is admirable and deserves commendation. But much remains to be done.
I have just seen a report issued by the Stupski Foundation regarding a literacy intervention effort that began in the year 2003 at the secondary level in the Pasadena Unified School District. This effort has increased literacy levels in the middle schools and high school at double the rate of the schools around the state. So there are reasons to be optimistic.
I have renewed my commitment to working with the public schools, and I am hopeful that over the next five years, the Pasadena school system will become attractive to a wide segment of the students and parents in the city.
The whole country focuses on Pasadena and the Rose Bowl at this time of year. What is the status of efforts to renovate the stadium and attract an NFL team?
The NFL question, under consideration the last three or four years, was decided Nov. 7. The voters of Pasadena voted by almost three-to-one to reject an arrangement that would invite the NFL to come to the Rose Bowl. Now we are focused exclusively on a long-range plan for the Rose Bowl without an NFL team. I am confident we can provide the comfort, convenience, and safety that fans deserve. We can build upon a great college football tradition, which now includes the BCS, and make improvements over time to ensure that people will always consider it a privilege and a wonderful, memorable experience to attend an event in Pasadena's Rose Bowl.
As the mayor of an important California city, you are aware of how digital revolution in communications and its impact on political dialog and civic participation. What are the challenges to governing brought on by MySpace and similar media?
There is no question that changes in technology raise doubts about the quality of information that informs the citizens of our communities. Newspapers have traditionally played a significant role in gathering and validating information, and I want that to continue.
Some people are predicting that in five years newspapers as we know them will be gone, and electronic information-much of it individually produced-will purport to replace them. There will always be difficulty in conveying accurately and fully what is going on in government, and I think that challenge will grow in the years ahead.
How will that affect your job as mayor?
I think it will make public service more difficult. The amount of information will be more, but its quality will be less. There will be more people, perhaps, accessing and reading information. That could be helpful. But it's hard to predict; that subject would make a good discussion-either at thoughtful seminar or a lengthy conversation over a glass of wine.
<