Because of past indiscretions and an increased level of environmental activism, schools across the state have been hampered with a number of mandated review processes. While these Statutes were implemented with good intentions, are these regulations hindering LAUSD's current effort to build 85 new schools? Angelo Bellomo, Director of LAUSD's Environmental Health and Safety Division, offers a framework for how those regulations could be altered and gives us a glimpse into the everpresent question: What will be the fate of Belmont?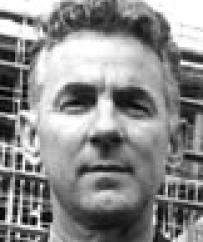 Angelo, let's begin our interview by reminding our readers of your role at the Los Angeles Unified School District's Environmental Health and Safety Division.
There are two principle roles that we have: 1) Ensure that the conditions within our 900 existing schools are safe for students and staff; and 2) Complete the requisite environmental reviews for proposed new school sites.
The District has identified 85 sites for new schools and is pursuing matching money from State's Prop. 1A school bond. How many of those projects have been reviewed by your Division? And are they on track to be reviewed by the State Dept. of Toxic Substance Control?
Almost all of the 85 sites have gone through the preliminary stages of review. What's found in the preliminary review determines how those sites advance through the process. Some of the sites, based on their history, can exit that review process early and receive the necessary environmental approvals from the State. The others must proceed to more in-depth analysis with the DTSC. Most of these sites are scheduled to meet the Prop 1A funding deadline, although some will require more extensive work that will preclude state approval for funding under 1A. In total, we have received 132 proposed sites for new school construction using Prop 1A or other funding sources.
A lot of the criticism re: the District's inability to build school facilities has been aimed at the School Board and its management. How much control does the School Board and the District have to manage the development of these sites? How much is dictated by State agencies and the State funding process? And where should the real responsibility and accountability lie?
Despite an increased commitment from the School District to build safer schools, there is a substantial potential for delay imposed by the State. However, to be fair, one must look to the factors behind those State controls and why they are now in place.
In the past, LAUSD has not operated with a strong commitment to the environmental review process for new school sites. The District was less vigilant in researching the prior uses of sites, and several schools were constructed on contaminated property. And because of that, the state has imposed increased control on our school development process.
Capt. James McConnell, LAUSD's new facilities Director said in an interview in our sister publication The Planning Report that, "The process currently in place to make sure that a site is environmentally sound is almost onerous. We need to find a way that allows us to get these sites constructed at a fair cost over a reasonable time." Give us your reaction to what the Captain has found in his new assignment. Are his assessments accurate?
To be sure, the process is onerous at times. And when we decide to move forward with a site that has an extensive industrial history and is contaminated, the State process is appropriate. But, the vast majority of school sites that we're looking at today are not significantly contaminated, yet we have to complete the same exhaustive environmental review. For those sites the sledgehammer approach of the state is overly burdensome.
The history of the State process is important. One must remember that this process was originally implemented to mitigate Superfund sites, not school sites. We're slowly making changes in the way the State system is implemented for school sites. We are working with the State to reorient the statutes so they are more applicable to the investigation and mitigation of school sites, but it's a very slow process.
In a separate interview in the summer New Schools o Better Neighborhoods newsletter, Fabian Nunez, the School District's Sacramento lobbyist, talked about his efforts to streamline the environmental review process. Would AB 972, which separates the CEQA and DTSC reviews into two separate hearings, add or detract from the efforts you mention above?
It would add to those efforts. There are really two prongs for the review as it's done today: CEQA and DTSC. CEQA has been around since 1970 and looks at the impact of development on the surrounding environment. DTSC reviews the conditions of the property itself. Those two processes have been unnecessarily linked and have caused frequent delays in a number of projects. If we can begin one of those review processes early and have the flexibility to initiate the other later, we will help expedite the final approval on many of these sites. My expectation is that AB 972 will be of tremendous help in doing this and will be signed by the Governor within the next 45 to 60 days.
Fabian made another comment in that interview stating that there was no synergy between LAUSD, the Dept. of Education, DSA, DTSC and the Office of Public School Construction. Has the rigid nature of the current process affected the District's ability to process its first round 85 applications for new school facilities in Los Angeles? Has the compartmentalization of the review process become an inhibitor to the development of these sites in a thoughtful, neighborhood-friendly way?
It is a significant inhibitor and unfortunately it happens to be catching L.A. at a very significant time in terms of school construction. But we are working with the agencies to reorient the process so that agencies are better coordinated, complete reviews more efficiently and use their considerable resources to serve as an information conduit between local districts and the Capitol.
In fairness to the earlier question, some thought that giving the DTSC authority was an expedient decision, but not a thoughtful one. Given the large number of agencies in the State that oversee school facilities, what agency should have gotten that responsibility? Who should get it in a reform effort?
We are in a school facility crisis in L.A. And as LAUSD moves forward on the initial 85 new school sites, we often find ourselves arguing with the DTSC about what the other departments will require from the DTSC review. However, when we go to those other departments they say that their regulations say nothing of the sort. LAUSD shouldn't be arguing about the definition of these reviews. We need the state to have regulatory approval. We could avoid all this cross-negotiation with state agencies if we designated the Dept. of Education as the lead agency.
What's the cost of this disjointed relationship? Why should this reform be compelling to our readership?
One thing I've learned in school development in Los Angeles that I wasn't aware of in the private sector is the importance of even small increments of time. I'm convinced that anybody involved with school site review believes that there are still too many unnecessary delays in the process. Given the crisis that we're in, LAUSD shouldn't be spending the amount of time and capital currently required by the state process. We've got to find every opportunity to expedite the development process. And as I stated earlier, naming one state agency to handle all necessary approvals is a no-brainer.
In another NSBN interview we talked to Secretary of State and Consumer Services Agency Aileen Adams who has linked a number of the environmental health and safety issues that you deal with into a holistic vision of "smart buildings." She stated, "We must begin to look at what a building costs over its lifetime and include such items as energy savings and increased employee productivity to that equation. But in order to implement an approach which focuses on lifecycle costing, we have to change the current state processes." Given the energy crisis and the reforms you have mentioned, is there room for this added facet in new school construction?
Absolutely. The current cost accounting analyses for both new school construction and long-term operation must be changed. People need to realize that these buildings will be around for 60 or 70 years and that capital, maintenance and operation costs must be considered together. A "smart building" may cost more upfront, but the additional capital expenditure will be recovered over time. We must begin to budget for the true costs and benefits of these buildings, both from the financial and the health and safety standpoints.
Let's tie all these threads together in what has become a nationwide case study, the Belmont Learning Complex. Capt. McConnell, in the interview mentioned above, said that the public and media response to Belmont's environmental hazards was an "overreaction." Why don't you give us your take on the public and media response to Belmont?
Those who want to challenge the reforms that have been made in the state environmental review process find it helpful to tie those reforms to Belmont. That's unfair. Those State reforms were not made based solely upon the failures at Belmont, they were made after a litany of failures, most of which predated Belmont.
How do those reforms impact the submissions you will receive this month re: the Belmont RFP. You've been an advisor and thoughtful contributor to the Superintendent's efforts here. Give us your analysis of the Belmont issue as it's playing out and what the District needs.
All interested parties-whether they are in the District, the community or various State Agencies-need more information. We've gotten reports that the site can be mitigated and we've also received information saying that it cannot. But none of those reports have put that information into the type of dollars and cents format necessary to finally answer whether the project can be made safe and whether it is feasible for the District to move forward with the completion of a school. Our goal with this RFP is to get proposals that allow us to make a reliable assessment as to whether or not we can finish construction of the Belmont site within our budget and timeline. For comparison purposes, the Board also wishes to understand the financial implications of merely selling the property for subsequent use by others.
Some have asserted that the politics of Belmont have made the RFP process too complicated and that the responses you receive will not be fair assessments. Do you think that the way the RFP is currently designed will get you the kind of thoughtful professional responses that you're looking for? Or is the process still too politicized for objective analysis?
This process has been politicized from the beginning. However, whether we receive a sufficient number of responses cannot be blamed on the format as much as on the shear complexity of the current problem.
Belmont is a project that offers very complex problems both in terms of technical and liability solutions. They aren't insurmountable but they are massive. Developers must deal with a massive structure that must be totally retrofitted with protective measures throughout. That alone is an enormous challenge. It will require a lot of thinking and creativity.
To compound matters, you must then add the fact that the RFP asks respondents to mitigate the District's liability so that all future risk is transferred to them. That is an enormous burden to place on a developer. There are a limited number of companies with the wherewithal to solve the technical problem and accept the burden. Again, there is a solution, but combine all those factors together and it certainly isn't an easy one.
Let's conclude by asking you to look a bit into the future. It's been almost three decades since a high school has been completed by LAUSD. We've got the overhang of the need to build a couple hundred schools here and a financing structure in place of state funds and local bonds that are nowhere near sufficient to do it, plus the political complications of building in a dense metropolis. Give us a sense of your optimism that keeps you going, given the objectives, and your sense a year or two out about how much progress we can make.
I'm just excited to be a part of what I see as an unprecedented opportunity. I'm not sure about the funding limits that will be imposed on us, and I don't know whether or not we're going to receive enough funding to sustain this building effort into the future. But assuming that we will, we must continue to execute and get the work done. We are on track to clear nearly all the environmental reviews of the 85 schools and I believe we will see them successfully constructed. Maybe I'm naïve about all that stands in front of us, but I'm optimistic that we're going to finish what we've started here.