Historically, the City Attorney's Office has been known simply as a 'cash settlement machine.' But after nearly a year in office, Rocky Delgadillo has refocused the City Attorney's Office with a client service orientation. He created a practice within the City Attorney's Office called the "Super Division," which empowers attorneys with the authority to transact deals across the traditional divisions in the office. Rocky also installed the Neighborhood Prosecutor Program, giving communities greater access to city attorneys by placing attorneys in the neighborhoods where people live. TPR was pleased to sit down with Rocky to reflect upon his achievements in his first year in office.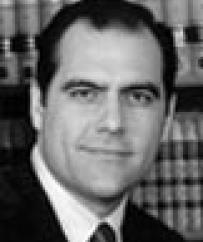 Rocky, you came here with some fresh ideas. You've now had some time to see what's here. Give us a sense of the mark you want to make on the City Attorney's office.
I want to prioritize excellence and better connect this office with the neighborhoods. I want the residents of L.A. to look at what we're doing in the City Attorney's office and realize that we not only set the bar high, but that we leapt over it.
The critics used to call this office a settlement machine. That's obviously not where you want the bar to be. What kinds of benchmarks can we associate with the bar being set high?
This office must provide our clients-from the Mayor, the City Council and the city departments to the average person on the streets-with the most effective legal services possible. We must be responsive to our clients needs. And we must have top caliber people providing strong leadership, not only in this office, but throughout the city.
Talk about your duties as they relate to the city departments and agencies you represent-DWP, LAWA, CDD, Planning Department, Housing Department, CRA, etc. What is the new relationship that you hope to forward between those agencies and your office?
As you indicated in your earlier question, there has been a historic sense that this office was simply reactionary-we must be proactive.
Take for example our new Super Division. In the past this office has had a number of divisions that dealt with economic development, land use, real estate, etc., we now have a consolidated practice group dealing with all of those.
By merging those interests into one Super Division, we have given our lawyers the tools to actually find deals for our clients, to be deal-makers not deal breakers and to really make things happen for our clients. Ultimately, we want to give our lawyers the wherewithal to achieve greatness for neighborhoods throughout Los Angeles.
The head of that Super Division is Cecilia Estolano. In an interview with TPR in November 2001, she said that the new division "must have attorneys working collectively and communicating across division lines, rather than getting trapped doing one kind of work in one division." How is that organizational change working? And will it be replicated in any other new super divisions to accomplish a similar goal?
As you know, the City Attorney's Office is in a unique position because it does both criminal and civil work within the city of L.A. And because we handle both of those aspects of the law, we are in a very positive position to effect change.
To that end, we have recently instituted a new program that should accomplish the collective communication that Cecilia talked about-the neighborhood prosecutor program. We now have criminal prosecutors out in the neighborhoods dealing with quality of life concerns. And as they are dealing with those problems we hope that we can work collectively and mesh with multiple city agencies.
Let's try to explore that collaboration a little more with some specific case studies. The City Engineer, Vitaly Troyan, in a companion interview in last month's TPR talked about his task of building on-time and on-budget. But there is no one in the city that plays the role of linking that mandate with creative design paradigms and connections between parks, schools and libraries. Can you use this cross-fertilization that you describe to pull things together and leverage opportunities for the city of L.A.?
Whether one is a member of the city family or not, people must come through the City Attorney's office to move their developments forward. All projects must ultimately have some kind of legal review and that means we are involved. Because they must come to us, we have the ability to urge our clients to pursue some more creative paths-like joint-use. That allows us to not merely focus on what is good for a particular site or client, but what's best for the entire city.
And how do you keep everyone on the same page? How do you get the perspective?
We brought in McKinsey and Company before I took office to look at the organization of the City Attorney's Office. Because of that review, we have in place a couple of management meetings, that I chair and oversee, where we connect all the dots and try to move forward with a common vision and common goals.
A project that could benefit from this collaboration is Belmont. Give us some sense of your role in that project and what you have been able to accomplish.
At present, we are collaborating with Councilmember Reyes to advise the Superintendent. As you know I have a track record with respect to brownfield sites. That knowledge allows me to provide sound advice to the school district in hopes of creating seats for our kids. Because of that background, I believe that there are both technological and legal mechanisms that we can utilize to mitigate the environmental problems of the site. And I've advocated for the completion of Belmont.
In relation to the environment, Judy Wilson, head of the Bureau of Sanitation, was interviewed in our sister publication Metro Investment Report in March. In that interview she said that the current language of the RWQCB's urban runoff permit would cost the city of L.A. billions of dollars to implement and then be extremely wasteful because it merely be discharges that clean water into the ocean. I understand your office has been working on this issue as well. Can you give us an update and your thoughts?
I find it extremely wasteful when government agencies who agree on a common goal-clean rivers and beaches-go to separate ends of the spectrum and begin fighting about how to achieve that goal. As of now, I believe that the City is currently in a posture that is not conducive to collaboration or problem solving. We must figure out a way to collaborate, cooperate and accomplish our goals rather than continue down a path that only leads to costly and oftentimes ineffective litigation.
You're also the attorney for the Port of Los Angeles. The Port just signed a landmark air quality deal, which the business community worries will forever limit its growth potential. Can you give us some insight into the balancing act that the City and you as its lawyer have to perform here?
Retaining economic vibrancy while at the same time improving quality of life is a constant and delicate balancing act. That's a challenge that all of us are going to have to embrace. And certainly as the City's lawyer, my office needs to do the best we can to improve that balance.
We couldn't do an interview without talking about secession. You're the lawyer for the city. What's your input into this process? What's the advice and counsel that the City Attorney places into this discussion?
I've said many times that the way to deal with secession is not through litigation, but through leadership. That's what secession is really all about. People in the Valley, in the Harbor and in Hollywood are merely looking for the government to respond to their needs.
To cure that, we need to bring government closer to the neighborhoods. If neighborhoods are saying that they have problems with abandoned cars, graffiti, litter, etc. we need to respond to them. If we can make this office accessible to the masses and able to protect the interests of the neighborhoods, I am hopeful that we can guide L.A. through the secession issue, become a more effective city and hopefully remain intact.
You talk of bringing government to the people but what about the City's agenda as it relates to Sacramento. You are creating missions, vision and collaborations on the city level, but what role do you play in crafting the agenda for this city's approach to the Legislature?
The City Attorney's office is trying to take ideas from our leaders in the City, the City Council, the Mayor, and our Departments and turn them into winnable legislation. And while the Mayor is officially in charge of the lobbying arm of the city of Los Angeles, all of the city's family members have the ability to provide input and, on occasion, move certain pieces of legislation through the Legislature that impact or improve quality of life.
Two recent examples of the City's role as it relates to Sacramento are in lobbying for the housing bond and the school bond in terms of crafting specific set asides for the city of Los Angeles and its neighborhoods. We can always do a better job of coordinating that, and we will continue to work with Sacramento to find ways of improving the delivery of resources and services from other governmental agencies to the city of Los Angeles.
Back to your theme that lawyers can be more reactive and can be proactive for their clients. You've got budding here in the city of L.A. a housing trust idea, a new neighborhood park trust idea. What's the role of the City Attorney's office in crafting these entities, organizations and institutions in a way that's likely to be productive?
We have the ability to step back and grab from other parts of the world. For the Housing Trust we've enlisted the private sector as an ally and a partner of the city in hopes of dealing with the housing shortage. And on the park issue, we're working through the legal details to make sure that the city is protected, but at the same time, hold ourselves open for all the opportunities that might be available for us to bring more parks and open space particularly to inner city communities.
Let's conclude with this, if we come back in a year and ask for you to measure the successful attainment of your aforementioned agenda, what should we expect to hear from you?
I would hope that neighborhoods within the city of Los Angeles will feel safer and that their quality of life has improved; that the city isn't embroiled in lawsuits and that we've saved the city and its taxpayers some money.
I would also hope that you would see that the resumes and people that work in this office are of the highest caliber; that you would not feel uncomfortable asking legal advice or opinion from this office; and that the advice rendered would be some of the best legal work possible.