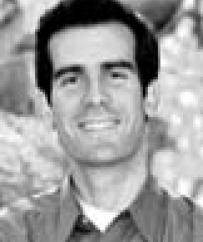 Eric, give us a sense of why the Urban Parks Trust is necessary for the City of Los Angeles. Why are you taking such a leadership role?
Parks and open space are necessary quality of life components. And frankly, the city hasn't fully leveraged the local and regional resources available to create such urban amenities. The Urban Parks Trust will begin to harness the community groups that are already developing and maintaining parks within the City of Los Angeles and combine that energy with city and state resources. By doing that we can create a delivery mechanism that is much more effective and, while it may not initially translate into a lot of new money, it should ultimately bring increased resources into the most park-poor areas of the L.A.
Is there a flaw in Prop. K, Prop. 12 or the recently approved Prop. 40 that requires this kind of local urban park trust?
It may be strange for a Councilmember to say this-because this would take away our power-but the only sizeable flaw in those Propositions is that there is no mechanism to open the process and give a greater share of the park siting process to the residents. Of course there are citizen commissions attached to those Propositions, but they lack the power to detail what kinds of parks will be built and where. If we can add a mechanism to allow for that function, we will see the quality and quantity of parks improve. That's a formula that a lot of people who currently hold power are uneasy exploring.
Before we get to the operating challenges, I want to take a quote from Misty Sanford's testimony before the Arts, Health and Humanities Committee last month re: the Urban Parks Trust. "Historically, the city has neglected opportunities to create smaller parks in the most densely developed residential neighborhoods, ignoring the social and environmental benefits of doing so. But the best opportunities to create accessible parks may be in the empty lots, alleyways and other small plots of land scattered throughout the urban core." Is that the mission you've taken on?
My mission is somewhat broader. I believe that parks should be within walking distance of every resident in the city and that they must be combined with communities so that they're part of an overall system aimed at increasing educational opportunities, beautification and neighborhood pride.
I would point to a park that we built in my District-the Lexington Pocket Park-to prove that thesis. It may only be a couple times bigger than my office, but it is maintained totally by the community. And because of that the neighborhood has become more than merely the passive recipient of city services; it has become an active participant with a sense of ownership and responsibility over that space. That park, and the subsequent empowerment that it has brought, has helped revitalize an entire 5 or 6 block area.
Now, there could be as much as $47 million for the city of Los Angeles for park development in Prop. 40. But there is also joint-use money in Prop. 40 that could be up to $250 million. There's also $100 million imbedded in the two state school bonds that have just passed the Senate. What's the connection? What's the possibility of this Urban Parks Trust to leverage the park and school bond monies to build neighborhoods or communities rather than simply parks?
If we can get out of the mindset that those categories are segregated and begin to integrate them together, we will be able to concentrate on human beings rather than bureaucratic projects. And if we can then realize that these bonds can be used collectively, not only have we achieved something that's great for open space, but we've changed the legacy of how we develop the city.
Beyond the capital dollars necessary to acquire these parks and rehabilitate them, there are operational dollars. Isn't that the real challenge for a city budget under stress?
Absolutely. And that is exactly where mechanisms like the Urban Park Trust come in. With organizations-such as the Santa Monica Mountains Conservancy and the Trust for Public Land-doing such a good job of administering parks, and the community groups doing such a good job of maintaining parks, I can see no reason why a mechanism allowing them to do that hasn't been formalized in the City.
If we have a city department that can't afford to deploy somebody to a park, why not entrust the community with it? If we're empowering neighborhood councils and we continue to talk about the devolution of power and governance, why not give residents the actual keys to a park? What is a more powerful statement to communities than having your government entrust you with the actual keys to a neighborhood amenity?
If that is the case, why then when this was presented to the Arts, Health and Humanities Committee, did the City Attorney's Office express hesitation? Can you give us some sense of the hurdles, legal and otherwise, facing this idea?
The City Attorney's Office was cautious of the fact that any task force we create to study the implementation of this proposal might be comprised of organizations that will be able to apply for some of the future dollars allocated out of this Urban Parks Trust. Because of that possibility, I think the City Attorney choose to proceed very conservatively and cautiously in an attempt to avoid future conflicts.
However, as we've seen with the Affordable Housing Trust Fund, we can't exclude the private and non-profit sectors from these talks. If we do, we will create a framework that is unworkable and nobody will utilize it. It's important to have these groups at the table. It's important to have them leading this charge. The future of this proposal and proposals like it will be rooted in these kinds of cooperative relationships. We have to work hand and hand with them.
A year from now, what will constitute success?
What will constitute success is: 1) The establishment of this trust; 2) The creation of clear operating procedures; and 3) The expenditure of some of the money that the aforementioned Propositions allocated toward the development of parks in our neighborhoods. That last part is an ambitious aspect. But if we move quickly, come the first of next year, I see no reason why we can't begin realizing some really worthy projects.